This list includes the best quotes and Instagram captions for travel with friends! Some are deep and some are light, but all of them convey that special feeling and LOVE we have for our friends… made even greater by the experience of traveling together!
Personally, our greatest and most long-lasting friendships have been forged with distance—either by the time we spent traveling with our friends, or those friendships that endured great distances and time spent apart. It's those special friendships that are understanding and empathetic of the adventurous spirit we live and breathe that have survived over time.
Also from us: Travel Captions and Quotes for Couples
Also from us: 100+ Affirmations for Travel
Travel can be hard at times. It throws us aggressively from our everyday routines and challenges us to confront our true selves, for better or worse. Having friends with you in those moments, a familiar and loving presence, can help you through those difficult times on the road. We hope these quotes help you and all of us to remember the importance of our friends, and to value them always.
---
Travel with Friends Quotes
"You find strength in knowing you have a true friend and possibly a soul mate who will remain loyal to the end. Life seems completely different, exciting and worthwhile. Your only hope and security is in knowing that they are a part of your life." ― Bob Marley
"A true friend unbosoms freely, advises justly, assists readily, adventures boldly, takes all patiently, defends courageously, and continues a friend unchangeably" — William Penn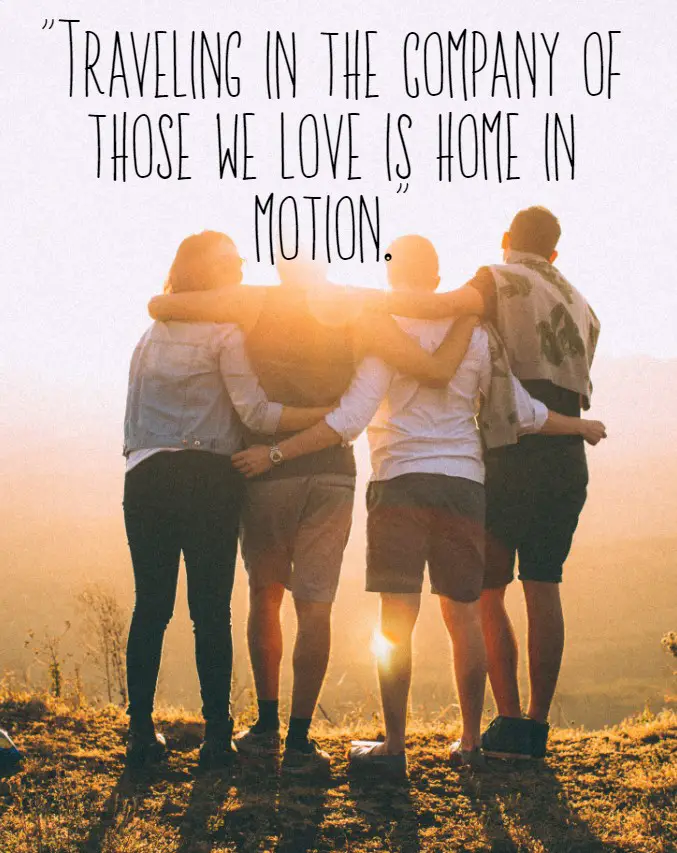 "Traveling in the company of those we love is home in motion." — Leigh Hunt
"And if I am not alone, then neither are you, and hand in hand we can marvel together at the strangeness of the human condition." — Stephen Fry
"We are all travelers in the wilderness of the world, and the best we can find in our travels is an honest friend." – Robert Louis Stevenson
"You travel faster alone, but farther together." — Michael Benanav
"Each friend represents a world in us, a world possibly not born until they arrive, and it is only by this meeting that a new world is born." – Anais Nin
"Nothing makes the earth seem so spacious as to have friends at a distance; they make the latitudes and longitudes."- Henry David Thoreau
"I trust the ones who realize how far they have yet to travel. We have so much more to learn. All of us. Let's walk together, side by side." — Jeff Brown
"I have found that there ain't no surer way to find out whether you like people or hate them than to travel with them." – Mark Twain
"We're all travelling through time together, every day of our lives. All we can do is do our best to relish this remarkable ride." — Richard Curtis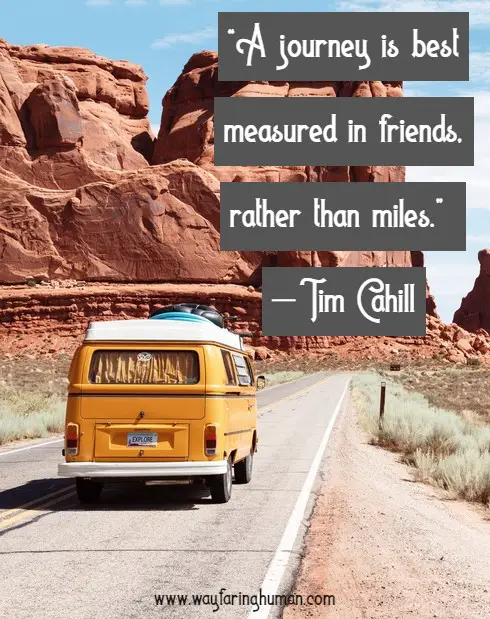 "A journey is best measured in friends, rather than miles." – Tim Cahill
"Find a group of people who challenge and inspire you; spend a lot of time with them, and it will change your life."- Amy Poehler
"In the sweetness of friendship let there be laughter, for in the dew of little things the heart finds its morning and is refreshed." – Khalil Gibran
"If ever there is tomorrow when we're not together… there is something you must always remember. You are braver than you believe, stronger than you seem, and smarter than you think. But the most important thing is, even if we're apart… I'll always be with you." – Winnie the Pooh
"Sweet is the memory of distant friends! Like the mellow rays of the departing sun, it falls tenderly, yet sadly, on the heart." – Washington Irving
"A single rose can be my garden… a single friend, my world." – Leo Buscaglia
"The more I traveled, the more I realized fear makes strangers of people who should be friends." – Shirley MacLaine
"It is not the destination where you end up but the mishaps and memories you create along the way." – Penelope Riley
"The real test of friendship is can you literally do nothing with the other person? Can you enjoy those moments of life that are utterly simple?" – Eugene Kennedy
"Perhaps travel cannot prevent bigotry, but by demonstrating that all peoples cry, laugh, eat, worry, and die, it can introduce the idea that if we try and understand each other, we may even become friends." 
— Maya Angelou 
"Growing apart doesn't change the fact that for a long time we grew side by side; our roots will always be tangled. I'm glad for that." – Ally Condie
"Don't walk in front of me; I may not follow. Don't walk behind me; I may not lead. Just walk beside me and be my friend." – Albert Camus
"Sometimes an adventure is a mundane thing. A trip to the shore with your best friend. Learning you can laugh in unearthly ways." — Rose Christo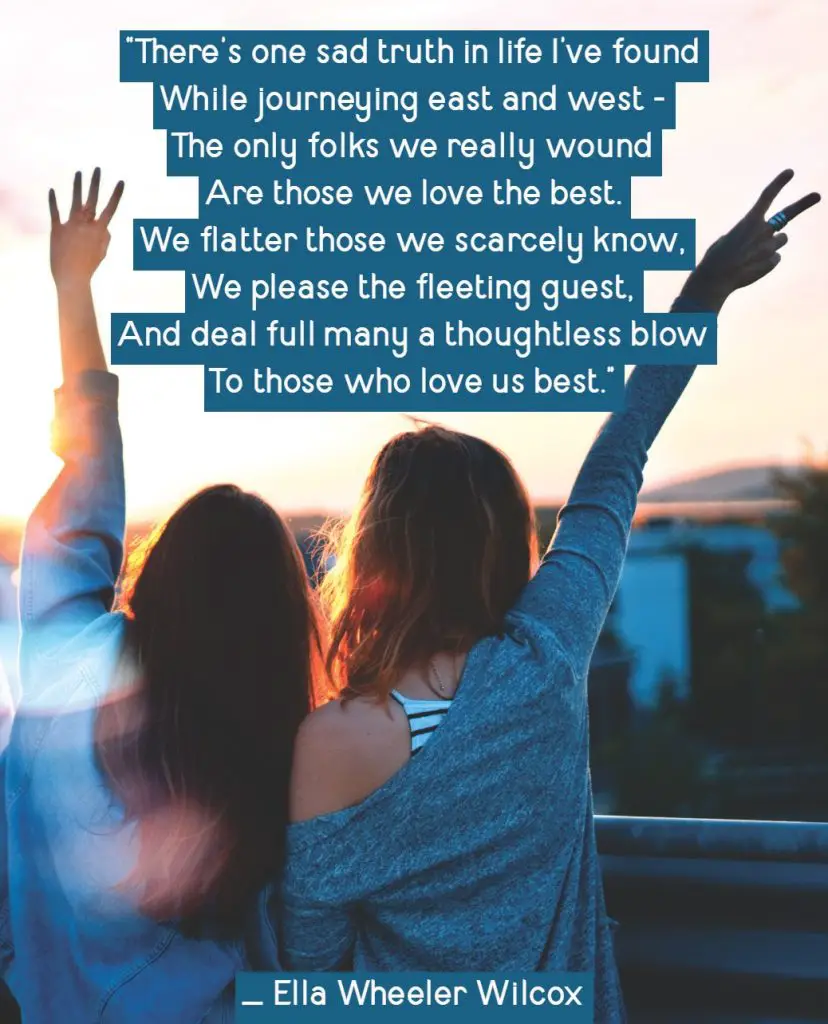 "There's one sad truth in life I've found
While journeying east and west –
The only folks we really wound
Are those we love the best.
We flatter those we scarcely know,
We please the fleeting guest,
And deal full many a thoughtless blow
To those who love us best."
– Ella Wheeler Wilcox
"Those who have nothing can share nothing; those who are going nowhere can have no fellow-travellers." — C.S. Lewis (The Four Loves)
"A friend is one that knows you as you are, understands where you have been, accepts what you have become, and still, gently allows you to grow." – William Shakespeare
"There's no time like the present, 
No present like time.
And life can be over in the space of a rhyme.
There's no gift like friendship 
And no love like mine.
Give me your love to treasure through time." 
— Georgia Byng 
"Have your adventures, make your mistakes, and choose your friends poorly — all these make for great stories." — Chuck Palahniuk
"I can make new friends and teach them how to be crazy too in order to be wise. I'll tell them not to follow the manuals of good behaviour but to discover their own lives, desires, adventures and to live" 
— Paulo Coelho (Veronika Decides to Die)
"Let us be grateful to the people who make us happy; they are the charming gardeners who make our souls blossom." – Marcel Proust
"The most beautiful discovery true friends make is that they can grow separately without growing apart." – Elisabeth Foley
"The wish to travel seems to me characteristically human: the desire to move, to satisfy your curiosity or ease your fears, to change the circumstances of your life, to be a stranger, to make a friend, to experience an exotic landscape, to risk the unknown.." — Paul Theroux 
"Don't be dismayed at good-byes. A farewell is necessary before you can meet again. And meeting again, after moments or lifetimes, is certain for those who are friends." — Richard Bach 
"Friendship is born at that moment when one person says to another: 'What! You too? I thought I was the only one." – C.S. Lewis
"Fill yourself up with love. Become a whole being on your own. Go on adventures, fall asleep in the woods with friends, wander around the city at night, sit in a coffee shop on your own, write on bathroom stalls, leave notes in library books, dress up for yourself, give to others, smile a lot. Live for yourself and be happy on your own." — Emery Allen
"There's not a word yet for old friends who've just met." – Jim Henson
---
Travel with Friends Captions
Sometimes all you need is a great friend and a tank of gas.
Good friends will help you pack at 5 am in a crowded hostel room when everyone else hates you.
Good times and crazy friends make the best memories.
Everyone needs a friend that will call and say, 'Get dressed, we are going on an adventure.'
Life was meant for good friends and great adventures.
The perfect road trip consists of friends, a playlist, and nowhere to be.
A friend is someone who understands your past, believes in your future, and accepts you just the way you are.
A true friend will help you drunkenly find your way home safely in any foreign city.
You don't have to travel far to find the heart of a true friend.
Having a best friend is like having your own little corner of the world to escape to.
A good friend listens to your adventures. A best friend makes them with you.
Adventurous souls on a mission.
The spirit of adventure lies in true friends who let you be you wherever you happen to be.
A true friend will support your drunken confidence to hit on strangers in foreign languages.
You never really know the depth of your love for your friends, until you've travelled with them.
Be the friend who always says yes to adventure.
Friends support each other's wildest travel dreams.
We wild summer sisters sit on white sands and watch the days fly by.
Let us stay forever in this moment, miles away from home but for the home we brought with us.
True friends will love you even at your most grumpy travel pre-coffee self at 4 am in a foreign airport.