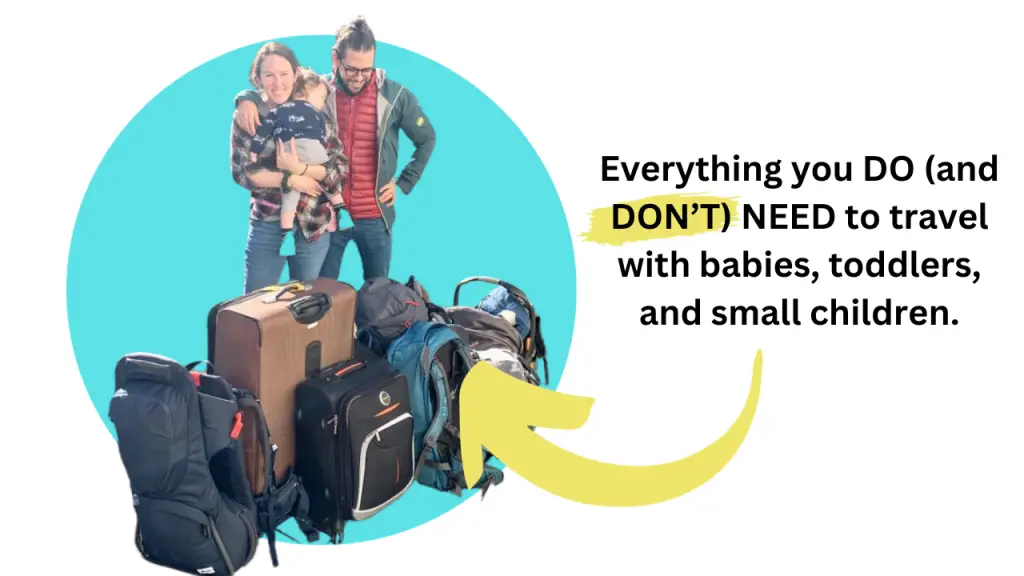 Our Essentials For Traveling with BABIES & TODDLERS
First of all, you probably don't actually NEED TO BUY anything new or extra in order to travel and adventure with your baby or small child.
If you can't swing the purchases on our list below (or on other baby travel "must-have" lists that you see online), please don't feel like that should stop you from traveling with your kid(s). Chances are you already have plenty of stuff and can make it work.
Having said that, these are the items that I personally have LOVED at various stages of traveling all over North America, Europe, and Asia with my baby/toddler — items that have made our lives easier, and that I'd like to share with all those who are interested and have reached out to me:
BEST BABY CARRIER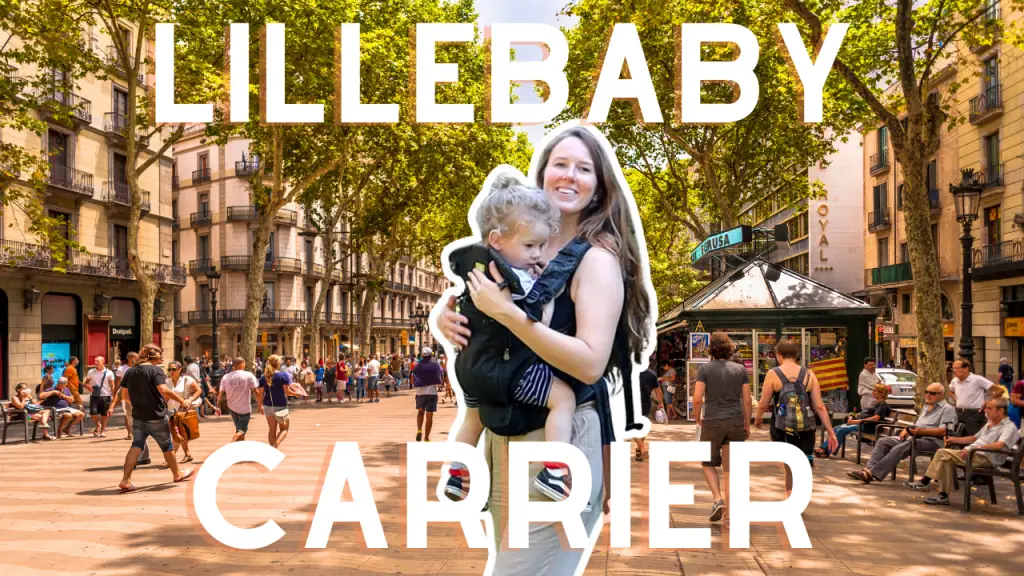 This LÍLLÉBaby carrier has been everything to us — beginning when our son was about 4 months old, although you can use it for newborns as well (we preferred to use a wrap when he was very young).
Our son is 2 now and we're still using this carrier. It can be worn as a back or front carrier, has back support, and comes with some useful extras such as a sun cover and a zip down front flap to make the air flow better on warm days.
Both my husband and I see this as one of our most prized travel-with-baby possessions.
For a very detailed packing-with-baby checklist emailed directly to you (for free), sign up for our newsletter here (NO junk — just goodies).
BEST STROLLER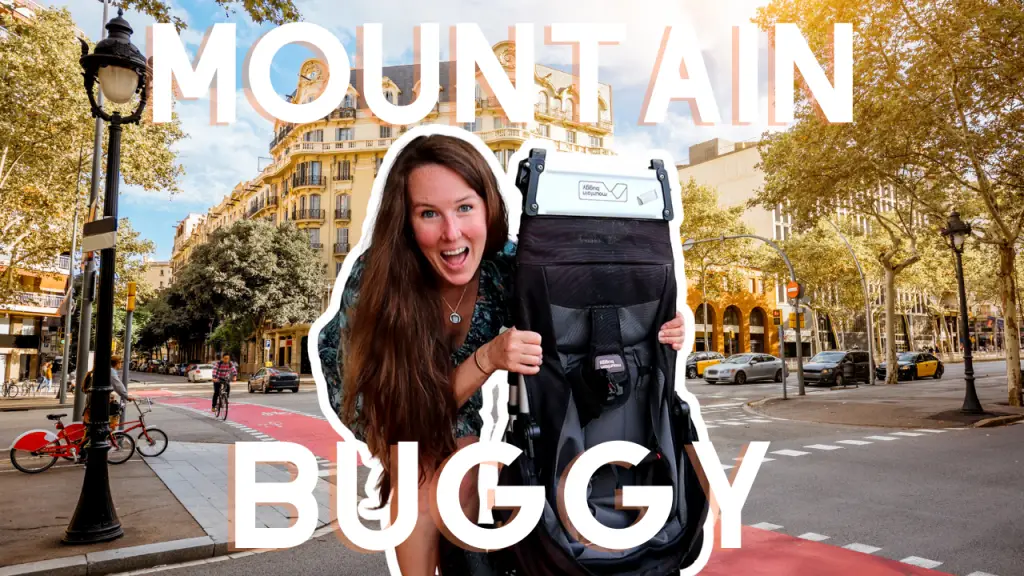 What you see pictured here is our regular Mountain Buggy stroller which we love. We really do. It's been good to us. It has the most important features of a travel stroller (in my opinion) which are: a canopy and a full recline for naps.
But if I were to upgrade and recommend a more perfect TRAVEL version to a friend, I would say go with the Mountain Buggy Nano, which has the ability to fold up small and fit into the overhead bin on the plane.
MOST-USED TRAVEL TOY
My son got these for Christmas from his grandmother when he was 18 months old. He's never played with any other toy as consistently while traveling as these magnetic blocks! In hotels, on airport floors, on ferry rides…
The one place he hasn't used them as much is on airplanes because I don't want him to lose the pieces. But he does still bust them out on occasion.
For a complete list of AIRPLANE entertainment and toy ideas, I made another list for that that you can find here AND I actually show you 50 travel activities you can use in this video here.
MOST SANITY-SAVING (for the parents) TRAVEL TOY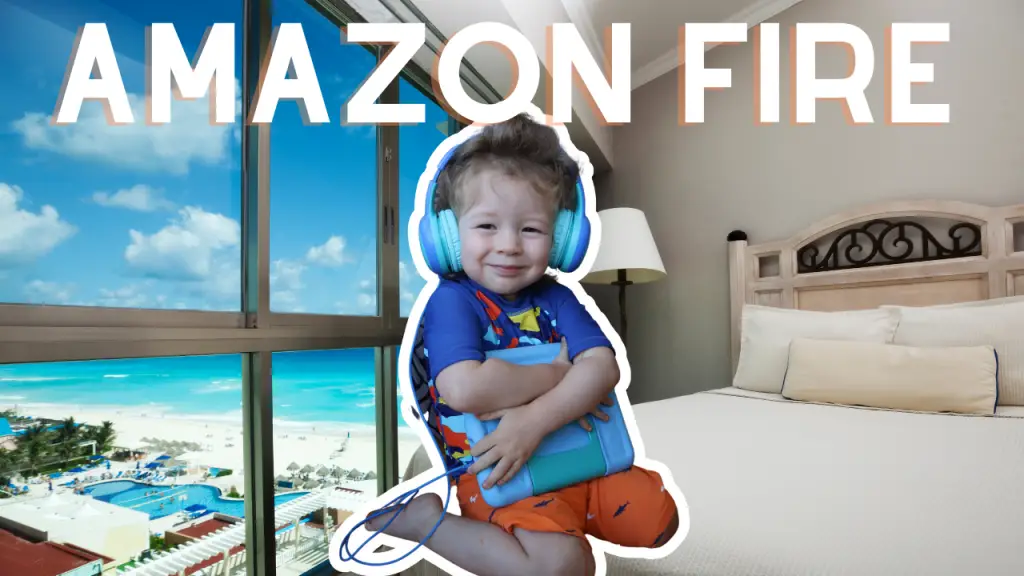 Our screen time "rules" continue to evolve depending on where and what kind of traveling we're doing and the age of our son.
But I can say that there have been times, beginning when he has about 22 months old, where having this tablet for flights, buses, and other transit situations absolutely saved us as tired, jetlagged parents.
There are plenty of educational and non-overstimulating games and videos (for free) that you can download. The tablet can be your friend and a really amazing tool for learning (not just a "babysitter").
BEST DIAPER BAG FOR TRAVEL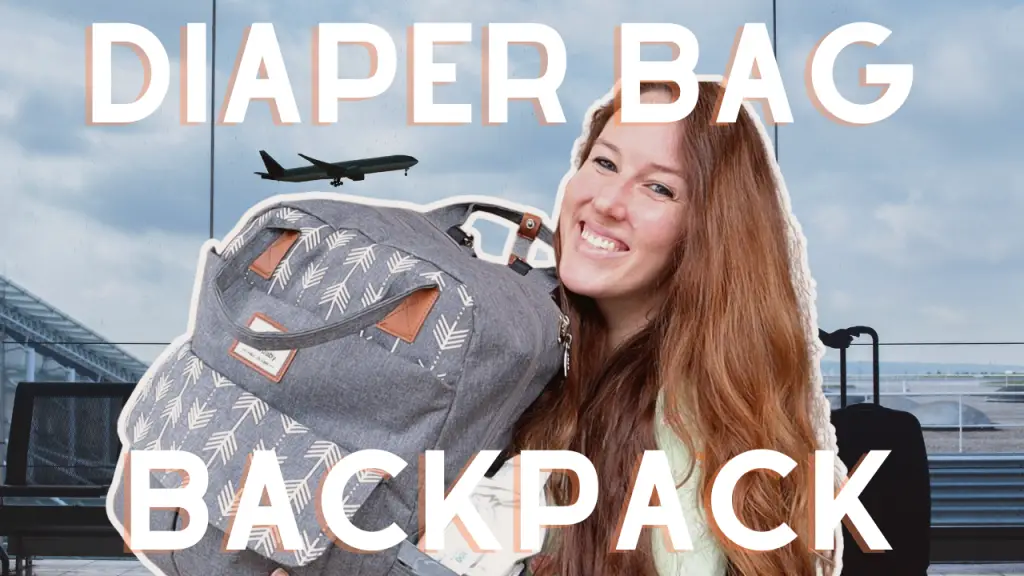 I've tried a few different diaper bags since my son was born and for me (and my husband), it has to be some kind of diaper bag backpack for traveling. It's the only way we can fit everything and still have enough hands.
For what I pack in it when I travel, watch this video I made with ALL the details of everything I take with me on the plane when traveling with my son.
FAVORITE TRAVEL CAR SEAT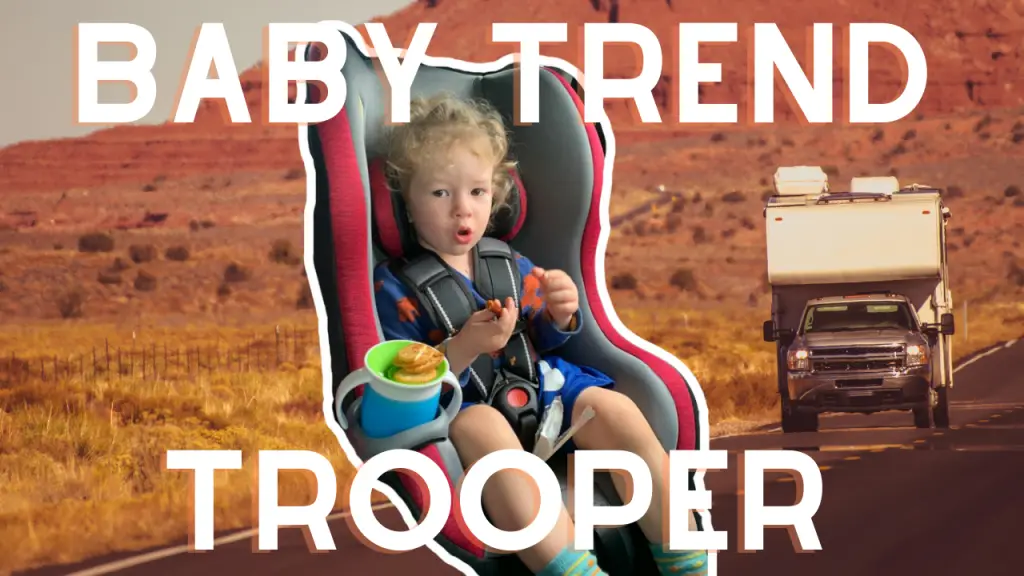 I made a whole video comparing the 5 best car seats for travel when I was looking for a new one recently, and this is the one we ended up getting.
It hit all of our boxes, including portability (it's super lightweight) and longevity — we didn't want to have to buy another one 6 months or a year from now.
BEST TRAVEL & HIKING/BACKPACKING BAG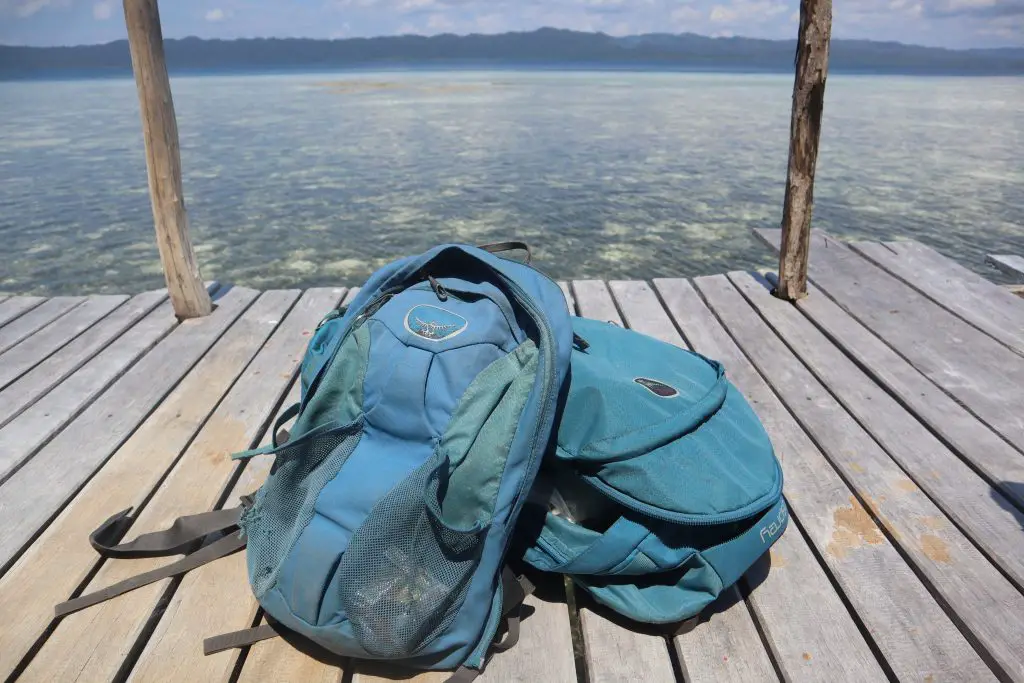 I've had my Osprey hiking backpack with detachable day pack for about a decade and it's still going strong. What I love about this bag is that it's a hiking backpack but it opens like a suitcase, so you can actually see what's inside easily.
You don't have to stick your arm into your bag and search blindly! (I hate that about many hiking backpacks).
When traveling solo with my son, I often fill the large part of the bag with the things I need at my destination but not for the flight. I keep this in the overhead bin.
The detachable day pack becomes my diaper bag/bag for things I need during the flight (toys, snacks, milk, etc.). And I keep this under the seat in front of me on the plane!
DIY TRAVEL MEDICAL KIT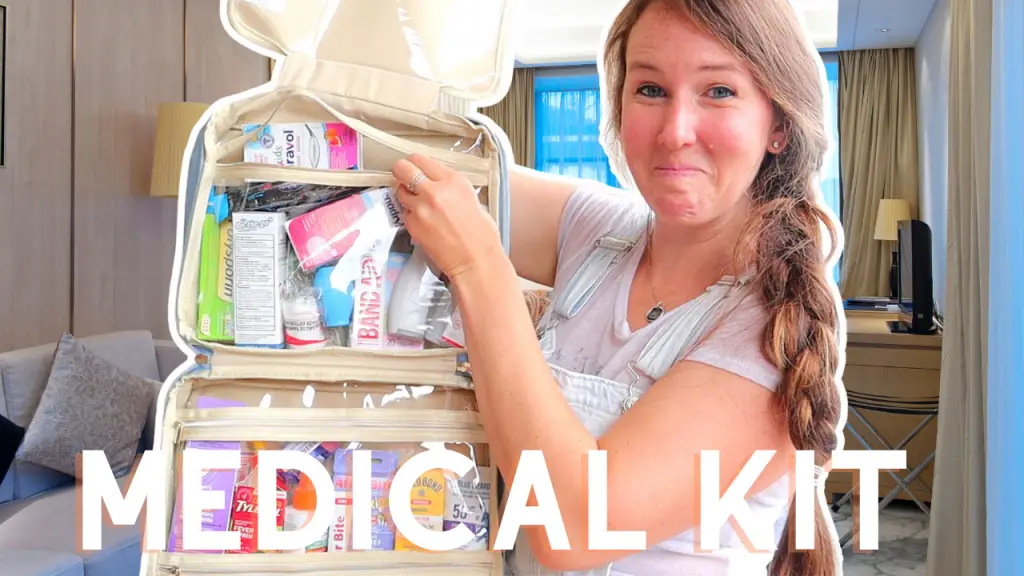 Like I said, I like to be overprepared. And more than once, unfortunately, we've been very happy to have this very robust DIY medical kit with us!
We use a large hanging make up/toiletries bag to keep all of our medical items in because they're very spacious, you can see and organize all of your items in it, and it hangs for easy access.
If you'd like to know the specifics of what is IN my *doctor-approved* medical kit, please check out my medical travel packing list here.
BEST TODDLER SHOES FOR TRAVEL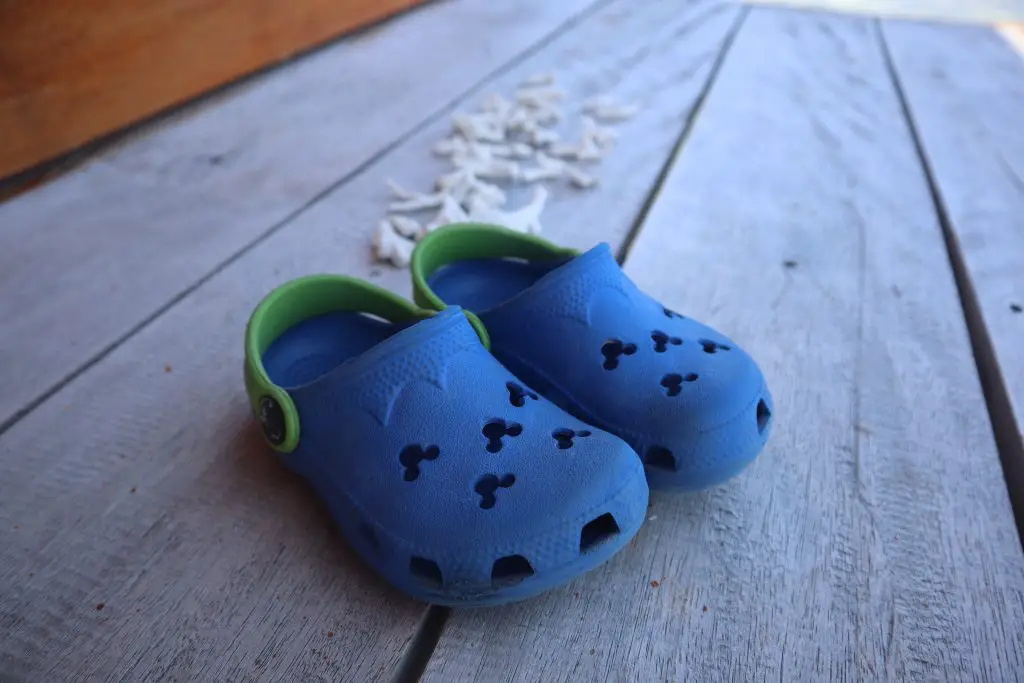 Baby and toddler shoes are endlessly cute — we all know this. BUT for TRAVEL: I want to recommend soft sole slip on shoes for the airplane (for babies starting to walk until maybe 18 months-ish).
These make it easy for baby to walk in terms of tread, but they're nice and soft so it won't be a pain (literally) when they're crawling all over you in cramped travel spaces.
For summer/warm destinations, we will never travel without a pair of toddler Crocs. We have all kinds of other water shoes that have fabric or velcro and take ages to dry — never again. Crocs slip on, can be dried (wiped) instantly. They are the best.
BEST WATER BOTTLE FOR TODDLERS
We've also been through A LOT of water bottles — I think this is something important to have handy, especially with a toddler, during travel days. We love the children's Yeti water bottle for this.
It's easy to clean, fun to drink out of, keeps drinks hot or cold for a long time, and is made out of really good quality materials to be long-lasting.
Airplanes dehydrate us and then we're cranky and jetlag is harder to get over, and it can all be mitigated if we remember to drink a little bit more water! 🙂
Our Current Wishlist Items
There are always items I'm eyeing and hoping to get one day for our future travels. These are the ones I'm interested in right now:
Yotomini player – These seem to be a great, entertaining screen time alternative: little radios for kids that are operated by cards that kids can insert and remove themselves.
No Reception Club Diaper Bag – I just like the look of these bags and am a sucker for many compartments. I also like that it doesn't look like a diaper bag so could be used beyond the diaper years.
Items that We Wish We'd Left at Home!
There are always going to be items that you pack and then realize on your trip that you really didn't need.
I'd personally still prefer to be overprepared than to not have something I really want when it comes to being abroad with my son. But yeah — it IS annoying to have unnecessary items taking up space in your bag!
The good news is that you can always donate them or maybe even sell them depending on where you're traveling.
For us, the unnecessary items that come to mind are:
Play Mat + Too Many Hanging/Teething Toys
When our son was really little and we first started traveling with him, we FLEW with his giant play mat AND the dome strap things that come with it to hang toys on, AND all the hanging teething toys! We dragged this thing on at least two flights that I can think of.
Sure, he played with it. But we could have laid him down on any other blanket and given him a water bottle to play with and he would have been just as content.
Baby or Toddler Bathtub
Whenever I see that parents are bringing blow up or pop up bath tubs on their trips for their baby, I can't help but think this is a total waste of space. If you're absolutely not comfortable with anything else, sure. Go for it!
But other makeshift bathing techniques that have worked for us:
Place a towel down in the bathtub with an inch or so of water and place your baby on the towel to wash them.
Use the sink if it's clean, big enough, etc.!
Use a large Tupperware container (we've done this in 2 of our Airbnbs!)
Bring baby in the bath with you.