---
If you're trekking the Annapurna Circuit as a couple, my first piece of advice for you is to be dating Phil. This is because he is a calm, Buddha-like, semi-pro survivalist who has his shit together in any situation, unlike myself (see: India). Generally, Phil's demeanor makes me and everyone around him calm. And that was true for our vertical 5,400 meter plus Annapurna Circuit trek too.
BUT if you can't be dating a Phil, here are seven other things you can do on your couple trek of the Annapurna Circuit in Nepal in order to continue liking and dating that special someone.
Really, we never had any issues but traveling and trekking together, being dirty and exhausted and having to rely on each other a lot can be hard for many couples. These are Annapurna Circuit tips to help make sure you have a great experience with your partner!
Also check out our other post with a full cost breakdown of our 11-day itinerary which we planned ourselves (no company, guides, or porters).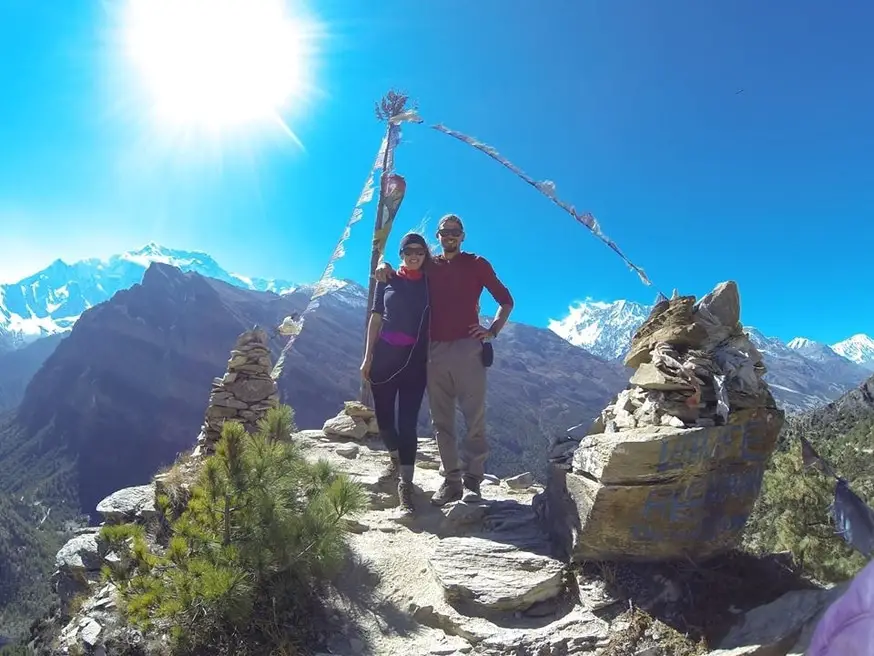 #1- Start the Annapurna Circuit on the Tihar/Dewali holiday (or any holiday)!
Ok, this is a really serious tip! All the books and blogs scared us into thinking the Annapurna Circuit would be so crowded and crappy and not at all "how it used to be" with the new road and all. They said the guest houses might be booked up and we might have to sleep outside in some towns… They said we'd have to wait in line at some points on the trail!
NOT if you start your trek on the holiday of Tihar (or Dewali as I think it's called in India)! It takes place in October-ish (dates vary year to year).
We had the trail to ourselves, traveling with a few of our new friends and running into very few trekkers throughout our 11 days. We never had trouble finding a guest house and always had a private room together. 
This is because most tourists want to experience the big holiday in the city. We planned this completely on accident and it ended up being really fun walking through tiny villages on the Circuit during Tihar, as the locals gave us flowers and blessings.  
I don't know about you but fewer crowds when trekking = good vibes for keeping calm and having fun with your significant other.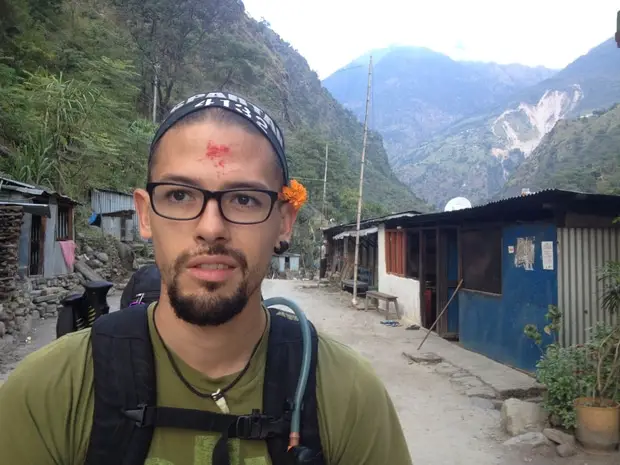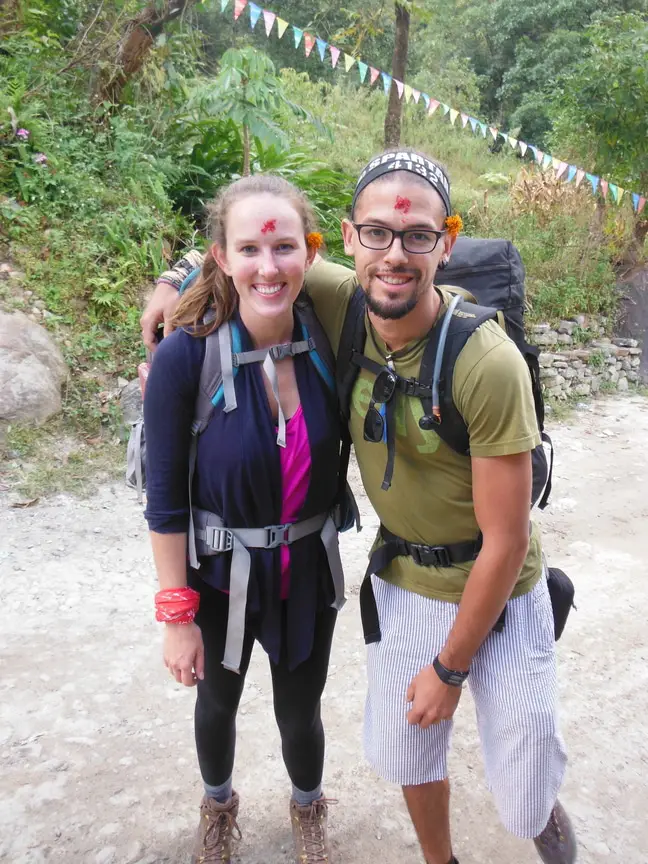 #2- Have a plan before you get to Pokhara
The main starting destination for Annapurna Circuit trekkers is the town of Pokhara. This might sound silly but Pokhara—at least the main downtown tourist area—can feel like it was especially designed by Disney for adventure travelers. There is so MUCH STUFF catering to backpackers. Trekking clothing shops, travel agencies, vegetarian restaurants…
It might remind you of the town of Squamish in British Columbia, Canada or maybe a Baños, in Ecuador or Lake Atitlan in Guatemala—places that offer package adventure experiences for tourists of all fitness abilities and cost ranges, and where you can always, always find a rasta-themed bar for some reason.
But here in Pokhara, situated next to the Annapurna Mountain Range (where you can find THREE of the TEN highest mountains in the WORLD), there really are some very cool unique activities on offer including paragliding, hang gliding, and canyoning. And if you have a short amount of time, choosing which to do can be overwhelming.
Phil and I weren't too overwhelmed because we had already decided, way back in Kathmandu a few days beforehand, that we were going to dedicate all of our time in the region to trekking the Annapurna Circuit.
So, have a plan before you go to Pokhara and try to stick to it. And if your plan is to be flexible, accept that and try not to be anxious about sacrificing some cool activities for others. You can always go back, right?
OH! And if you're looking for a nice place to stay in Pokhara with your significant other, we loved the weirdly named North Face Inn, which is located just off the main tourist strip, so it's close to the action but quiet. And we had a super cute little guest house all to ourselves for… I want to say slightly more expensive… than other hostels/hotels in town. The rooms are between $15-18 USD and are super cute, but you can find hostels for prices in the single digits.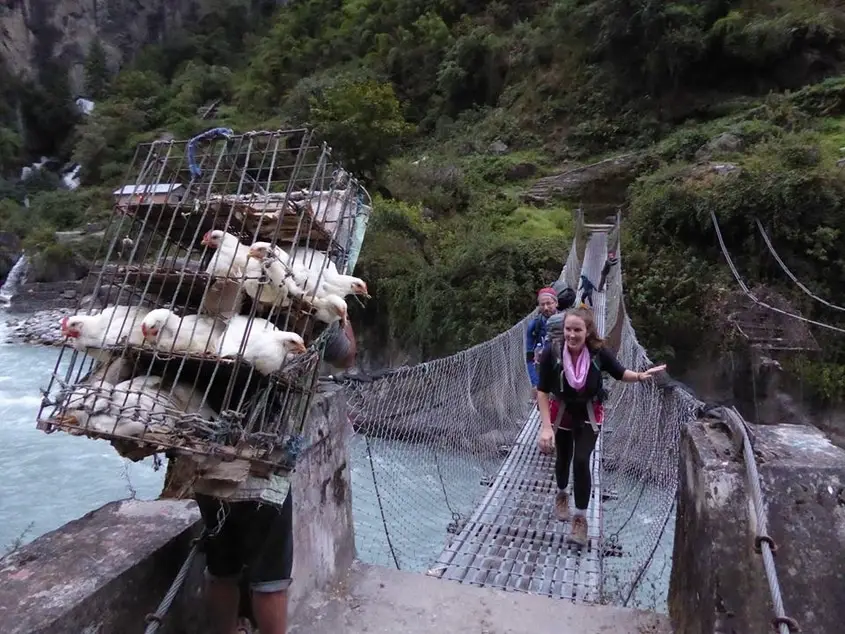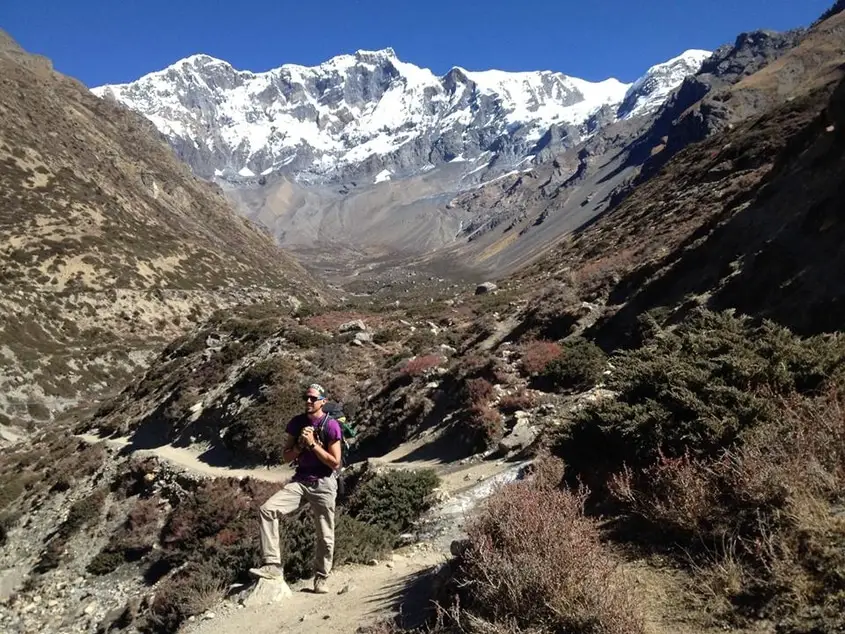 #3- Don't freak out on your significant other while prepping for the trek in Pokhara
You should probably prepare beforehand for a 2-3 week trek. That would be a good idea. Like, really think about and don't pack a bunch of crap you won't need. Especially if you're not hiring porters, like us. Some crazy dude we ran into on our trek had a super heavy backpack, another side shoulder-strap bag, AND A GUITAR. What a weirdo. We never saw him again on the trail so I don't know if he made it.
Things to think about: You have to buy $20-ish permits before you go, and get passport photos taken for them. I remember the permit office in Pokhara being a pain in the ass to find, but the coordinates for it are 28.198719, 83.969176!
Also, you have to pack extremely light but you also have to pack for every season (?!!). So, figure that one out.
Anyway, I think part of the training for the trek is to find the permit office with your significant other, pack your tiny lightweight backpacks, and see if either of you has a pre-meltdown. If not, you're ready for the trek!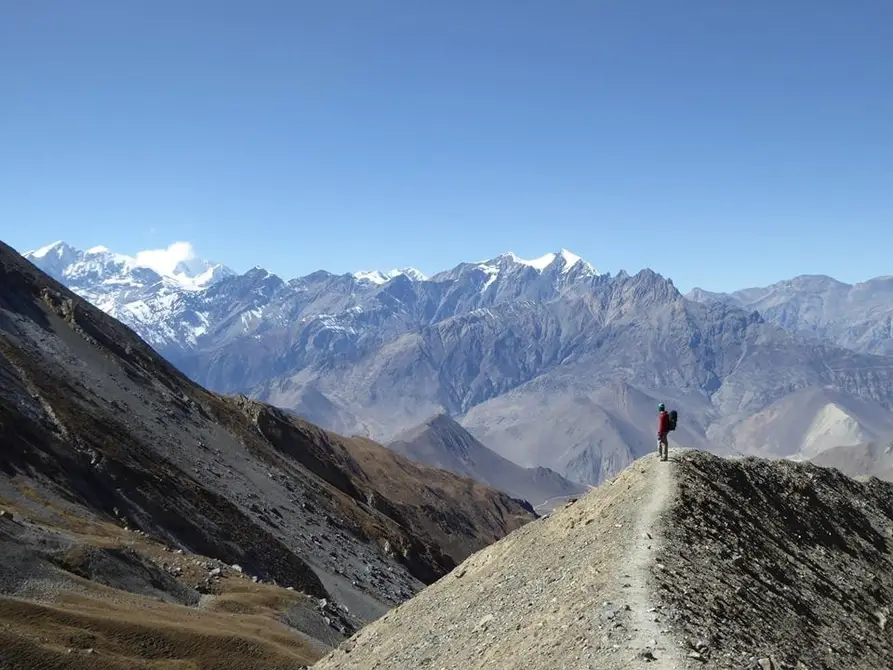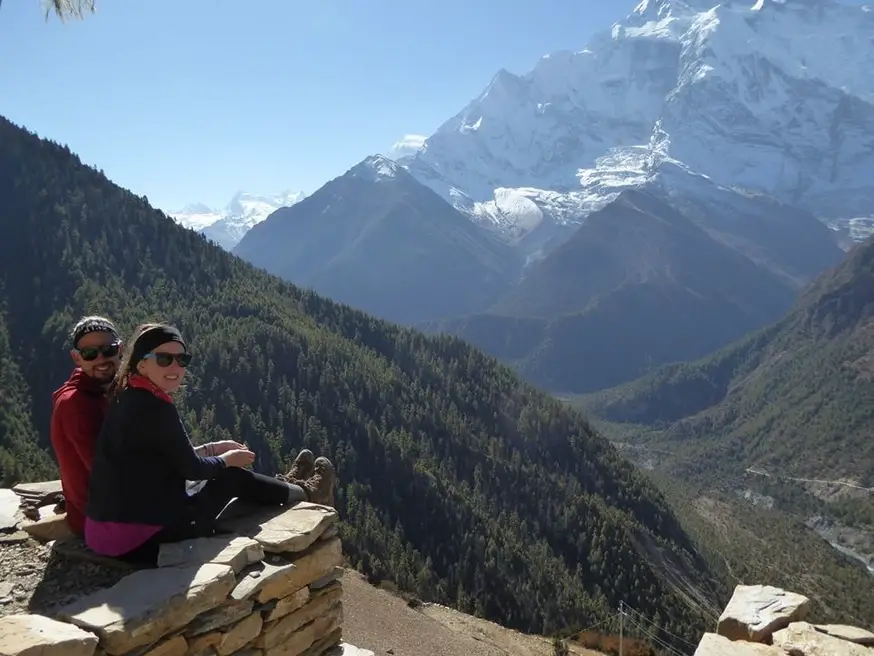 #4- Arrive at the bus station in Pokhara WAY EARLY (and pack snacks) for the 6-hour bus ride to Besisahar!
Okay, so we were able to leave the stuff we weren't taking with us on the trek locked up at our hotel (the aforementioned North Face Inn). This included our lap tops and passports. Eeeee. Scary. But it was fine. 
Our hotel manager also booked us "seats" on a bus from Pokhara to Besisahar, where the trek starts. I think the price we got was very reasonable (about $4 USD each) but I say "seats" because seat reservations don't really exist—and you will spend the long rickety, bumpy bus ride squashed together with 50 of your new friends on a bus that seats 10. I don't know, I made those numbers up, but it is CRAZY.
So, buy your snacks the night before and get to the bus station in Pokhara super early. We walked there in the dark from our hotel (as practice for the trek??). Everyone gets there at the butt crack of dawn, soo… good luck.
If you're a couple, you have the advantage of one person saving seats and the other one running around for coffee and food in the morning! Awesome!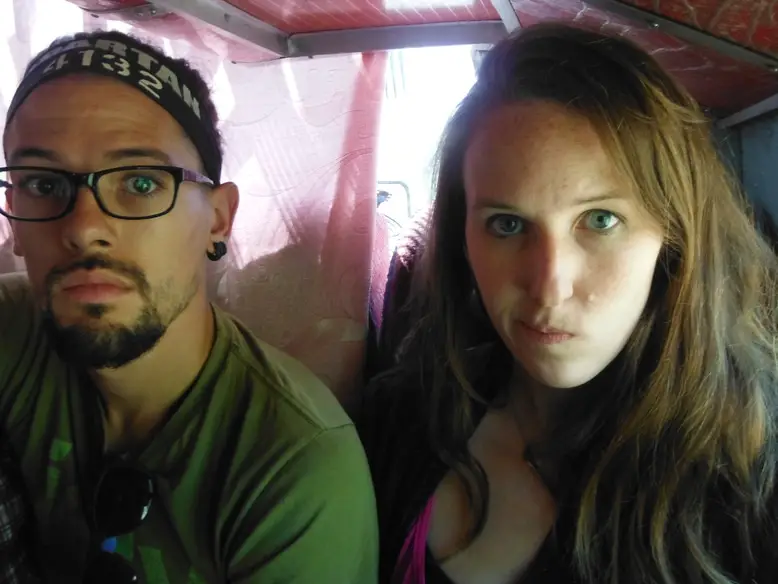 Finally, 6 bumpy hours later and you're ready to really start the trek! Right after you…
#5- Take a crowded jeep up a mountain cliff to your preferred trail head!
None of the blogs told us about this part of the journey and I still haven't read about it anywhere else, so I don't know if we did something wrong.
But it was legit pretty awesome—more so in retrospect. So don't miss out.
From Besisahar, it's a long trek to some of the prettier, preferred starting points, as I understand it. So, you can take a pick up truck, again with 12 (actual number) of your new best friends piled in the trunk bed with you, to your preferred trailhead.
I remember lots of negotiations with the drivers and we finally agreed on the kind of crazy price of NPR 1200 (or about $10 USD) each and off we went!
So, sit back and relax with your significant other, as your legs start to fall asleep under the weight of some stranger's body, and enjoy the breathtaking views!
Trekkers just hopped out wherever they wanted to start. I remember guitar guy saying he just "felt" a certain spot and wanted to be alone there, so he got out.
Phil and I started walking at a place called Lili Bihir (spelling??) and trekked until a beautiful place called Syange and stayed at the Blue Sky Guest House. A+ food and accommodation.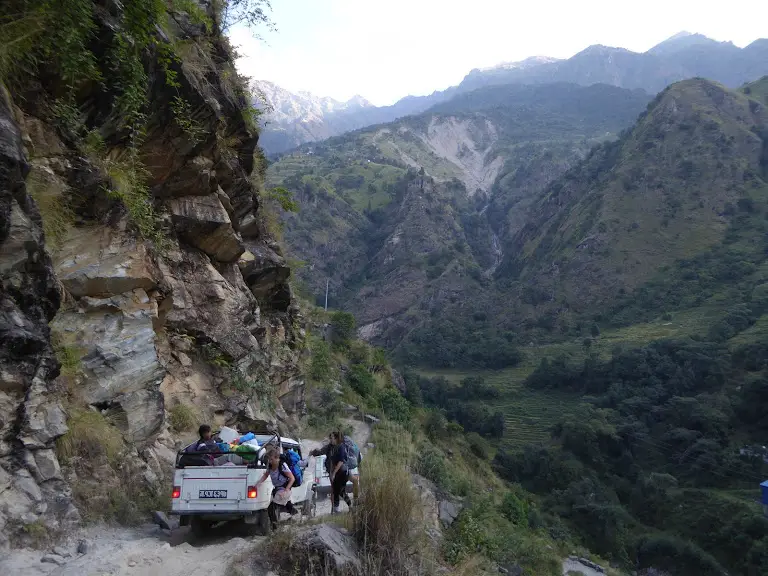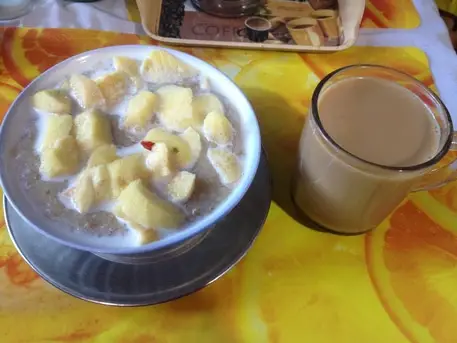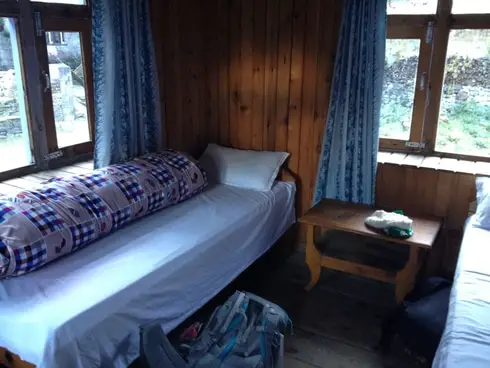 #6- Enjoy the wonders together as you trek higher and higher to that 5,416 meters! And don't freak out if your new friends start dropping like flies
After all the planning of logistics and bumpy bus and truck rides, honestly the trekking is the easy part. You will love it more and more every day, seriously, as the landscape changes in a hundred different ways. It's indescribably beautiful and our pictures suck compared to the real thing.
One valuable tip I can give you is not to put your very important trekking permits in your money belt strapped directly to your sweaty stomach. They will disintegrate and you will be annoyed with yourself. Whoops!
As you reach the magical town of Manang, which is near the 5,400+ meter summit mark, you might lose a new friend or two. This happens as some people are overcome by altitude sickness and have to turn back ☹ That was no fun when it happened to one of our new trekking friends. But you will continue on and hopefully see your new friends on the other side.
Go slowly, stay warm that last night below the summit pass!! WE WERE FREEZING!!! Even super hero, Phil, who is usually immune to discomfort!
You will reach the 5,400+ meter point and it will be incredible.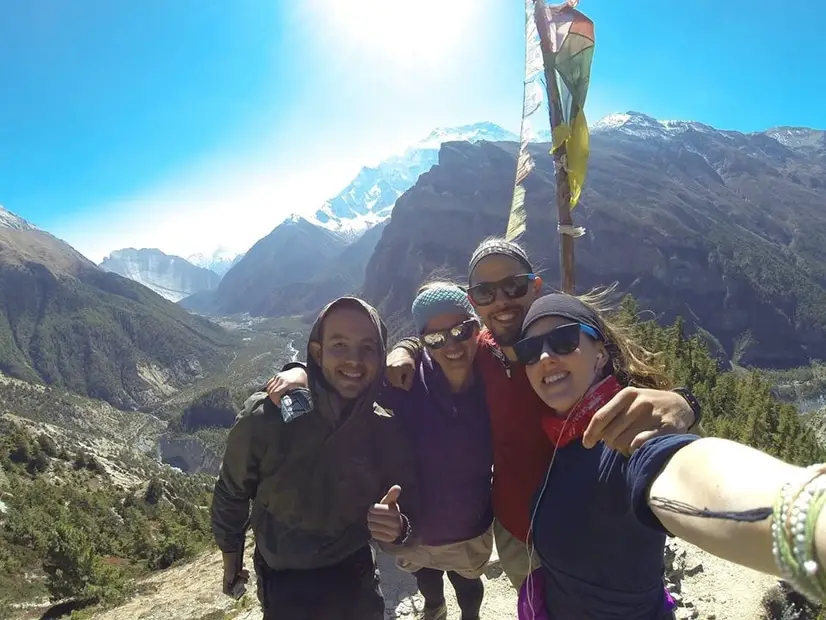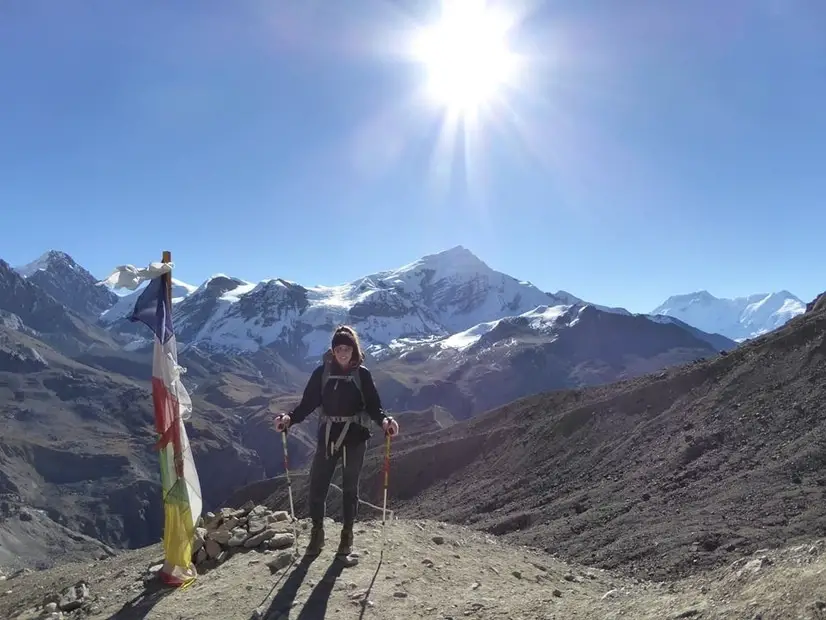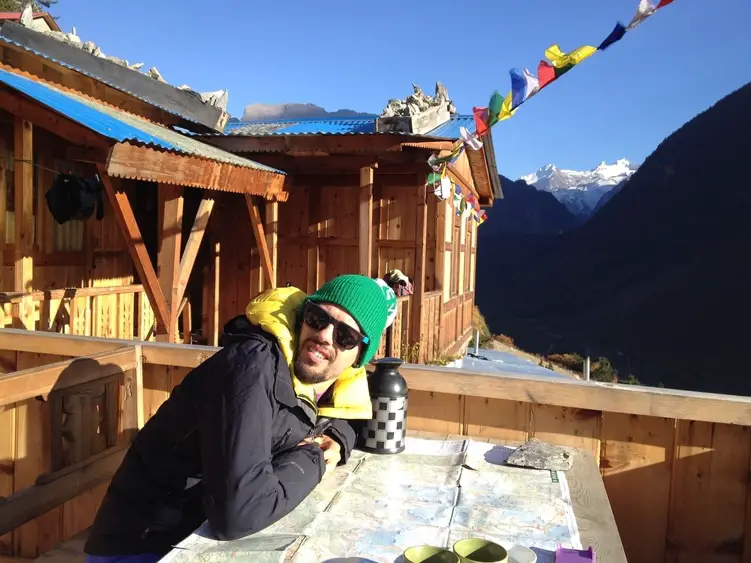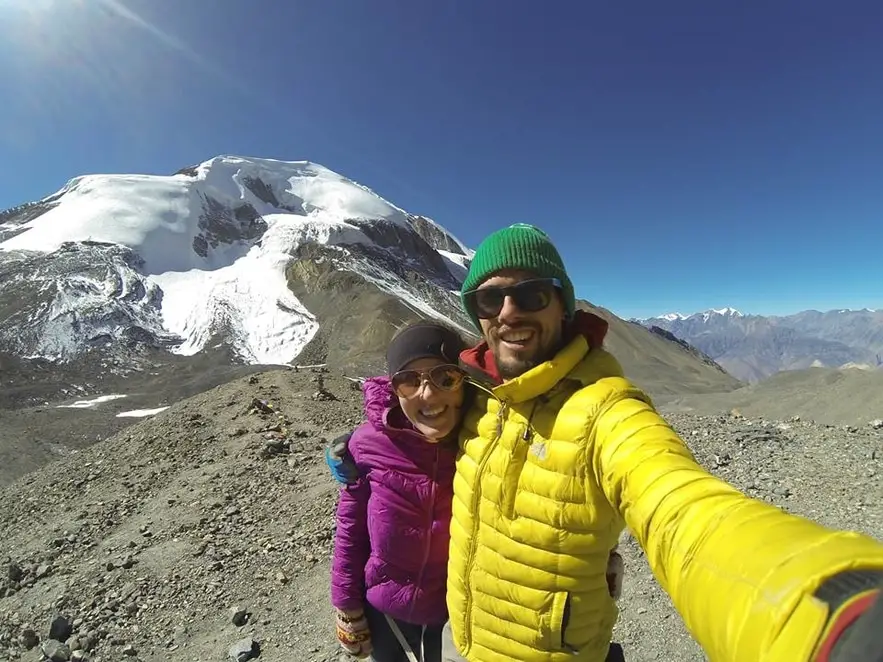 #7- Hold your significant other close when you both inevitably come down from that post-summit exhilaration!
Sadly, all good things must pass and after you summit, you have to start making your way back down the other side of the trail. 
For us, this was really sad and kind of hard on us (ok, maybe not Phil!) mentally.
Our goal was so much fun to look forward to on our way up to Thorung La Pass (the summit), but after that, you still have days ahead of you …but your goal is to be back in your hotel in Pokhara… this is exciting, but not like the pure glee of advancing toward a summit.
We did face more adventures in those days coming down from the pass, including hitching a ride with a bus full of school kids, choking on endless clouds of lose dirt kicked up by the newly built Annapurna Circuit road, and a terrifying bus ride along a cliff that broke down at one point.
I recommend being mentally PREPARED for all of this, accepting it, and enjoying it! It's over in a millisecond. 
Also, be easy on yourself and your partner in this exhilarating challenge! You're so lucky to be doing it together 🙂