What shoes should I bring to Thailand? Tevas, Keens, Sketchers, basic flip flops only? Based on a poll of more than 30 travelers to Thailand, we recommend bringing no more than three pairs of shoes (both men and women).
The three pairs of footwear you should bring to Thailand are: a pair of flip flops (also called thongs– basically, shoes that slip on and off easily), a pair of grippy, waterproof sandals that offer a bit more support, and a pair of lightweight trainers (sneakers, tennis shoes) if you're planning on doing any hiking.  
Anymore than this is overkill and dead weight in your bag, where you have very precious, limited space for all those elephant print pants you'll want to bring home!
If you're crafty, you can combine two of the three (e.g. get sandals that you can wear hiking, instead of bringing a third pair of separate hiking shoes). Having 2-3 pairs is better than just one, in case one pair happens to make your feet sore or breaks, you'll have a back-up.
We'll also discuss the footwear you need if you plan on visiting the Grand Palace, Elephant Nature Park in Chiang Mai, and temples in Thailand.
Avoid bringing big, clunky shoes and boots—they'll only stink up your feet, take up space in your bag, and annoy you for doing these things!
---
The Only Three Pairs of Shoes You'll Need in Thailand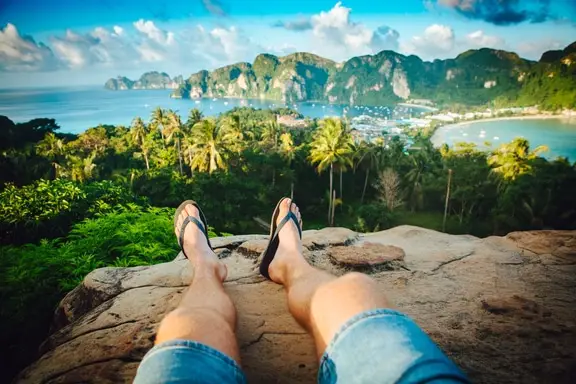 #1 – Flip Flops
In Thailand, flip flops are king. Tourists wear flip flops 98% of the time, especially around the beach. It is so hot and humid that you really can't bear the thought of putting anything confining or suffocating on your feet (like socks! UGH).
You'll also be constantly slipping them on and off—at the beach, to enter people's homes, certain businesses, temples. So, it's just easier to be wearing flip flops most of the time!
Some tourists recommend avoiding flimsy, cheap flip flops while others who aren't doing much walking in their flip flops (only around the beach essentially) said that cheap flip flops were fine. It really depends on what type of activities you're into doing while you're in Thailand. If you choose to only wear flip flops when relaxing on the beach, and more comfortable, substantial sandals or shoes for sightseeing, a cheap pair of flip flops is probably just fine.
The flip flops you choose to bring should have some grip on the bottom just in case it rains and the sidewalks or highly polished tiles become slick. I've had some scary near wipeout experiences in my favorite $2 Old Navy flip flops.
Also, the roads and paths can be super uneven so it's better to always wear flat shoes—meaning NO HEELS, LADIES. Seriously, they will only take up space in your bag and you'll never find an occasion to wear them.
Heels also stick and sink in beach bars. Soo better to get the image of yourself frolicking around Thailand in your heels out of your head right now!! You will feel and look ridiculous right before twisting your ankle and ruining your vacation. On the other hand, you'll actually get some use out of that expensive travel insurance… Nah, just please get yourself some flat, FLAT flip flops.
Some travelers said that they do bring wedges—if you're used to walking in wedges, maybe this could be an option for you. It wasn't at the top of anyone's list, however.
If you're a person who can't stand the feeling of having something between your first two toes (this is a thing for many people!)—you should bring an alternative kind of easily slipped on and off breathable shoe—
Women in this position might prefer the sandal options (see #2 – Sandals) discussed below.
For men, especially if you like a REALLY easily slipped on-and-off kind of shoe—check out recent prices on Amazon for the classic Adidas slide sandal, or a classic pair of CROCS (unisex) if you're into that sorta thing (Phil LOVES Crocs…)!
Whatever shoes you buy, make sure to break them in before your trip! Even if the piece of material between your toes doesn't normally bother you, it just might if this is your first time wearing this brand-new pair—and you don't want your trip tainted by blisters or aching feet.
As I mentioned, my favorite flip flops are the $2 cheapies from Old Navy that only last me a month or two before I destroy them. Other travelers polled have much wiser advice—
Here are the recommended options from tourists to tourists for the BEST travel flip flops:
Sanuk Women's Yoga Sling 2 Flip-Flop (on Amazon)
These strike a balance between classy and hippie beach bum that is kind of perfect for a Thailand trip (when you're trying to be versatile with your clothing due to limited packing space). However, they aren't the best for getting wet, even though many travelers did wear them to the beach.
Crocs Women's Sexi Flip W Flip Flops (on Amazon)
Somehow Crocs designed these really sleek and cool flip flops that do not at all look like the original giant Crocs hooves (no offense – classic Crocs are Phil's favorite thing).
Sanuk Women's Yoga Mat Flip-Flop (on Amazon)
These may not be the cutest flip flops on the list but they rank incredibly high for comfort and durability. If you plan on walking around a lot in your flip flops and want to feel like you're walking on a yoga mat, these are your guys.
Sketchers Women's Meditation Studio Kicks (on Amazon)
Many travelers recommended Sketchers for Thailand. This pair is sort of a cross between the Sanuk yoga slings and the Sanuk yoga mat flip flops.
Reef Fanning Mens Sandals | Bottle Opener Flip Flops For Men (on Amazon)
For the guys: If you don't want to wear cheap, flimsy flip flops, Reefs are a sturdier, long-lasting option that can handle a lot of miles of sight-seeing.
---
#2 – Sandals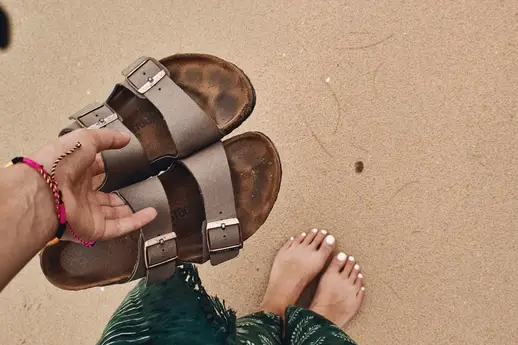 In addition to your easy breezy, casual pair of flip flops, a versatile pair of sandals is recommended by many Thailand travelers—something that you can walk around in all day, that is waterproof, has grip—and that hopefully isn't too hideous!
If you can find something nice, this pair of shoes can also double for dinner-wear/going out at night. As mentioned before, leave your heels at home, but some of the rooftop restaurants in Bangkok won't allow you in with flip flops, so a slightly more 'formal' sandal option might be called for on those occasions.
The Sanuk yoga sling flip flops mentioned above are classy—and not really flip flops in the traditional sense—so these could be perfect for fancier night time options in Thailand.
Here are the various sandals and more-substantial-than-flip-flops options recommended by travelers to Thailand:
Birkenstock Essentials Unisex Gizeh EVA Sandals (on Amazon)
Many travelers enlightened us to the all-plastic,waterproof Birkenstock! They don't mold like the traditional cork Birkenstocks (yuck), they have great arch support and come in a bunch of different colors! These would be good slip-on-and-off shoes and good for walking around a lot. And they're unisex!
Chaco Women's ZX1 Classic Sport Sandal (on Amazon)
Chacos are highly rated among travelers and come in different colors. They're more sporty-looking, and have the benefit of thick soles and no piece between the toes. Also—breathability and comfort. They can be used for light hikes, water activities, walking around on rocky beaches (avoiding sliding around in your flip flops)… pretty cool!
KEEN Women's Whisper Sandal (on Amazon)
Keens should almost be in the next section (sneakers/runners) because they're more enclosed than your average sandal. Again, if you're looking for something sporty, these are another good option for you. They have support for walking long distances and grip that your average flip flop doesn't offer. You can also use these as water shoes to avoid sharp rocks and sea urchins, and they dry quickly.
Teva Women's Original Universal Sandal (on Amazon)
These have to be on the list because they're so freaking popular—the freaking TEVA SANDAL. If you've always been a fan of Tevas, there's probably no breaking you out of this habit now, you hippie you.
---
#3 – Shoes for Light Hiking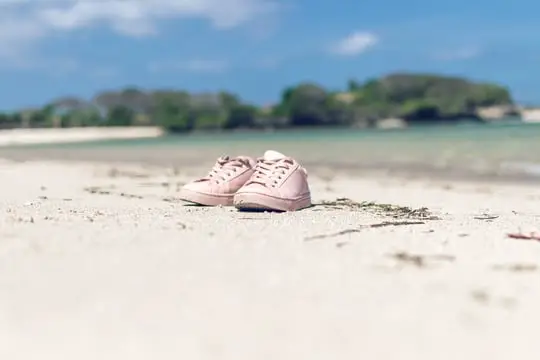 If you're planning on doing any hiking, trekking in forests, walking around caves, up waterfalls (such as Erawan falls) or if you don't think you'll be comfortable walking around for hours sightseeing in any of the above-recommended flip flops or sandals, it's a good idea to bring a pair of close-toed walking shoes, tennis shoes, sneakers, trainers, etc.
If you won't be doing any of these activities (or if you have something like Keens sandals), leave hiking shoes at home. They're bulky and you will not feel like wearing them in the extreme heat and humidity.
Your feet enclosed all day in a humid environment can always lead to a smelly feet situation and maybe even athlete's foot. See precautions below for how to deal with this in Thailand.
Closed shoes will also be necessary if you're planning to visit the Grand Palace in Bangkok. The Grand Palace has a very strictly enforced dress code that includes no flip flops. Some visitors aren't even allowed in with sandals because their toes are showing, or with sporty shoes because they're not formal enough. Think about bringing a pair of TOMS or clogs of some sort if this is on your itinerary.
Here are the "real" shoes popular with polled travelers in Thailand:
TOMS Women's Seasonal Classics Flat (on Amazon)
TOMS are comfortable, simple, and the light canvas makes them feel easy and summery. If you bring a walking shoe, make sure it's something light and moldable like this to fit in your bag.
Skechers Women's Go Walk Joy Walking Shoe (on Amazon)
Yes, Sketchers are still a thing! Who knew?! Travelers who walk a lot, I guess! These ones have no laces—another important detail because even if you're sightseeing, you're slipping your shoes on and off all day to enter temples.
Some travelers also like ballet flats for this purpose—including Crocs ballet flats! They're a cool idea although your feet might get a bit sweaty.
---
What shoes should I wear to the Elephant Nature Park in Chiang Mai, Thailand?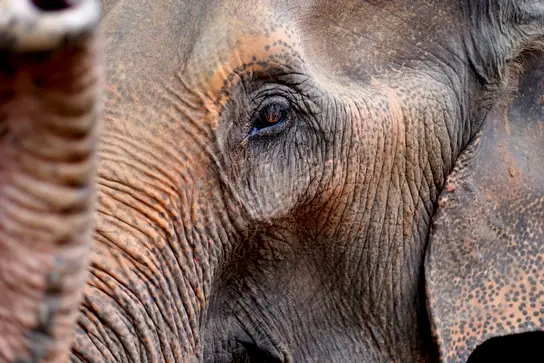 As you'll be walking through high grass and muddy ground, it's a good idea to wear sneakers such as the sketchers mentioned above or some kind of sandal good for hiking, like Tevas or Keens. If your shoes are waterproof, even better!
If not, carry along a pair of flip flops in your backpack in case your sneakers get soaked. Be sure to wear loose-fitting, comfortable clothes too.
What shoes should I wear to temples in Thailand?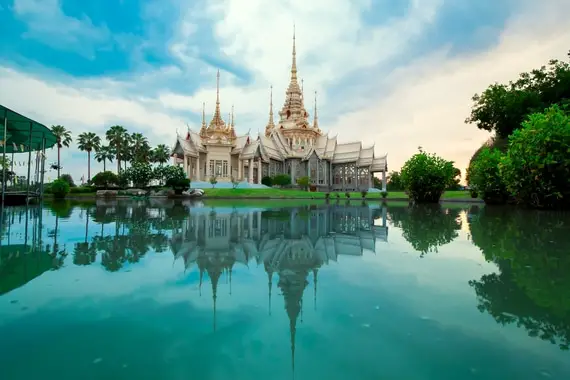 It doesn't really matter because you can't wear shoes in the temples in Thailand. So, wear shoes that you can easily slip on and off! For example, something like the flip flops mentioned above.
You can wear socks in temples if you prefer. You don't have to be barefoot.
As far as clothes are concerned, you're expected to dress somewhat conservatively when visiting temples in Thailand. This means wearing a sarong or something that covers your thighs above the knee and something to cover your shoulders.
What shoes should I wear to the Grand Palace in Bangkok, Thailand?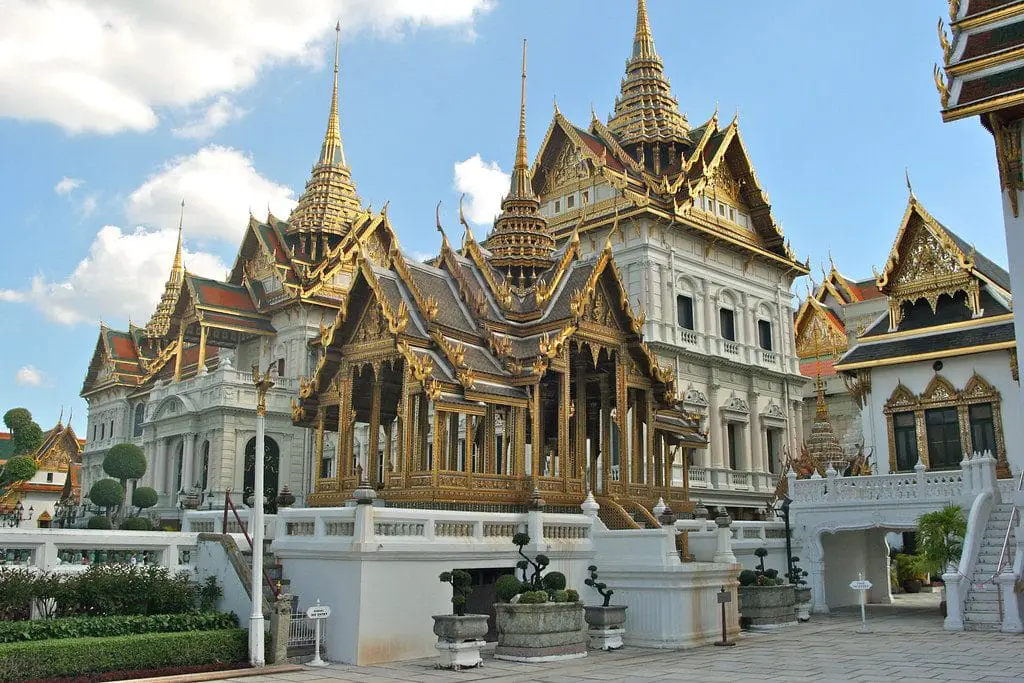 More than anywhere else, the Grand Palace in Bangkok enforces a strict dress code. You must cover your legs with a skirt or sarong (long pants for men), cover your upper arms (and cleavage)—light, linen, loose-fitting clothes are best in the heat and humidity (no jeans).
As for shoes, you're not allowed to wear open-toed shoes (flip flops, sandals) or sportswear—although apparently, they sometimes make an allowance in terms of shoes for tourists. If you can, come prepared with close-toed shoes (such as TOMS or some other nicer-looking, non-sporty shoe) and try to dress as nice as possible out of respect for the temple and culture.
If they don't deem you appropriately dressed, you'll have to go to the over-priced street stalls and find something to buy and wear for your temple visit! For shoes especially, this could be hard to find (especially to find your size).
What other shoes should I bring to Thailand?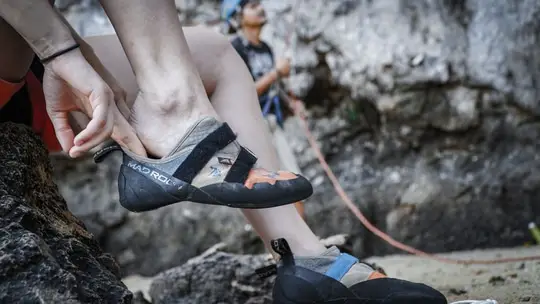 If you're planning on going rock climbing in Thailand, you'll probably want to bring your climbing shoes (which you can find on Amazon)! Especially if you're staying in one place a while to climb, you don't want to pay to rent shoes every day, and they probably won't be as good as your own.
If you're planning on saving money on diving by doing a lot of snorkeling instead, and you have space in your bag, we always recommend bringing your own mask, snorkel, and FINS—which aren't quite shoes, but sort of… To rent them every day during your trip adds up and the rental equipment can be junky (not to mention the hygiene factor with sharing snorkels with hundreds of other tourists).
For the airplane, you might want to wear the bulkiest pair of shoes you're bringing in order to save space in your bag. It's also nice to wear slip-on shoes like flip flops in airports, because going through security is easier and faster. You can do this and bring a pair of socks in your carry-on to keep your feet warm on the plane.  
What shoes should I definitely NOT bring to Thailand?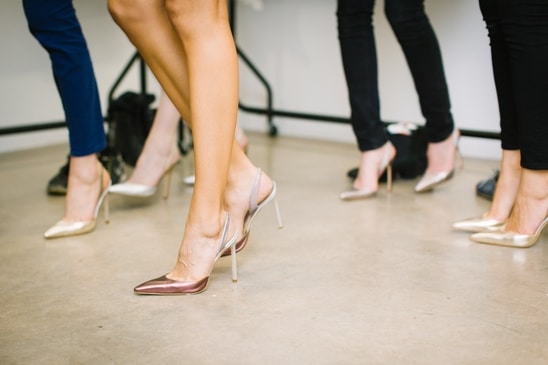 As mentioned, heels—just leave them at home. They'll be a waste of space unless maybe you're staying exclusively inside a super fancy resort and never leaving it.
Also, avoid bringing more than three pairs of shoes if you can. Too many pairs of shoes will just sit in your bag and taunt you with their uselessness!
How do I deal with smelly feet and smelly shoes in Thailand?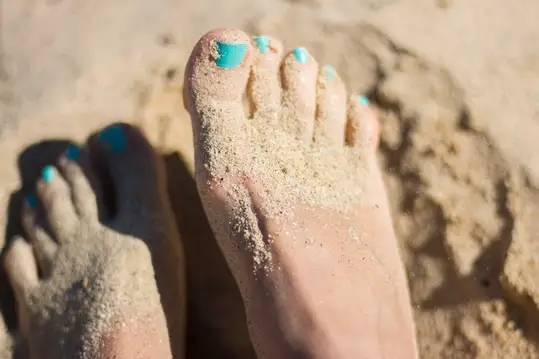 In the heat and humidity, if you're wearing close-toed or fabric-y shoes, as opposed to something rubber, plastic, or waterproof, you might find that your shoes are getting kinda… smelly.
And it's possible to get athlete's foot (also known as foot fungus) in a matter of days. It is red, raw, itchy and uncomfortable. You don't want this!
If you're prone to sweating or if you're going to be wearing close-toed shoes a lot in Thailand, bring along a bottle of medicated talcum powder, which you can find on Amazon. Air out your feet every few hours during your trip, whenever possible really, and every time you do this—put powder on your feet and between your toes to absorb the humidity.
Each time you wash your feet, dry them well (and then apply talcum powder).
If you take this precaution, you will be fine and avoid total smellyness.
---