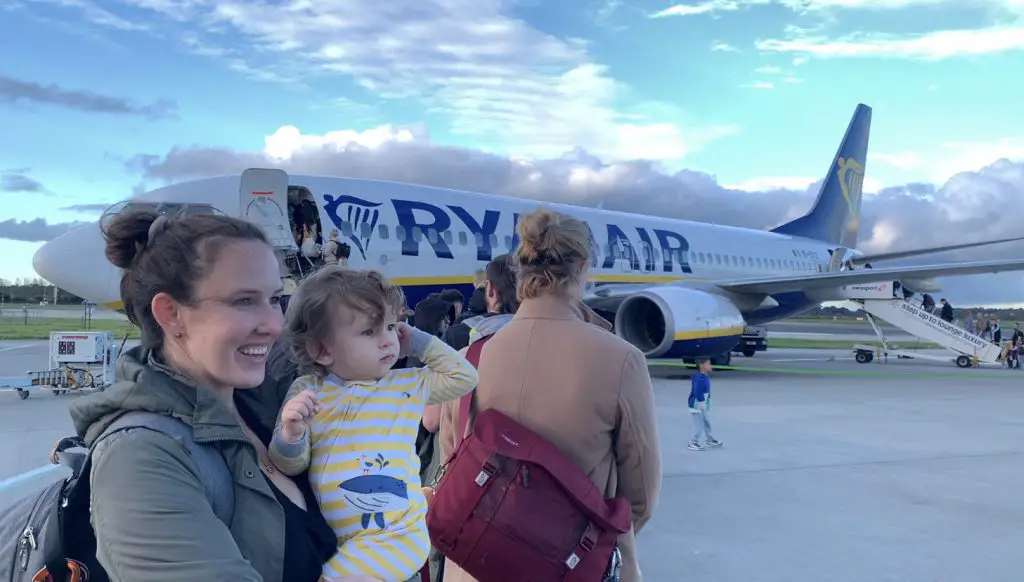 Flying with a baby is one thing, but with a toddler… it's a whole new world! We've flown many times now with our son when he was a baby but now at 15 months, we're realizing just how much the game has changed.
When flying with a toddler, it's even more important to be prepared — and you'll need lots of activities to keep your wiggle worm entertained.
Based on many flights and lots of experience with my little, here is a simple, easy, essential checklist — with photos — for you to pack when flying with a toddler (a clean PDF version can be found at the bottom of this article!).
You'll also find below a list of totally unnecessary, money-wasters that you shouldn't bother spending your cash on or lugging with you on your travels.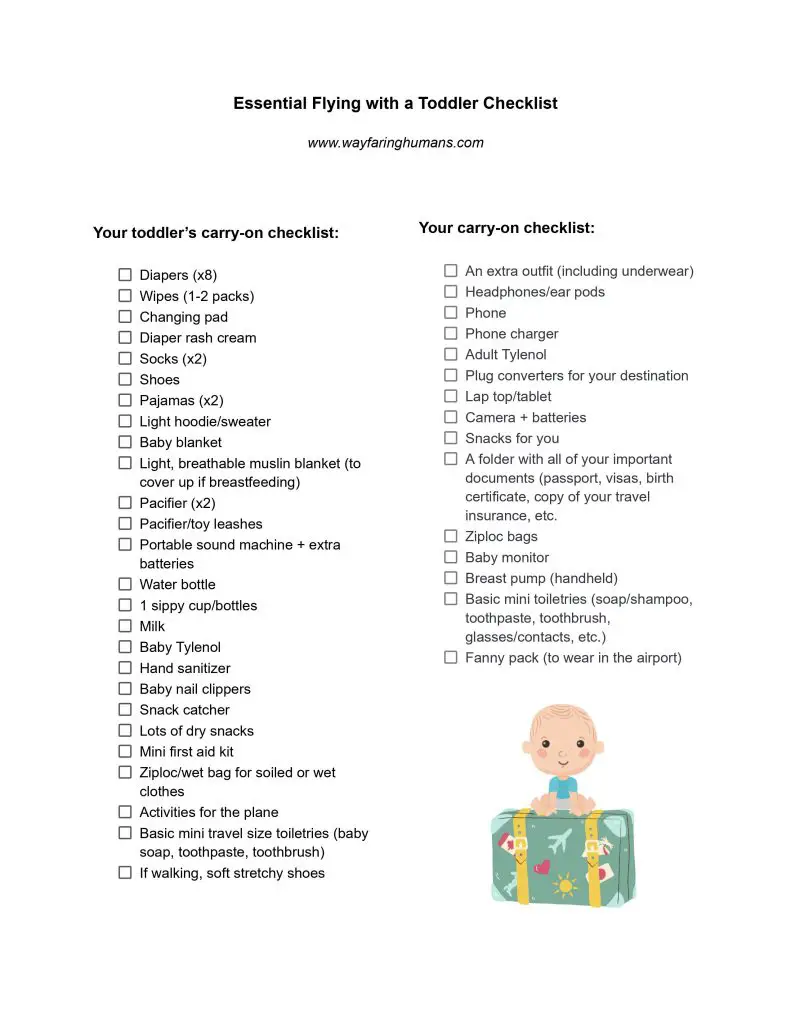 PRO-TIP: Bring a small roll of medium and large Ziploc bags and a few extra plastic shopping bags. For any and all random spills and messes throughout your travel day, you'll be glad to have them.
The shopping bags (such as a reusable tote) come in handy when you're trying to get off the plane quickly and you can just shove all your stuff into one instead of trying to pack things neatly back into your carry on bags.
What to Pack for Your Toddler on the Airplane
Read over my "essential flying with a toddler checklist" above (or in the PDF at the end of this article) and see how it resonates with your family's specific travel needs. Add or subtract items depending on the length of your flights, layovers, and how many days you'll be away.
These are your CARRY ON items — this is what you'll need in transit in the airport and on the airplane. Please find out what to pack for you and your toddler's checked bags below.
As for the bags themselves, I personally like to bring just one small bag for myself and then a diaper bag for my son's items (so, two backpacks). This will depend on your carry-on allowance and personal preference.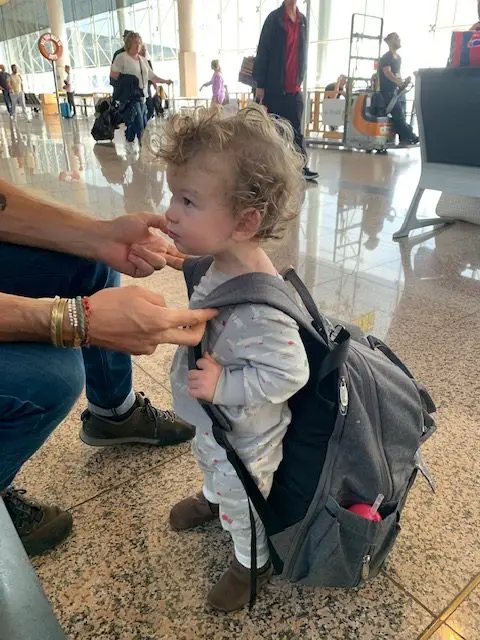 How to Dress Your Toddler on the Airplane
You'll notice that I have pajamas listed. Keep your toddler in comfy clothes for travel days. Bring at least two extra outfits. Carry on a blanket in case they get cold while sleeping (and this can double as a cover if you're breastfeeding).
Bring a pair of soft shoes — they don't take up as much space in your bag, aren't hard-soled/painful when your toddler is stepping all over you on the plane, and won't get damaged because you'll be inside the whole travel day (inside either a plane or an airport).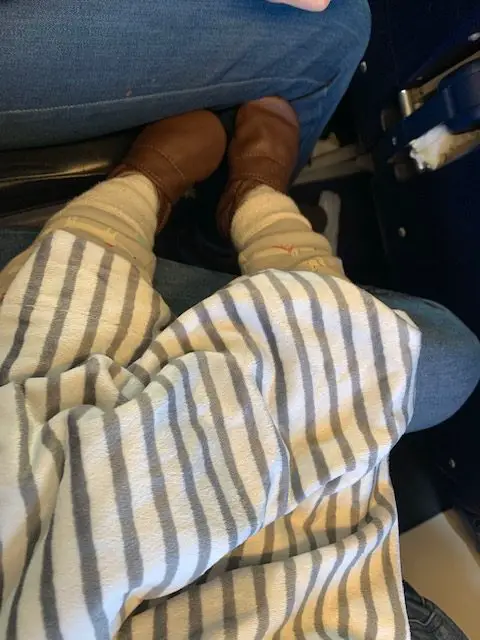 Food/Drinks for Your Toddler on the Airplane
Most toddlers will be happy with lots of dry snacks and pouches. Snacking is an activity! At least on travel days, it is! Bring some containers full of snacks they love and also some novel snacks to discover. I really love snack catchers that allow toddlers to access their snacks independently without spilling too much. I also travel with a couple of sippy cups (one for water/juice and one for milk).
You can plan to wash sippy cups in the sink using something like camping soap, or travel dish wipes.
Bring your toddler's milk with you as well. If you're traveling in the US, TSA regulations allow you to bring milk in larger quantities than other liquids if it's for a baby/toddler. If you're traveling internationally, regulations may vary and you may need to have a flexible Plan B (buying milk for your toddler after security, for instance).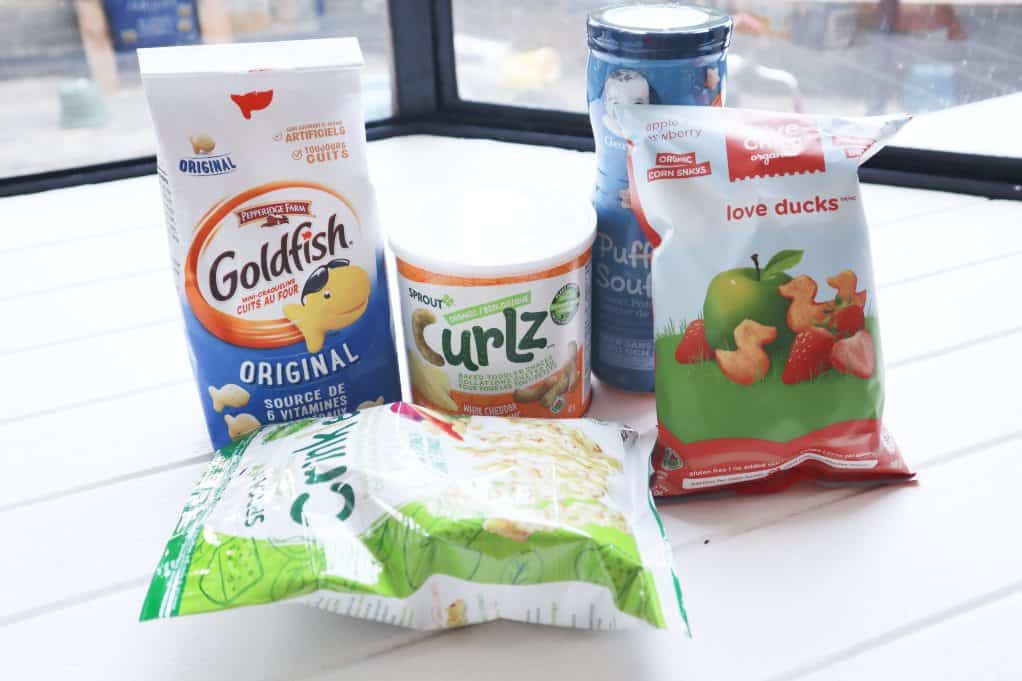 Activities for Your Toddler on the Airplane
Most parents of toddlers will tell you that their go-to on travel days is an iPad or some other kind of tablet loaded up with shows and movies. You may also want to get your toddler their own mini headphones.
We have these ones and our son is still a bit too young but I think he'll be using them more often around the 18-month mark. There are more travel activities out there, however, than just a tablet!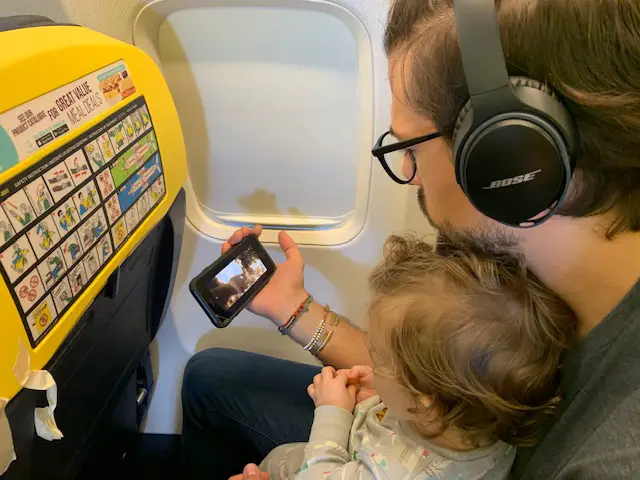 Non-Tech Travel Activities for Your Toddler
You get forgo the tablet altogether if you want. It's a good idea to have some other activities on hand no matter what.
Some favorites of ours are stickers (especially puffy stickers or reusable stickers, but any kind will do), Water Wow books, and any kind of cheapy novel dollar store toy. Here are some other ideas:
Crayons and coloring books
Magnet toys
Sensory boards/Busy boards
Pill boxes filled with dry snacks
Sleep Essentials for Your Toddler on an Airplane
Think about what your toddler will need to sleep at the airport or on the airplane. Every child is different. Some parents have success with car seats, while others have opted to bring an inflatable bed or footrest (these are banned on some airlines however, FYI). For a car seat or an inflatable, you'll need a seat just for your toddler.
If you don't have a seat for your toddler, you may need to think through how your toddler will sleep either on you, across you and your partner's laps, or perhaps in an airplane bassinet if your toddler is still small enough (my son slept in one at 14 months).
Some things to consider packing for your toddler to sleep:
a blanket or comfort item
pacifiers (and pacifier leashes)
baby carrier (to rock them to sleep, walking down the plane aisles)
portable sound machine
travel night light
You may also want to pack your baby monitor in your carry on bag so it's easily accessible to set up as soon as you arrive at your destination.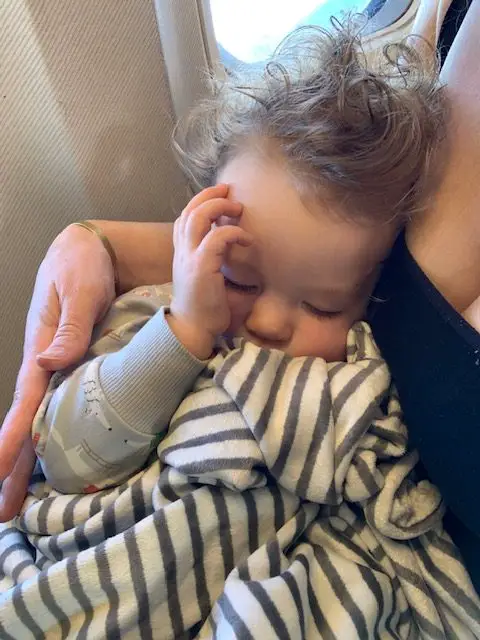 Health and Toiletries for Your Toddler
A couple of important health and bathroom items I've listed above include a mini first aid kit.
You want to be able to bandage any boo boos and to be able to take your toddler's temperature with a thermometer if you need to. Unfortunately, this has been necessary for us more than once and we were glad to have packed it.
I recommend having some basic travel-sized toiletries in your carry-on (hand sanitizer, soap for your toddler, soap for you, toothbrushes, etc.) just in case you get stuck with a long unexpected delay or layover.
Additional Travel Items to Consider Packing for Your Toddler
What you pack will of course vary based on your own family's specific needs, where you're traveling, and how long. Here are a few other items to take into consideration while packing.
Carrier/Stroller
You'll want some sort of contraption to carry your toddler around of course! There are so many options and it will definitely depend on where you're going and what sort of activities you plan to do.
You may want to bring a lightweight stroller that you can easily travel through the airport with, or even bring on the plane with you. There are small, collapsible strollers that will suit your needs. Other parents prefer larger, more substantial strollers for locations with lots of rocks and cobblestone streets!
Strollers have been known to get damaged during travel so some parents prefer to bring a cheaper option with them and leave the expensive model at home.
If you want to leave the stroller at home altogether (we've done this a lot!), there are carrier options, such as the Lille Baby carrier, which we still use at 15 months. Baby can be worn front-facing or on the back. We've always used this for navigating the airport with our baby (now toddler) and boarding the plane.
We also love our hiking backpack and our Trail Magick for hiking and doing lots of walking while traveling.
Car Seat
It's a good idea to bring a car seat with you if you think you might need it at your destination — or of course, if you plan to use it on the airplane.
We're still taking our toddler son onboard as a lap infant (and will until he's two years old and we have to start buying him his own ticket), so we don't have the option of bringing his car seat on the plane — unless there happens to be open seats available.
Check the stickers on your car seat and make sure that it fits the regulations of the airline and country where you are traveling.
Potty-training items
If your toddler is being potty-trained, you'll want to bring your travel potty-training seat with you.
Documentation
As with all adults traveling abroad, your toddler will need a passport. Depending on your specific situation, your toddler may also need one of these documents:
Birth certificate
Boarding Pass
Vaccination record
Physician's note
Notarized parental consent letter
If you're not sure which documents you need for your baby or toddler, please check out my article on this topic, covering all the documentation you need in order to fly with a baby internationally!
Take a picture of each document so that you at least have a copy in case anything gets lost/stolen. An even better idea is to also have a paper copy of them all too (especially your passports) and to keep them somewhere separate in your bags.
What to Pack for Yourself on the Airplane when Flying with a Toddler
You'll notice a section in my checklist above for what YOU should bring for YOURSELF when traveling with a toddler. What you bring for you is really important too, as the caretaker and brains behind this operation. It's important that you be as comfortable as possible too.
Everything on this list is important but I want to highlight this one: Bring an extra outfit (something that rolls up small) in case something gets spilled on you, or for when you arrive at your destination and want something quick to change into without digging into your checked baggage.
What to Pack in Your CHECKED Bags When Flying with a Toddler
I did not include "checked bag" packing items on this list because it will vary SO wildly between families, destinations, and weather. Packing for a weekend and three weeks will look completely different — Packing for the summer and winter won't be the same!
So while I don't have a checklist for your checked bags, I can make a few suggestions for what to bring for your toddler:
If you won't be able to do laundry at your destination, plan to bring 2-3 changes of clothes per day.
Bring clothes that roll up easily and don't take up much space (no jeans).
If you won't be able to buy diapers/pull-ups at your destination, plan to bring 4-6 per day.
Baby monitor to use at your destination
What You DON'T NEED TO PACK When Traveling with a Toddler
Don't waste money or space (or your sanity) traveling with these toddler items:
a bed
a bathtub
high chair
In most cases, you can rent these items from your hotel or Airbnb (or a local baby item rental service). Ask ahead before you leave to make sure your hosts can set you up with the items that you'll need.
PDF Version of the Essential Packing Checklist for Traveling with Toddlers
Here is my PDF version of the travel with toddler packing checklist you just read about, for your convenience. I hope it helps!