We knew we would be backpacking in India for a month, and Phil is a rock climber, so Hampi showed up on our radar pretty quickly!
It wasn't in our original plans but we decided to take a one-week detour because of the bouldering and rock climbing, and because we wanted to see this unique, beautiful backpacker's paradise everyone was talking about! It definitely didn't disappoint.
We cover a lot of ground in this post, so hopefully you'll find the information you're looking for, whether you're a backpacker looking for some calm and relaxation on your busy India trip, or a climber in search of a cool place to stay and rent some gear.
This post breaks down:
Why you should visit Hampi
What to see and do in Hampi
Bouldering and climbing in Hampi
How to get there by train
Where to stay
Boats and getting around the river while in Hampi
Safety and scams
What to wear/pack for backpackers in Hampi
---
Why Visit Hampi?
This section talks about what makes Hampi special compared to the rest of India and why you SHOULD NOT MISS IT. I'm so glad we made the last-minute decision to go.
First of all, walking around Hampi feels like being in another century. It feels like 'Land Before Time' and a dinosaur is going to come out from behind one of the giant boulders. If you're a photographer or inspired to travel because you love taking beautiful pictures, you have a million opportunities for unique shots in Hampi.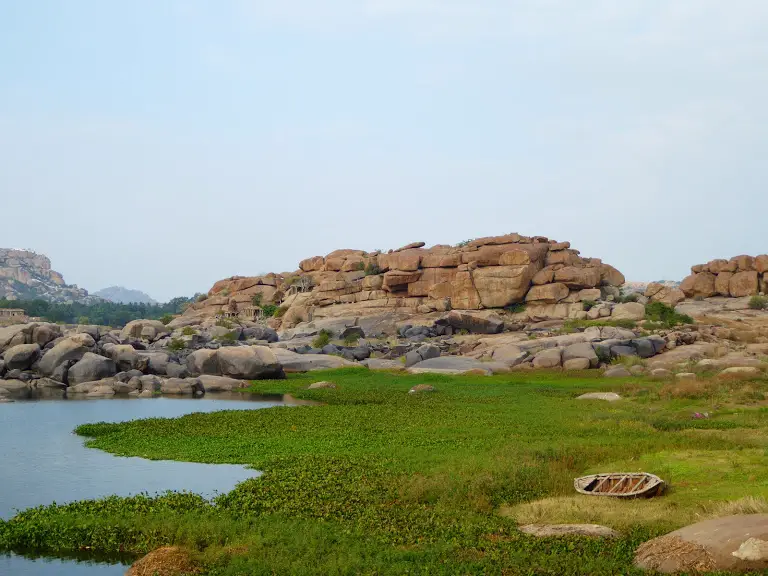 Location-wise, Hampi is somewhat easily accessible by train via Goa or Bangalore, which is explained more in depth in a following section ("How to get to Hampi"). If you're already going to one of these places, why not also visit one of the coolest and most interesting places in India along the way?
You don't need a week and can see most everything in 2-3 days, but you'll probably want to stay longer because it feels like such a chill enclave in the busy-ness that is traveling India.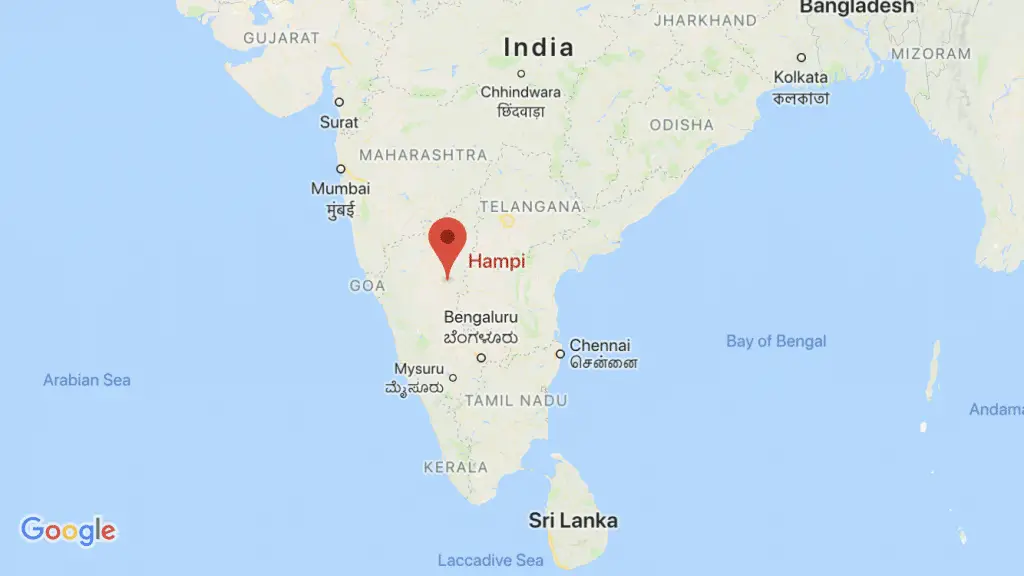 The serene atmosphere is another reason not to miss Hampi. You'll find a generally hassle-free vibe in the air that will make you want to stay off the travel train for a bit and explore some nature.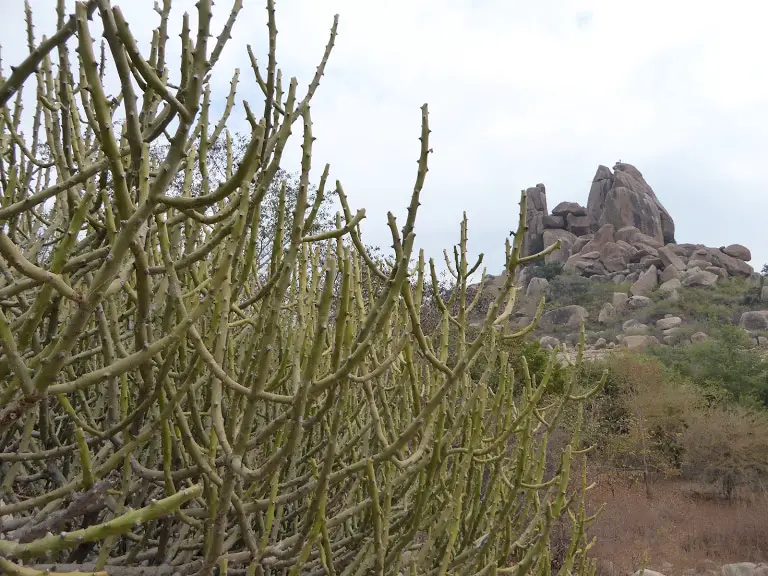 Some incredible facts about Hampi:
If you're into history, this will blow your mind. I won't do it justice in this short space, but basically Hampi was the center of the Hindu Vijayanagara Empire in the 14th century.
It was described by visitors from that time as "the most beautiful city in the world" and became India's richest. Traders came from around the known-world and spoke of this place's incredible temples and marketplaces.
After Beijing, it was the second-largest city in the world by 1500!
However, in 1565, Hampi and the rest of the Vijayanagara Empire was defeated by Muslim sultanates – pillaged, destroyed, and left in ruins! As it remains today. Beautiful, beautiful ruins… to be explored and marveled at by goofy tourists like us.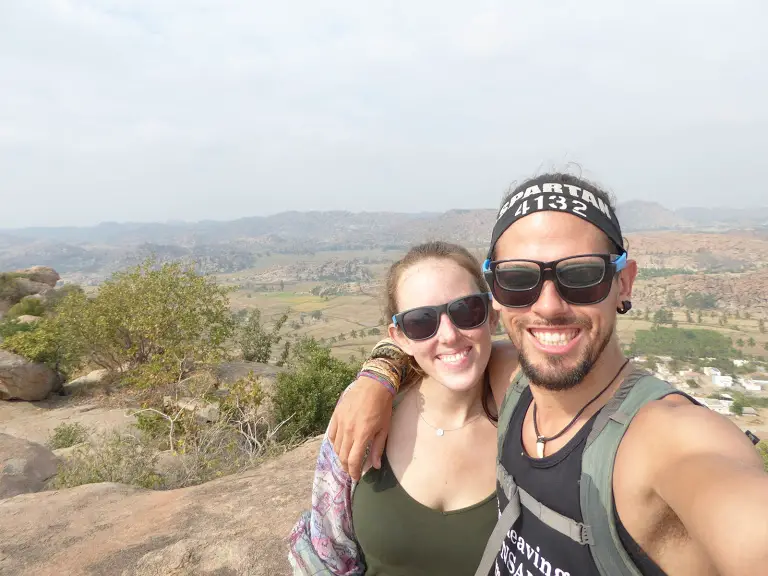 ---
What To See and Do in Hampi
If you're just going to Hampi to climb and/or boulder, skip this section! We also mostly spent time on the "hippie side" of the river in Hampi, which is where the bouldering and hiking are, but when we weren't doing that – there were plenty of other cool places to visit. Here are some of them!
Virupaksha Temple
We had a good time watching monkey quarrels here! This is an active Hindu temple with a courtyard inside, and dates back to the 7th century AD.
It somehow survived the pillaging and destruction that flattened much of the rest of the structures in Hampi and has many, many amazing statues and shrines to check out within its ancient walls.
It also lends itself to pretty photo-taking opportunities.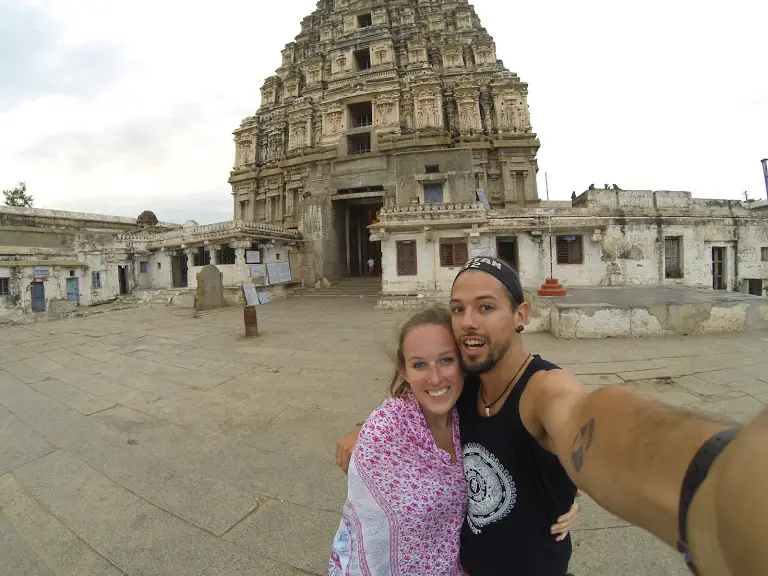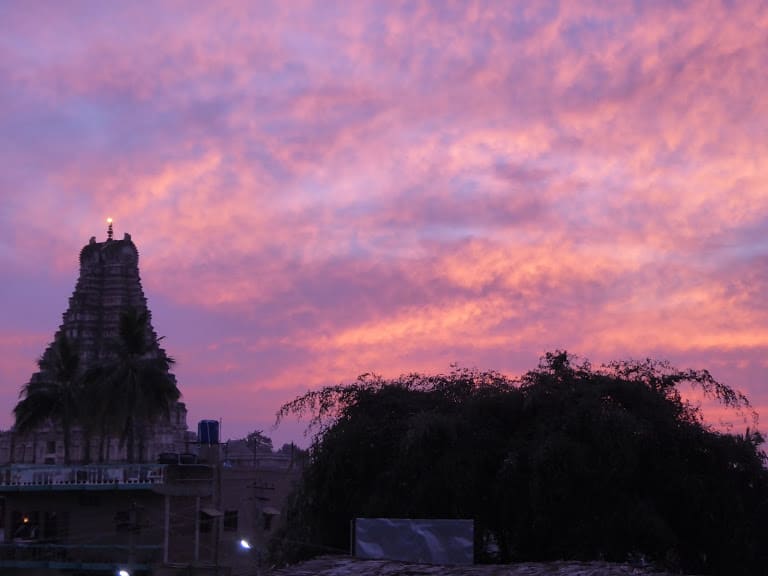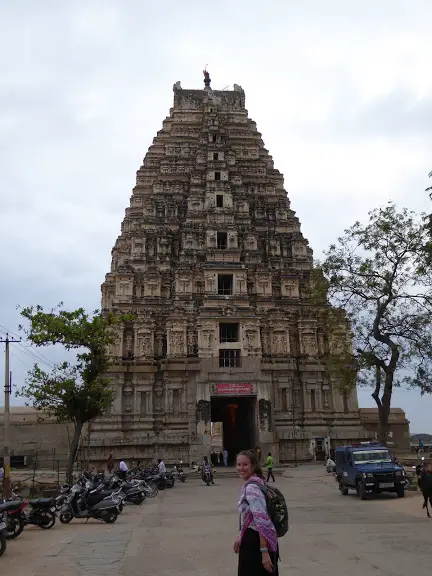 Hanuman "Monkey" Temple
You can take a fun hike up a bunch of stairs to the top of Anjaneya Hill, where you'll find the Hanuman or "Monkey" Temple. You will be greeted by spectacular views, and pesky monkeys (so watch your belongings!).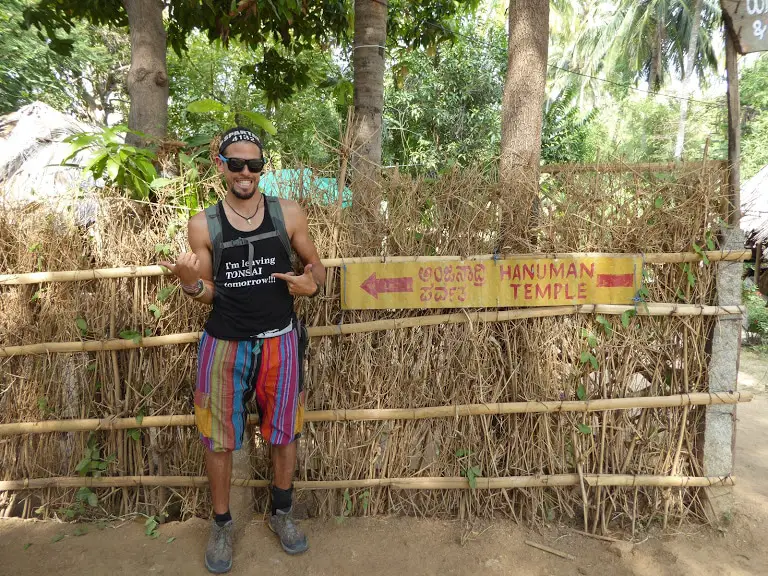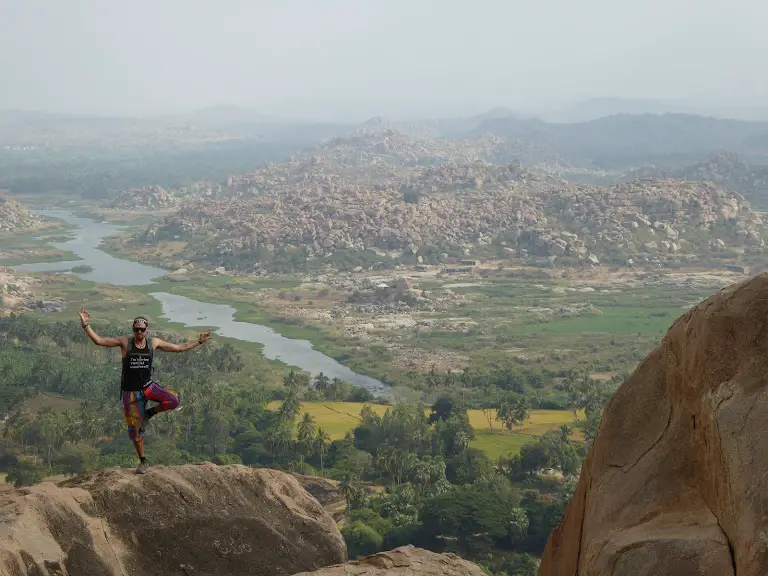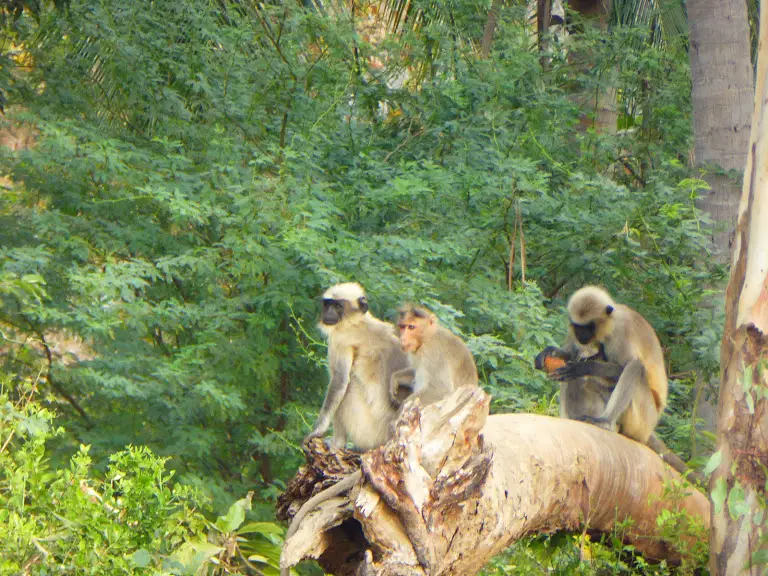 Stumble around the ruins
There are something like… more than 1,500 ruins in Hampi, so no shortage of cool things to check out. You can get lost along the river and live out your Indiana Jones archaeologist fantasies.
TOURS: We're not personally big fans of organized tours (usually), because they feel restrictive to us (and kind of boring) BUT if you would like a tour, there are plenty of options available to you. And we've heard of people who had awesome personal tours with local people who know Hampi super well and could tell them all sorts of interesting facts about it.
If you're reading this post, it's probably too late, but I would almost recommend not planning or looking too deeply into "tourist attractions" for your time in Hampi if you have a good amount of time here. Just explore and get lost, and discover the ruins for yourself.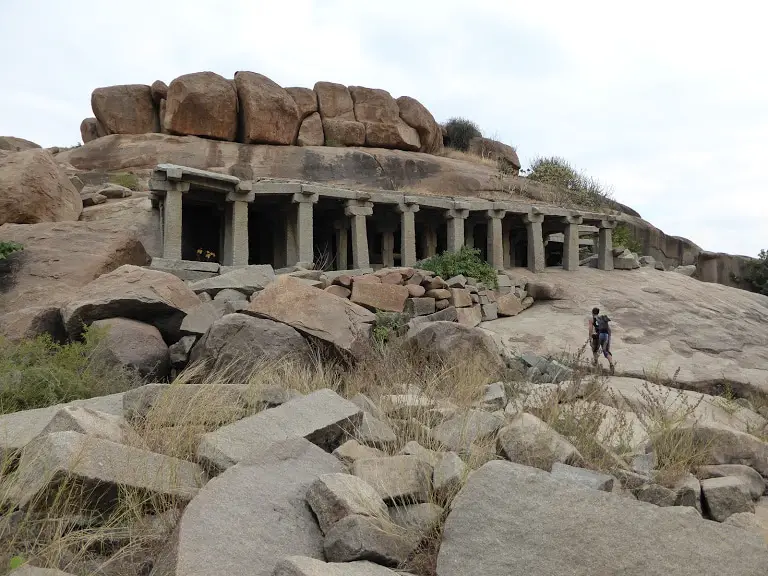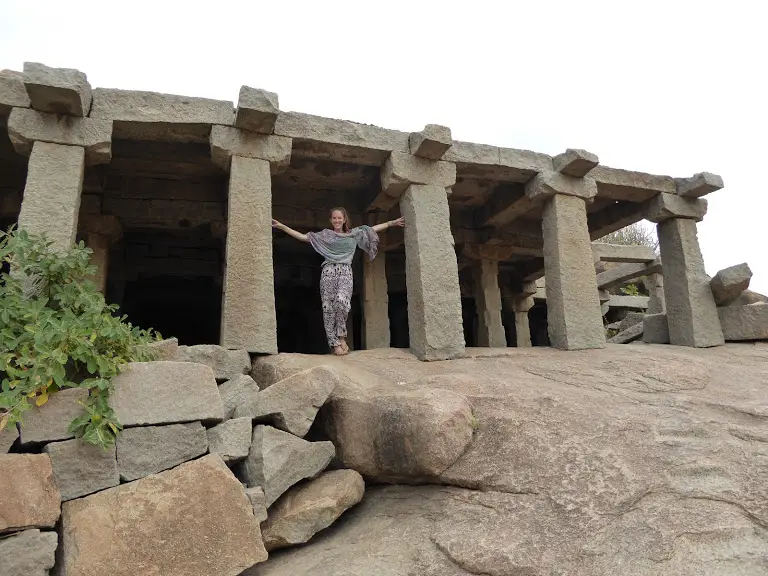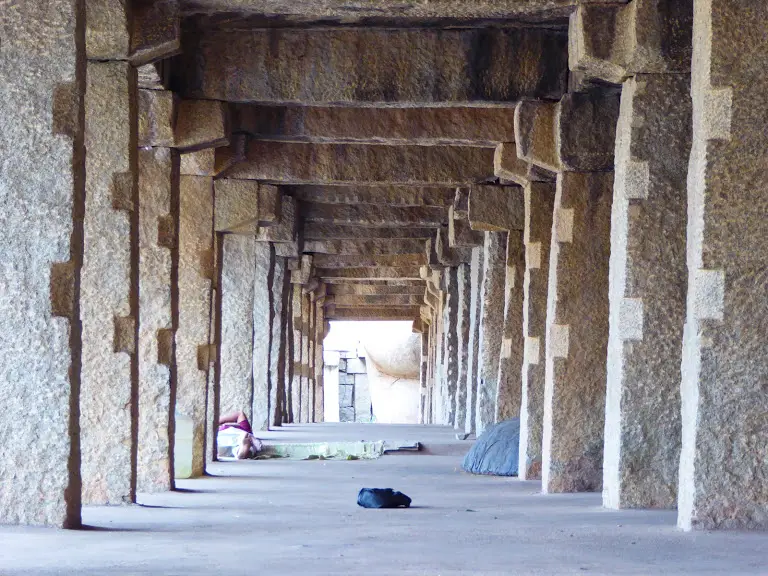 ---
How to Get to Hampi from Goa by Train
You have to experience the train while in India, and the trip from Goa to Hampi will give you about 7-8 hours of EXPERIENCE.
It's actually a really beautiful ride, and so lush and green for us after a couple weeks in Rajastan's deserts.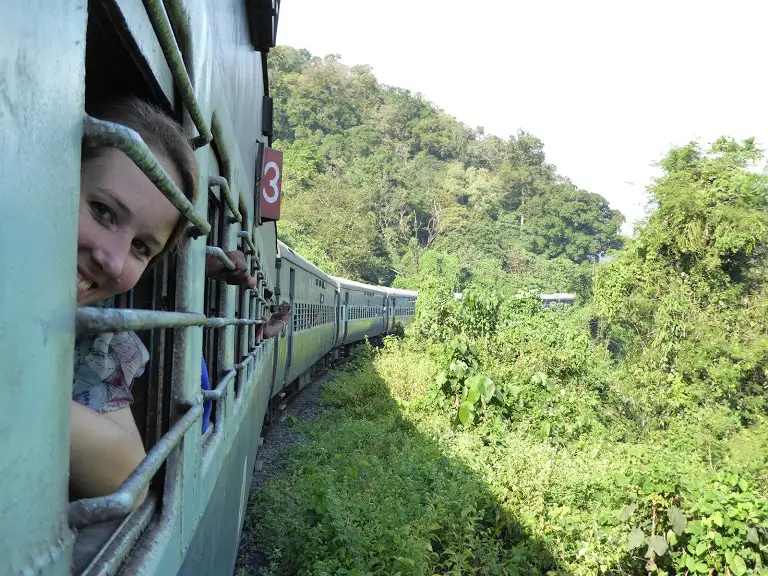 I don't trust putting exactly train times and dates here because I'm sure they'll change in time. However, I would suggest booking in advance if possible because this is a popular train route. Check either online or in person at Vasco da Gama station in Goa what days and times the trains leave for Hampi.
You should plan to leave early in the morning if possible so that you get to Hospet (the closest town to Hampi) in the afternoon. From Hospet, you'll take a tuktuk about 15-20 km to wherever you're staying in Hampi.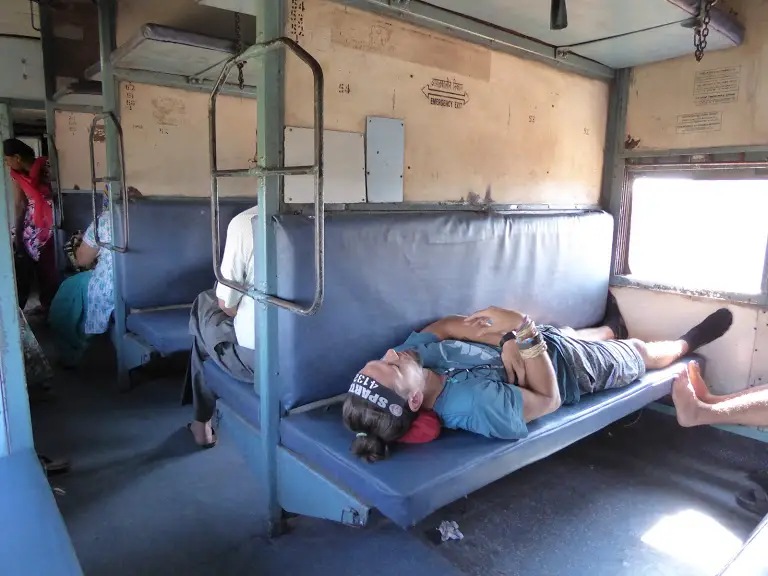 As for booking the tickets, we could never quite get the online system to work for us, so we had to buy all of our tickets in person at the stations. This always felt a little bit risky, because we would have been in trouble if they were sold out, but that never happened. Also, we were buying the cheapest general seating (like 3-4 dollar ish each) tickets.
So I guess my advice is to be flexible, but if you're traveling in India, you already know that…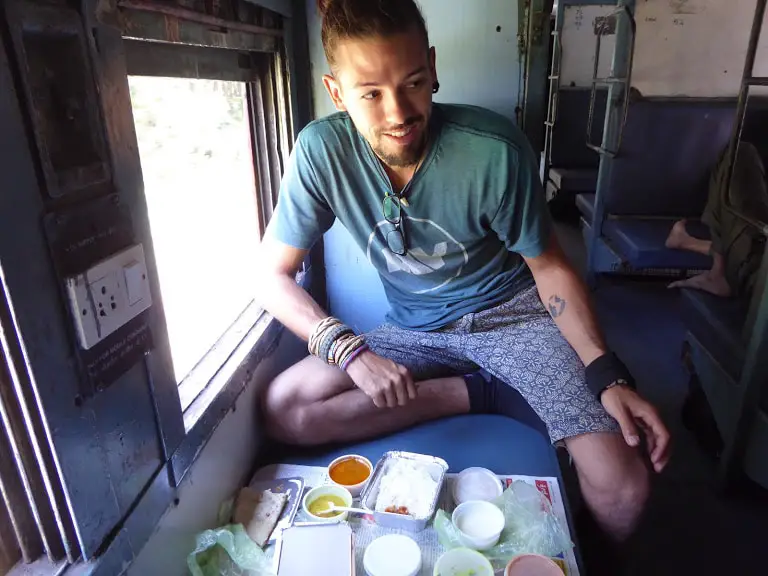 ---
Where to Stay in Hampi: Town or Hippie Side?
We weren't sure whether to stay in town or on the so-called "hippie side" / "hippie island" (which as far as I can tell from my extensive map-reading skills, is not an island at all).
"The hippie side" is actually called Virupapura Gaddi (located north of the river on the map), and has all of the iconic boulders, as well as beautiful rice paddy fields and quiet hut-style hostels/hotels to stay in.
The south side of the river is the "town" part of Hampi with many of the popular temples and tourist attractions.
You can stay on either side, and go back and forth between the two on a little boat ride, but should probably choose to stay on the one that better fits the kind of trip you want to have for the sake of convenience.
We didn't follow our own advice and ended up staying on both sides of the river– first for a couple of nights on the "town" south side at a place called Sudha Homestay, which was cheap and simple. Good enough but nothing spectacular. You can see it on the map here, on the south side of the river: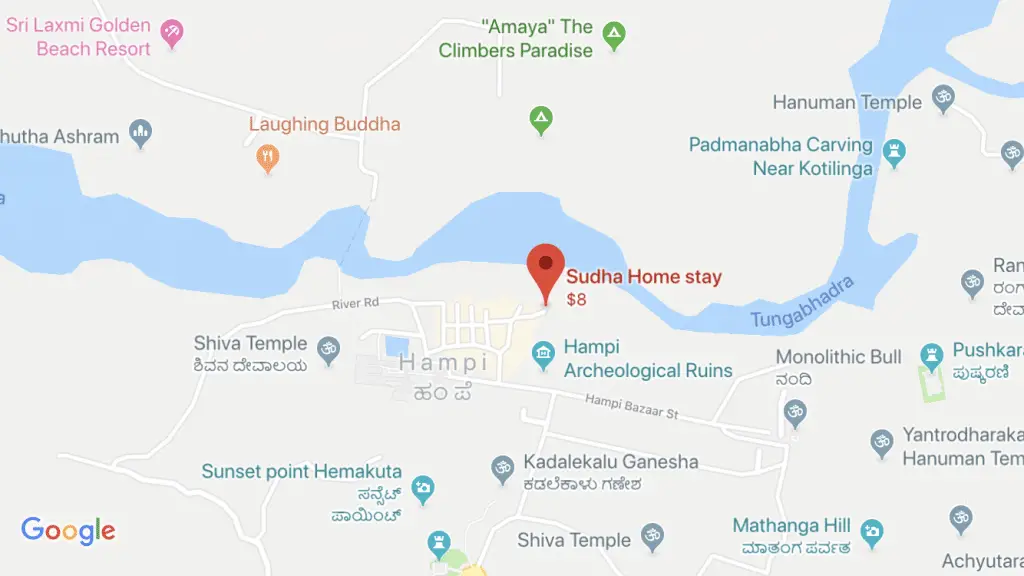 And the rest of the time we spent in Virupapura Gaddi at a place called the Goan Corner, which you can see on the map below. We preferred staying here, on the "hippie side," in the end. It was just more relaxed and beautiful in our opinion, and perfect for bouldering and hiking if you're planning on doing any of that.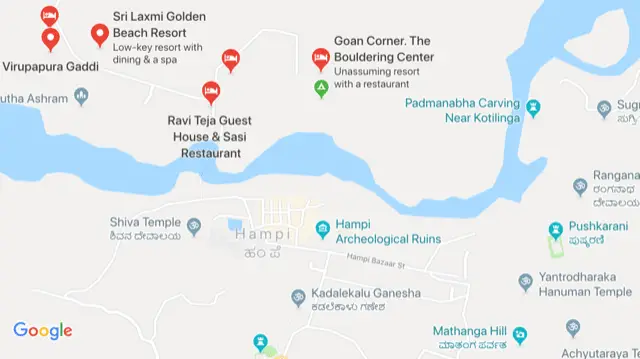 Here's Phil chilling outside our hut at the Goan Corner: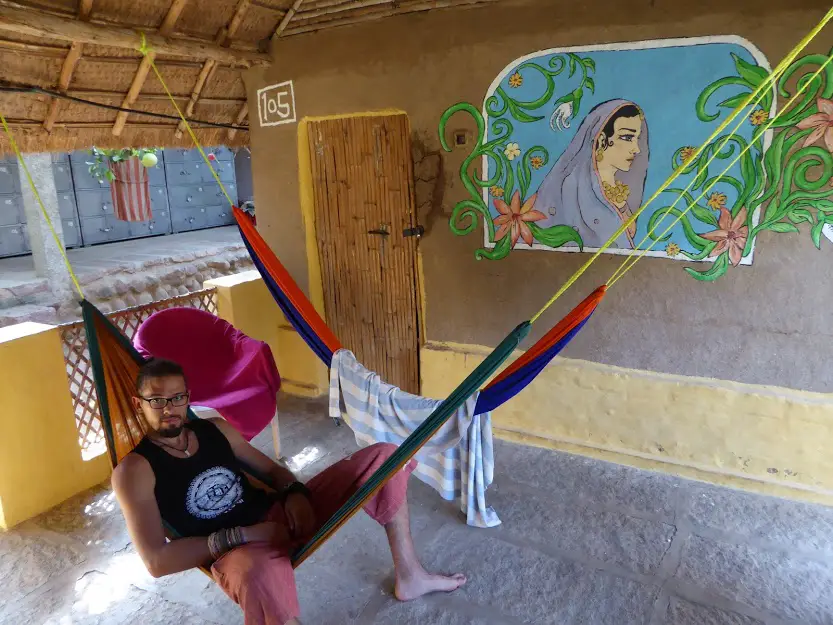 When we were staying in town, we just ended up crossing to the other side of the river, and staying there all day anyway, so it made sense for us to stay longer on the "hippie side." We also liked the food at the Goan Corner and the cozy common hangout space, which included a dog or two: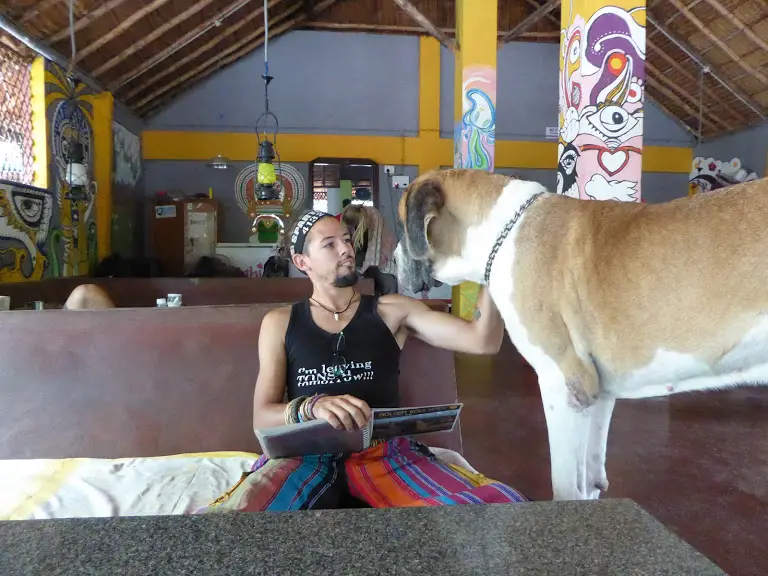 Ask yourself what you what to do while you're there and decide where to stay based on where you want to wake up in the morning.
If it's stumbling out of your room to go bouldering or climbing, or to explore the rocks on a hike, stay on the "hippie side" and I recommend staying at the Goan Corner. They had such a chill, relaxed, quiet atmosphere plus tasty food, and you can rent crash pads and find other climbers.
---
Boats and Getting Around the River
There is a boat that runs frequently all day between the north and south sides of the river, stopping around 5 pm. It fills up with tourists and locals and off it goes. It's a very short and inexpensive ride, but plan carefully so you aren't stranded on either side away from your hostel or hotel.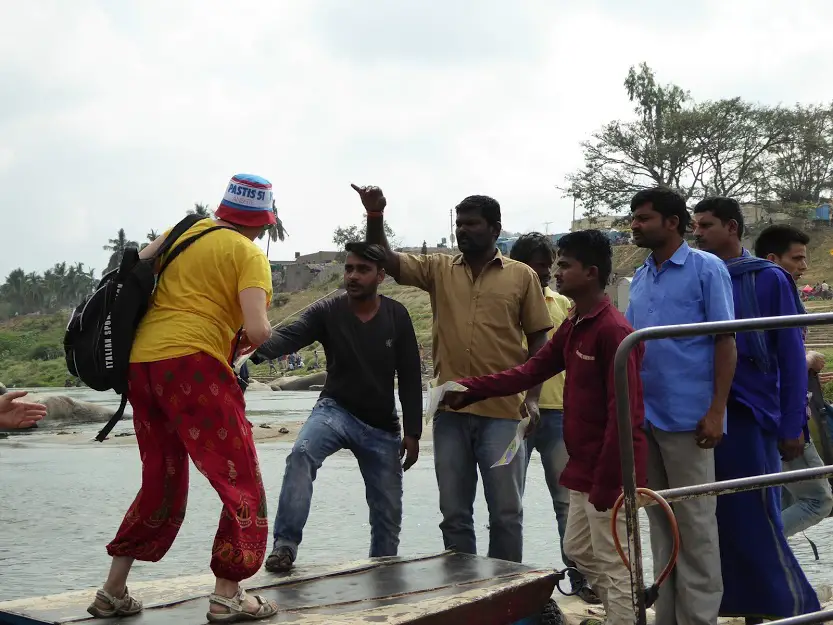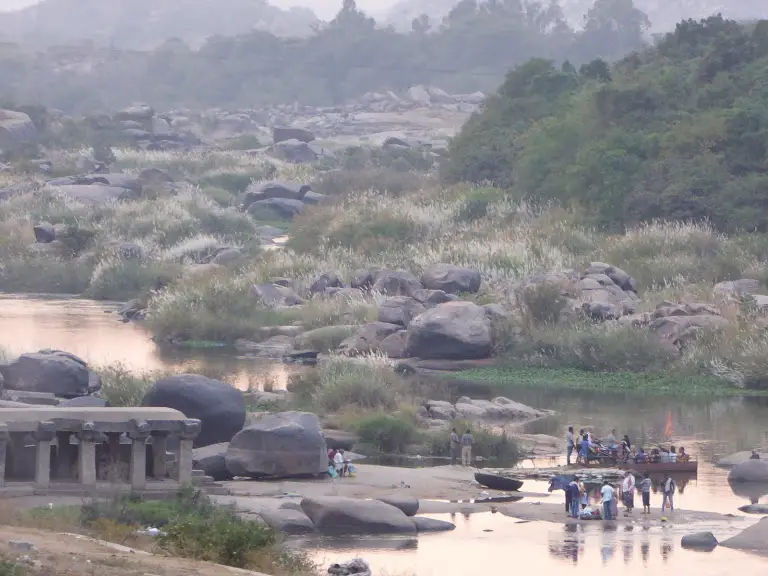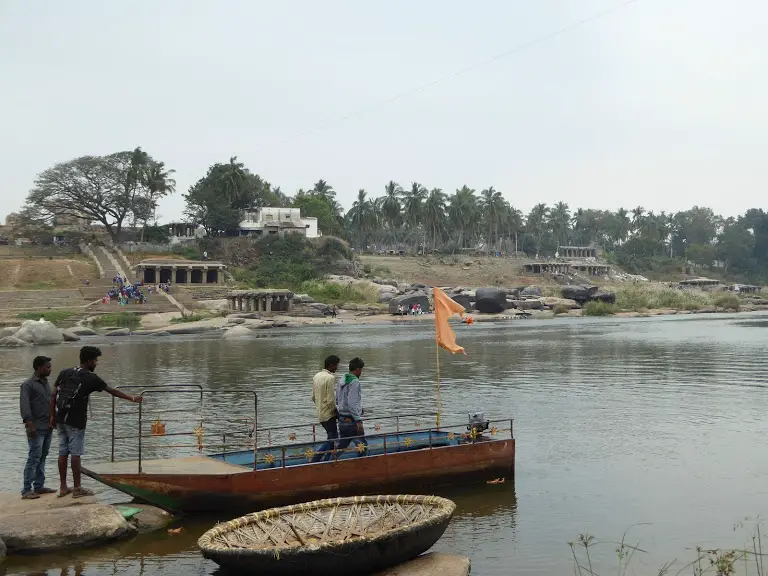 There's another boat option, which is the more expensive private boat, pictured below. This memory makes me cringe a little bit, and Phil makes fun of me every time we look at photos of it together, because I was in a bad mood thinking we had paid too much for this boat ride (it was probably something like 4 dollars). I made a big deal out of it and was a dumb princess, so Phil took some grumpy pictures of me… but I guess I actually did smile in one!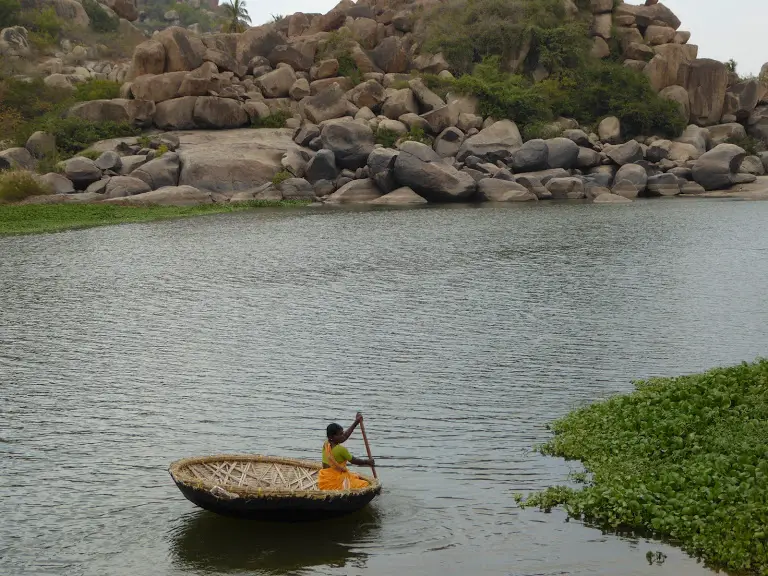 Other modes of transportation in Hampi that looked awesome but that we didn't try out: motorbikes and bike-bikes! Give 'em a shot!
---
Bouldering and Rock Climbing in Hampi
And of course, there is bouldering and rock climbing in Hampi too! This is why many, many people make the journey to Hampi in the first place. It's what attracted us (see: Phil) and we even randomly bumped into a climber Phil knew from back home in British Columbia while we were there! So weird.
There are thousands of problems to solve for everyone here, from the beginner to the hardcore boulderer. The hot weather can be a problem, so many people seemed to go climbing early in the morning or in the evening, and between October and March, when the sun wasn't as powerful.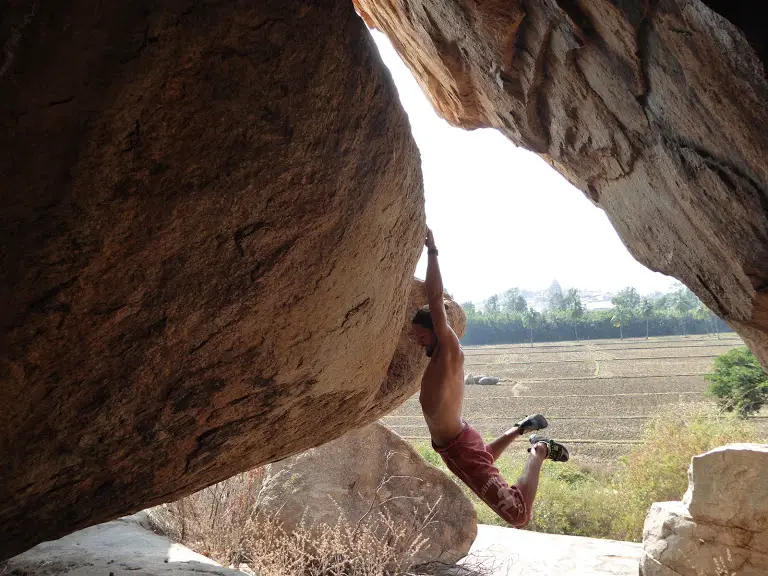 As far as equipment, you can rent crash pads and chalk from places on the "hippie" north side of Hampi. It's probably best to bring your own climbing shoes, because renting climbing shoes can be… pretty gross. And extra painful.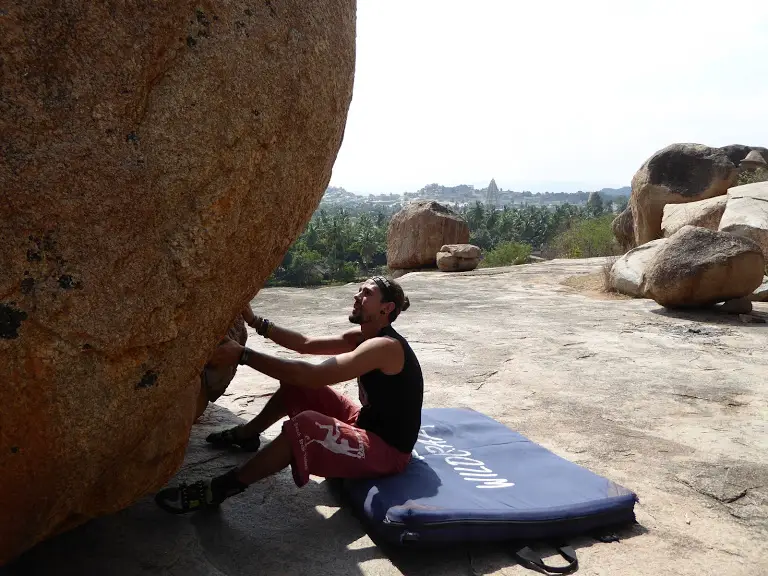 We heard really good things about Tom and Jerry Climbing shop, even though we didn't rent anything from them ourselves. They have climbing gear and will help you find routes in the area.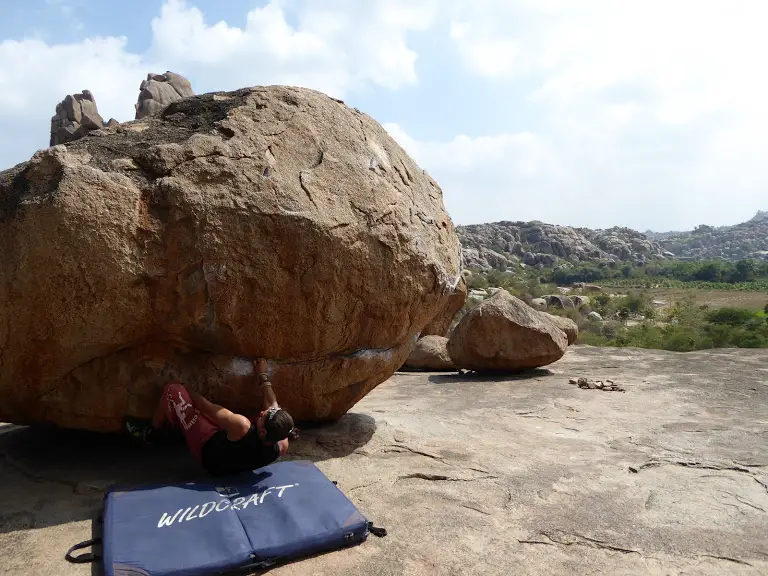 Hampi is mostly bouldering but we did see a group that seemed to be sport climbing up one particular route. They were too far away to really see well, but you can check out a picture of them on the rock below: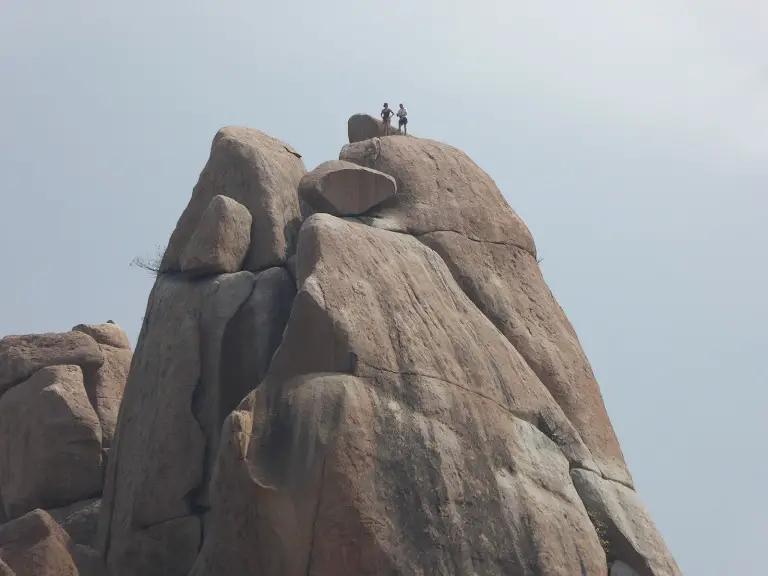 There are even classes for beginner boulderers if you want to learn how to do it. I know Tom and Jerry's offers classes, and perhaps some of the guesthouses do as well, but I'm not sure.
I only climbed once while I was there, with my personal teacher, Phil. He is a much better teacher than I am a student, however…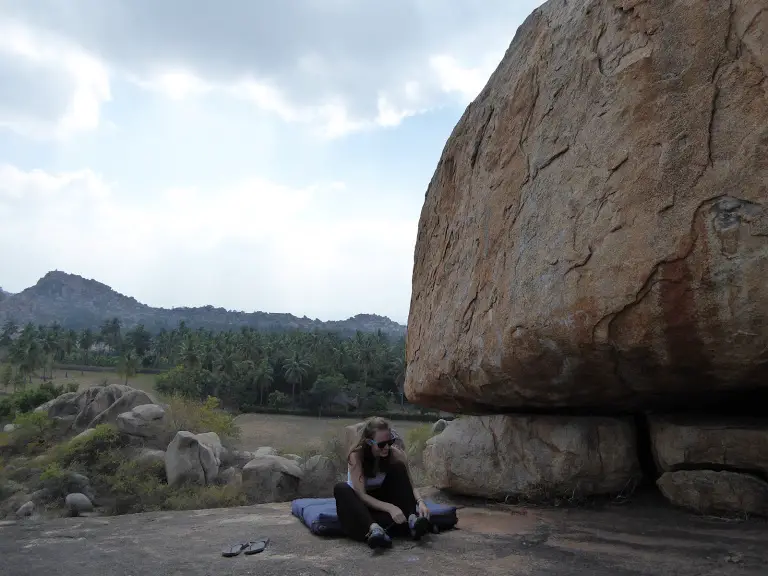 But I did very much enjoy the hiking and the post-climbing rock naps: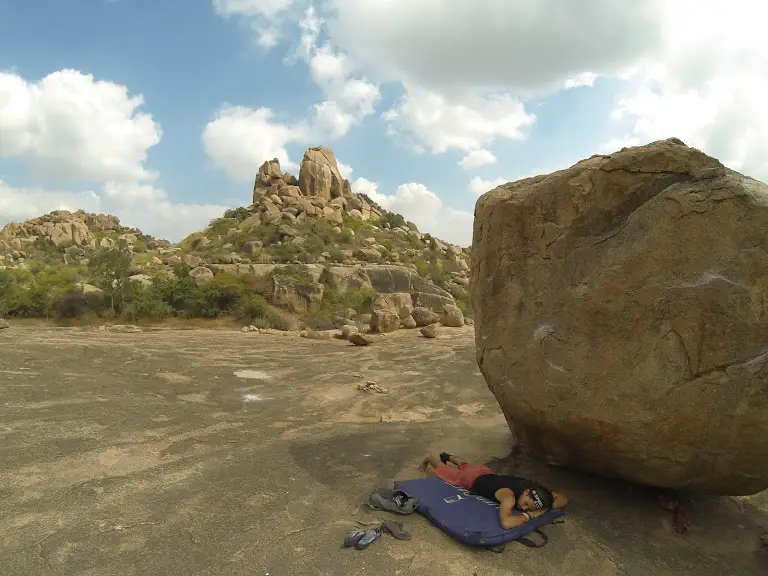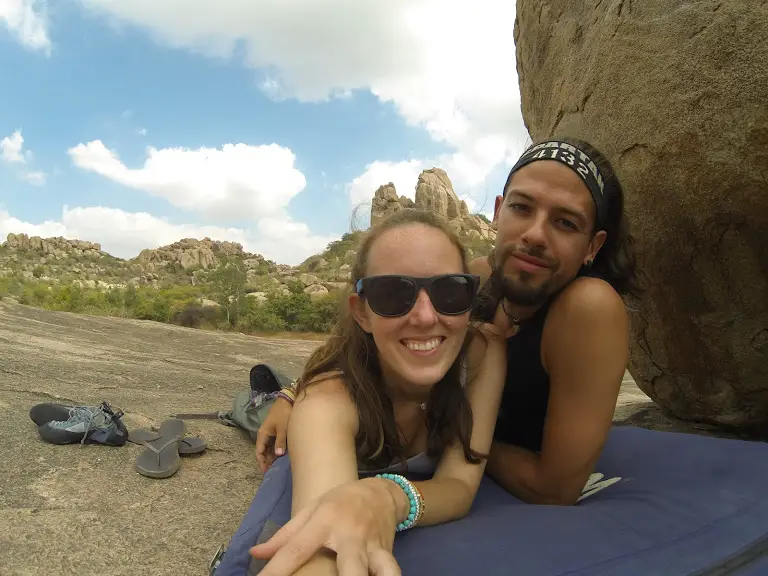 ---
Scams in Hampi
One of the reasons I was excited to go to Hampi was to escape the, what I perceived as, frequent scam attempts that we'd encountered in bigger cities such as New Delhi.
Hampi is a laid back, small town that just doesn't have the vibe of people trying to take advantage of tourists. I've heard of other tourists getting themselves into some trouble, but it seems like if you just use basic common sense, like traveling anywhere else, you won't have any problems in Hampi.
For women, Hampi is very safe, but I still wouldn't recommend walking around alone in quiet, empty areas or in dark, unpopulated areas alone at night.
The only semi-scammy thing that happened in Hampi was a lady insisting on blessing us while we were walking down a street in town, and then asking for money. We <3 Hampi.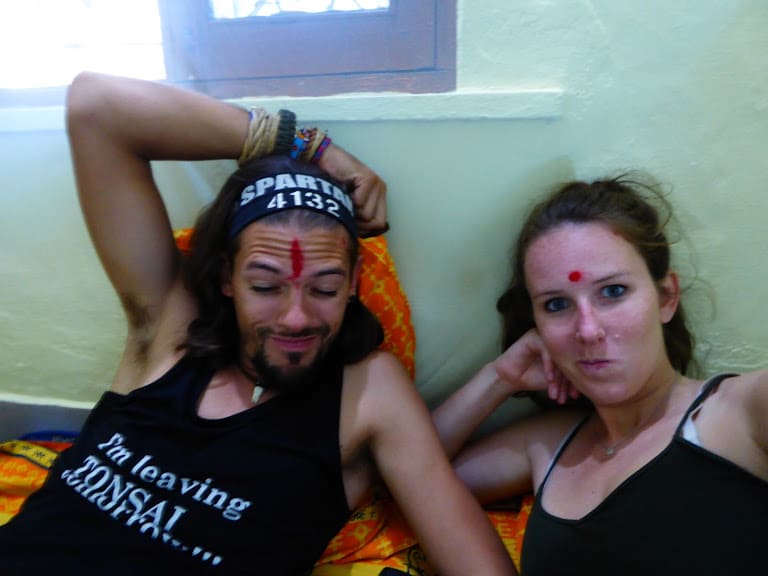 ---
What to Wear/Pack for Backpackers in Hampi
As we know, the joy of backpacking is that you don't have to carry much with you, and this is especially true when you're in a place like India that has so many amazing, cheap scarves and pants that you'll want to buy when you get there. You don't want other clothes from home taking up precious space in your bag at those moments.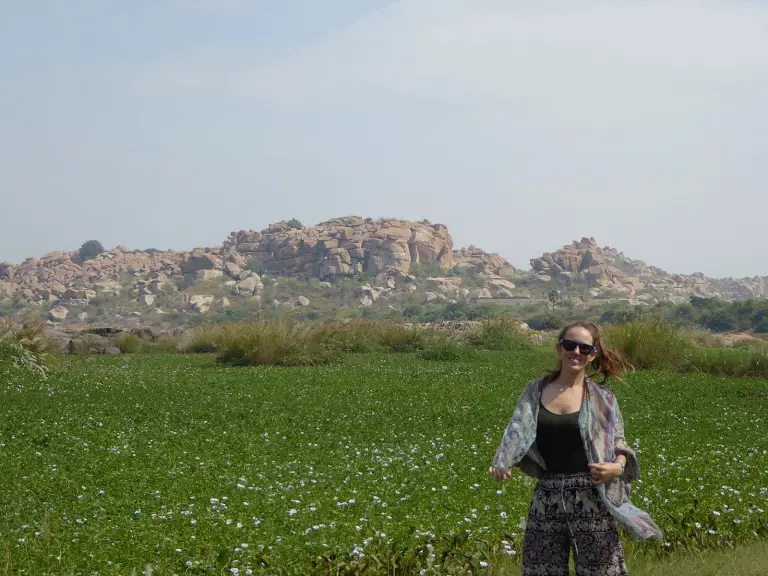 In Hampi, it gets very hot, like much of India, and so you'll have to think about that when packing. But you also have to consider the conservative culture.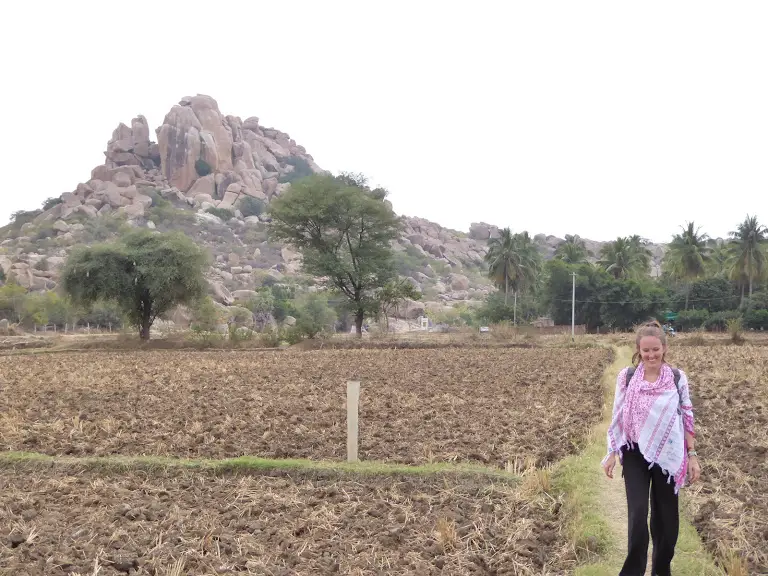 My go-to as a woman was always to pack loose-fitting long skirts or flowy pants/jumpsuits and I always carried around a light scarf too.
For men, you could pull a Phil and just wear your one or two favorite tank tops or T-shirts all the time and some loose, hippie pants!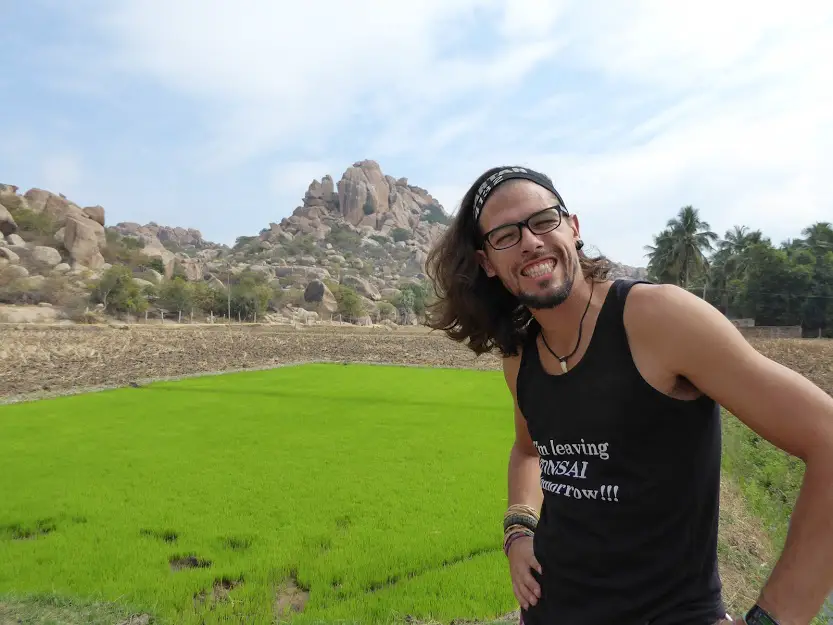 Or no shirt at all! Maybe climbing clothes and shoes are all you need!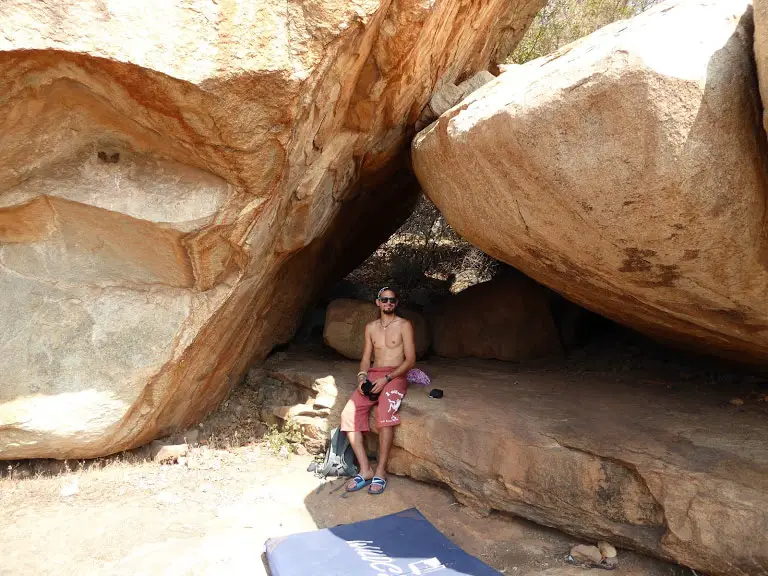 Just wear whatever makes you comfortable and only bring a few outfits… you're backpacking, you don't need much, and you can always buy very cheap and cute stuff on the road. 🙂