We visited Raja Ampat as a couple and tried to stay for the cheapest, most backpacker-prices possible while still enjoying ourselves! Here is our itinerary and cost breakdown for 7 days. Remember that when traveling as a couple, you have the advantage of sharing certain costs, such as accommodation.
For 7 nights in Raja Ampat, we paid a total of approximately $1238 USD for two people or $619 USD per person, which included domestic flights within Indonesia, boat and ferry transportation, accommodation, food, snorkeling, and additional expenses (this excludes diving prices).  
We talk about the cost of diving down below our cost breakdown, should you choose diving over snorkeling! Raja Ampat is known for its diving but we were really happy snorkeling and in seven days saw just as much as people who paid for diving! Another additional activity that is popular are guided tours to see the birds of paradise. If you want, you can make your trip much more expensive than ours by doing more activities and staying in more expensive accommodation.
Raja Ampat is not the simplest destination to get to, but that's part of what makes it so awesome. There are fewer tourists here than in other places in Southeast Asia, mostly because it's pricier, more remote, and requires more planning.
Backpacker-prices won't get you as much "bang for your buck" as you'd get in other parts of Southeast Asia and amenities/facilities are basic in the cheap accommodation in Raja Ampat. BUT that's part of the adventure of this place! And you also get to see an incredible amount of biodiversity and pristine ocean that you don't have access to in other more touristy, overrun destinations in Southeast Asia.
---
Our detailed "on the cheap" itinerary and cost breakdown
Here is our "on the cheap" itinerary and cost breakdown from our trip in Raja Ampat with prices in both Indonesian Rupiah (IDR) and an approximation in US dollars (USD).
ALL PRICES listed in this article are the total cost FOR TWO PEOPLE – We squished both of our expenses together. If you're traveling solo, the prices may be different.
We had to list everything as a couple because sometimes the reason we got such cheap deals was because we were traveling as a couple. Solo travelers may have a slightly more expensive experience. We've also included some tips for a cheaper stay below.
| | | |
| --- | --- | --- |
| Description | Indonesian Rupiah (IDR) | US Dollars (USD) |
| Round trip domestic flights from Jakarta to Sorong | IDR 7,680,420 | USD 540.00 |
| Taxi from Sorong airport to Sorong boat/ferry terminal | IDR 100,000 | USD 7.00 |
| Ferry ride from Sorong to Waisai | IDR 400,000 | USD 28.00 |
| Raja Ampat Entry permit | IDR 2,050,000 | USD 145.00 |
| Small speedboat ride from Waisai to Kri Island (Pulau Kri) – Homestay Mangkur Kodon | IDR 600,000 | USD 42.00 |
| 7 nights in Mangkur Kodon Homestay | IDR 4,200,000 | USD 296.00 |
| Snorkeling day trip organized through Mangkur Kodon to various other islands | IDR 300,000 | USD 21.00 |
| 7 days of snorkel and fin rentals and speedboat ride from Kri Island to Waisai | IDR 1,200,000 | USD 85.00 |
| Ferry from Waisai to Sorong | IDR 400,000 | USD 28.00 |
| Taxi from Sorong terminal to Sorong airport | IDR 100,000 | USD 7.00 |
| 2 Indonesian SIM cards and data | IDR 568,760 | USD 40.00 |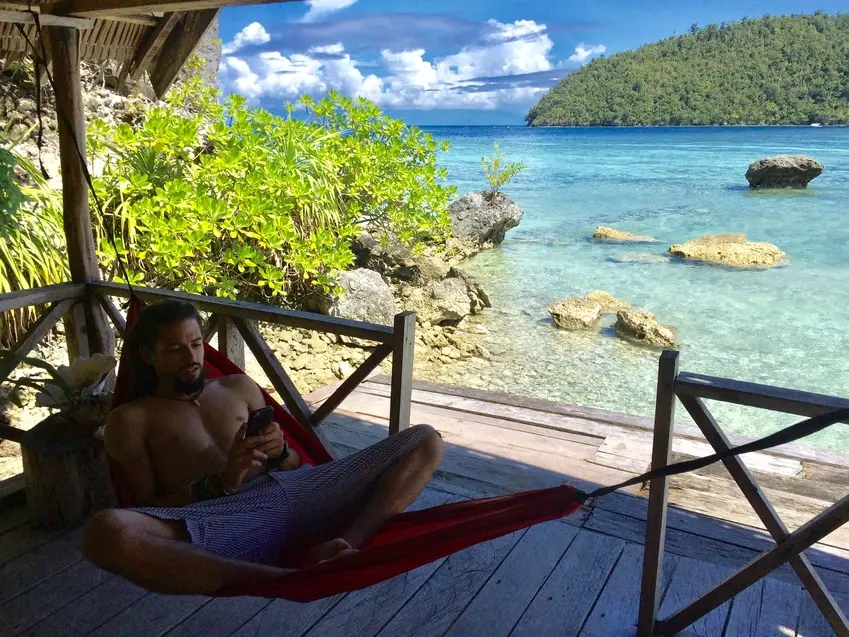 Phil on a hammock on the deck of our cabin in homestay Mangkur Kodon
The Cost of Domestic Flights and Boat Transportation in Raja Ampat
International flight prices will vary. We were already in Indonesia when we visited Raja Ampat, so this wasn't part of our specific expenses for this trip. However, we do want to talk about the price of domestic flights within Indonesia and boat transportation between the islands in Raja Ampat.
One of the most common ways to get to Raja Ampat is flying from Jakarta to Sorong and then getting a ferry from Sorong to Waisai. From Waisai, you can take a speedboat to one of many islands to stay at a homestay (the cheapest accommodation in Raja Ampat).
We went by speedboat from Waisai to Kri Island (or Pulau Kri – "pulau" means island) to stay at a homestay called Mangkur Kodon, which we loved.
Domestic flight prices seem to fluctuate a lot. It really depends when you want to go and how far in advance you get your tickets.
Boats between islands in Raja Ampat seemed to be the biggest expense for us, and this is due to gas prices in the area. If you're planning on visiting many islands, diving a lot, and taking many day trips, you're going to spend much more money than we did. Our trip was very much about chilling and exploring one island really well, and taking just a few boat trips during the week.
A valuable tip is to link up with other travelers when possible and share the cost of boat trips. It will be much cheaper.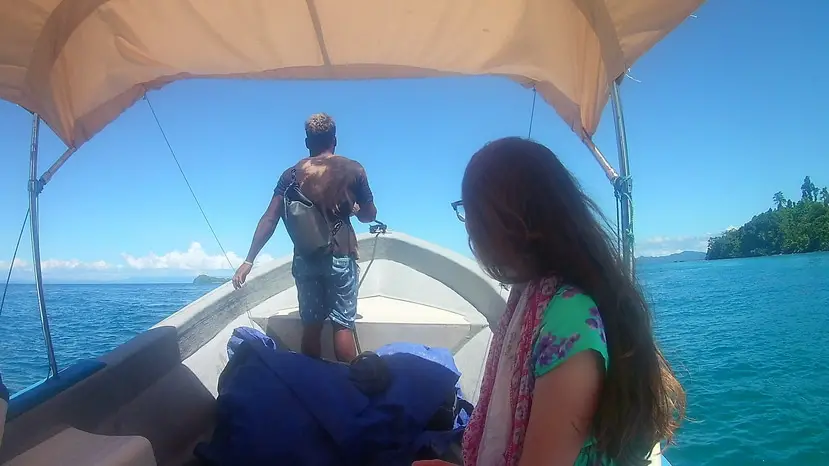 Boat ride from Waisai to Kri Island!
The Cost of the Raja Ampat Marine Park Permit
Everyone entering Raja Ampat is required to pay an entrance fee of IDR 1,000,000 or about $70 USD each (Indonesian citizens pay half). This is done in Waisai. You can pay via credit card machine and here you receive information about conservation efforts in the region.
Children under 12 don't need a permit and the permit is valid for 12 months.
It was here, waiting on the dock to pay, that we met a German couple who ended up sharing the cost of a boat with us to get to our homestay. Sharing boat trips will always make it cheaper!
The Cost of Accommodation and Homestays in Raja Ampat
Homestays are the best deal in Raja Ampat and include 3 meals a day plus water, coffee, and tea. We stayed at Mangkur Kodon Homestay on Kri Island for 600,000 IDR or about $42 USD total (for 2 people).
Prices are negotiable but there is a set minimum price for most homestays in Raja Ampat to ensure more fairness in the region.
You have to book your homestay before arriving in Waisai, because someone from your homestay will meet you there (at the dock in Waisai) to take you on a boat to your homestay.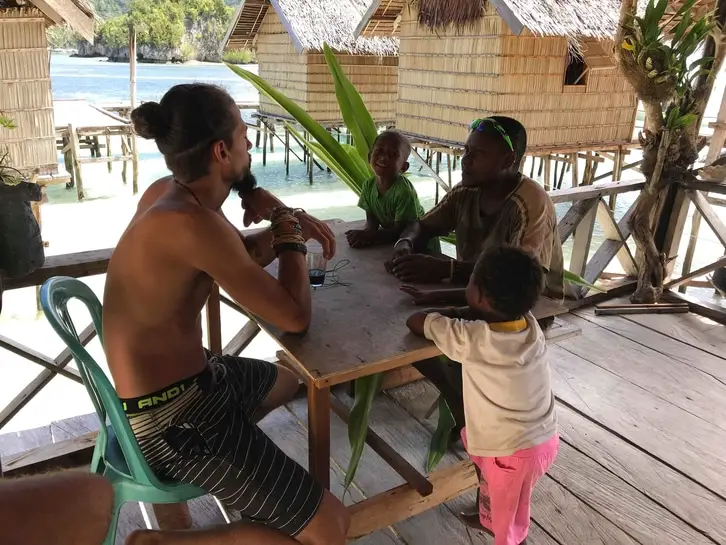 Phil and Ramon, the owner of Mangkur Kodon Homestay in Raja Ampat
Homestays and reviews can be found here at Stay Raja Ampat. NOTE! Because there is a minimum price for all homestays in the area, there can be quite a variation between the quality of similarly-priced homestays. Therefore, it's really really important to look at the reviews or take the recommendation of a friend or other travelers when choosing a homestay.
There are also luxury options available if you prefer! We're cheap backpackers so unfortunately, cannot give any advice on that front!
You are in paradise at these homestays but the amenities are very basic compared to other accommodation of the same price range in other parts of Southeast Asia. At Mangkur Kodon, we were in a cabin on stilts over the water. The bathroom was an Indonesian toilet (bucket flush) on the beach. It's all part of the adventure. Embrace it!
We ate our meals in a common area which was nice because we had the opportunity to chat with other travelers.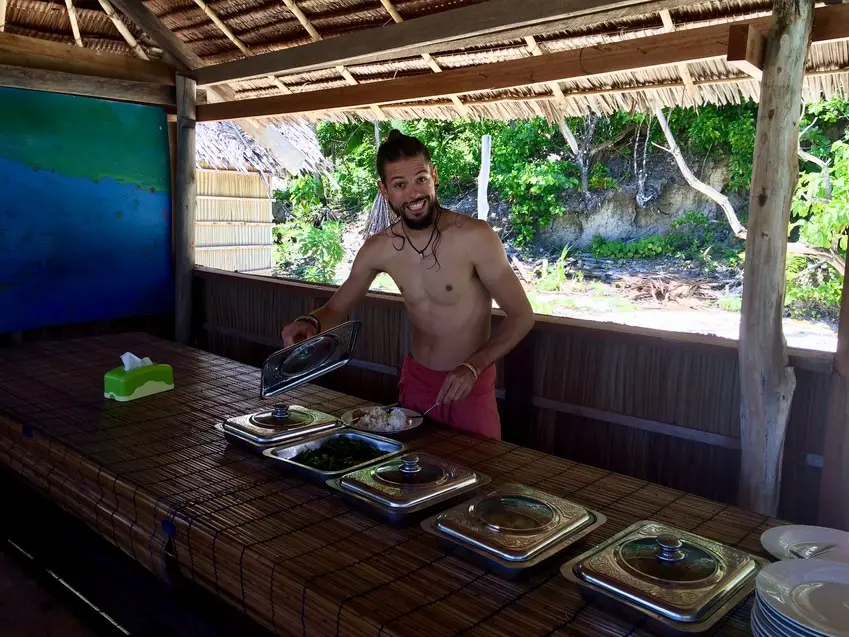 3 meals per day are included with the homestay price!
Are there ATMs in Raja Ampat?
You can't pay with credit cards in many places in Raja Ampat. They may have one or two credit card machines per village. Dive centers tend to have them, but not always.
However, it's a good idea to have enough cash with you to pay for your boat rides and accommodation in the probable situation that you can't easily access a way to pay via credit card. For backpackers staying in cheaper homestay accommodation, you will need CASH!
There are ATMs in Waisai so in an emergency, you could always take a boat back to Waisai and get cash out there. It's a good idea to plan out how much you think you'll be paying in total for all of your activities (factor in boat rides!) and accommodation/food BEFORE leaving Waisai (or before leaving Sorong or Jakarta – save yourself the hassle).
Carry enough cash for your whole trip if you don't want to be taking expensive (not to mention LONG) boat rides back and forth to Waisai during your stay.
I wasn't thrilled about the idea of having a bunch of cash to carry with us for a week but that's how it is! You can bring a padlock for your bag and lock it up with your passport in your room when you're out, like we did.
Apparently, this is what many travelers to Raja Ampat do, and thus far we haven't heard of any robberies in the homestays. It's quite a tight-knit community, where everyone knows everyone on the islands. We are planning to go back to Raja Ampat regularly and keep an eye on this money storage situation.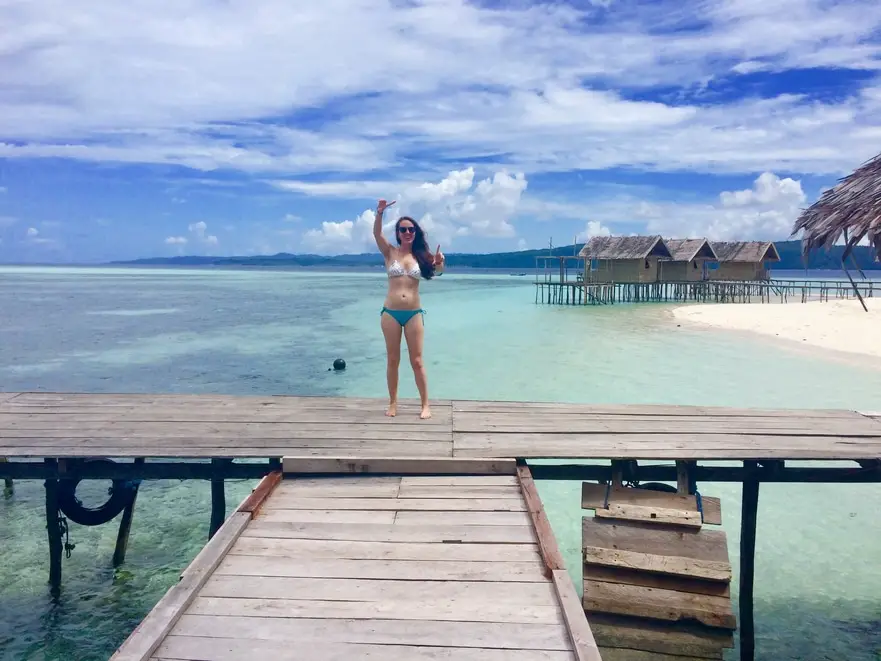 You'll find Raja Ampat very photographable… (picture from our homestay)
Is there Internet connection in Raja Ampat? How much does it cost?
You might want to have Internet access on your phone while traveling in Raja Ampat – whether to post cool pictures on social media or to stay in touch with people.
We had bought Indonesia SIM cards before going to Raja Ampat, and were able to use 4G Internet on Kri Island from our room.
Remember to have your phone unlocked by your provider before leaving home (very important) and then you can visit a cell phone shop in the airport in Jakarta (or one of the many in town if you have time).
The rules for cell phones changed in 2018, but the bottom line is: You can get a 30-day SIM card as a tourist. You can buy pre-loaded data and it's super cheap. We paid about $15-20 USD for 5-10 GBs of data.
The easiest way to do this is to buy your SIM card at the airport when you land in Indonesia. You also have to register your Indonesian number using your passport at an official cell phone provider office, which for us required taking a taxi and waiting at the office for two hours in Bau Bau in Sulawesi. It appears that in major airports now, you can get your number registered right there in the airport and save yourself time and a trip.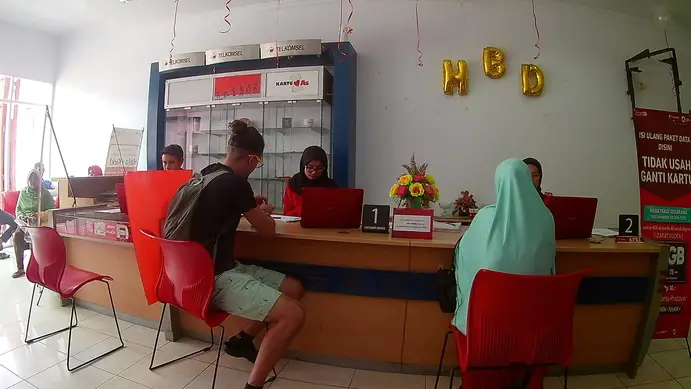 Registering our SIM cards! We had to wait in line, fill out some forms, scan our passports…
The Cost of Beer in Raja Ampat
Depending on where you stay, there are some homestays that either sell beer or will go and buy it for you. The cost per beer (Bintang – Indonesian beer) is IDR 50,000 or about $5 USD.
The Cost of Snorkeling and Diving in Raja Ampat
One of the cheapest places to go diving is Arborek Dive Shop on the island of Arborek, which charges about IDR 550,000 for one dive and the more you do, the better rate you get – something like 6 dives for IDR 330,000 each (but these rates change all the time and are somewhat negotiable!).
Prices will also vary depending on which island you go to. You don't have to book before you go, but it might be a good idea if you go during high season (October to March).
The cost of snorkeling is… well, free if you have your own mask, snorkel, and fins! If you have space in your bag, we recommend bringing your own! Sometimes the homestays won't have your size or the equipment is junky, so it's nice to have your own. You also then don't have to pay to rent it every day.
We were able to cheaply rent masks and snorkels from our homestay, Mangkur Kodon, and snorkel right in front of our cabin! So we didn't have to pay a boat to take us to cool "snorkeling spots."
We saw just as many amazing animals and corals as the divers, just by snorkeling! This included many sea turtles, a wobbegong shark, black tip sharks, and Phil even saw a dugong!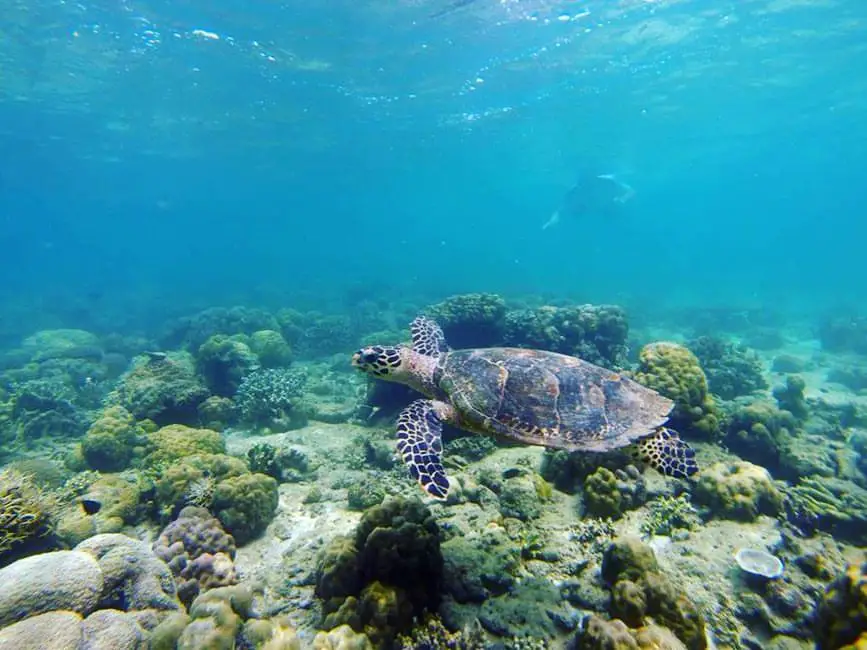 The Cost of Day Trips in Raja Ampat
If you want to see many of the famous spots, like the much-photographed Piaynemo (also spelled Pianemo and pictured at the top of this post!), or the birds of paradise, it will be more expensive. You will probably need to add another 100-200 USD to your budget.
You can organize trips though your homestay and try to split the cost between other travelers to make it cheaper!
Visiting Raja Ampat is more expensive than other areas in Southeast Asia, but it can be done more cheaply than some make it out to be – if you skip some of the popular activities.
We hope to show that you don't need to feel pressured by any #YOLO philosophies into doing the expensive TOP TEN BEST THINGS TO SEE IN RAJA AMPAT and that actually, no matter where you go or what you do in Raja Ampat, it will be incredible.
You don't have to break the bank for an Instagram picture at Piaynemo or spend a fortune on diving to see amazing biodiversity in Raja Ampat! It IS possible to work within a smaller budget 🙂