After 13 flights with our baby, I consider myself somewhat of an expert in dressing him for the airplane and airport! Comfort and ease of access, in terms of diaper changing, are the most important things to consider when deciding what your baby should wear on the plane. This is my go-to recommended outfit when we fly:
Dress your baby in a footed, zip-up cotton onesie for the airport and airplane. A one-piece footed outfit (instead of separates) ensures that you don't lose items along your journey and a single zipper makes it easy to change your baby on the go. Choose soft, breathable materials such as cotton.
This mommy-tested (by me!) airport outfit will keep your baby warm and happy throughout the flight — Below you'll find a list of the essential baby clothing items to pack in your carry on or diaper bag on your next flight, and what YOU should wear too!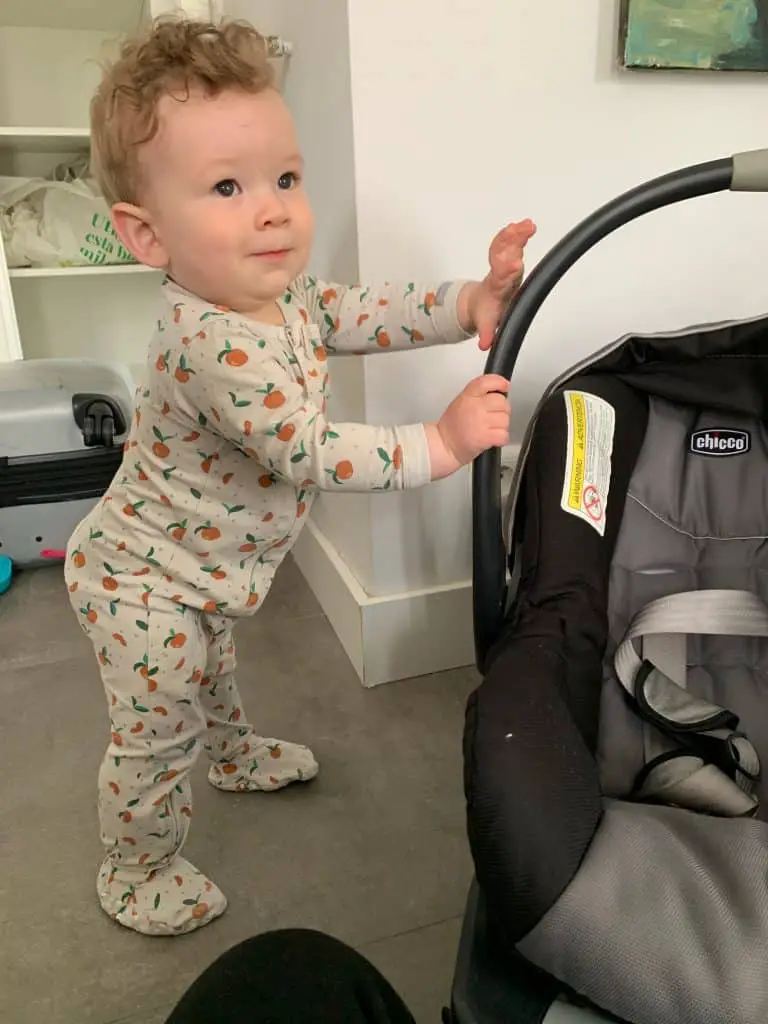 How to Dress Your Baby on the Plane
The perfect airplane outfit doesn't exist… oh wait! It does! This is hands down the best way to dress your baby for a flight, tested over 13 flights with our baby son —
The Perfect Airplane Outfit
Before you leave for the airport, pick out your baby's most comfortable set of onesie, zip-up footie pajamas. This is your perfect airport and airplane outfit — it's as easy as that!
Some parents tend to overthink their baby's airplane outfits. They will buy cute, complicated outfits for taking pictures of their babies on their first flight (adorable, yes! practical? no.) or they will dress their baby far too warm… or not warm enough for those cool airplane cabins!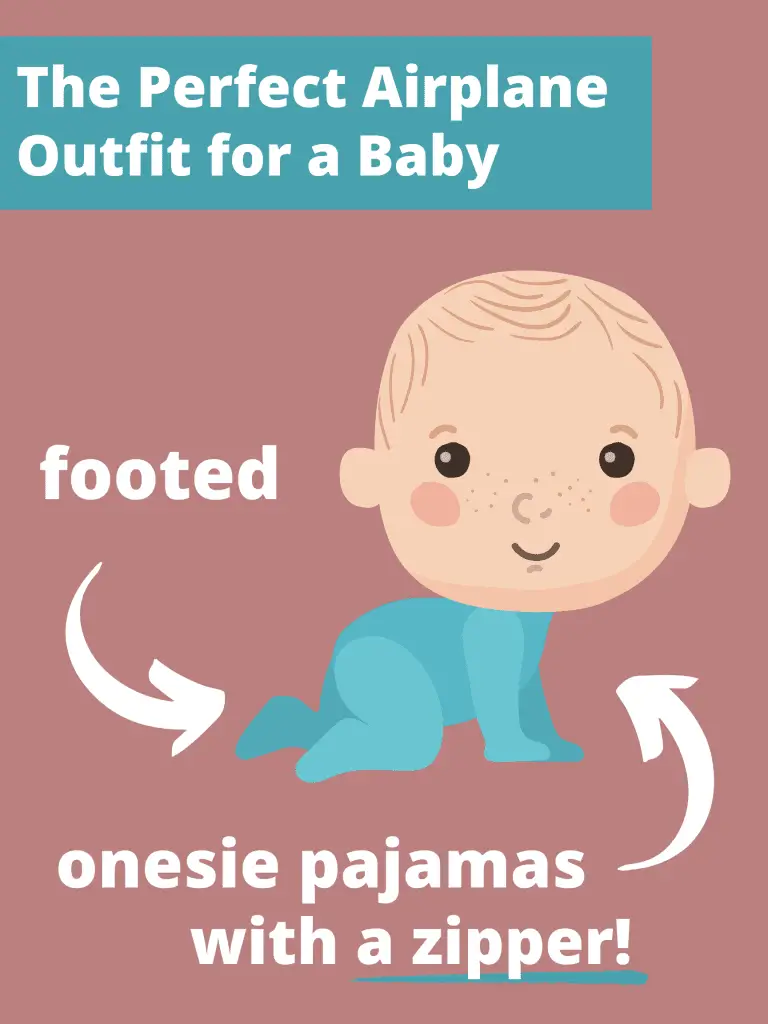 It's actually better to keep things simple. A nice cozy pair of cotton, full-length arms and legs, footed pajamas (with a zipper, NOT snaps or buttons) are the best thing for keeping your baby warm, but not overheated on the plane.
Babies can get away with being in public in their pajamas and the airplane is the time to take full advantage of that fact!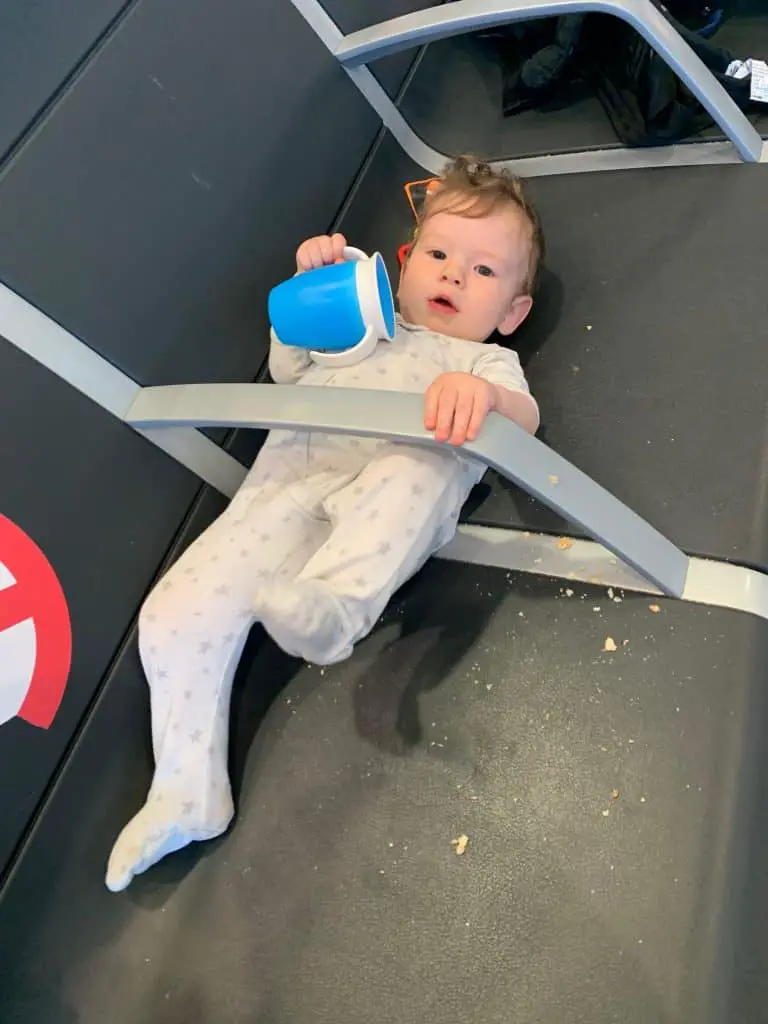 Clothes to Avoid Dressing Your Baby in on the Plane
Separates
You want to avoid putting your baby in separates, such as pants, shirts, or socks. An eager and grabby baby is wont to pull off their socks when you're not looking. The socks will be gone forever and your baby will be left with cold feet on the airplane.
Anything with snaps or buttons
If you have to snap it or button it shut, leave it at home. You may be stressed enough as it is without adding extra tasks for yourself while trying to dress your baby in a tight airplane bathroom.
Save yourself tense, sweaty "mission impossible"-style moments of trying to do up a button by instead opting for a zip-up onesie that will not aggravate you or your little one!
Synthetic materials
Non-breathable, water-resistant fabrics, such as polyester, are not ideal for travel. A lot of baby outerwear is made using synthetic materials, but it's not great on the plane. Instead stick to cotton, linen, bamboo, jersey, and other natural fabrics that are better for regulating a baby's body temperature — and soft to the touch!
Warm jumpsuits, "bear" suits, rompers, etc.
We took a baby sweater suit one-piece and his snowsuit with us on a few of our son's first flights, because we were traveling during the winter, and it was a complete waste of space. Even in snowy Canada, we didn't need our baby's snowsuit during travel days.
I highly recommend keeping it at the bottom of your carry-on if you're worried about your luggage getting lost, or leaving it in your checked baggage.
The reason for this is that on the way to the airport, in the car, your baby won't need it — babies can overheat easily and shouldn't be dressed too warmly in their car seats. And after that, you'll only be in the airport and on the plane before you're reunited with your baggage on the other side. So there's no need to lug around baby outerwear (the same goes for the adults too actually!).
I would recommend bringing a baby blanket instead because it's more versatile (breastfeeding cover-up, emergency changing pad, etc.) and more snuggly for a sleeping baby on the plane.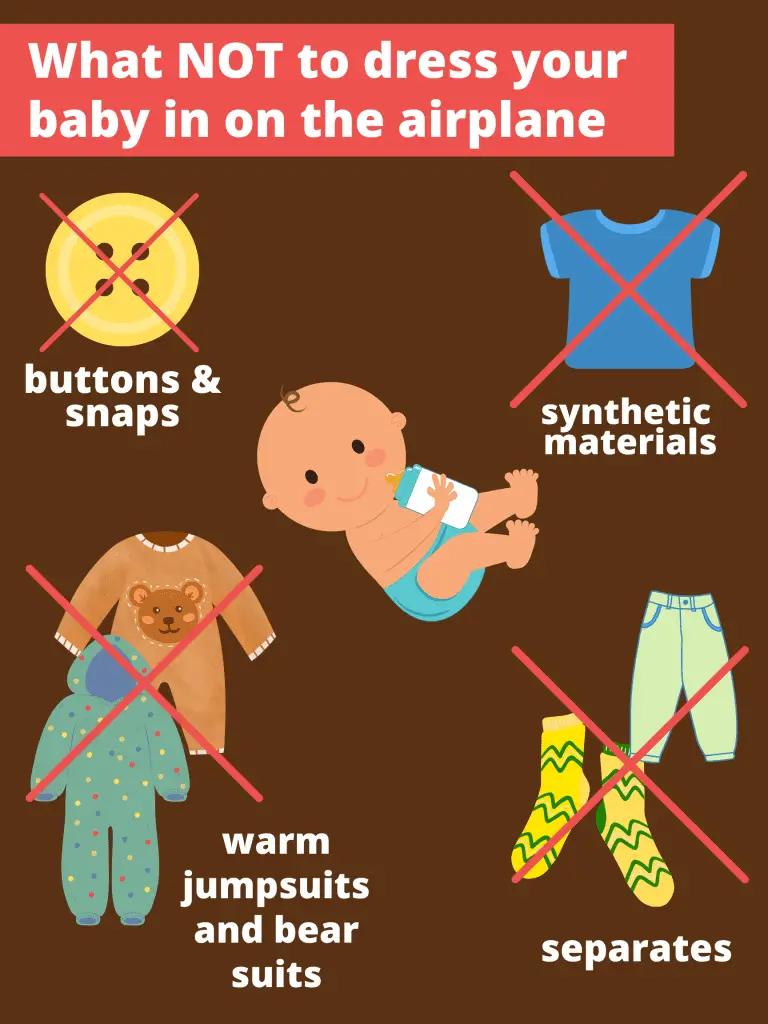 Extra baby clothing items to bring in your carry-on
In your carry-on or in your baby's diaper bag, be sure to pack:
Pack 2 more outfits just like this one (footed, cotton, zip-up pajamas) for your baby. If the one they are wearing gets soiled (and it probably will!), you'll be prepared with two identical back-ups.
Bring a light, cozy baby blanket to cover your baby when they fall asleep on the plane. This can also double as a breastfeeding cover if necessary.
If your baby is walking (or cruising around with the help of furniture, like mine is right now), you can either make sure there is sticky tread on the bottom of their pajamas when you choose them — or you can pack a pair of soft stretchy first walker-type baby shoes with you to pull over the footy part of their pajamas if needed. These shoes have come in handy for us when we've put him down briefly to "walk" around the grass or airport playgrounds.
A cap for younger babies to keep their heads warm.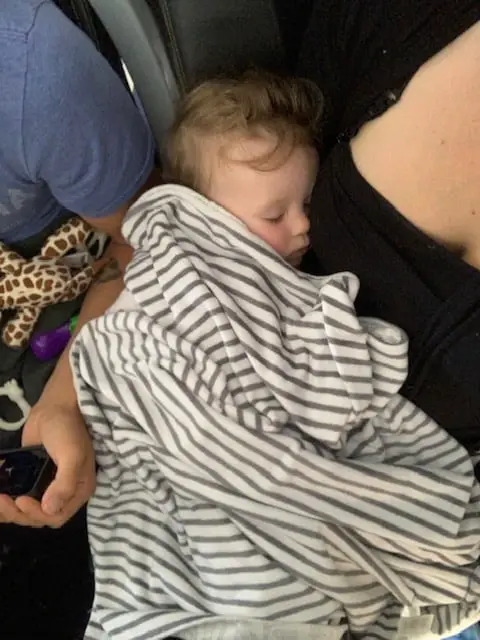 What You Should Wear on the Plane, Mom!
As you're thinking about how to dress your baby on the plane, please also take a moment to think about yourself, mom! I know, it's hard sometimes… you have a lot on your plate. But as a mom (and let's face it — the boss of this operation), it's important that you're comfortable too. Honestly, the better you feel in your skin at the airport — the less stressed you'll be and the better everyone will feel!
An athleisure look of neutral colors, comfortable materials, and flattering silhouettes is the perfect outfit for moms at the airport. Athleisure wear offers a balance of comfort, practicality, and the "put-together" look that all mothers are seeking on travel days.
Wikipedia defines athleisure as "fashionable, dressed up sweats and exercise clothing." You want to be able to run after a toddler with a second's notice, but look and feel good doing it.
One of my favorite outfits personally is a simple black tank top, loose black stretchy pants, and a thin, soft black cover-up for when I get cold on the plane. Slip-on shoes will make your life a whole lot easier too… a lesson I never seem to learn because I always insist on wearing my favorite black boots. Oh well!
So dress in leggings or sweats that you love and a top that is easy-access for breastfeeding (if necessary) and makes you feel cute (and ready to run)… and for goodness sakes, pack yourself an extra outfit in your carry-on too! Between lost luggage and a messy baby, you never know when you're going to need it.
Here I am in all-black, soft clothing which is what makes me feel most cute and comfortable while traveling with a little mess-tornado: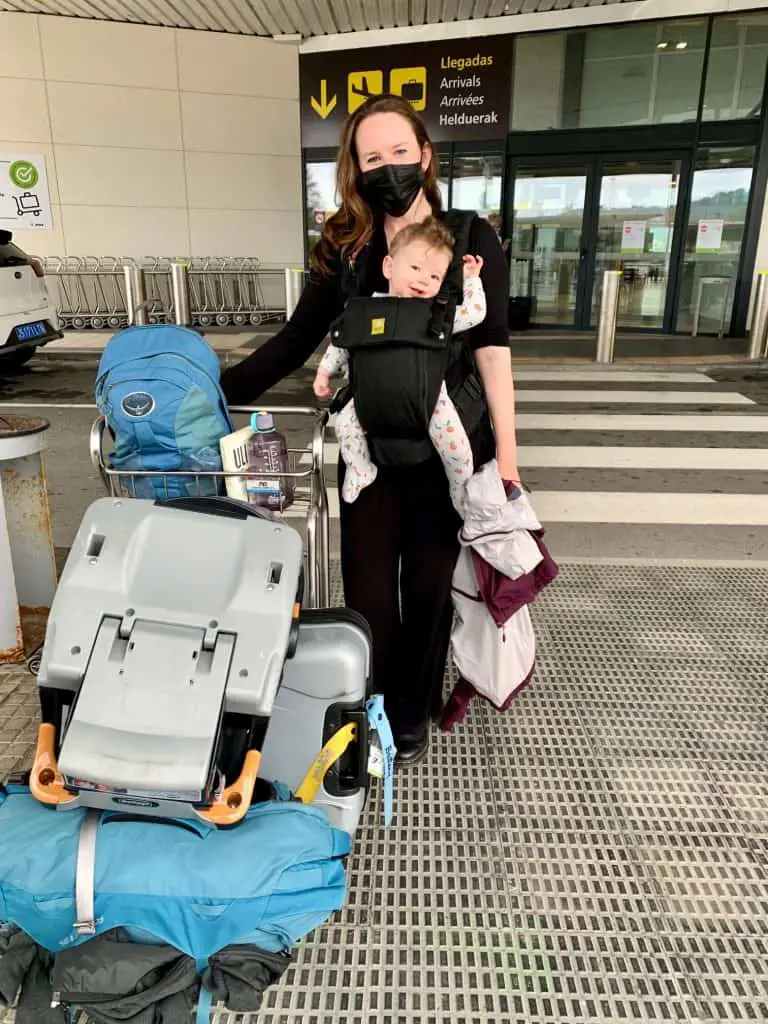 Happy travels with baby, everyone! What did I miss? Connect with us on Instagram and let me know 🙂