Snowshoeing with a toddler has quickly become one of my favorite winter activities to do as a family! It's a great way to enjoy the outdoors together in the darker and harsher days of the year — and toddlers absolutely LOVE it. My son is 1.5 years old now and I'm looking forward to many more snowshoeing trips in our future.
He was just 5 months old when my husband and I first took him snowshoeing on my in-law's property in snowy Quebec, Canada. Now in his second winter, he's a full-blown toddler and much more interactive with the winter wonderland surrounding him!
Snowshoeing with kids can be a bit of leg work to get prepared (although still much easier and cheaper than skiing or snowboarding) but it's oh so worth it once you're out there.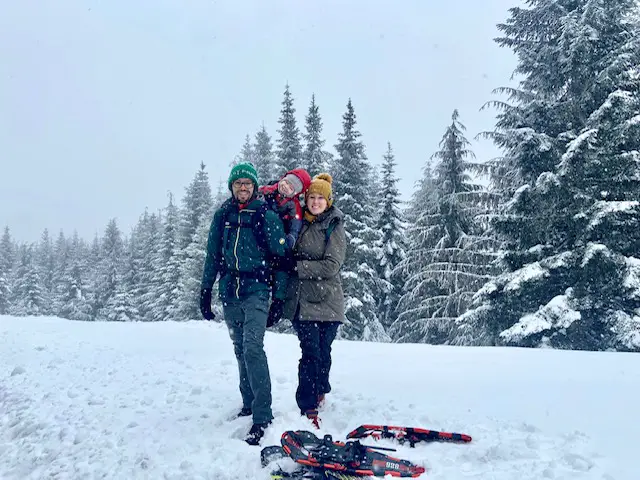 Our toddler snowshoeing methods have shifted significantly since our first experience a year ago, and today I'm going to share ALL of my best tips and guidance for making your outing as enjoyable (and low stress!) as possible.
Read on to learn about what to bring, how to dress your toddler, choose your routes, and all that good stuff. If you have any questions, please reach out to us on IG @wayfaring.humans.
You Can Take a Child Snowshoeing at Any Age
In this article, I mainly refer to "toddlers" meaning the phase from when a baby starts learning how to walk until they're about 3 or 4 years old.
But you can take a baby snowshoeing as early as you feel comfortable doing so. A very young baby can be taken snowshoeing in a soft carrier or a wrap.
Dressed appropriately and cozied up to their parents, it's just like taking your little one a walk or an easy hike (but in snowshoes!). Just make sure the parent doing the carrying is confident and comfortable in their snowshoeing abilities and that you choose a safe, flat, and easy route.
We brought our son snowshoeing at 5 months old, dressed warmly in a soft front-facing carrier (we are personally big fans of the Lille Baby carrier as it's served us well in our many adventures and travels). Usually by 4 months of age, babies can hold their heads up well enough to begin facing forward in a soft carrier, and they can start to enjoy the snowy view along with you.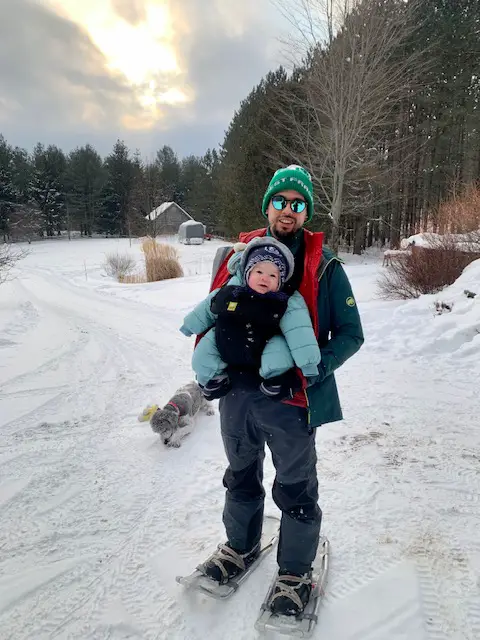 The earlier you take your kids out on winter adventures, the earlier they'll learn to love and appreciate spending time with you in nature. Toddlers are naturally curious and if you enjoy snowshoeing, they will too!
In short — it's no problem at all for both babies and toddlers to join you on a snowshoeing adventure!
What to Pack
There's always a learning curve to having outdoor fun with a little one, but that doesn't mean you have to learn everything the hard way. You're already reading this guide and that should get you about 90% of the way there! Then you just have to apply it and get to adventuring. Preparation is key.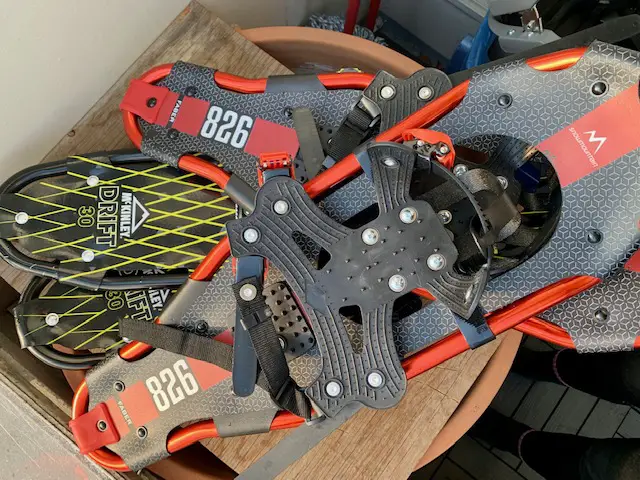 Every family's needs will be a bit different and your clothing needs will vary depending on the temperature, but this packing list should get you started and give you a basis to work with.
Remember that you don't want to overheat your toddler, but you should take care to ensure they're nice and warm since they won't be moving around as much as you (if they're in a carrier). This is what we (my husband and I) bring for a day out snowshoeing with our toddler.
For us (the adults):
Snowshoes
Hiking boots and hiking socks
Thermal pants (or leggings) and long-sleeved shirts, plus sweaters
Waterproof snow pants and jackets
Gloves/mittens
Hats
Snacks
Water
First aid kit
Cell phones/camera; keys; wallet
Phone chargers
For our toddler:
(usually we pack these items between a small backpack carried by one parent, and the rest in the hiking baby carrier backpack carried by the other parent):
Hiking baby carrier backpack
A front carrier (Trail Magik)
Socks and warm Bogs boots (to keep feet warm while in carrier)
3 layers of clothes (base layer, mid-layer, and waterproof snowsuit)
Long mittens that he can't remove as easily
Hat
Extra outfit just in case
Extra socks
Extra mittens
Diapers, wipes, foldable changing pad
Lots of snacks (dry snacks, fruit, squeezable packets) — snacks are essential!
Munchkin snack catchers so he can carry them and access them himself in the backpack
Sippy cups filled with milk and water
Hand warmers if it's very cold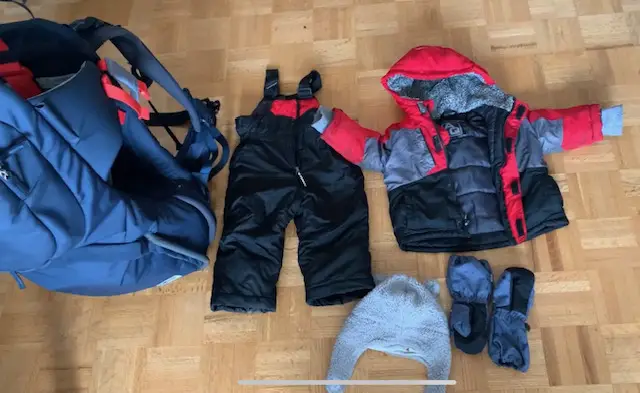 Additional items you may also want to consider:
Snowshoes for your toddler (3 years+)
A sled that you can pull
What you DON'T NEED to pack:
toys for the trail — Nature (sticks, rocks, snow) is plenty entertaining
I also like to keep these items in the car:
Towels to dry off or sit on (if bums are wet)
Emergency blankets and extra water
Comfortable shoes to change into (and dry socks)
Snacks and lunches
Car entertainment for my toddler
If you're breastfeeding:
If you're breastfeeding, I suggest practicing feeding while wearing multiple layers if you've never done it before. Outside breastfeeding in the cold can be really tricky — figuring out how to do it without being too exposed and cold. Wear clothes that don't force you to pull your top up and expose your stomach.
It's also tricky figuring out how to give your baby access quickly enough (through all the layers and zippers) before they are hangry and screaming! Some thoughtful wardrobe decisions and practice at home can help mitigate these issues.
Where to Go: Planning Your Route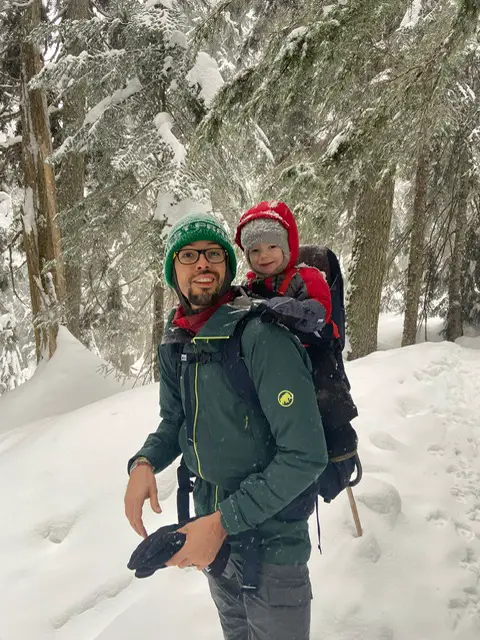 If you have no idea where to go snowshoeing in your area, you can start by joining some local hiking Facebook groups. Go on Instagram and search tags and locations in your area to get inspired. Do some Googling. All of this will start to give you some ideas.
Then use All Trails to do some concrete searching and planning. You can search your area and by activity ("snowshoeing"). You'll want to filter results for easy trails. I look for trails that are relatively flat and not too long, in case we need to turn back to the car earlier than expected.
Our son gets antsy in the carrier and can't last more than an hour at this point (unless he happens to fall asleep in it). And since he can't quite hike by himself in the snow yet, we're limited to hikes under 5 kilometers, and even that is asking a lot! It's important anyway to factor in break times and let your toddler get out of the backpack and play often.
Know your toddler and your family's limitations and start small and easy.
Prep Everything the Night Before
I cannot stress this tip enough. It makes all the difference when adventuring with toddlers. You'll be so preoccupied with normal "get out the door" activities like getting everyone dressed and eating breakfast and cleaning up — that you will NOT want to be thinking about all the little things that you need to pack for snowshoeing.
Do it the night before and save yourself a ton of hassle. Trust me.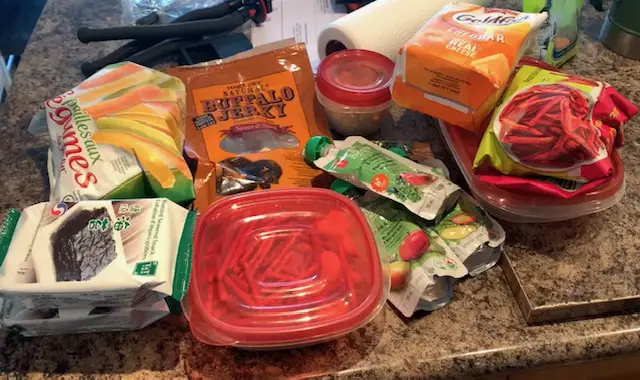 Check the Weather
The last time we went snowshoeing, we didn't take this precaution, assuming that the weather at our destination would be similar to where we live. When we got to the start of the route, it was POURING snow.
It ended up being fine and not dangerous but we didn't have a rain cover for our toddler's hiking backpack and he got snowed on, A LOT. So don't be like us. Check the weather at your destination right before you plan on leaving and dress and pack accordingly!
Gear: Carriers, Sleds, & Toddler Snowshoes
You'll have to decide what sort of equipment to take with you on your snowshoeing adventure. The beauty of snowshoeing is that you (parents) don't need much: just snowshoes! And they're generally cheap to rent and much cheaper to buy than a lot of other outdoor winter gear.
But what do you need for your toddler? That will depend on your family's needs and expectations, specifically:
How old/what size is your toddler?
Do you plan on carrying them (in a carrier) most of the time, or will they want to snowshoe themselves?
Would you be happy to pull a sled while you're snowshoeing, and would your toddler be happy to sit in one?
How long is your toddler usually happy to sit in a carrier or hiking backpack?
Should you have a plan B (sled or carrier) to help them if they get tired?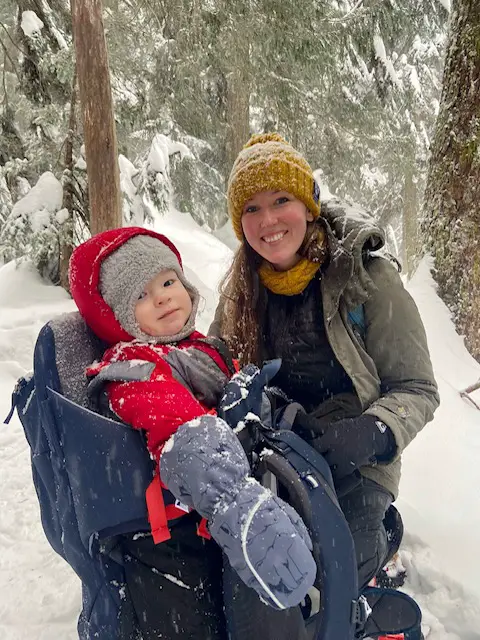 It's important to know your toddler's limitations (roughly at least!) and practice with small outings at first — before going on a far trek with a potentially very cold, grumpy, and uncomfortable tot that you need to carry a long way.
We practiced at home a lot with our soft carrier AND our hiking baby carrier backpack before ever using them outside. It was fun to put him in it while I did chores around the house, just to see how he liked it.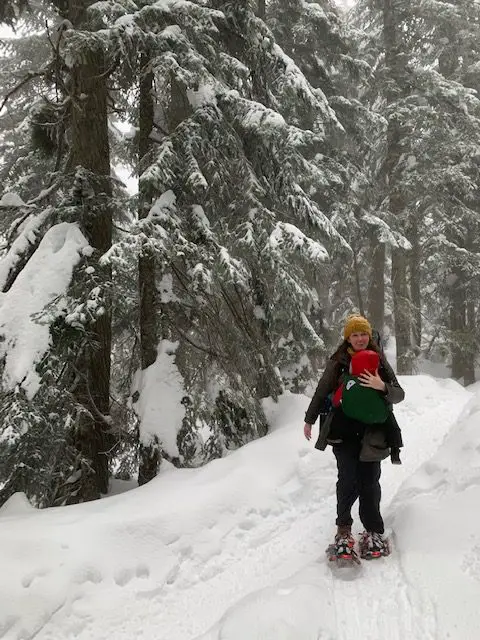 Gear for Younger Toddlers (ages 1-2)
From the time your baby is about 6 months old and then well into age 2, you can take them snowshoeing using some sort of carrier. One option is a soft carrier, in which you can either face your baby/toddler facing in toward you or facing forward to look around. You can alternate between these two positions as needed during your hike.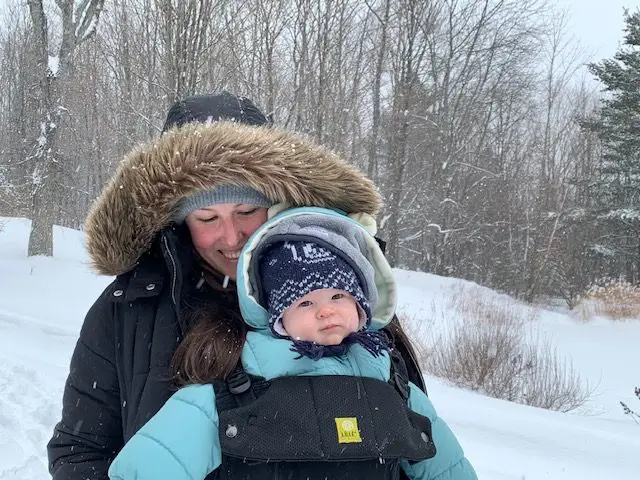 Another option, especially as your toddler gets older and heavier, is to use a structured baby carrier hiking backpack. We started taking our son in hikes in a structured carrier when he was about 6 months old, and at 1.5 years old now he's still going on snowshoeing adventures in it!
It's of course great for warm weather hikes as well. Our current backpack is from MEC, an outdoor store in Canada, but there are SO many great options out there including the very popular Osprey Poco lightweight carrier — this one is understandably super highly rated (made by a great brand — my main hiking backpack is Osprey and I've had it for at least 7 years! You can't go wrong).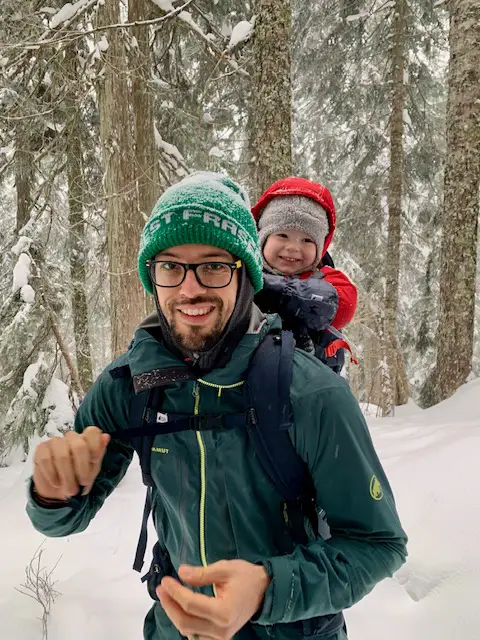 Somewhere after our son turned one and learned to walk, he started to want in and out of the hiking backpack quite often. He wanted to be carried, but not in the backpack. Which gets tiring after about 2 minutes.
For these situations, we bring something with us called the Trail Magik, a company I actually found through the "adventure family" Instagram community (I'm telling you… sometimes social media is awesome, you guys). It's essentially a sturdy piece of material that clips onto any backpack and allows you to carry your toddler in front when you need to. It's good for ages 1 until 43 pounds.
Gear for Older Toddlers (ages 3-4)
It's true that you can buy toddler snowshoes (starting at around 3 years old) but every parent I know who's tried these says it's actually a pretty crappy experience. 3-year-old toddlers trying to walk in snowshoes often means a lot of tripping, falling over, and frustration.
A better solution I've heard proposed is to get your child micro spikes to put on their boots, making hiking through the snow with you a whole lot easier and more fun. Of course, if you think your toddler will still want to try snowshoes despite the difficulties, go ahead and give it a try!
A third option would be to bring a sled for your toddler to sit in if you feel comfortable pulling it wearing your snowshoes. And of course, if you can still carry your toddler in the backpack — that works too! The Trail Magik also works well for older toddlers if you can bear the weight.
Usually a combination of 2 or 3 of these options (and a positive attitude) is the way to go.
How to Dress a Toddler: Use the 3-Layer Rule
Because your baby/toddler will be carried or pulled and won't be moving much, it's super important to keep them nice and warm.
You can generally use the "3 layer rule" of dressing them in: a breathable, preferably non-cotton base layer; a fleece mid layer; and a waterproof outer layer.
This doesn't have to be pricey. We have actually found many of our toddler's outerwear pieces at thrift stores or gotten them as hand-me-downs. They grow out of these items so fast so don't feel like you need to buy brand-name fancy sports gear to take your toddler on outdoor adventures.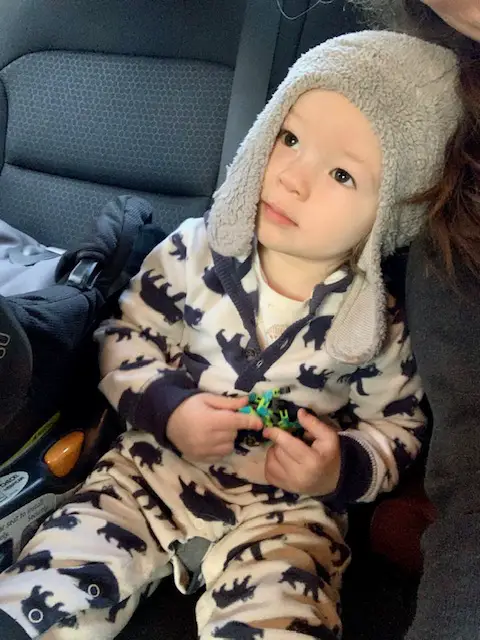 We generally go with our toddler's snowsuit and warm insulated waterproof boots for the outer layer. Plus a hat and mittens. We've had to switch to long mittens that go over his elbow because he won't always keep them on.
Make sure they have a waterproof hood or that your carrier has a waterproof cover in case it starts to snow.
Do a Last-Minute Diaper Change in the Car
To lessen the chance of having to change your baby's diaper on the trail (not ideal), do a last-minute diaper change in the car right before you suit up for your snowshoeing adventure.
Remember to pack extra diapers and wipes in your pack for the trail, as well as a changing pad.
If you have to do an emergency change while out and about, find a flat surface next to the trail to stop. Lay your changing pad on the ground and change your baby as quickly as possible, removing as few articles of clothing as you can (zippers come in handy for easy access — versus clothes with snaps or buttons!).
Layer Your Toddler Up in the Car
To avoid your baby overheating in the car in winter, avoid getting them dressed in their winter gear for the car ride. Wait until you've arrived at your destination and are parked in the parking lot at the trail head to start getting your baby geared up in their second and third layers.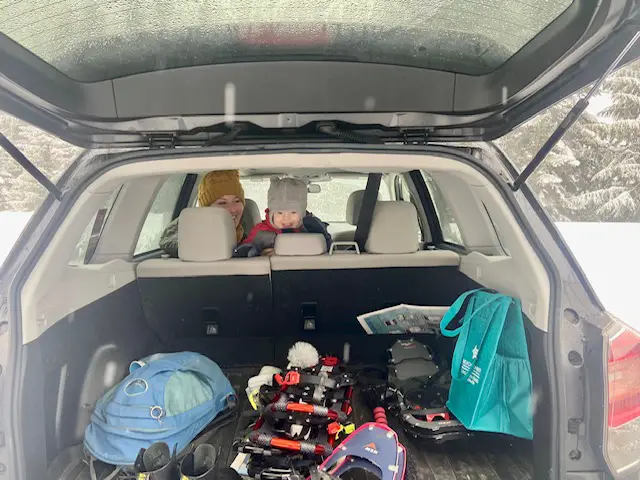 Put On Your Snowshoes BEFORE Lifting Your Toddler
Make sure you're comfortable and confident walking in your snowshoes before carrying your baby. I suggest putting your snowshoes on first, and then lifting your baby onto your back (or front). If not, you'll need someone to help you put your snowshoes on and won't be able to adjust them exactly to your preferred comfort level.
It's Better With a Friend
There are MANY reasons it's a good idea to go snowshoeing with a friend. A few of them include:
a friend can HELP you with everything: organizing and carrying your gear and supplies, keeping your child entertained, and sharing with you in the ups and downs of the adventure!
a friend can take pictures of you with your little one.
a friend can walk behind you and let you know if your child pulls off or loses mittens, gloves, hat, etc.
In my experience, I always have a better time when we bring a friend because it helps to lift the mood and make the outing feel even more special.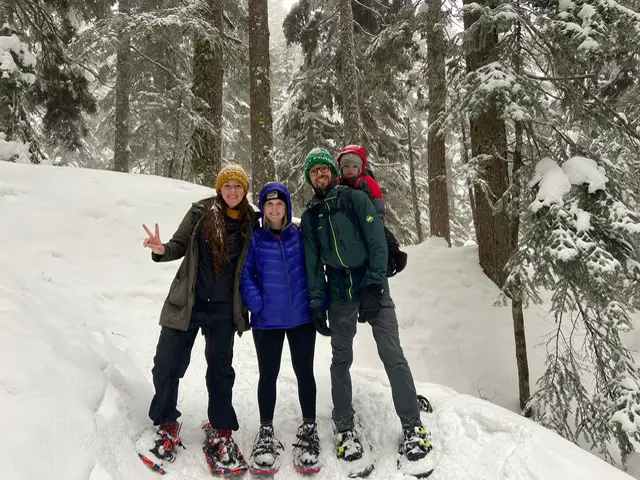 Check in With Your Toddler Consistently
Check in with your toddler often while you're snowshoeing. Make these observations throughout your snowshoeing trip:
If they're in a carrier (front or back), make sure that their breathing isn't obstructed. Sometimes it's hard to tell when they're all bundled up so remember to double check (use your phone camera if they're behind you).
Talk and sing to them often to keep them happy and calm.
Take frequent breaks to make sure they're not too cold (or too hot!) and to have snacks and a drink — for both the adults and the kids!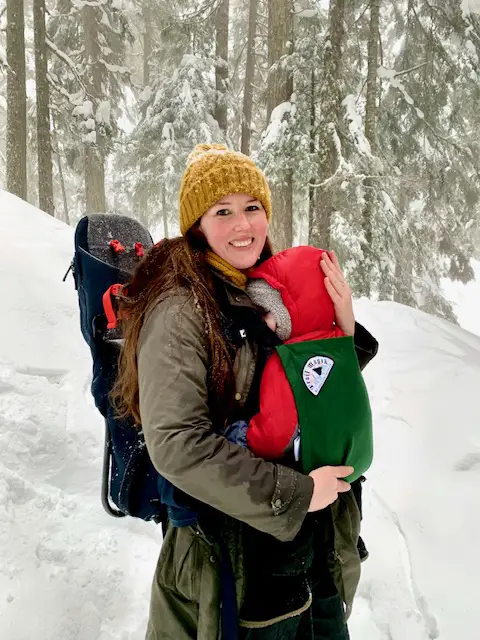 Manage Your Expectations
Don't try to reach crazy fitness goals or insist on pushing yourself hard when snowshoeing with a toddler. You will only end the day in frustration and possibly tears. I recommend adopting a relaxed and "que sera sera" attitude for the day and you'll all have a much better time!
Choose to be positive no matter what — whether it's meltdown city or you have to cut the trail short and turn back because your toddler just isn't feeling it. Know that you can always try again another day.
Just getting outside at all is a win.
How to Go Snowshoeing with 2+ Babies, Toddlers, or Kids
With 2 kids or babies (or more), you can still take them snowshoeing! You can even do it solo, although I would suggest that only seasoned and very comfortable hikers do this. Especially if you're going out on a more remote trail.
The best way to go snowshoeing with multiple kids is to use the suggestion of "bring a friend." Have someone come with you guys to share the load (literally) and to help you prepare.
If you can't enlist someone to come with you and your multiples, choose a very easy and familiar trail that is close to home to start with — and build up from there!
---
*Safety note: Remember to follow the normal hiking guidelines and always tell someone you trust where you are going and when you can be expected back.*