We have been based in Vancouver for about 5 years now and have wondered how safe it is compared to other major cities in Canada, North America, and around the world. People visiting from abroad and from other cities in Canada often ask us this question.
According to our research and personal experience, Vancouver is not, as some visitors may think, one hundred percent safe and completely free of crime. However, it is considered very safe with a risk assessment score of 80% (according to SiteAround), placing it in the top 20 safest cities of the 148 cities in the world that have been risk assessed by SiteAround.
The greatest risk that visitors will face in Vancouver is petty theft, mainly concentrated in the Downtown Eastside neighborhood and in high-density tourist areas such as Stanley Park.
It's a good idea to come to Vancouver with an awareness that although it is very safe compared to other cities in the world, there are still some precautions that must be taken in order to ensure that visitors have a safe and pleasant experience! This is the information that we would share with family, friends, international students, and any other travelers coming to Vancouver.
Quick tips for staying safe in Vancouver:
If you're driving, always lock your car and never leave any possessions in plain sight.
Never leave your valuables unattended (such as on the beach or in a cafe while you're in the restroom).
Don't leave expensive bikes locked up outside.
Don't walk around at night in isolated, secluded areas (such as Stanley Park).
Be aware of theft at high-density tourist attractions.
Be aware of what you will encounter if you visit the Downtown Eastside.
Prepare diligently for outdoor activities.
Personal safety in Vancouver
Overall personal safety is super high in Vancouver, and violent crimes—shootings, stabbings, muggings, and kidnappings are extremely rare. In 2017, Vancouver's homicide rate was 2.02 per 100,000 people, slightly higher than the more populous Canadian cities of Toronto and Montreal. However, Vancouver's homicide rate per 100,000 people is still lower than 93 of the 100 most populous cities in the United States. Based on the numbers regarding violent crime, Vancouver appears to be one of the safest populous cities in North America.
As of May 2019, only 4 homicides had been reported by the Vancouver Police Department for this year. Most reported crimes of 2019 on the Vancouver Police Department website are for traffic accidents, hit-and-run incidents, and theft.
What are the dangers in Vancouver?
So, what should visitors be aware of in Vancouver? The dangers and risks mainly come in the form of theft. There seems to be a myth that because it's Canada, people don't have to lock their doors or take basic safety precautions. Unfortunately, that is not the reality in Vancouver.
Car break-ins are frequent enough in Vancouver that if you're planning on driving, never leave valuables (money, passports, phones, cameras, etc., etc.) in your car. Never leave anything in plain sight in your vehicle, even if it doesn't seem valuable, to avoid someone being tempted to break in. Always lock your car doors and leave the windows up when you park it.
Try to park in populated, well-lit areas and always be aware of your surroundings.
Friends of ours had their car craftily broken into while it was in the parking lot of a provincial park. They lost hundreds of dollars of camera equipment that was in the trunk. Even if you're around Vancouver exploring the beautiful parks, don't leave expensive items in your car.
On the beach, always watch your belongings! Don't trust that they will still be there when you get back.
Bike theft is also a huge issue in Vancouver, so be aware of that if you're planning on biking—never leave expensive bikes parked outside! They won't be there long!
House and apartment break-ins also happen in Vancouver—and actually happened to us! We were silly enough to think it was safe to leave our bottom floor windows open (In Kitsilano – a safe and affluent neighborhood) on a nice day when we went for a walk, and came home half an hour later to find our lap tops gone. Gah!!!
We've also had multiple late-night break-in attempts to the garage of our current downtown (West End) apartment (where all the bikes and cars are kept!).  
Bottom line: If you're traveling and staying at a friend's place or an Airbnb, be sure to LOCK UP! This isn't meant to scare you – just to show you that theft happens in Vancouver just like any other major city, and that you should take precautions to protect your belongings while you're here.
Areas to avoid in Vancouver
During the day, you can walk around any part of Vancouver without worry, as long as you take basic precautions, such as not leaving your belongings unattended.
You will probably hear many people say to avoid the Downtown Eastside in Vancouver, located near East Hastings and Main Street and close to Gastown and Chinatown, which are popular tourist destinations. I (Brittany) worked in the Downtown Eastside for four months, and I don't agree that it's necessary to tell travelers to avoid this area. Rather, travelers should be warned that there are many homeless, low income, mentally ill, and drug-addicted individuals living in this neighborhood—and travelers stumbling upon this area unknowingly may find themselves shocked and disturbed by what they see.
Common scenes in the Downtown Eastside include open intravenous drug use, poverty, and prostitution. However, there is little to no violence, muggings, or anything of that nature toward tourists. The worst that might be experienced is being asked for money and (rarely) verbal harassment. Tourists may feel unsafe and unsure of what to do, and should therefore take precautions before choosing to walk around this neighborhood.
Is Vancouver safe at night? Is it safe to walk around alone at night as a woman in Vancouver?
To be extra safe, the Downtown Eastside should be avoided at night.
In busy areas, it is perfectly safe to walk around Vancouver at night as a (man or) woman. However, even in the safest city in the world, we wouldn't recommend that any woman (or man really) walk around alone in isolated, secluded areas or residential neighborhoods at night. There have been incidents of assaults and robberies in Vancouver in isolated, secluded areas.
Is Stanley Park safe at night?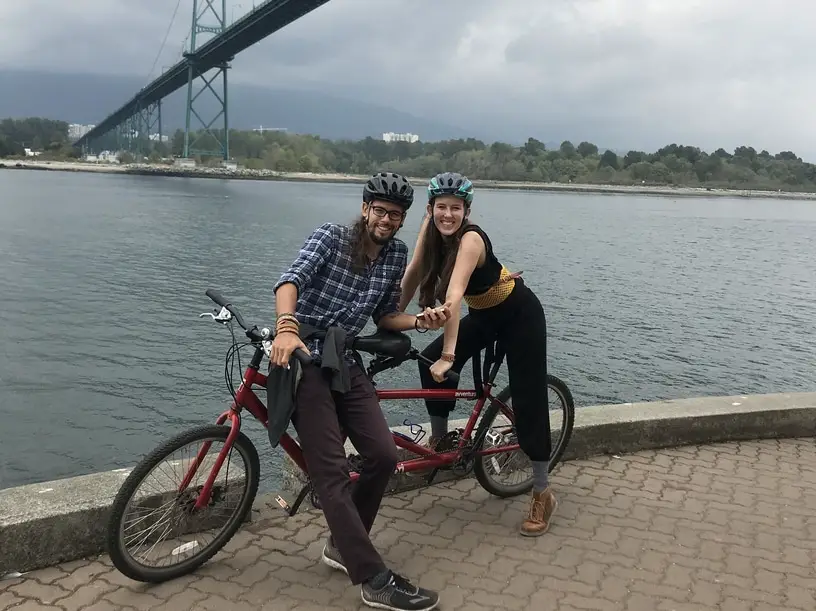 Stanley Park, a popular tourist destination that has a beautiful walk along miles of seawall, should be avoided at night, especially alone. There are many dark and secluded areas along the seawall, forest, and beaches of Stanley Park. The same goes for the vast Pacific Spirit Park at night.  
Murders and assaults have been reported in Stanley Park at night. It's better to play it safe and just visit during the day.
If you absolutely must go to a secluded and isolated part of Vancouver at night for some reason, at least bring someone with you!
Is it safe to travel alone in Vancouver?
Yes! Vancouver is very safe for travelers and a great place for students to come study and/or visit. I always tell my students (and friends and family) that Vancouver is a very safe and friendly city—but that of course, they should always take precautions to avoid being the victims of theft. Just be observant and do what you would do normally at home.
Is transportation safe in Vancouver?
Yes! Public transportation (the Sky Train and buses) is very safe and reliable. If you ever have any issues on the bus, you can alert the bus driver or the Transit Police—and they will be there FAST!
You can report non-emergency issues to the Vancouver Transit Police by text 87.77.77 or call 604-515-8300. For emergencies, you should call 911.
Taxis in Vancouver are safe and reliable as well, but can be quite expensive.
Is Vancouver a dangerous place to live?
No! Vancouver is a very safe place to live. As mentioned early, the crime statistics in Vancouver are quite low compared to other populous cities in North America.
How to stay safe and get help in Vancouver
If you have a life-threatening emergency, the number to call in Vancouver is 9-1-1. Say your name, location, and state what the emergency is.
If you need non-emergency medical attention while you're in Vancouver, there are walk-in clinics (this is a link to a list of walk-in clinics in Vancouver) throughout the city that offer similar care to a hospital.  
You can also visit any of the major hospital emergency rooms in Vancouver and wait to see a doctor. On this website, you'll find a list of major hospitals in the downtown Vancouver area as well as wait times.
If you are visiting from another country, it's a good idea to search the location and phone number of your country's consulate in Vancouver just in case you lose your passports, other travel documents, or have any issues with police (theft, etc.). Simply google "your country consulate Vancouver"!
Adventure, sports, and wildlife safety in Vancouver
This topic deserves its own post! In the city of Vancouver, you're not going to be coming across any wildlife besides skunks and raccoons (of which there are many!). If you're planning on going hiking, biking, or doing any other of the million outdoor activities in and around Vancouver, there are some important safety tips you should follow—such as what to pack and how to keep unwanted visitors (bears) out of your campsite. Just do a bit of research before you set off into the wild, and you'll be fine.
IN CONCLUSION, Vancouver is a safe place to live and visit—and an amazing city all around. Just be aware, be careful, lock up your belongings, and have a great trip!