We recently got back from Portugal and one of the most fun "tourist" things I did was visit the Lello Bookshop in Porto!
My mom, my sister-in-law, and I had the best time visiting the Lello Livraria in Porto, Portugal (AKA "The Harry Potter Bookshop"!). But we had some trouble compiling useful information beforehand and ending up facing a few obstacles. Here you'll find a helpful guide to make your experience hopefully run very smoothly!
Bottom line: Despite being very crowded, it was a ton of fun and we definitely recommend checking it out if you like Harry Potter or pretty, old, magical-looking places!
---
Why visit Lello Livraria
Lello Livraria (or Livraria Lello) has been called "The World's Most Beautiful Bookshop" which is reason enough to visit. It's old-world charm, magical red staircase, and intricate ceiling will make you feel like you're in a movie.
The reason why it's getting thousands of visitors a day, however, is due to its rumored association with JK Rowling, the author of the Harry Potter series. Rowling lived in Porto as an English teacher in the early 1990s and supposedly it was Lello that inspired the "look" of certain famous settings in Harry Potter. These include the bookshop Flourish and Blotts and the Hogwarts moving staircases.
Entering Lello Bookshop does feel like walking into a Harry Potter book, so it's not hard to imagine Rowling pulling some inspiration from this magical little place.
Lello has since humored all of us Potter fans with a small room in the back of the shop dedicated to Harry Potter, with HP books for sale and some memorabilia hanging on the walls.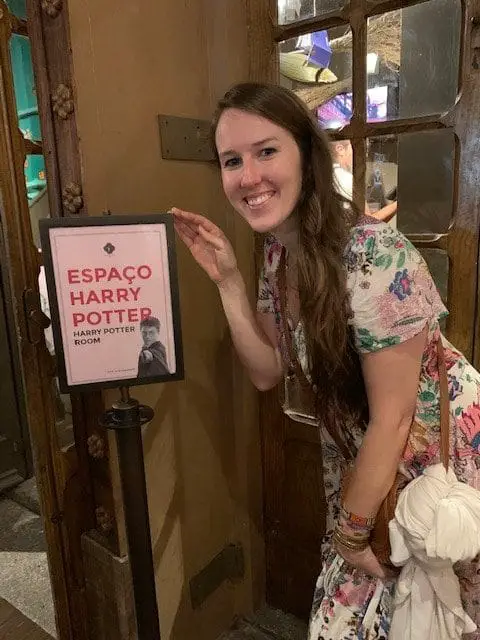 Three names of the bookshop
The bookshop has three names so you may see it written as Lello Livraria, Livraria Lello & Irmão and Livraria Chardron.
Did JK Rowling write Harry Potter in Lello Livraria?
All signs seem to point to no, although I don't think Rowling has ever directly come out and said one way or another. Perhaps she always had this place in mind while writing, but it doesn't look like she actually wrote any scenes while sitting in this bookshop.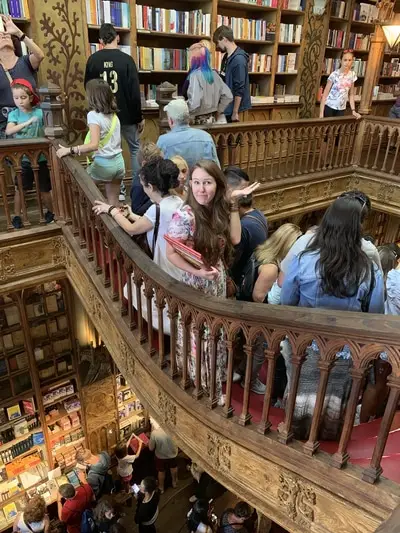 ---
What are the opening and closing hours?
Lello Livraria is open from 9:30 to 8:00 pm every day, but definitely double check their website just to make sure it's not a holiday on the day you want to visit. They also appear to have changed their hours over the years. These times are as of summer, 2019.
This is the address:
Livraria Lello, S.A.
Rua das Carmelitas, 144
4050-161 Porto
Portugal
---
When is the best time to go?
We went in August, which is probably the height of tourist season. It was a Monday morning and we arrived at 9:30 am thinking we were being SO good and would be the first ones there. NOT!
The line seemed impossibly huge, wrapped several times, and made us want to cry. However, we had already bought our tickets online and were committed! We told ourselves – "If this takes more than 30 minutes, we'll leave." And guess what? 30 minutes later, we were at the entrance!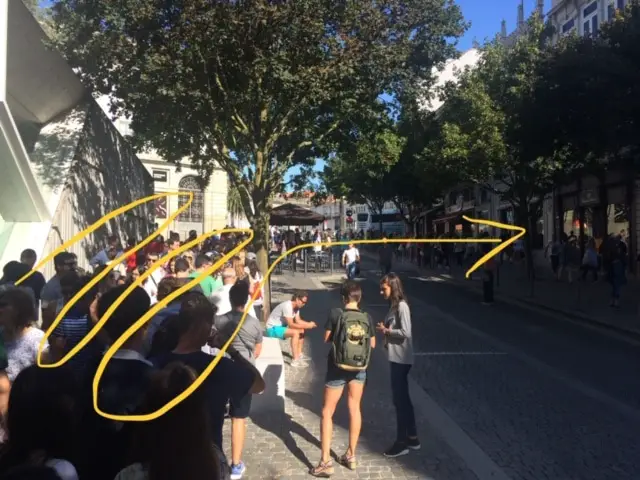 This is the zigzagging line to the front entrance! It LOOKED HUGE! But only took 30 minutes.
The line moved super fast, the staff was kind, and everyone seemed calm and in good spirits so it really was no big deal to wait.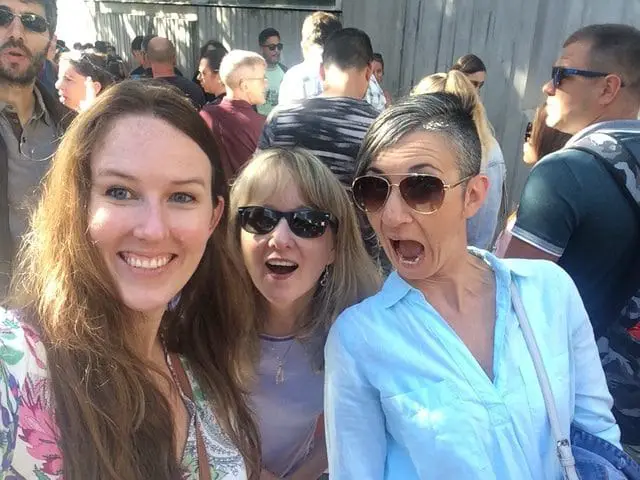 I've heard that if you're visiting Porto during the winter, you can sometimes have the place to yourself. In August, you're going to be in there with a million people like we were. But honestly, since we went into it knowing that, it didn't bother us that much.
---
How much it costs
The cost to enter is 5 euro if you buy at the shop next door to the bookshop in person, or 5.50 euro if you buy your ticket online beforehand. Children under 3 get in for free!
You used to be able to enter Lello Livraria for free, but the high volume of crowds (thousands of people a DAY!) has led to the implementing of an entrance fee, especially because most of those thousands of people were not buying any books.
We decided to buy our tickets online in advance (the night before).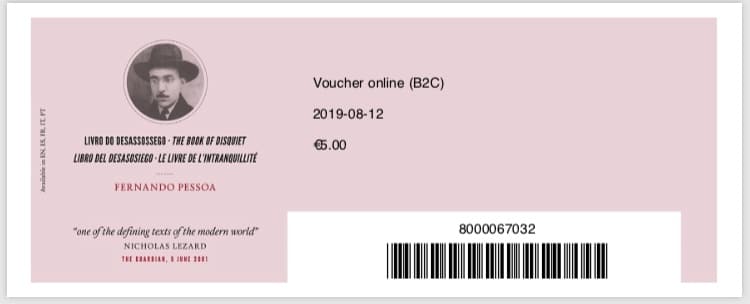 ---
What's the benefit to buying your ticket online?
Honestly, I'm still not sure. The only benefit I could see is that we had guaranteed tickets and we didn't have to take the time to go next door and buy them. We could just get straight into the line when we arrived and not waste any time.
There were some staff members checking tickets while we were standing in line, and people who hadn't bought tickets yet (I guess because they hadn't done their research!), were asked to leave the line to go buy tickets in the shop next door, or to buy them online using their phones on the spot. 
For peace of mind, it was nice to just have the tickets before arriving. We didn't have to print them out – just the electronic copies were fine.
And the 5.50 euro is deducted from any books that you purchase, which is pretty cool.
---
How to get a ticket
To buy a ticket in person, visit the store next to Lello Livraria. There are signs. They'll give you a paper ticket and some people even had paper guides. I was slightly jealous of their guides actually! I probably could have gone next door and asked for one but I was too lazy.
To buy a ticket online in advance, go their website. You can use PayPal or a credit card (but for some reason my American and Canadian credit cards wouldn't work so I had to use PayPal).
I received our tickets by email in PDF right away.
There weren't any specific visiting times marked on the tickets, like I expected based on previous reviews I had read. They were just general tickets. I didn't see an option at the time to buy timed tickets so maybe they used to have it but have done away with it.
When we were waiting in line, we also noticed that one man had a "priority" fast-track entrance ticket, but I don't understand how or why – we all used the same line and entered at the same time (??).
---
Is it better to buy a ticket online or in person?
We bought ours online and had a smooth, streamlined experience. The other benefit of buying online is that you're making a commitment to go. We bought the tickets online the night before, and we HAD to get up early and go the next morning! No backing out or looking at the long line and changing our minds like we might have done otherwise. And it was so worth it!
However, I don't think it reeeaaally matters which one you choose to do – buying online or in person.
---
What photos can I take at Lello?
Everyone and their mom (yes, my mom too!) were taking a bazillion photos in this place. It is verrrry crowded, at least if you go at the height of tourist season, which seems to be August. So don't go expecting to get lots of photos without other people in them!
You wait in line to go up the beautiful staircase, to do and see anything in the bookshop! I don't say this to scare you away, but to prepare you. It's a really fun experience, but you have to know what to expect. Get ready to wait in lines!
With that said, I think we took some good photos (?!). Here are some of the moments we managed to capture. I would recommend: Get some pictures of the famous staircase and on the balcony of the staircase. Have fun! Be patient!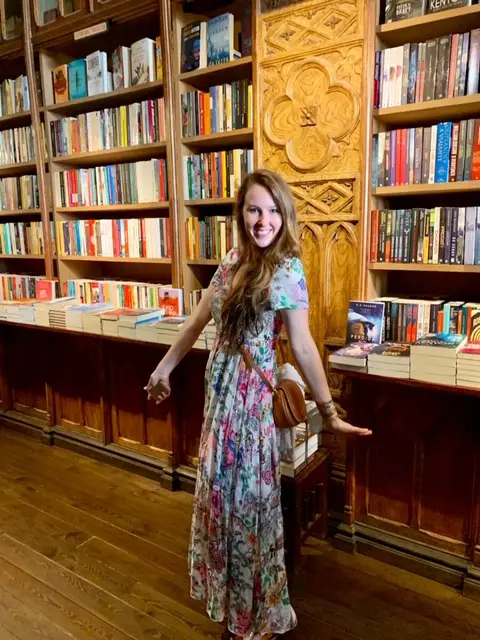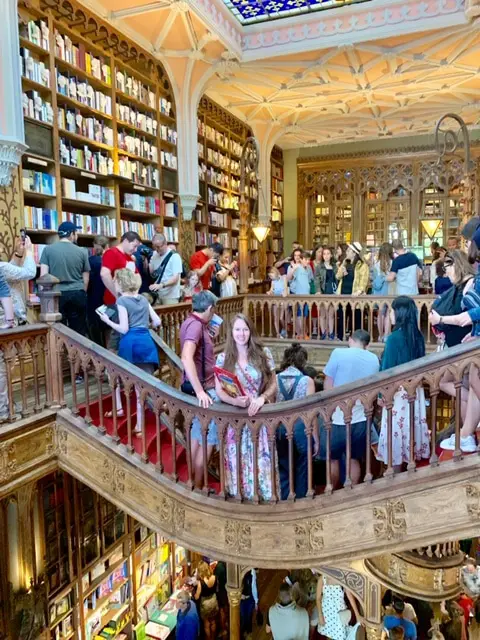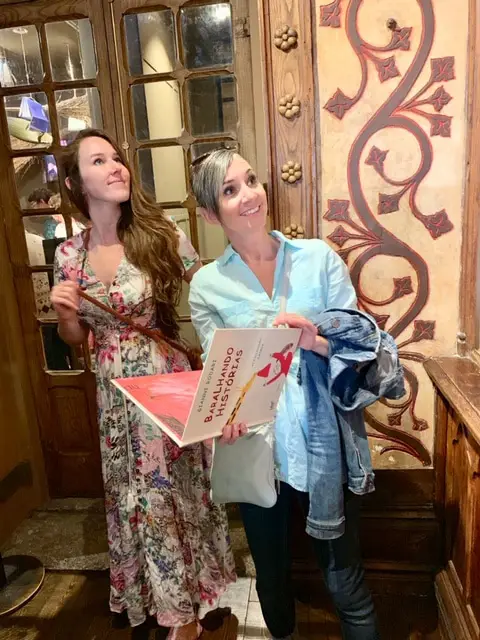 ---
What kind of books can I buy?
There is such a range of books. My mom and sister-in-law were mostly looking for children's books, and they had a huge selection to choose from including a cute story about the Lello Bookshop itself. They also had children's books in at least 5 different languages that we saw.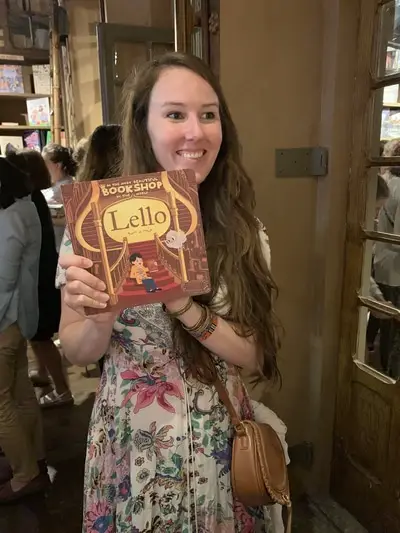 For adults, they have Harry Potter books for sale of course, plus tons of classic titles (packaged in mini form in some cases, I assume to make it easier for tourists to bring home – so smart!), and many traditional Portuguese authors as well.
Remember that you can use your entrance ticket as a voucher and get your money back when you make a purchase!
Enjoy!!! 🙂