The Great Wall of China! It was one of those destinations that I figured I'd get to someday but that I'd just never made the time for.
With an upcoming 12-hour layover in Beijing, I was ready to grab my chance to visit the famous Great Wall.
But I was alone, I'd never been to China, and I didn't know the first thing about how to get to the Great Wall or how to get back in time for my next flight.
So, I did some research, had a few back and forth email run-ins with a possible scammer (!!), and in the end, had an awesome, no-stress tour with a company called BeijingLayoverTour, which I found reviewed on many travel blogs beforehand.
THERE ARE CHEAPER WAYS than this to see the Great Wall but I wanted everything taken care of for me for this particular tour, as I was traveling alone after a long, muddy, backpacker-y couple of months in the Indonesian rainforest.  
It was a self-indulgent splurge at $180 USD, booked last minute, and probably the only private tour I have ever been on to a major world monument! Also, I don't always feel like being my dirty backpacker-self. If you're feeling fancy too, consider this fun Beijing layover adventure…
Book your tour online in advance
This can be hard for travelers who don't like to plan ahead of time, but for this kind of trip with a tight time frame, I think it was necessary.
The layover package tour business seems to have cropped up just in the past few years, since the opening of easier short-term visa-free stays in China for some countries.
You can still arrange a trip to the Great Wall yourself if you want, of course. I searched and found a few options to get to the Great Wall from the Beijing airport and back again on my own.
For me personally, I didn't want to risk sketchy taxi scams I'd read about, and was too lazy to figure out the train and bus combinations you can take to different sections of the Wall. Especially when I needed to make it back in time for another flight. But it is possible! Don't be dissuaded by my laziness, and do some research if that sounds preferable to you.
I paid a steep $180 plus tip, which I would never usually do! But this was booked so last minute that I didn't have the option of joining a larger group, which would have made it significantly cheaper. Instead, I had a private car with a driver and a tour guide all to myself. #spoiled
I signed up for the Mutianyu Great Wall Layover Tour (Half-day tour) which includes (as listed in my confirmation PDF, emailed to me from BeijingLayoverTour):
*Admission fees for all of the sightseeing spots listed in the itinerary.
*Free-bottled mineral water.
*Private English-speaking tour guide and private vehicle for transfers & sightseeing.
*Service charge & government taxes.
*China life tourist accident/casualty insurance.
There are some other tours listed on their website which seem pretty cool too, including one to the Forbidden City (!).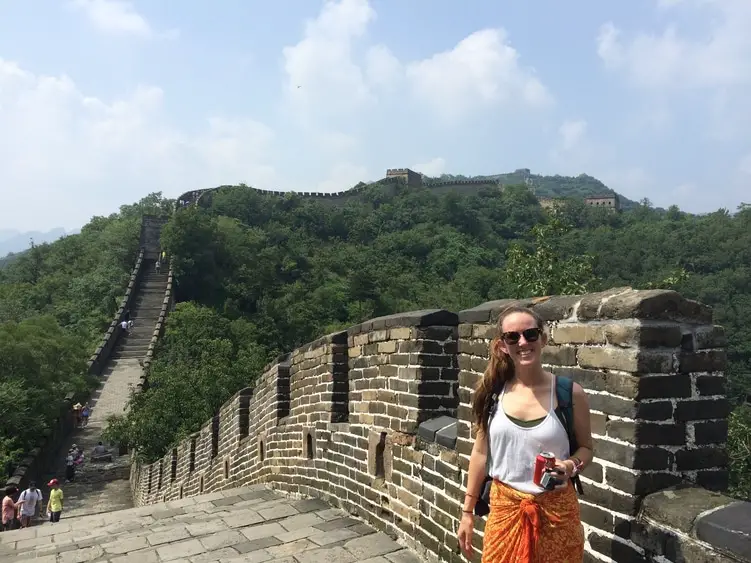 Casually drinking a Coke on the Great Wall of China, no big deal.
Beware of scams
This gets a bit detailed, so if you're not concerned with scams, just skip over this and go with BeijingLayoverTour!
I'm going to tell you about the email exchanges I had with a company and you can decide for yourself if this was a scam or not. I decided that I didn't want to risk it based on my intuition, but I'm still not completely sure.
There's a company called LayoverTourBeijing, which is so close-sounding to the company I eventually went with (BeijingLayoverTour). After visiting this other company's website, I emailed them my flight information (which you have to do so they can arrange your tour), and they quoted me at $200 total and asked for a $50 deposit, which was more expensive than the price listed on their website (the total, not the deposit—the deposit was weirdly lower, actually).
This incongruency was strike one for me, and then when I emailed them to say I would get back to them shortly, they sent me another email urging me to book as soon as possible because it was "peak season."
I had a bad feeling, so I double-checked which website I was emailing and realized there were these TWO separate but similar-sounding companies. On the BeijingLayoverTour website, they had a warning about scammers who had copied their website. So, I then emailed THEM and they seemed more professional, and warned me that scammers had been copying their site, even the reviews.
I was a bit frazzled at this point, having almost PayPal-ed money to a possible scammer company (still not sure?) and trying to arrange this tour with limited Internet from an island in Raja Ampat. I ended up going with BeijingLayoverTour, paying a $90 deposit via PayPal (as is written on their website) and the balance in cash when I met my guide at the airport in Beijing… and all was good.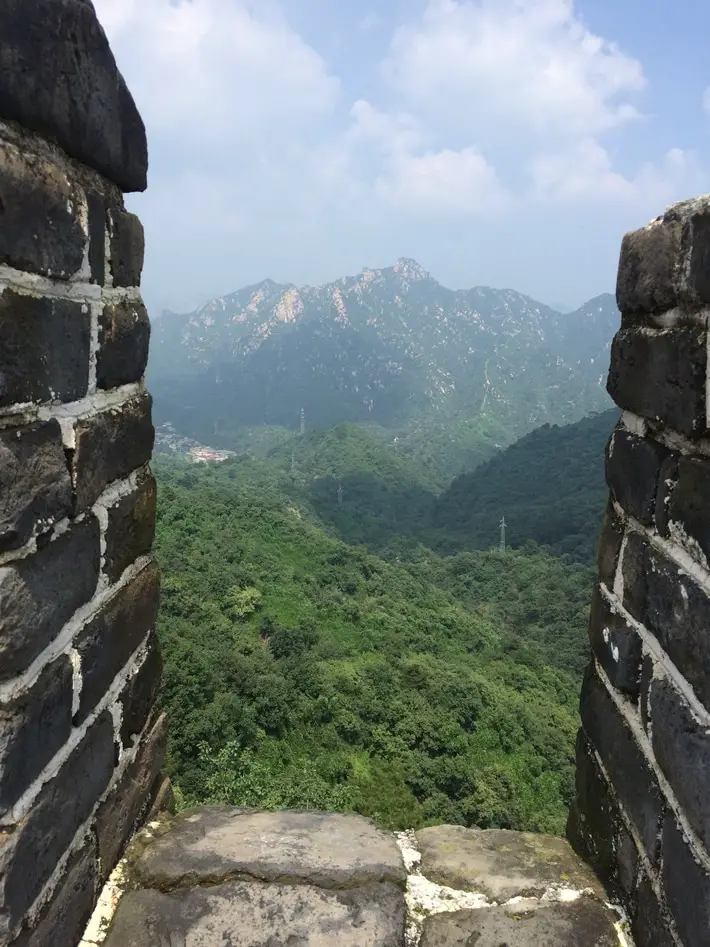 Beautiful views from the Great Wall of China on a hot summer day!
Prepare for arriving at the Beijing Airport and navigating to 24/144-hour international transfers!
After I paid my deposit, the tour company sent me a confirmation email with a PDF that included information on how to navigate the airport in order to get to the correct exit section of the airport (with photos!). 
This was actually super useful because the airport was confusing and I was afraid I would take a wrong exit and not be allowed back to the 24/144-hour transfer section. And maybe it was just the day (?) but I found that not many airport workers spoke English in that part of the airport.
I would recommend downloading the PDF/email that the tour company sends you or printing it before you get on the plane to go to Beijing because you can't automatically connect to the wifi in Beijing and there are a bunch of websites and apps you can't access in China (including Gmail!).
This is the guide/photo that they emailed me: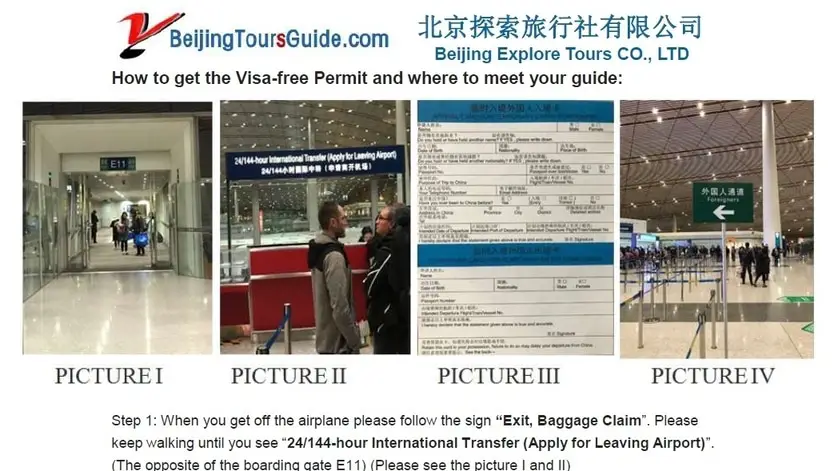 If you're not doing a tour, but just curious how to get to the 24/144-hour international transfer lane on your way out of the Beijing airport, here is the complete text from the PDF that was emailed to me:
Step 1: When you get off the airplane please follow the sign "Exit, Baggage Claim". Please keep walking until you see "24/144-hour International Transfer (Apply for Leaving Airport)". (The opposite of the boarding gate E11) (Please see the picture I and II) Please DO NOT stop on the way, such as: "Exit & Entry Certificate Service Office" and "Transit for international Flights within 24 hours". You might never be allowed to come out.
Step 2: Please waiting for the line at the "24/144-hour International Transfer (Apply for Leaving Airport)" you can get the "Visa-free Permit Stamp" there. You need to fill a form "Arrival Card for Temporary Entry Foreigners" while you are waiting. (You can get the form at the desk nearby) (Please see the picture III)
Step 3: After you get the Visa-free stamp, please walk to the left and pass through the "China Inspection and Quarantine", waiting for the line for "Foreigners" to pass through the immigration. (Please see the picture IV)
Step 4: After you pass through the immigration, there is an escalator. Please follow the escalator downstairs. Then you will see a little train station.
Step 5: Please get on the train, and get off the train at the terminal station (T3 C).
Step 6: Get off the train at "T3 C", follow the sign "Exit" you will see Exit "B". Pass through the Exit "B", there is a Starbucks Coffee to the left. Our guide will hold your name and wait you there.
IMPORTANT: When I was there, there was a bit of reconfiguring going on at the airport so it wasn't exactly the same as the information in my PDF photos and instructions above. Instead, the airport had set up just A TINY, small sign that said: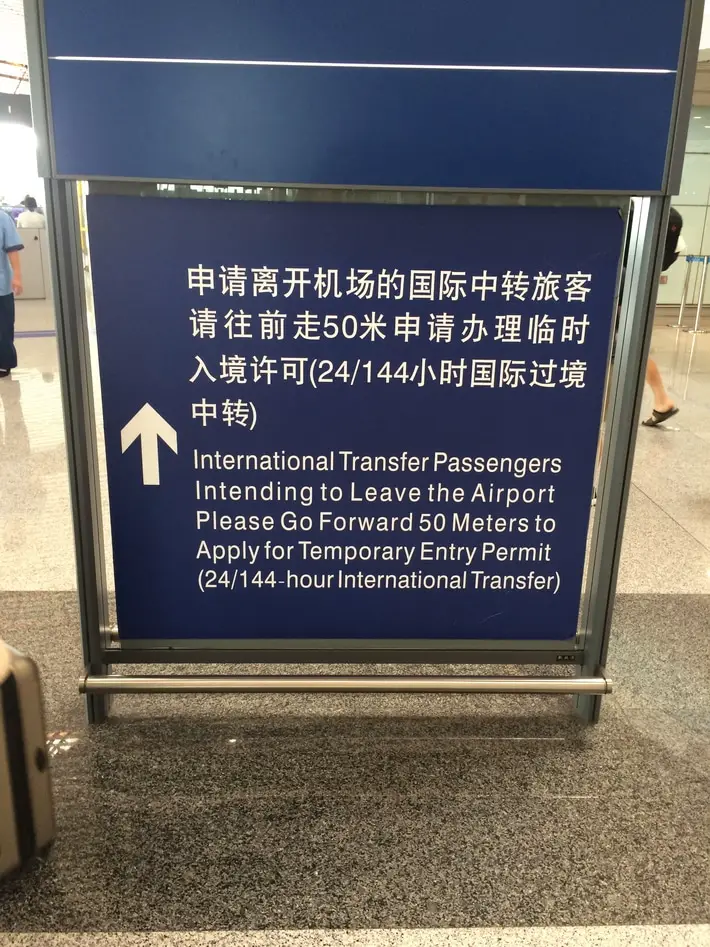 I actually walked past it a couple of times. I recommend looking for other tourists who are looking for the 24/144-hour transfer line too! That way, you can help each other. And, of course, check first online to see if your passport country is allowed a short-term visa-free stay in China.
Meet the guide at the Beijing Airport Starbucks!
I was nervous because my flight was LATE on arrival and I had no way to let the tour company know because I had no wifi (and my Gmail wouldn't have worked anyway) at the Beijing airport. It takes a while to get through the arrival processing lines, so I was worried that my guide would just leave me!
But no… my nice, smiley guide was still there waiting for me at the airport Starbucks when I eventually made my way out more than an hour late. And he was holding a sign with my name on it!
He showed me an ATM at the airport to get some Chinese money out and we got into my fancy private ride where the driver was waiting. My guide was really great and friendly and spoke English well. He chatted with me a bit and let me relax in peace in the air-conditioned car on the way to the Great Wall. On the way to the Great Wall of China! So cool!
It was really amazing to just have everything taken care of and EASY after a stressful flight, in a new city, alone, and knowing I had to be back at the airport later that evening for another flight.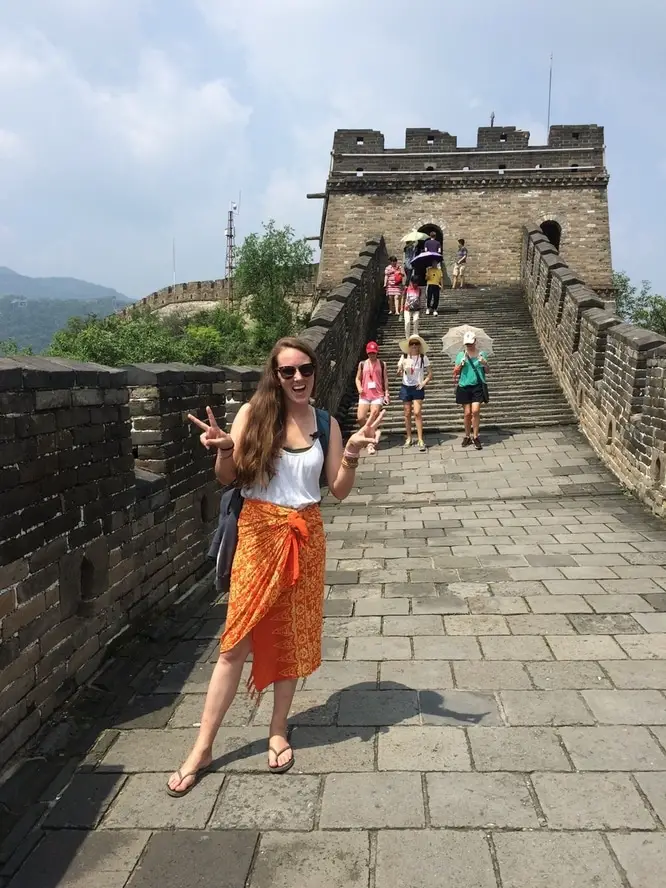 What to do with yourself when you're finally there, standing on the Great Wall of China!
We got to the Great Wall parking lot (haha, so weird to say) and my guide offered to let me keep my belongings locked in the car with the driver who would be staying in the parking lot. I did, but kept my valuables with me, just because… I don't know, I didn't want separation anxiety from my passport?!
I'm sure it would have been fine but I have been robbed three times on various travels thus far, so I tend to be a little overboard-careful these days (much to Phil's annoyance!).
My guide walked me to the entrance and I was really surprised when he pushed and shoved us through a crowd to get my tickets! No one even seemed to care.
He explained some things to me about the history of the Wall, rode with me on a ski lift to the top of one the sections of the Wall (as I sat in awe of the mountain views)… he took some pictures of me at the top, and then said he would meet me at the bottom whenever I was finished! And off he went back down.
So I stood there alone on the Great Wall of China an had a really excited, giddy inner traveler moment. 
I spent a couple of hours on my own, walking along the Wall, taking pictures and hanging out. It was extremely hot when I was there. Friends have told me the winter is brutally cold, so prepare yourself for the season! It's a lot of outdoors and walking… obviously.
There are some spots along the wall with littles places to buy snacks and drinks and sit at tables outside. You can also buy souvenirs.
When I finally decided it was time to head back down, I had two options: take the ski lift again, or this crazy bobsled rollercoaster thing. Yes, they built a bobsled ride on the Great Wall of China. It's actually probably a lot of fun, but the line was reallyyy long and it was a MILLION degrees out, so I took the leisurely ski lift.
My guide was waiting for me! There are a few places to eat near the entrance so we went to one of them and had some pretty yummy Chinese food. Then it was back in the car and back to the airport!
Apparently, tips are expected (it's written in the PDF confirmation email) and according to other travelers, a $10-$20 USD tip for the guide and driver seems to be the norm. So again, not a cheap backpacker experience, this layover tour!
I was back to the airport in plenty of time to catch my next flight and I had some great memories and photos of the GREAT WALL OF CHINA. For me, it was worth the money this time to avoid the stress and to treat myself with a private tour experience for once! But there are other, cheaper ways to do it that require more planning and logistics. Just do what works best for your situation and enjoy!
---