---
If you're not familiar with Westgate Corporation, it's a program that places English language teachers in universities in Japan. They also have a young learner's program but I don't have experience with this. I taught with Westgate for 3 months in a prestigious all-women's university in Nagoya, Japan, and loved it. Contracts vary slightly from position to position but the best thing about this particular company for me was the length of the contract. I was looking to spend the summer teaching somewhere while Phil was doing work in Indonesia. I couldn't find any other position/company in Asia that was so professional (in terms of arranging flights, visas, and salary etc.) for such a short amount of time.
I have taught English in France, Korea, the U.S., Canada, and Japan and have experienced a range of expectations and professionalism. There are always pros and cons to every ESL/EFL teaching position, but I can't imagine how anyone could turn down 3 months in Japan, even if there are a few cons. Three months is enough time to squeeze out all the awesome of a place without getting too annoyed with cons. Even if someone doesn't love it, it's just 3 months! And you get to teach nice university students.
And for teachers who absolutely fall in love with the job or with Japan, Westgate makes it easy for you to renew your contract. Some teachers had been renewing for years when I was there! Personally, three months was the perfect amount of time for me, but I do still dream about my time in Japan and miss it a lot. I put together this quick guide with my own personal take on the university teaching experience in Japan.
What requirements do you need to teach with Westgate Japan?
If you want to teach at universities in Japan with Westgate, you have to have at least a bachelor's degree. Also, you need to have either an ESL/EFL teaching certificate and some teaching experience OR more than 1000 hours of ESL/EFL teaching hours if you don't have a teaching certificate.
They say that they take into consideration non-EFL/ESL teaching experience as well. My feeling is that if you rock the interview (which is an hour+ and somewhat intense), your credentials won't matter as much. You can read our post on how to ace the Westgate Japan interview here.
You don't need to have a master's degree or PhD to work at a Japanese university. You don't need to be able to speak Japanese, but it will make living in Japan more fun if you try to learn some of the language.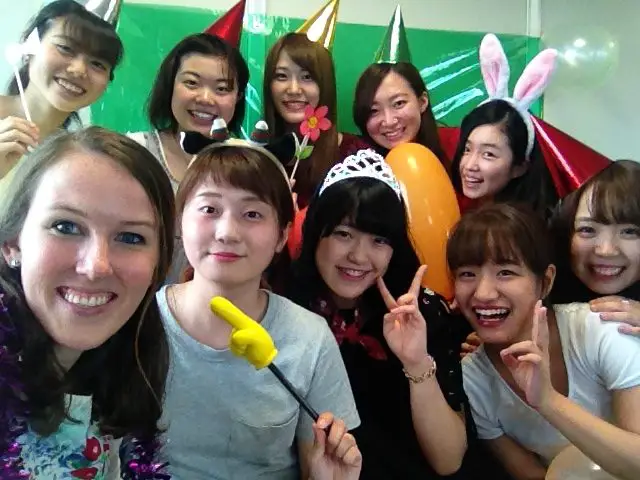 What are the types of positions available and contract lengths?
For university programs, you can teach one of two programs: the extracurricular courses, which run from late April to late July (3 months) or from mid-September to late December (5 months); or the accredited courses which run from about late March to late July (3-5 months) or September to December/January (3-5 months).
The difference is that the extracurricular courses are optional for the students—the students in these classes chose them and really want to be there. You usually get a lot of enthusiasm. This is sometimes the case and sometime not in the accredited courses, which are courses that are mandatory for the students. I taught extracurricular classes and my students were great. My friends who taught the accredited courses also seemed to have really good experiences.
If you want to work in Japan for a year or longer with Westgate, you're going to have gaps where you're not working (around July/August and February/March). Some teachers went to other countries to work during this time (such as Thailand)! Or they saved money from teaching and went traveling in Southeast Asia during their time off.
As I mentioned, I only worked one contract (3 months) so I didn't have this concern.
Westgate Japan Salary and Hours
Westgate pays ¥260,000 a month for teachers with less experience (fewer than 499 classroom teaching hours) and ¥275,000 a month or more for teachers with more experience (500+ hours of classroom teaching experience and a teaching certificate or credentials/qualifications, or 1000+ hours of classroom teaching experience in lieu of teaching certificates or credentials/qualifications).
They also will pay for your roundtrip ticket to Japan (up to $1,200 USD), which in my experience is unheard of for short-term teaching contracts. There are some strict stipulations about the flight tickets. I think you have to fly out and back into the same place in order to get fully reimbursed. I believe this is related to the visa situation, but I'm not sure. I remember asking if I could buy a ticket from Tokyo onto somewhere else, and Westgate would not have been able to reimburse me, so I ended up getting a roundtrip ticket from Vancouver.
Your medical insurance is also covered in Japan. I never had to use it, but maybe I should have because everyone says the medical system is amazing.
As for working hours, they felt long to me, and there are high expectations. I love teaching but I put a lot of energy into it and get tired fast. Only do this if you really enjoy teaching, or you'll get burnt out. There are about 5.5 paid hours each day, 5 of which are teaching hours, and you're expected to be at school from about 9:00 am to 6:00 pm. In the hot and humid summer days in Japan, in a business suit, commuting, and doing a lot of standing and talking all day… it's great but you have to be ready for a particular kind of adventure.
How much money can you save working in Japan?
This will obviously depend on how frugal you are. I personally was able to save a couple thousand dollars in three months and I didn't feel deprived. I went on trips to Nara, Kyoto, and had a week-long vacation in and around Tokyo at the end of my contract. Most weekends, I went on day trips around Nagoya with a Meetup.com hiking group and other friends, doing cheap activities, which helped me save money and have fun with my time in Japan.
There were others who saved way more than me and some people who saved zero dollars. If you're really big on going out and eating out after work (Japan style!), it'll be harder for you to save money. But I was usually too exhausted during the week days to go out!
I would say that, if you do the same contract as me (3 months from May to July), you don't have any vacation time really to travel during your contract. You can do weekend and day trips, but that's about it. If you want to spend more time visiting places in Japan that are farther away, you have to do it before or after your contract. It's a bit different if you have the 5-month spring contract, because you'd have Golden Week off, which is a national vacation week in April. For the fall, I'm not sure how much vacation time you'd get.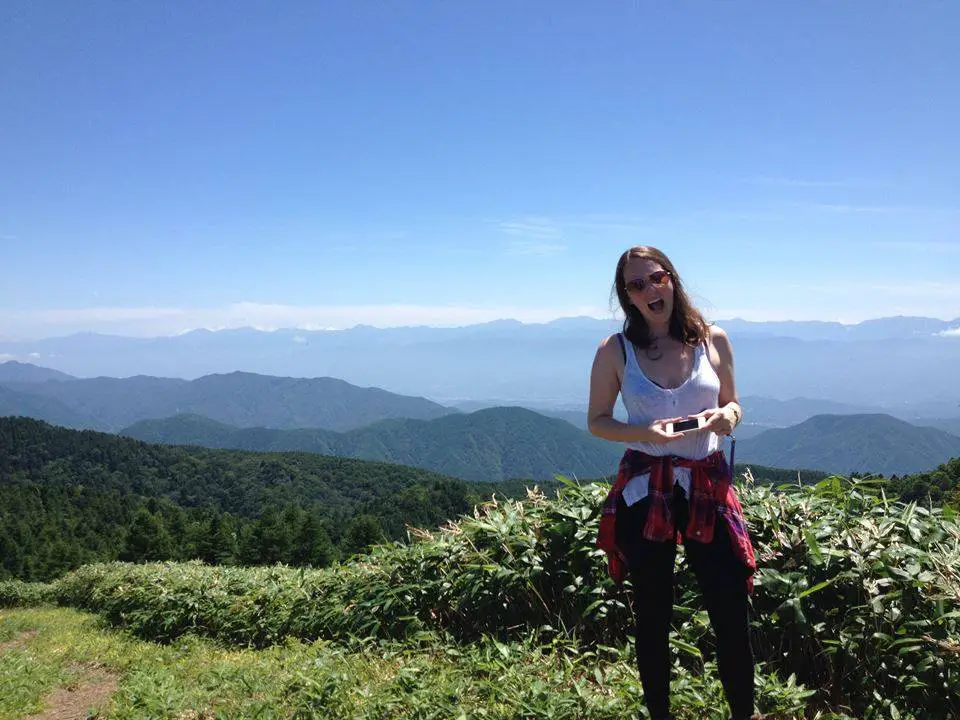 Hiking in Japan!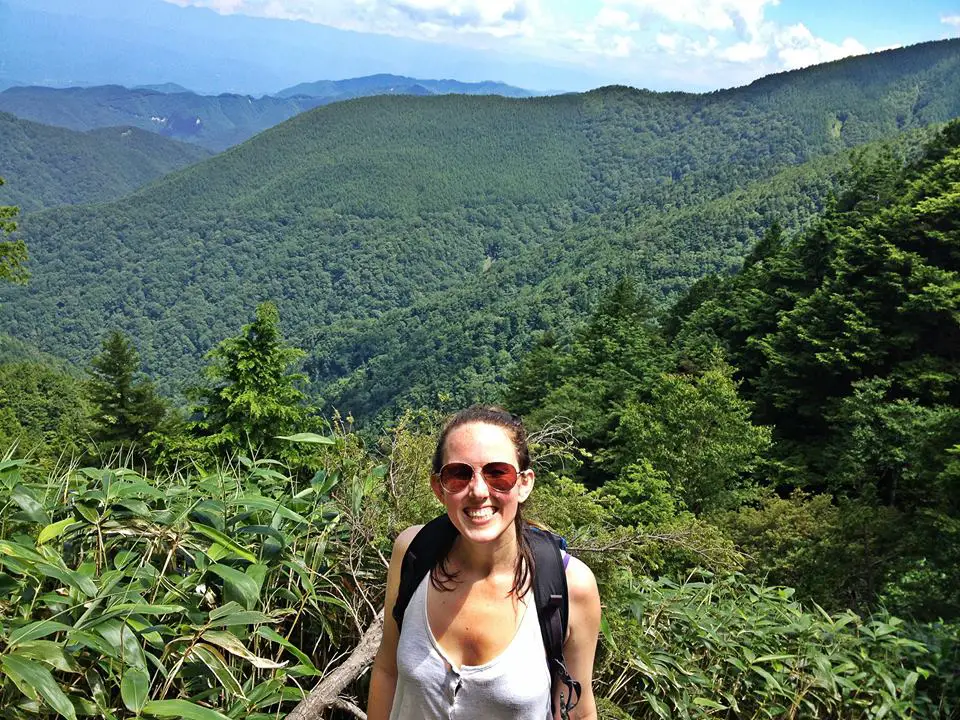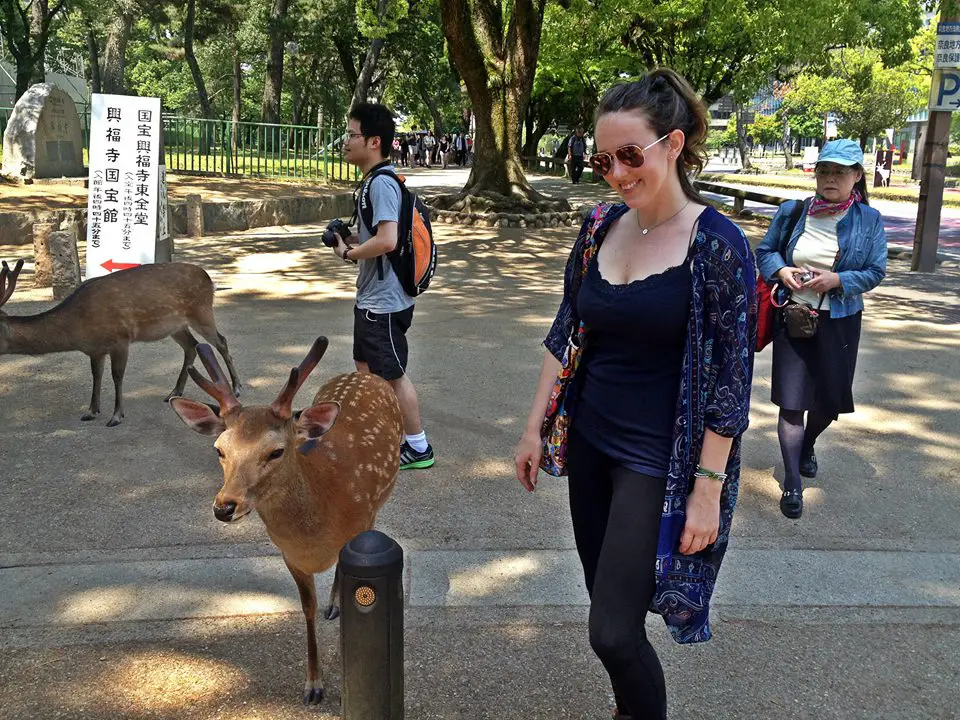 Casually walking the streets with hundreds of deer in Nara, Japan
Living Situation – Apartment and Commute
This seems to be the toughest part for many people teaching with Westgate! Honestly, it was fine for me. You have to pay ¥81,000 monthly for your apartment + utilities and Internet, which some say is expensive (it's automatically deducted from your salary each month). However, they take care of everything! They lead you to your apartment and give you a key. You don't have to apartment hunt or figure out the paperwork by yourself. I understand that for teachers who have been in Japan for a long time or who understand the system, this could be annoying. But for newbies and short-term teachers, the lack of hassle is worth the money in my opinion.
The apartment itself is really small (cute you might say!)—perfect for one person. I had a living room, small balcony, bathroom with AMAZING JAPANESE TOILET (Japan has completely ruined bathrooms for me in the rest of the world), tiny basic kitchen, washer and drier (which I used Google translate symbol translate to figure out), and a loft capsule-looking space that you had to climb a ladder to get to—for the bed. I loved this little apartment.
Outside my apartment, I had a vending machine full of iced-coffee, which I became addicted to. Every morning, I would get an iced-coffee and walk about a mile to the nearest subway station. I took the train for about 20-25 minutes and then walked another ten minutes to my university. My commute was always under an hour. I know some teachers, especially those working in and around Tokyo, have 90-minute commutes on very crowded trains. All part of the experience, I guess!
I really enjoy walking and I was in better shape walking so much in Japan. The only bad part, I think, was that summer is super hot and humid in Japan and you have to dress very professionally. I ended up changing into my work shoes at work and sometimes bringing an extra pair of clothes to freshen up when I arrived.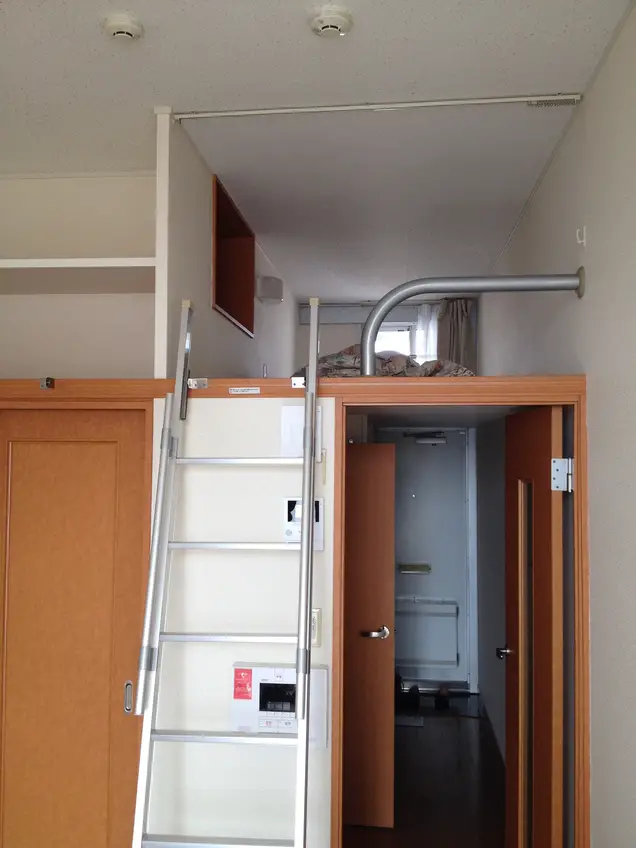 My cute little apartment loft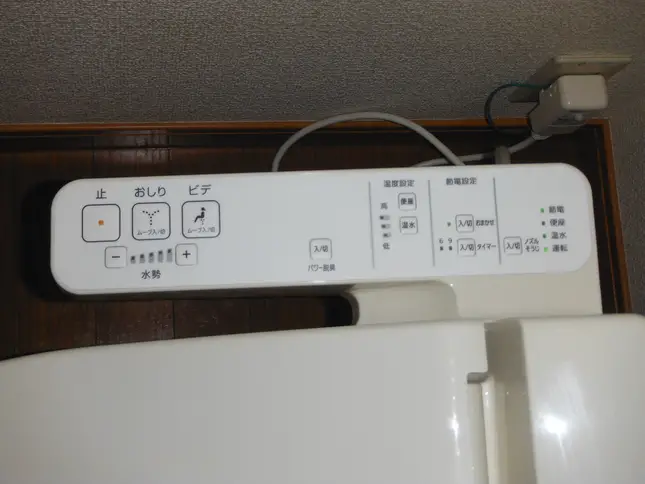 My toilet had SO MANY buttons! It warmed up, sang to me, good times…
What is the dress code for teaching in a Japanese university?
University teachers in Japan are expected to dress very conservatively and professionally. Imagine wearing a business suit every day and also removing or covering any: tattoos, (non-earring) piercings, cleavage, bare legs (must wear stockings), open-toed shoes, slip-on shoes, "loud" accessories or manicures… If that doesn't sound fun to you, maybe Japanese university teaching isn't the right fit!
At the class party on our last day, I brought my class temporary sponge-on tattoos as a fun activity, without really thinking. The students loved them, but later on when I was saying goodbye and thank you to the administrators, I had big visible tattoos on my arms and had to explain what was going on…
Tattoos are kind of taboo in Japan still and considered inappropriate in a professional environment. This might be changing but still something to think about as a visitor.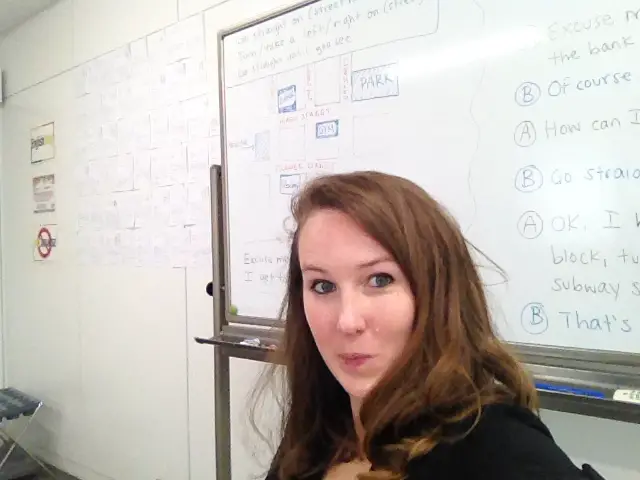 Hello, I'm here. I brushed my hair and I'll wearing a nice jacket!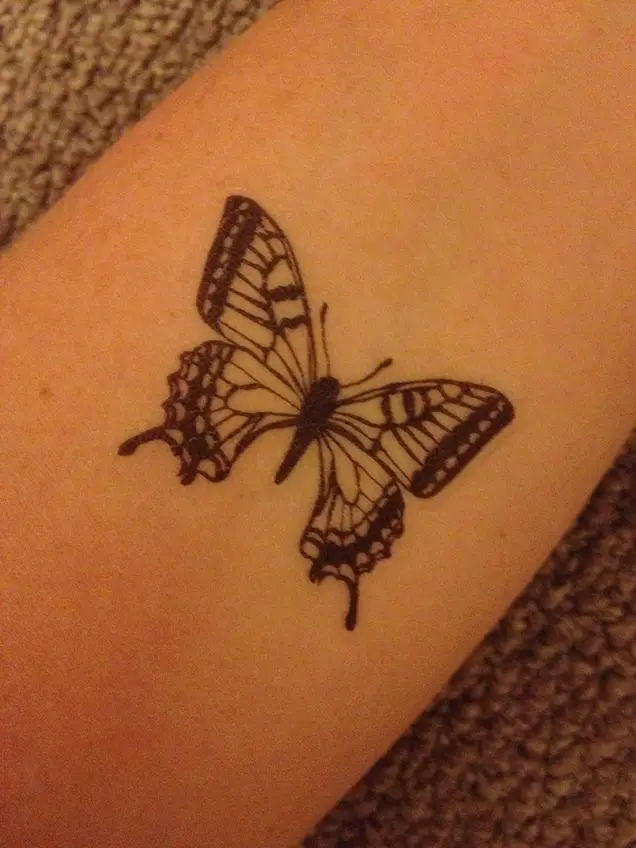 Temporary tattoos gettin everyone in trouble…
What are the classes and curriculum like?
My schedule as a teacher of the extracurricular classes was around 5-7 40-minute lessons per day. I would teach the same lesson, sometimes 7 times a day! This was really great for lesson planning, and by the time I had the final lesson of the day, I would feel like I was really nailing it!
The curriculum is all made out for you and quite detailed. It's very communication-based. Speaking and listening are majorly emphasized and almost all of my students were about A1-A2 level, I would say. You have some leverage for creativity in the activities but the topics and objectives for each day are set.
I always had classes of about 12 students, around seventy-something total. There was a lot of paperwork to stay on top of as I recall. We were expected to take attendance, give them feedback, end-of-term evaluations, and generally be very encouraging because this was more of a fun course to build speaking confidence. The students also gave us feedback in Japanese on forms that are translated for us by our Westgate contact person/liaison. Just like most teachers (I think?) much of this feedback is STILL in my head. Why can we never forget our feedback??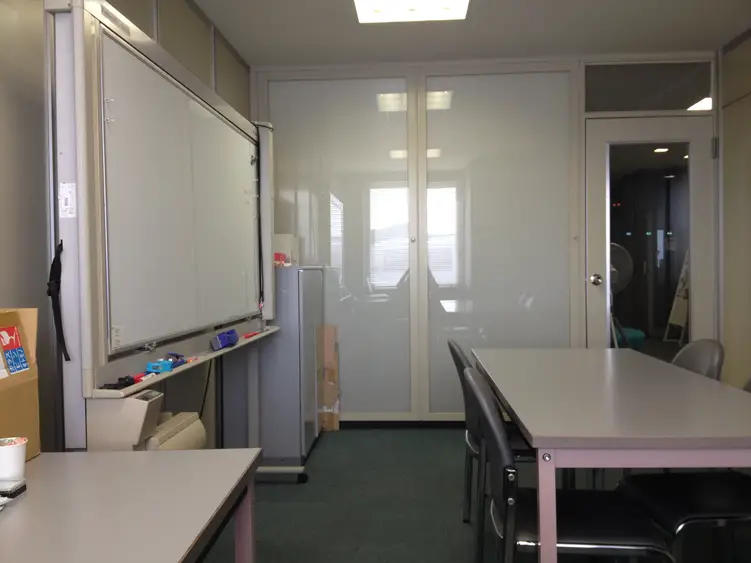 My office in Japan… not too shabby
What are Japanese university students like?
Lovely. I had all girl students at a university in Nagoya that has a reputation of being quite posh. I learned so much from them about life in Japan. They were generally very sweet and willing to participate in whatever activity I had prepared.
I don't remember ever having any discipline problems with students or anything like that. The best part for me was the little classroom party we had at the end of the term, which is kind of expected at most schools I think. It also seems to be a thing to shower your teacher with home-made cards and cute gifts! Japan is awesome.
There are some student cultural difference things that Westgate tells you about at the orientation that were actually really useful. For example, they told us that sometimes Japanese students fall asleep in class and that we should let them be. Don't kick out sleeping students—this was good to know! I only ever had one sleeper, but I think I would have been so confused if I didn't know that was an accepted thing in Japanese classrooms!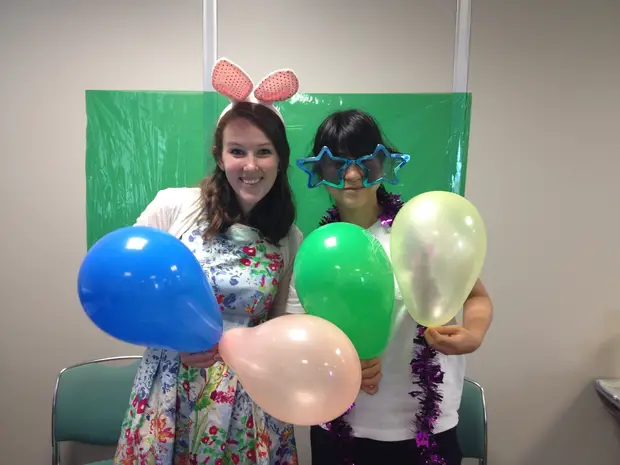 Me with one of my best students on our last day!
You haven't lived until your perfect Japanese students have immortalized you in cartoon form!
Do you have to speak Japanese to work in a Japanese university?
Definitely not, if I am any indication. I had never taken a Japanese lesson in my life and hadn't thought Japan was ever going to be an option for me to work in until the MARCH before I left in MAY!
I tried to learn some basic Japanese before leaving, and it turned out that many other teachers did speak some pretty good Japanese before arriving (and no doubt it makes your trip even more fun) but it's not a requirement to be able to speak Japanese.
Note: Don't do THIS if you decide to work for Westgate!
I was so embarrassed my first day at my university. I had arrived super early, all dressed up, with my first lesson all prepared, because I was so nervous. And as I sat in my office (yes, I had my own office… fancy!), pumping myself up for my classes, an administrator ran in and told me very seriously that I was supposed to be in class! I WAS LATE. In Japan! Where lateness is a cardinal sin! How had this happened?? Turns out I had misread my time table. I was looking at the Monday schedule, but my first day was a Friday, so I should have been looking at the Friday schedule… and I ruined everything and made a bad first impression.
So don't do that! I eventually won everyone over, I like to think… but it wasn't a good start. Pay close attention to detail in Japan 🙂
Overall, I would say GO FOR IT. I really treasure this experience and I'm glad that I did it.