This list began as a work of love. It is a list of romantic quotes and sayings for lovers, for travel couples, to be used for Instagram captions (or to be written in love notes) 🙂
I have been gathering the most beautiful, soul-wrenching travel quotes for couples I could find and adding them to this list (ongoing as we speak). You probably won't find your typical "travel quotes for couples" here because I have tried to find words that are a little different and that really moved me. Especially the Pablo Neruda pieces! Be still, my heart.
Some are short and perfect for Instagram captions (for beautiful and fun pictures of couples), and others are on the longer side and can perhaps be enjoyed for what they are. I envision all of these quotes and sayings paired with lovely travel photos.
I will continue to add to this list and I very much hope they bring you joy! If you notice that any quotes are misattributed, please let us know right away.
---
Travel Quote Captions for Couples
"A couple who travel together, grow together." — Ahmad Fuadi
"No matter what transpires between us, in this life or in any other, I will be with you always. You really are my soul mate. We have traveled together before, and we will travel together again." 
— Diane Rinella
"No one else, Love, will sleep in my dreams. You will go,
we will go together, over the waters of time.
No one else will travel through the shadows with me,
only you, evergreen, ever sun, ever moon." 
— Pablo Neruda
"If he really loves you, he'll follow you wherever you go. If he doesn't, he isn't the man you want, is he?" – Ha Jin
"It doesn't interest me what you do for a living. I want to know what you ache for, and if you dare to dream of meeting your heart's longing." — Oriah Mountain Dreamer
"Your love is a better fate for me
than anything I could wish for.
If you are a part of me, 
then you're the best part.
And if you're separate from me, 
then you are my destination.
But I've become a weary traveller,
so please,
let us never be apart." 
— Kamand Kojouri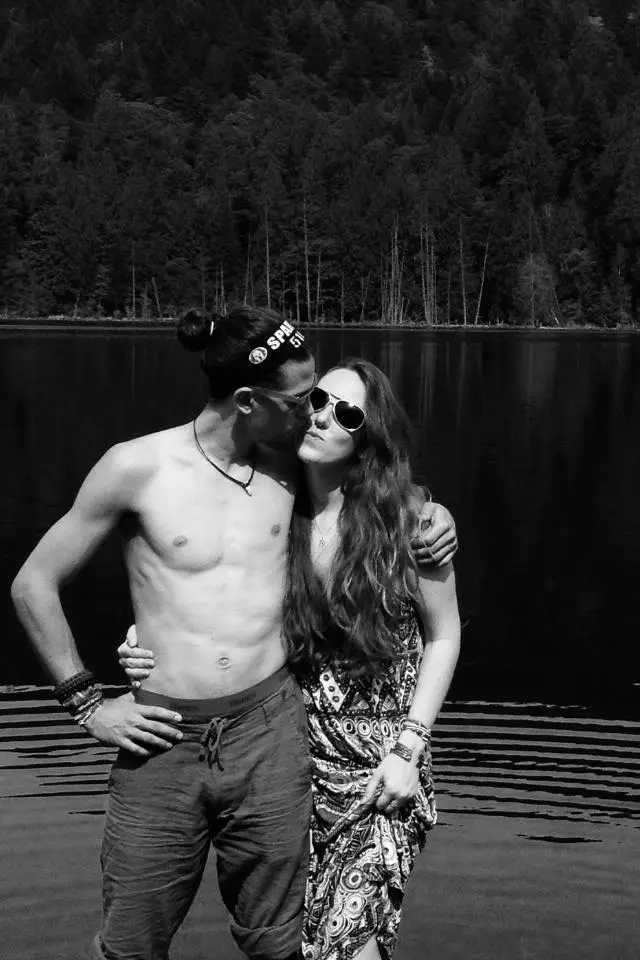 "And we travel, in essence, to become young fools again- to slow time down and get taken in, and fall in love once more." — Pico Iyer
"We are travelers on a cosmic journey, stardust, swirling and dancing in the eddies and whirlpools of infinity. Life is eternal. We have stopped for a moment to encounter each other, to meet, to love, to share. This is a precious moment. It is a little parenthesis in eternity." — Paulo Coelho (The Alchemist)
"Travel brings power and love back into your life." — Rumi
"I've traveled. All over. I've never seen anything like you. How could anything be put together like you? Do you know how beautiful you are? Have you looked at yourself?' — Toni Morrison (Paradise)
"She is delightfully chaotic; a beautiful mess. Loving her is a splendid adventure." 
— Steve Maraboli
"Believe in a love that is being stored up for you like an inheritance, and have faith that in this love there is a strength and a blessing so large that you can travel as far as you wish without having to step outside it." — Rainer Maria Rilke (Letters to a Young Poet)
"She always picked love; she always picked adventure. To her they were one and the same."
— Jenny Han
"The minute I heard my first love story,
I started looking for you, not knowing
how blind that was.
Lovers don't finally meet somewhere.
They're in each other all along." 
― Mawlana Jalal-al-Din Rumi, The Illuminated Rumi
"Love, like everything else in life, should be a discovery, an adventure, and like most adventures, you don't know you're having one until you're right in the middle of it." 
— E.A. Bucchianeri
"In your light I learn how to love. In your beauty, how to make poems. You dance inside my chest where no-one sees you, but sometimes I do, and that sight becomes this art." ― Rumi
"There are million countries which we will visit together." — Christine Minasian
"Let yourself be drawn by the stronger pull of that which you truly love." ― Rumi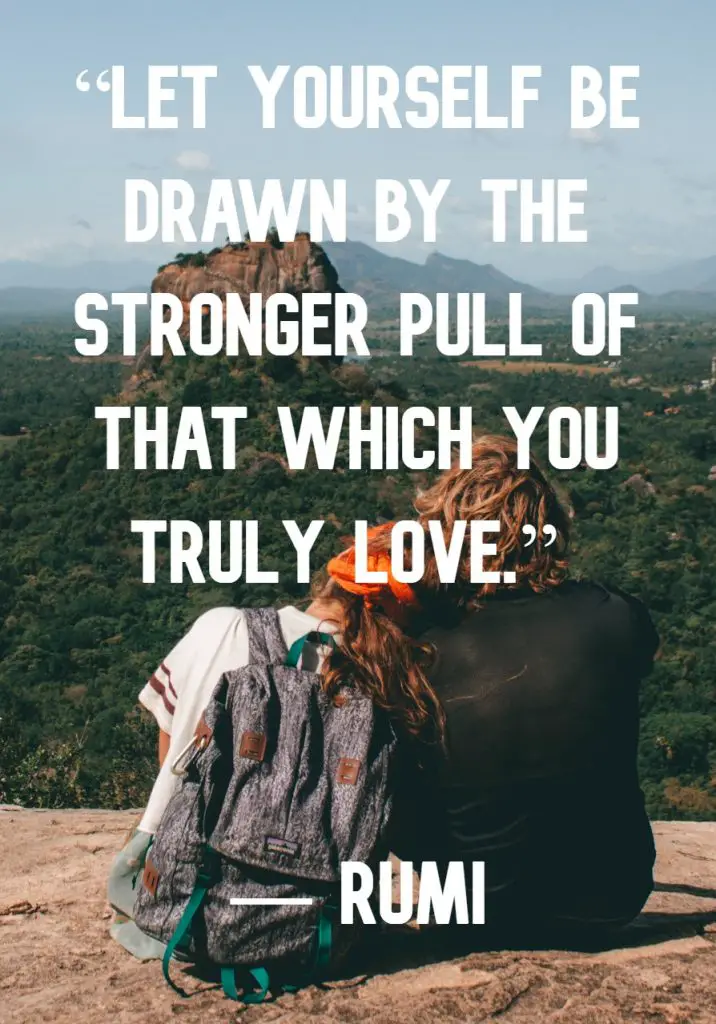 "They who travel the rocky road together arrive in paradise undivided." — Karey White
"She had never dreamed of what it would feel like to love someone so much; of all the things that had astonished her in her adventures, that was what astonished her the most." — Philip Pullman (His Dark Materials Trilogy: The Golden Compass/The Subtle Knife/The Amber Spyglass)
"I can remember thinking I'd been turned inside out. Kind of like the first time I saw you."  — Lauren James 
"Being deeply loved by someone gives you strength, while loving someone deeply gives you courage." ― Lao Tzu
"But I love your feet 
only because they walked 
upon the earth and upon 
the wind and upon the waters, 
until they found me." 
— Pablo Neruda
"Two separate beings, in different circumstances, face to face in freedom and seeking justification of their existence through one another, will always live an adventure full of risk and promise."
— Simone de Beauvoir (The Second Sex)
"Come meet me in the middle, somewhere between day and night, the beginning and the end, some place where crooked paths and rocky trails weave together, where the sky is clear and we can share the stars from different places. I want to see your moon rise as my sun settles. I want to know the world as you see it, the place where you stand as you sip your morning coffee and the expression on your face as you watch waves cascading over the sand. I want to know all of the crinkles on your face right before you smile." — Jacqueline Simon Gunn
"Actually, the best gift you could have given her was a lifetime of adventures."– Lewis Carroll 
"We love because it's the only true adventure." 
— Nikki Giovanni
"I love you without knowing how, or when, or from where. I love you simply, without problems or pride: I love you in this way because I do not know any other way of loving but this, in which there is no I or you, so intimate that your hand upon my chest is my hand, so intimate that when I fall asleep your eyes close." ― Pablo Neruda, 100 Love Sonnets              
"I want to see your dreams," he explained. "I want to share them with you, and have you share mine as well. I don't want them hidden in a book. I want them lived together, even—no, especially–when that's hard." — Sybil Shae (Timing Is Everything: Origin Of The Journal)
"and then every once in a while, you remember to pull up and look at your partner, your life partner, really look at the one who travels down the lonely road right by your side, and you realize how much you are in this together." — Harlan Coben 
"What we find in a soulmate is not something wild to tame, but something wild to run with." — Robert Brault
"Maybe it is a dream. Your dream. My dream. I do not know. These are questions for wise men with skinny arms. You are the moon of my life. That is all I know and all I need to know. And if this is a dream, I will kill the man who tries to wake me." – Khal Drogo, GOT
"Tell him he was my greatest adventure. Tell him I love him." 
— Fisher Amelie
"Love isn't about happy endings where knowing every day from here on out will be full of sunshine and rainbows. Love is about obstacles, about travelling through life together despite them. Obstacles make us stronger." — R.K. Ryals
"Travel is like love, mostly because it's a heightened state of awareness, in which we are mindful, receptive, undimmed by familiarity and ready to be transformed. That is why the best trips, like the best love affairs, never really end." — Pico Iyer
"Wish you were here, we can get lost in the forest together and eat bamboo rice." — Winna Efendi (The Journeys)
"…Because, when you know that language, it's easy to understand that someone in the world awaits you, whether it's in the middle of the desert or in some great city. And when two such people encounter each other, and their eyes meet, the past and the future become unimportant. There is only that moment…" — Paulo Coelho (The Alchemist)
"and yet I feel that the most real home I'll ever have is the space where our roads merged and traveled along together…" — Craig Thompson (Good-Bye, Chunky Rice)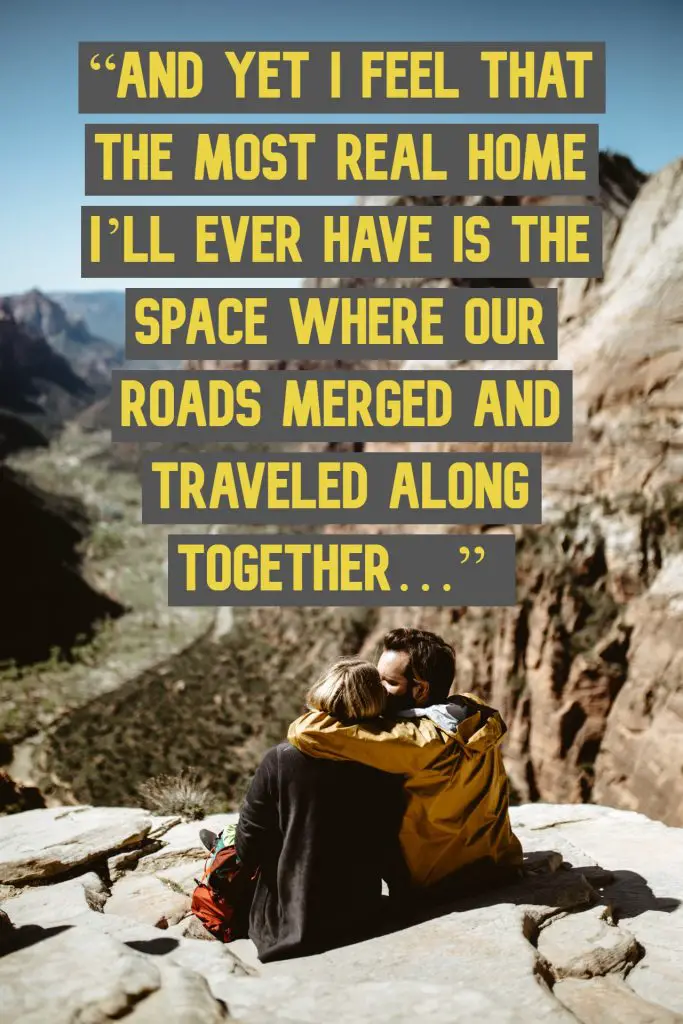 "Everything lives within the heart of the dreamer. Your heart can take you everywhere. It's the world where we are still together. The heart is where you'll find me and anyone else you have ever loved with all your heart and all your soul." — Kate McGahan
"Under cover of her silence he pressed her arm closely to his side; and, as they stood at the hotel door, he felt that they had escaped from their lives and duties, escaped from home and friends and run away together with wild and radiant hearts to a new adventure." 
— James Joyce
"I shall have poetry in my life. And adventure. And love, love, love, above all. Love as there has never been in a play. Unbiddable, ungovernable, like a riot in the heart and nothing to be done, come ruin or rapture." 
— Tom Stoppard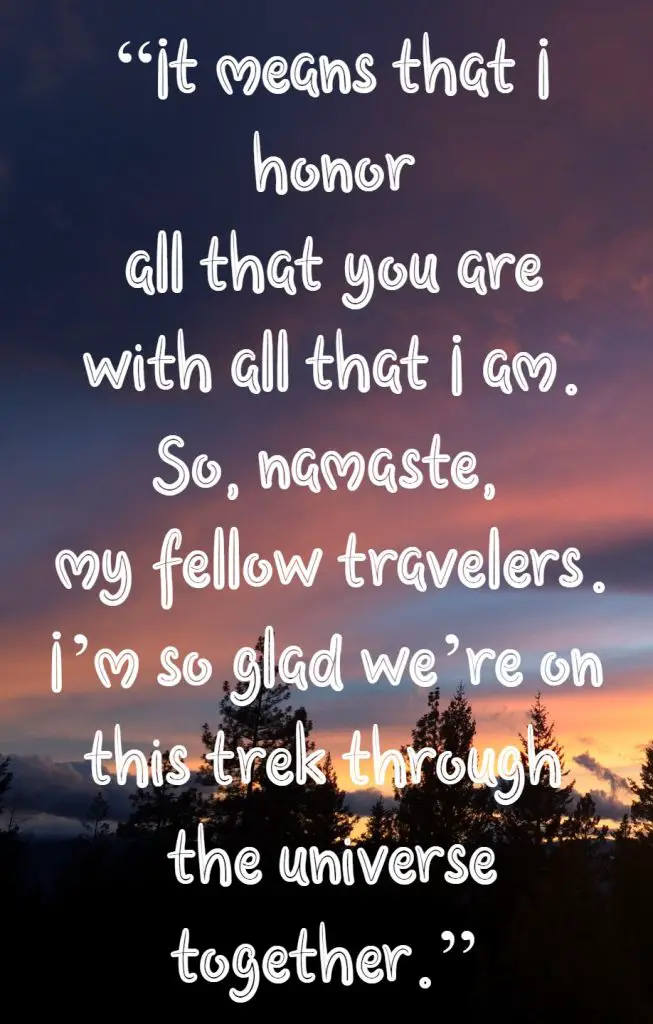 "It means that I honor
all that you are
with all that I am.
So, namaste, 
my fellow travelers.
I'm so glad we're on 
this trek through 
the universe together." 
— L.R. Knost

"It's not enough to know what you like and enjoy; I want to feel it too; I want to feel it the way you feel it. I want to know what the air you breathe tastes like and I want to share a pillow while we sleep. I don't only want to be with you. I want to meet you in the middle, the place where winding paths on this crazy journey join together, the place where we no longer travel alone." 
— Jacqueline Simon Gunn
"Love is meant to be an adventure!!"
— Gordon B. Hinckley
"Fall in love with someone
who tastes like adventure
but looks like
the calm, beautiful morning
after a terrible storm"
— Nikita Gill
---
Travel Captions for Couples (Not Quotes)
For me, you are the only fish in the sea.
It doesn't matter where you're going, but who is beside you.
You're the visa stamp to my passport!
Across land and sea, it'll always be you and me.
I do believe it's time for another adventure.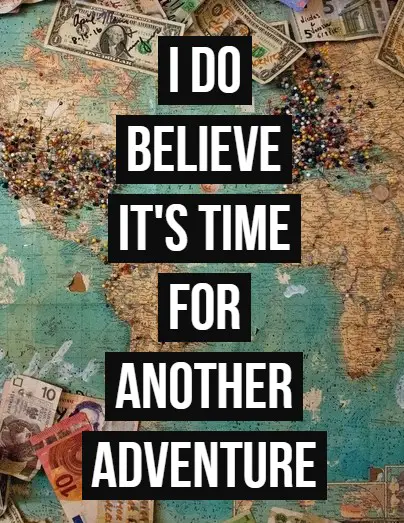 My love for you stretches across time zones and continents.
We're simple adventurers, together on the road of life.
A couple of rogue souls, wandering the seven seas.
The only travel companion I'll ever need.
My love for you spans the longitudes of the globe.