After nearly 20 flights with my one-year-old son, I thought I'd share exactly what's in my carry-on — in checklist form — so you can just print it off and copy my list for your next trip!
I'll share my checklist here with all of my explanations and then link a clean PDF version of this checklist at the bottom of this article for you to print at home or access on your phone later!
What Kind of Bag Should I Pack for My One-Year-Old's Carry-On?
I like to use a backpack diaper bag personally. This way, I can pack everything I need and still have my hands free to wrangle my little budding toddler through the airport.
The exact type and size of backpack you choose will depend on your own personal preferences, but having been through a couple of different ones myself, I find that I like to have one with SEPARATE compartments for each of the following:
Diaper change items (diapers, mat, wipes, bum cream, hand sanitizer)
Food/snacks
Milk/juice
Activities (toys, books stickers) and extra clothes can go together
Miscellaneous (nail clippers, pacifiers, chap stick, etc.)
I like to keep these items separated from each other (especially diaper change and food items). When there aren't enough compartments and everything is thrown in together, it drives me crazy on travel days!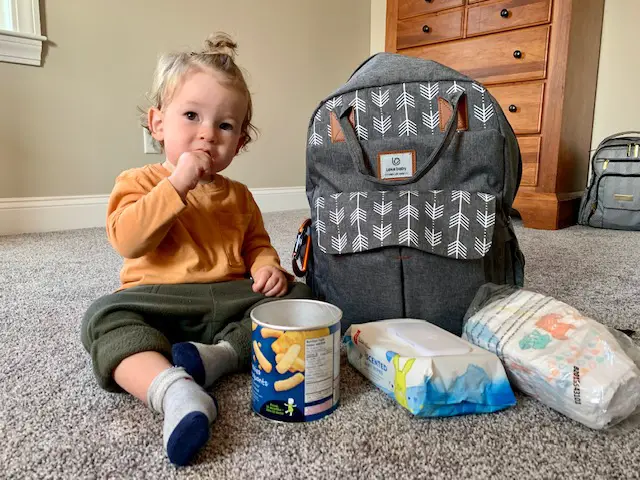 What to Pack in Your One-Year-Old's Carry-On (Diaper Bag)
You want to have the perfect balance of packing exactly what you need, and not having too much excess to lug around with you while traveling. That's what I hope this checklist can you for you and your family! Download my clean PDF checklist at the bottom of this article, or follow along with this checklist jpg image below: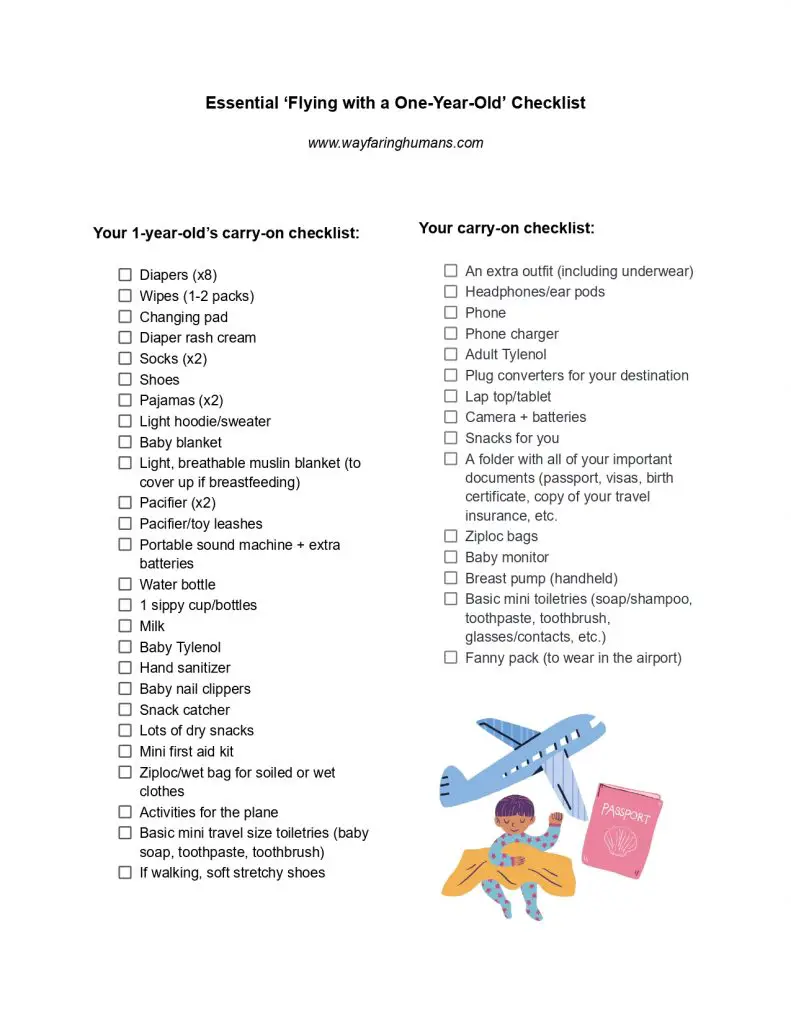 Diaper Change items to pack
You want to pack diaper change items in their own pocket/section of your carry-on, to be EASILY accessed in case of a blow-out emergency on the plane. Make sure you don't have to go digging for a diaper and wipes. Your diaper change pocket will have:
Diapers (8 per travel day)
Wipes (1-2 packs — you'll also be using them to wipe down the airplane seat and other surfaces during travel)
Diaper rash cream (under 100 ml)
Hand sanitizer bottle (under 100 ml)
A large Ziploc bag in case you need to separate dirty clothes or a dirty diaper
Foldable changing mat
Food and Drink items to pack
You want to be sure and pack your one-year-old's favorite snacks and drinks (and some novel ones too!). I like to pack a variety of snacks and put them in different containers. I use snack catchers so that my son can access his snacks independently without making a huge mess.
I also like to put his snacks into pill organizer boxes to make it a bit of a fun activity for him. I bring mostly dry snacks because they make less of a mess, but I do like to bring a bit of fruit sometimes too.
You may want to bring your toddler's milk in case you aren't able to buy the kind you need at the airport/on the plane.
Going through security with milk can sometimes be a headache, as the rules are not always clear about what liquids are allowed — even for people traveling with littles. Do research on your specific country's allowances before leaving and take screenshots to show the workers at security.
We have been very fortunate to take all of our liquids for our son easily through security so far, but I know that's not been the case for everyone.
Activities and Entertainment to pack
I like to be over-prepared when it comes to entertainment. Sitting still is HARD for a one-year-old. They are going to want to explore.
Walking the aisles is a perfectly acceptable activity for a one-year-old on a plane, but for times when the seatbelt sign is on, here are some entertainment ideas you'll want to have ready in your carry-on:
a tablet pre-loaded with shows and movies
toddler headphones
puffy stickers
magnetic blocks
Water Wow books
I actually wrote an ENTIRE article on 20 cheap and easy activity ideas for one-year-olds on the plane, so I highly recommend you check that out for more fun ideas!
Clothes to pack/Dressing your One-Year-Old on the Plane
I think PAJAMAS are the way to go for travel days. A cozy outfit (with 2-3 cozy back up outfits in the carry-on) is what you want for your one-year-old in the airport/on the plane.
For shoes, we usually put our son in slip-on soft leather shoes. He doesn't need "real" shoes because we're indoors all day on travel days. And soft shoes are much more comfortable for us when he's crawling all over our legs on the airplane. Keep it simple:
Pajamas (2-3)
Socks (2 pairs)
Soft shoes
Try to limit bringing complicated separates — they get lost. Try not to bring your favorite outfits traveling — they tend to get dirty or possibly destroyed.
Avoid outfits with snaps and buttons, which can be frustrating on a travel day that has enough frustrations already! Zippers all the way!
Sleep items to pack
To encourage sleeping on the plane, try to mimic some of the sleep cues you use at home. Bring items that usually bring your toddler comfort, such as:
a special blanket or teddy bear (be careful not to lose this in transit!)
pacifiers and pacifier leashes
portable sound machine
If you're paying for a seat for your toddler, you have the option of bringing your car seat onboard the plane. Many toddlers sleep best in a familiar environment such as a car seat. Alternatively, you could bring an inflatable bed or inflatable footrest (but keep in mind that these aren't allowed on some airlines — do your research first).
If you'll have your toddler on your lap, practice putting them to sleep on you at home if this is not something usual for them.
Health and Emergency items to Pack
Bring a small first aid kit with a thermometer. You want to be able to bandage minor injuries and take your baby's temperature if necessary. This is something we've needed on multiple trips, unfortunately.
Baby Tylenol or the equivalent should also be part of your pack. I like to bring adult Tylenol for myself too, just in case.
What to Pack in Mom's Carry-on Bag
I like to bring a separate small backpack for myself, which I usually put in the overhead bin on the plane. And then I wear a fanny pack throughout our travel day, where I keep things that would be devastating to misplace or have stolen: Passports, wallet, keys, phone.
I usually wear a comfortable, dark-colored outfit (something in the realm of athleisure wear) and I'm ready to go!
You can see the full list of items I bring for myself in the checklist, but I want to point out especially: an extra outfit (for you — because you never know when you're traveling with a baby), a baby monitor to have handy as soon as you arrive at your destination, and small travel-sized toiletries in the case of delays or cancellations.
Also, don't forget extra batteries for everything, chargers, and plug converters for the country you're heading to.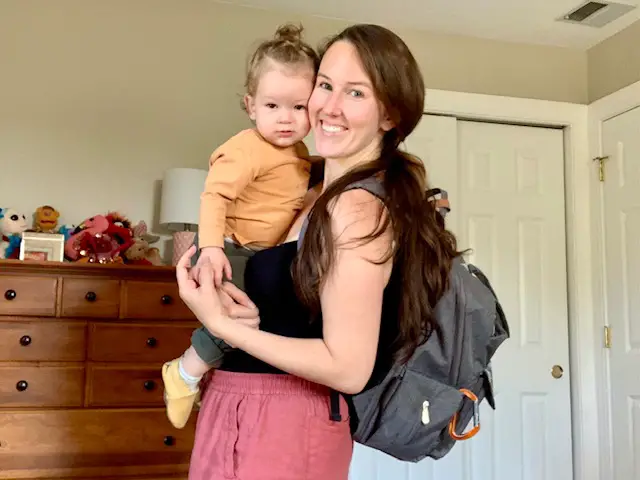 Additional Items to Pack: Strollers, Carriers, Car Seats, etc.
Depending on where you're traveling and how long, you may want to consider bringing some additional items. Let's talk about strollers, carriers, and car seats. And also about some items you really don't need to bring.
Stroller
In some destinations, we've found that a stroller just isn't practical. The many stairs or cobblestones, etc. have made navigating with a stroller really difficult and we didn't use it at all, preferring a carrier or hiking backpack instead.
But if you are going to bring your stroller traveling (and in many cases, it is a good idea), consider bringing one that is lightweight and foldable. There are some that fit in the overhead compartment onboard the plane.
Baby Carrier
We have sworn by the Lille Baby carrier since our son was very little and we're still using it now at 15 months. We also like the Trail Magik for short trips and hikes and our hiking backpack (for hiking and sightseeing).
Car seat
If you're going to be driving or taking taxis at your destination, it's probably a good idea to travel with your car seat. Your baby is already comfortable with the one you have and won't have to get used to a rental.
You might also want to use it on the airplane if you've purchased a seat for your child (or if there happens to be a free seat available next to you).
Check and make sure that your car seat is approved to be used on airplanes and in the country where you're traveling beforehand. There's usually a sticker on your car seat that will tell you this, and the information can often be found on an airline's website.
What NOT to bother packing
Don't bother packing items that you can easily rent or request from your hotel/Airbnb at your destination. These include:
a baby bed/toddler bed
a high chair
a baby bathtub
If you're not worried about traveling light, then sure — go for it. But for most parents trying to conserve space and not travel with overpacking luggage, you don't need these items.
Beds and high chairs can be requested from most hotels and Airbnbs. Toddlers can be bathed in the tub at your destination, in the shower with you, or in a sink.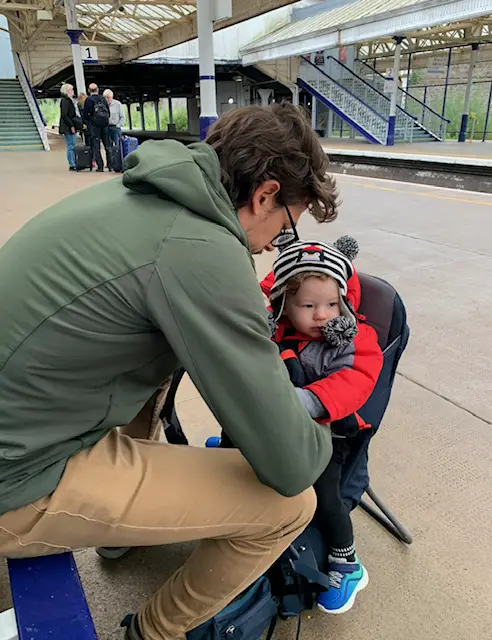 What to Pack in Your Checked Bags for You and Your One-Year-Old
In addition to this checklist, you're going to want to pack your checked luggage. I don't have a specific checklist for checked luggage because it varies so much between families and the nature of their travels. So I'll just give a few general pointers here:
Don't overpack. Bring less than you think you'll need. Keep some space in your bag for unplanned purchases.
Don't pack a bunch of toys. Your toddler will be fascinated by new things at your destination. A couple of small toys will do.
Bring toddler clothes that you're not in love with — that you wouldn't mind seeing get dirty, lost, or ruined.
Don't bring doubles and triples of things. You can usually buy a backup at your destination if needed.
Don't put any valuables or necessities (medications) in your checked bags.
PDF Version of 'What to Pack for a One-Year-Old' Checklist
Here is my PDF version packing checklist for a one-year-old that you just read about, for your convenience. I hope it helps!