Unplanned events can lead many parents to wonder when they can fly internationally with their newborn babies. Do a bit of research and you'll find that there is no standard regulation or policy across the board to help you with this query. After much research and experience with my own baby son, here's what I've found:
Newborn infants can technically fly internationally as young as 2 days old, however most parents will wait until at least 2-3 months of age due to the time needed to acquire travel documentation, limitations of airline age policies, and infant health recommendations. Specifically:
You will need to wait long enough to receive your child's proper travel documentation (birth certificate, passport, etc.) in order to fly internationally with a newborn.
Most major airlines will not allow infants to travel before 7-14 days without a physician's note (see table of airlines below for more specific information).
Doctors recommend waiting until babies develop a more robust immune system and receive their first round of vaccines, usually at 2-3 months of age.
By the end of this article, I hope you'll be fully informed in terms of health considerations and documentation for traveling abroad with your newborn, and that you'll feel comfortable making a decision that works for you and your family!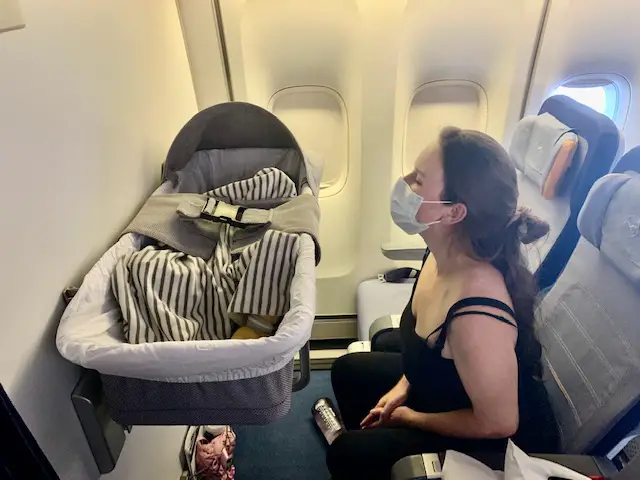 Health of a Newborn & Flying Internationally
If you want to fly with your newborn before 7-14 days and the airline requires a physician's note (see table of major airlines and their policies below), your doctor should be able to approve your child for flying if they were born full-term and have no other health issues (source).
But you are still going to want to take into consideration certain issues related to keeping your newborn happy and healthy for the duration of your trip.
Taking care of your newborn's ears
As an adult, you may have experienced how the changing cabin pressure on an airplane can affect your ears — and this is true for babies too.
When I took my baby son on his first flight, I was really nervous about the whole sore ears thing. I had images of him screaming the whole flight because he ears were bothering him. I planned to do all of the recommended tips: Breastfeed, pacifier, or bottle on takeoff and landing.
It ended up being fine though and he didn't make a peep, even when I couldn't get him to suck on something for takeoff and landing. I think many babies, including my son, don't have as much of an issue with this as I thought.
As far as the recommendations for making it easier on your baby: Please note that it can be a little bit tricky to feed your baby on takeoff and landing because (1) babies don't care about your timing and may not be hungry when you want them to be, and (2) the way that the flight attendants ask you to hold your baby for takeoff/landing is not exactly conducive to feeding.
In the US during takeoff/landing, they ask you to hold your baby facing you, upright, against your chest, which is a hard position to feed a newborn in, in my experience. In Europe, they have you put a baby seat belt on your infant, and face your baby forward — making breastfeeding basically impossible.
So do your best to get your baby to suck on something when taking off and landing but try not to stress out about it.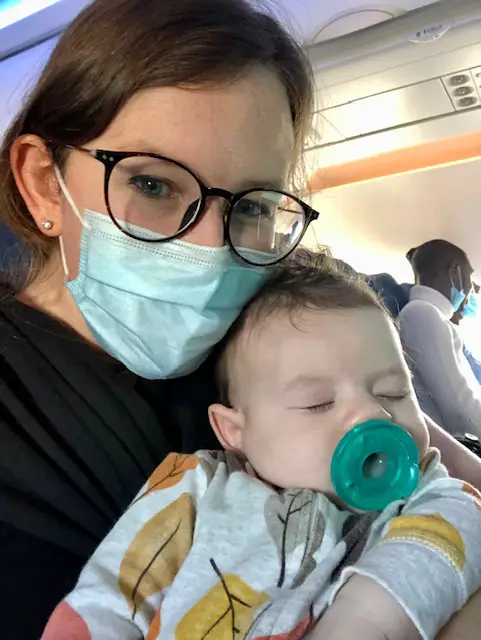 Keeping your newborn hydrated
Flying makes everyone more dehydrated than usual, so pay close attention to feedings and watch your newborn closely for signs of dehydration. Make sure that you drink plenty of fluids yourself, especially if you're breastfeeding.
Sanitization on the plane and in the airports
It's no secret that airplanes and airports aren't the cleanest. With thousands of people passing through hourly, we have to be vigilant about washing our hands when traveling. This is very important when flying with a newborn whose immune system is still developing.
Thankfully your newborn is not yet at an age where they'll be grabbing things and crawling on the dirty floors (that will come soon enough though, trust me!).
You just need to concentrate on washing your own hands regularly, as well as the baby items you take with you. It's also a best practice to wipe down the seat when you first board the plane (the arm rest, back of the seat in front of you, the window, etc.).
Remember to bring a changing pad with you to change your baby on because I've found the bathrooms in airports and on airplanes, including the change tables, to be less than sanitary.
Waiting until your newborn is immunized
Doctors recommend that everyone, including babies, be vaccinated before traveling (source). And some countries may require specific vaccinations to be able to enter. Remember to check the government travel site of whatever country you're visiting beforehand.
The issue for newborns is that they're too young to receive many of the recommended or required vaccines and so parents will have to decide whether or not to take the risk.
Travel Documentation for a Newborn When Flying Internationally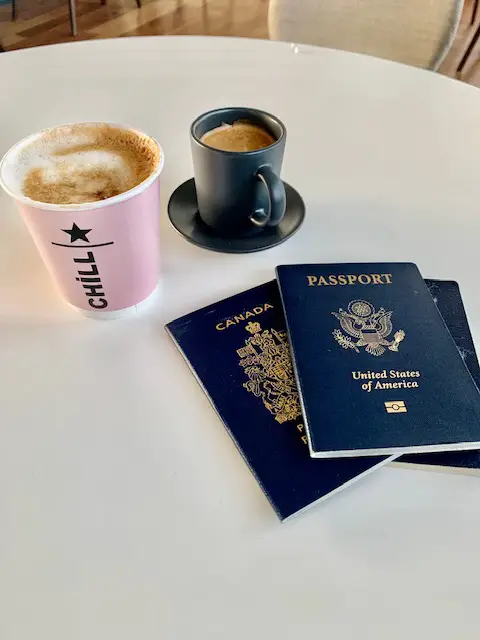 Another reason why you may need to wait a bit before flying internationally with your baby is that you'll need some time to gather the appropriate documentation.
You don't want to arrive at the airport and not be able to board the plane due to a missing travel document. You have enough to worry about with a new baby!
Below you'll find a list of the documents that you may need in order to fly with your newborn, and a detailed explanation for each.
6 Documents You Need to Fly Internationally with Your Newborn
The 6 documents that you may need in order to fly with your newborn are:
Passport
Birth certificate
Boarding Pass
Vaccination record
Physician's note
Notarized parental consent letter
*The following information applies to infants who are US citizens.
A passport is necessary for everyone, including newborns, for traveling internationally by air (there are some exceptions in North America for traveling by land and sea).
Getting a US passport for a child isn't the fastest of processes, especially since children under 16 have to apply in person.
You may need a birth certificate to travel with your child to prove that (1) they are young enough to be a lap infant and (2) you are the child's legal guardian.
Many airlines require that your baby have their own boarding pass, even if they're a lap infant and not paying full price for a ticket. If you didn't book a "ticket" for your lap baby when booking, make sure to call the airline beforehand and let them know that there will be a baby on board!
Some countries will require proof of certain vaccinations. Check the government travel website for any vaccination requirements before you book.
Many major airlines (check the table below) will require a physician's note or health form saying that your newborn is healthy enough to travel if they're under 7 or 14 days old.
If you're traveling solo with your newborn, an airport or government official may ask you to present a notarized consent letter signed by the parent who isn't present. This is to prevent international parental kidnapping and is in your best interest.
Major Airlines & Newborn Age Requirements
| Airline | When can you fly with a newborn? |
| --- | --- |
| American Airlines | 2 days old but infants under 7 days old must have a medical form filled out (source) |
| Delta Airlines | Infants under 7 days require an approval letter from a physician (source) |
| United Airlines | Does not allow infants younger than 7 days (source) |
| Southwest | Infants must be 14 days old. (source) |
| Alaska Airlines | There is no minimum age. (source) |
| JetBlue Airways | 3 days old (source) |
| Spirit Airlines | Over 7 days old (source) |
| WestJet | If you plan to travel with an infant less than 8 days old, WestJet requires an approval letter from a physician that gives your newborn permission to fly. (source) |
| Frontier Airlines | From 7 days old (source) |
PRO-TIP: For information on when you can fly with a newborn for a specific airline, simply check their websites. If you can't find it and you don't want to call and wait on hold for a long time, I suggest this:
Go to their social media and ask directly! I have done this before to ask airlines specific questions, with a high success rate. Try sending them a direct message on Facebook and you're likely to find your answer.
Exceptions for Traveling to Mexico and Canada
If you happen to be traveling to Mexico or Canada from the United States, you have the option of driving or traveling by sea (not flying) without a passport for your newborn. A passport is not required for land and sea borders with Canada/Mexico for minors under 16.
If this is an option for you, you won't have to worry about your baby's documentation, airline age policies, or immunization health in most cases — because you won't be on the plane and exposed to other people. Good luck and pleasant travels!