My little guy was crawling for about 5-6 months as a baby and in that time, we did a lot of traveling! I even took him on a couple of flights by myself. Bringing a wiggly, energetic, crawling baby who puts everything in his mouth on a plane can be stressful!
There are a few things to keep in mind that may be different from flying with a tiny baby or a walking toddler, in my experience. This article is for that sweet spot in between when they are crawling everywhere (and fast!). This might go without saying, but don't forget to pack for yourself: a sense of humor and a bottle full of chill pills 🙂
Read on to learn my 9 essential tips for flying with a crawling baby! You might also be interested in my PDF packing checklist for flying with babies: Essential Flying Packing List For You and Your Baby
1. Dress them for comfort and ease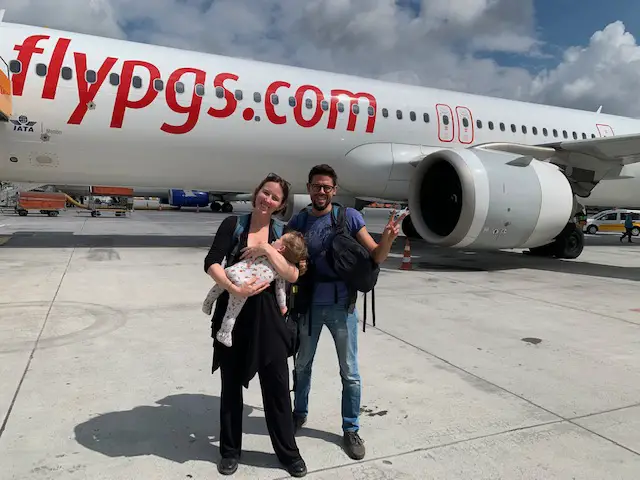 I wrote an entire article on how to dress your baby on the plane because this truly perfect airplane outfit has been so helpful for me personally! I highly recommend dressing your crawling baby in a zip-up cotton onesie (footed). This will keep them super warm and cozy and will make your life easier for diaper changes.
Separates (like socks, shirts, pants) are not ideal because pieces could go missing and get lost throughout your travel day. A one-piece suit simplifies everything, while keeping your baby's feet nice and toasty on a cold flight.
Buttons and snaps are a hugely annoying hassle when you need to change a diaper, so make sure your onesie is a zip-up. Pack 2-3 back-up outfits just like this one!
The bottom of this article will also give you tips on how to dress yourself for comfort and style when flying with your baby.
2. Carry easily-accessible hand sanitizer, wipes, and a "dirty" blanket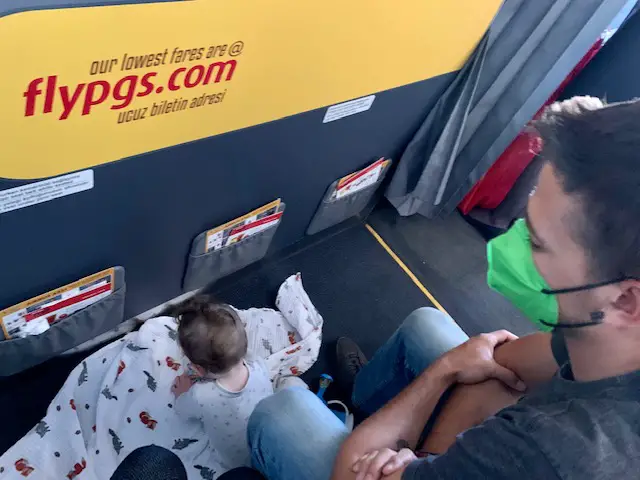 Gone are the days when you could just sit your baby down and they would stay put — and clean! Your little ball of energy is an all-terrain explorer now!
A crawling baby is not exactly a clean baby and this can be amplified on a travel day full of airport and airplane floors. I would first suggest that you first adjust your standards of cleanliness, just for your flight day, in order to save your sanity a little bit! A little dust, dirt, and germs aren't the end of the world.
Next, I would recommend packing a small bottle of baby-friendly hand sanitizer and wipes and making sure that they're very accessible in your diaper bag or carry-on throughout your entire travel day.
I also like to bring what I call a "dirty" blanket — in other words, a lightweight muslin baby blanket that I don't mind getting dirty throughout our day, that I can spread out on the floor to make a sort of "base" for my baby to hang out on.
3. Pack pacifier/toy leashes to keep items from falling on the floor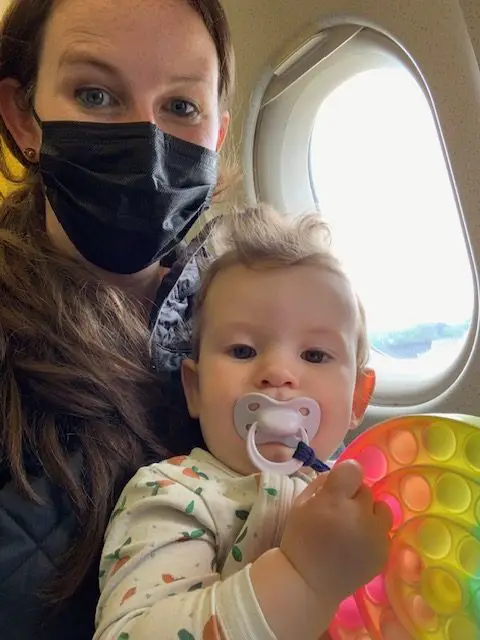 A crawling baby is a curious baby who is always playing with — and dropping — whatever they happen to have in their hands.
Even if your baby doesn't use a pacifier, it's a good idea to bring some pacifier leashes or cords with you on your flight, simply because it can save you from having to constantly pick up toys and other fallen items from the floor.
Attach toy leashes to your baby's toys, pacifiers, and anything else you plan on handing to them during the flight and then secure the other end to your clothes, your baby's clothes, or to the plane seat. I can't tell you how many little items we've lost in the nooks and crannies of airplane seats. Oh well!
4. Let them "crawl out" their energy pre-flight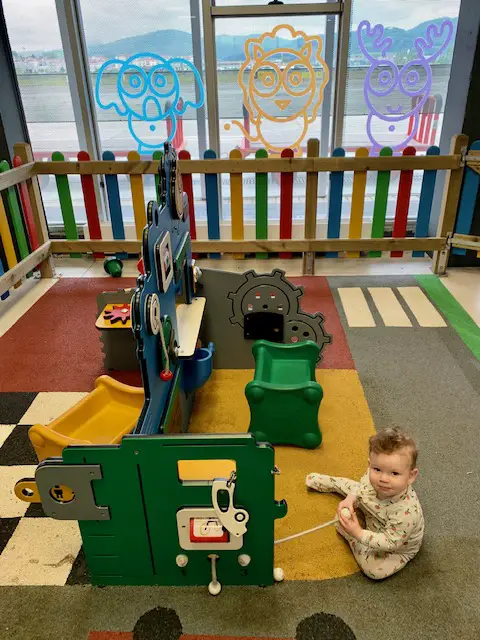 If you've timed your flight to align with your baby's nap time or bedtime, it's a good idea to let them move as much as possible before boarding the plane so they're (hopefully) super tired by the time you take off.
Letting your babe move around at the airport gate will limit the amount of time you spend with an active and wiggly baby in the air. Of course, this isn't always going to work perfectly, but we have to set ourselves up for the best chance of success!
I recommend searching online/asking around to see if your airport has a child-friendly area, such as a playground.
Some of these play areas have really helped us out when traveling with a crawling baby (and later, with a toddler) because it's an enclosed space with plenty of bright things for them to touch and look at safely while you look on.
If there isn't a play area, no worries! Your crawling baby will be able to explore and spend just as much energy at the gate — on the seats and the floor.
Again, I'll reiterate that you shouldn't worry too much about germs and getting dirty on this day. Wipe their hands afterward.
Another important pro-tip: Don't let your baby play with or eat anything that you packed specifically for the flight. Save these items for when you're in the air. Take advantage of the time that your baby is not confined in a tiny space to let them crawl around and explore (even if it means that they get dirty).
5. Bring toys and entertainment in your carry-on bag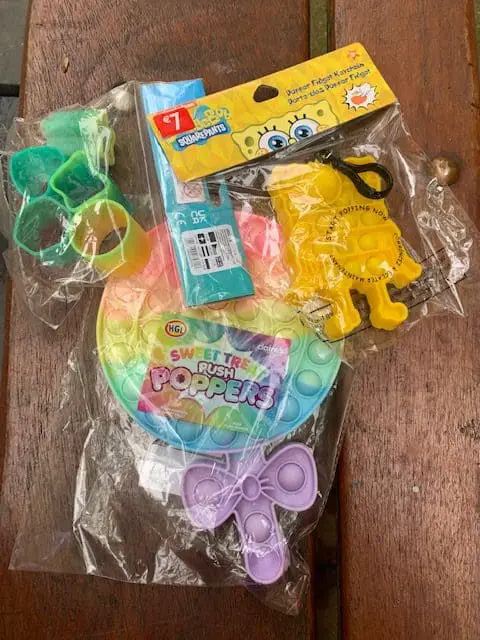 When my baby was at the crawling stage, I made sure to be SUPER prepared in terms of toys and entertainment to try my best to keep him seated in my lap (he always flew as a lap infant, without his own seat).
This usually meant getting a variety of dollar store, cheapy-type toys that I could rotate in, such as slinkies and pop-its. Anything new is perfect, but it doesn't have to be expensive. In fact, it shouldn't be expensive because your baby might lose it in transit!
I tried other things at this age that just didn't work yet because he was too young (Water Wow books, stickers, screen time, etc.). Every baby is different though and you might find some of the "cheap and easy" plane activity ideas I've compiled here helpful for your crawling baby!
My son has also always been very interested in the items that were already there on the plane: The seatbelt, the tray table in front of him, the safety card, etc.! You can wipe everything down with a wipe or sanitizer beforehand if you're worried about germs, or just let him explore and wipe his hands afterward.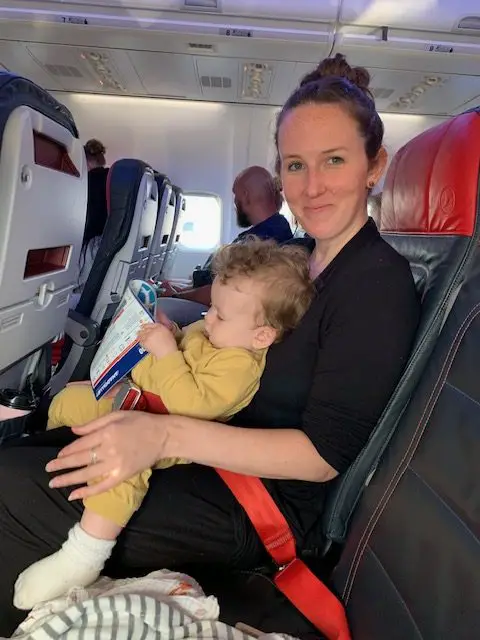 I recommend considering how long your flight is and that, if your baby is not going to sleep, you have X amount of time to fill. Each toy/activity, depending on the baby, is good for 5-15 minutes (tops!). So do a bit of calculating to make sure you have enough entertainment for the duration of the flight (including the fact that your baby probably won't be interested in some things you've brought).
6. Pack a variety of snacks in "interesting" containers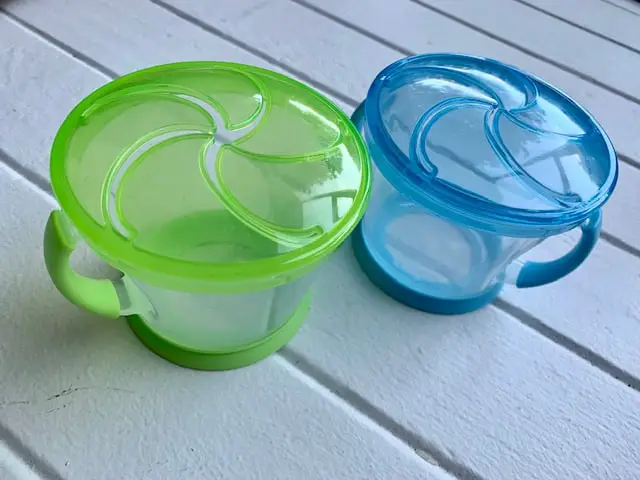 Your crawling baby may be willing to sit still for snacks — let's capitalize on this! I recommend packing some favorite snacks as well as some novel snacks you think they might like. Some good snacks to bring include:
Squeezable baby food packets
Cheerios
Dry baby snacks (any brand)
I've really enjoyed picking up snack catchers, pill boxes, and other "unique" containers for eating snacks out of that my son has never seen before the flight. It makes snacking even more of a fun activity that takes up more flight time!
Your baby may be a fruit lover like mine, but I would try not to bring messy fruits on the plane if you can avoid it. Babies on planes make huge messes no matter what but with food packets and dry snacks, there will be *less* of a giant mess at least!
7. Arrive much earlier than you normally would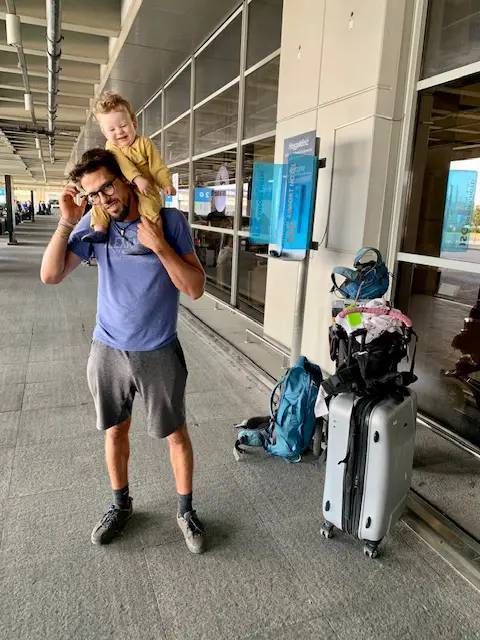 I read a guideline when first starting to fly with my son that said to arrive one hour earlier than you normally would for a flight, and we've pretty much stuck to that every time we've flown — and had a lot of success with it! So this is what I would recommend to other families.
Sure, you might need the time for diaper changes or feedings, but another important part of arriving early (especially with a crawling, active baby) is to allow time at the airport for play.
Imagine being an active baby and going from the car ride, to the check-in line, to the security line, to sitting on the plane… that's SO much time being restrained/not moving freely!
Factor in time to sit at the gate (or at a cafe or at an airport playground) to let your baby explore a little bit.
8. Choose your seat carefully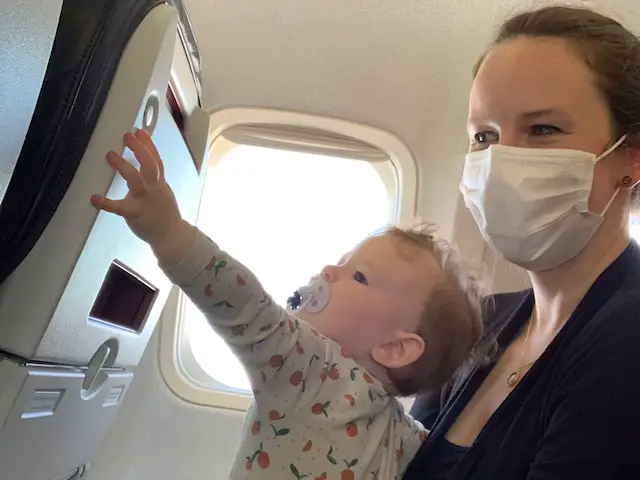 Where to sit on the plane with a baby, especially an active, crawling baby, is somewhat of a personal choice and there really isn't a "perfect" seat to choose when traveling with a baby
However, I did survey a number of traveling moms to hear what the general consensus seemed to be for seat preference with a baby on a plane and most moms seemed to agree that the window seat and the bulkhead row are the best spots to choose.
If you're able to choose, consider a window seat because:
You can use the window as another distraction (something for your baby to look out)
You can attach window spinner suction toys to the window to entertain your baby
You can better "contain" your baby from crawling into the aisle
You can avoid collisions with the beverage cart
You can lean against the window if your baby falls asleep on you
You can lean against the window to breastfeed
You'll have to ask people to move for you when you use the bathroom but the majority of people will be kind and understanding, in my experience.
You may also want to choose the bulkhead row if possible, which is the row at the front of each section with extra leg room. The extra leg room is truly great for a crawling baby. You can lay out a blanket on the floor and your baby can roam a little bit at your feet.
And there's no one in front of you to recline into your space! On long flights, you may also be able to secure a bassinet for your baby to sleep in in this row (ask your airline).
9. Stay calm, collected, and in-tune with your baby's needs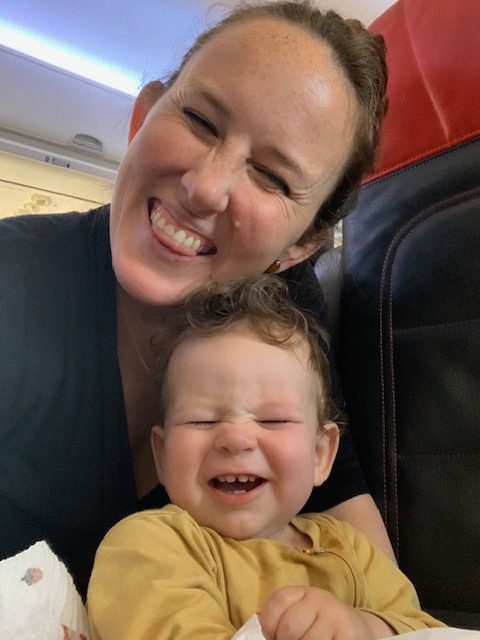 This might be the most important tip (and also the most obvious one but also the easiest one to forget when you start to get stressed out?!).
Your baby can sense your mood (how? I don't know!) and you may have noticed that the worse mood you're in, the harder it is to calm your baby. This has been my experience entirely anyway.
When I get onto a plane cool-headed and calm, having walked through the worst case scenarios already in my mind, I feel so much better and like I am ready to handle anything.
If you have prepared (brought food, comfort items, entertainment, etc.) and arrived with plenty of time at the airport, then you've done what you can and the rest will play out how it will! Good luck and bon voyage 🙂