Yes, it is possible to visit Indonesia, with a nut allergy. However, it requires extreme diligence, precaution, and pre-planning in order to stay safe.
In this post, we'll provide information about traveling to Indonesia with a severe nut allergy as well as an English-Bahasa Indonesian allergy card translation that you can carry with you in restaurants. We worked on remote biological stations in the jungles of Sulawesi, Indonesia for several summers with a conservation organization that hosted visiting high school biology students and university volunteers. During this time, one of our biggest challenges was managing pervasive nut allergies.
It is recommended that travelers with nut allergies visit more populated, touristy islands (such as Bali) when traveling in Indonesia, where they will have easier access to dietary alternatives and medical assistance (if needed). And of course, travelers should always speak with their doctor about this concern before traveling.
---
Quick tips for travelers with a nut allergy going to Indonesia:
Always carry EpiPens on your person and let your travel companion(s) know where you keep them
Train your travel companion(s) how to use your EpiPen
Do research on the airline you'll be flying with beforehand and use best practices on the plane
Create and always carry with you an "allergy card" written in the Indonesian language
In a restaurant or café, never assume you've been understood when ordering, and always double check
Speak to the chef in the kitchen and examine the products and utensils being used to cook
Buy and make your own food when possible
---
We attended training and looked after many students who had nut allergies and/or other strict, life-threatening dietary restrictions on a remote island in Indonesia, however we do not claim to have medical expertise when it comes to nut allergies. If you are traveling with a nut allergy to any region of the world, you should first consult your doctor.
We'll be directing the tips in this article at the person who has a nut allergy (or any severe food allergy) traveling to Indonesia, but this information can also be used by parents or guardians looking after young people with severe nut allergies.
Most Indonesians are not familiar with severe nut allergies
It's important to know that nut allergies are not common in Indonesia or other parts of Southeast Asia, so many local people will not be familiar with the severity of this issue. Additionally, nuts and nut oils are used in a lot of Indonesian cooking, so you'll definitely have to be careful and repeat, repeat, repeat your message so that it is clear (Indonesians are very friendly and will tell you what they think you want to hear—which can be very problematic in this case).  
Travel to Touristy Places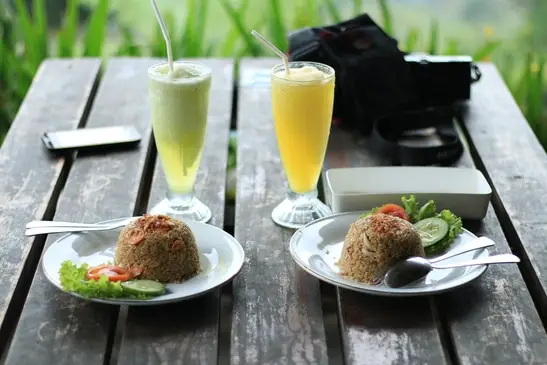 You'll have less of a language and cultural barrier issue in places such as Bali, because there are so many millions of tourists who visit every year. Just like in Thailand, Bali is very used to dealing with the needs of foreign guests.
You'll have easier access to people who can understand your food requests, and access to medical care should you need it.
Our students and volunteers with nut allergies came to very remote parts of Sulawesi, but we had a network of people working for the organization to help keep them safe. If you are traveling on your own, especially with limited Indonesian language skills, it will be more difficult in remote places to stay safe with a severe allergy.
Pack and carry multiple EpiPens (easily accessible)
Make sure that you're packing several EpiPens in your bag and planning on carrying one with you (on your person) at all times during your travels. If you have a travel companion, give that person a step-by-step lesson on how to use the EpiPen in case you are not able to use it on yourself.
If you're traveling alone, let people you meet along the way (in hotels, hostels, etc.) know that you have a severe allergy and tell them where they can locate your EpiPen in an emergency. If an emergency does happen, you'll only have a small fraction of time to react and so it's better to be prepared beforehand.
Carry EpiPens on the airplane with you as well, in your carry-on luggage (not checked bags). Some travelers carry a letter from their doctor stating that they have an allergy and require an EpiPen, just in case they have trouble getting their EpiPens through security in their carry-ons—but this doesn't appear to be an issue for most people.
On the Plane and in Airports
Remember to have your EpiPens easily accessible on the plane. Also, let your travel companions on the plane know where they are and how to use them.
Before you leave, do research on the airline you'll be flying. You can go to this website to find out specifics about each airline's nut policy and try to book a flight with a stricter "no-nut" stance.
Take your own food on the plane. This is the safest route to go. Pack yourself enough food for the long journey.
Let the gate agents know that you have a nut allergy. They should let you board the plane early so that you can wipe down the seat you'll be using on the plane. This is a good idea because planes aren't exactly left squeaky clean from flight to flight. Some parents of children with nut allergies recommend avoiding the seat pocket, as wrappers from contaminated products may be left in there.
Let the flight attendants know that you have a nut allergy, so that they can avoid giving you nut products and can be aware that you may need help in an emergency.
Prepare an "Allergy Card" in Bahasa Indonesia (Indonesian language)
This is a card that you should print, laminate, and carry around with you at all times. Please note that this card is not a guarantee at all that the restaurant staff will follow your request. Indonesians are very kind and hospitable and so they may just tell you what you want to hear (such as, that they understood your request).
To be safe, ask to speak with the chef as well and ask to examine the oils and utensils being used to prepare your meal in the kitchen. This may seem like overkill, but a life or death situation is worth it.
Below is a translation for an allergy card from English to Bahasa Indonesia made in 2010 (translation by the Bali International Medical Centre – BIMC, which is accredited by the Australian Council on Healthcare Standard International – ACHSI). We contacted the BIMC for an update and they say that they no longer provide bilingual translation.
However, they did want to say that they are open 24 hours and suggest that allergy-sufferers come have a consultation with one of their GPs and can provide a letter if necessary. If this is of interest to anyone, you can make an appointment by contacting:
☎️ +62 361 3000 911
🖥 nusadua@bimcbali.com
📳 +62 811-3896-113 (WhatsApp only)
Here's an allergy card you can print: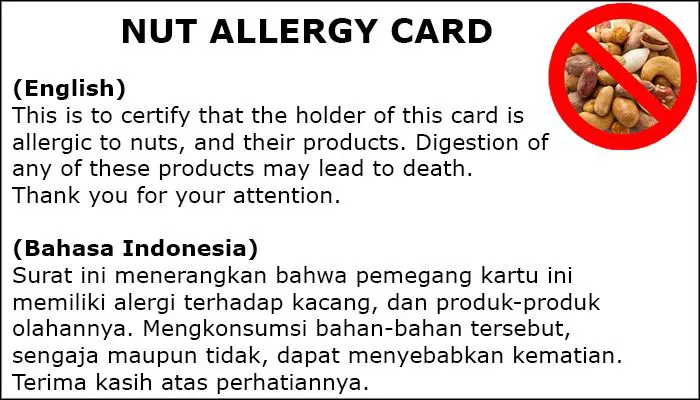 Or you can make your own with the text provided below:
English:
To Whom It May Concern
This is to certify that the holder of this card is allergic to nuts, and their products. Digestion of any of these products may lead to death.
Thank you for your attention.
Bahasa Indonesia:
SURAT KETERANGAN
Surat ini menerangkan bahwa pemegang kartu ini memiliki alergi terhadap kacang, dan produk-produk olahannya. Mengkonsumsi bahan-bahan tersebut, sengaja maupun tidak, dapat menyebabkan kematian.
Terima kasih atas perhatiannya.
---
Here is another translation that our Indonesian friend did for us:
"Saya alergi kacang-kacangan dan semua produk dari kacang. Jika termakan, saya akan mati. Tolong jangan gunakan minyak yang mengandung bahan kacang, atau peralatan masak yang sudah menyentuh produk kacang-kacangan ketika memasak makanan saya. Terima kasih."
Which translates roughly to: "I am allergic to nuts and all products from beans. If I eat them, I will die. Please do not use oils containing peanut ingredients, or cooking utensils that have touched nuts products when cooking my food. Thank you."
At the bottom of this article, we provide more, extensive phrases in Indonesian that may be helpful for you (or your travel companions) to print out and carry with you during your trip.
Additionally, you can visit this website which offers allergy cards for sale in all different languages.
At Restaurants
You can try to only eat at "Western-style" restaurants or upscale restaurants owned by foreigners but that is still no guarantee that your food won't accidently be contaminated by nuts.
For every meal that you don't prepare yourself, you should show your allergy card to the waiter and the kitchen staff, and check the kitchen. It's better that they see how serious you are and that you try to convey the severity of the consequences.
Talk to people in hotels and hostels and get advice from other travelers. Many people have travelled in Indonesia, especially in Bali, with nut allergies and can offer you recommendations of restaurants that will be more understanding.
The safest thing to do is to visit grocery stores and make your own food if you're staying in an Airbnb.
Avoid packaged snacks and wear a mask at the market
Packaged snacks like cookies and candy bars tend to have nuts or nut traces in them. The labels will be in Bahasa Indonesia. So, it's best to skip the packaged products and opt instead for some fresh (UN-CUT) fruit in the markets such as rambutans: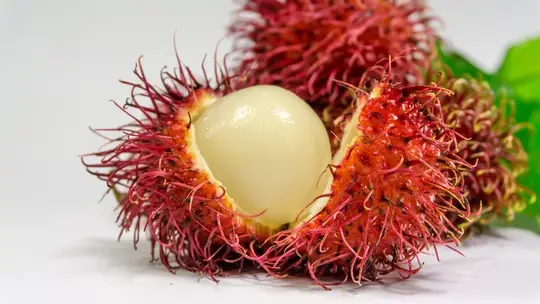 Make sure that the fruit you buy has a peel and is un-cut.
Wear a face mask – Some tourists with nut allergies recommend wearing a face mask in the marketplaces as the stalls cooking with nut oils and nut powders throwing residue into the air may be an issue, depending on the severity of your allergy.
Many tourists report having an amazing time in Indonesia despite food allergies. Don't let a food allergy keep you from visiting Indonesia—you'll just have to prepare a bit more and be cautious throughout your trip. But people with food allergies are used to doing this when eating out in their own countries anyway! Get out there and enjoy 🙂
READ NEXT: Our 25 Essential Things to Know Before Visiting Indonesia
Additional Indonesian Phrases for Allergies
Here is a PDF of some additional Indonesian phrases that might be useful for traveling in Indonesia with an allergy. These are the phrases that we carried around with us in Indonesia when looking after our students and volunteers with severe allergies.