It's hard to put together a precise budget for a trip to Japan that will be good for everyone. It's impossible, really, and depends on how you personally want to travel Japan. So keep that in mind as you start planning, and know that Japan doesn't have to be as expensive as everyone claims it to be.
Below is a budget for a 3-week trip to Japan in US dollars (USD), followed by some explanations and (at the end) some ways that you could shave some dollars off these prices.
---
| | |
| --- | --- |
| Purchases: | Estimated Cost in USD: |
| Round Trip Flight | $750 |
| JR Rail Pass | $549 |
| Other Transportation | $100 |
| Accommodation | $2,100 ($100 per day) |
| Food | $630 ($30 per day) |
| Alcohol | $105 (1 beer per day @ $5 each) |
| Sightseeing | $300 |
| TOTAL | $4,534 |
These estimates are for a 3-week trip, or 21 days, in Japan. Remember that all prices are in USD, so please convert the prices to your home country's currency before doing any personal budgeting for your trip.
Also, full disclosure, these are the nerds you're getting your budgeting advice from (chilling in Kamakura, Japan):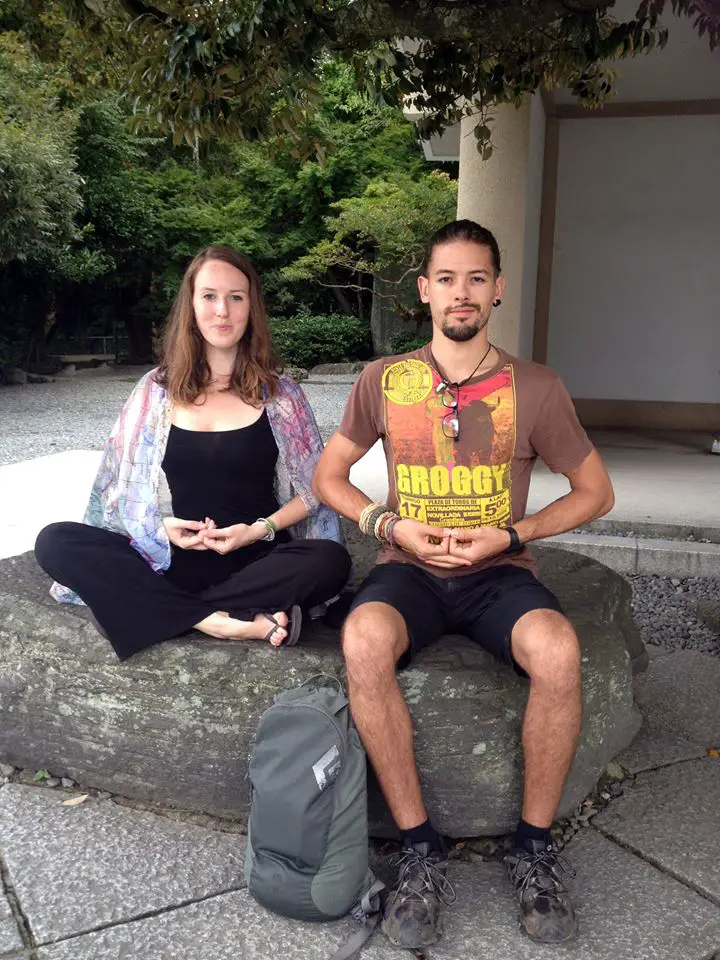 ---
Flights to Japan
The $750 round trip ticket is an average of flights from the west coast of the US and Canada, searched six months in advance of the travel date.
Of course, depending on where you live in the world and the travel rewards programs you belong to or miles/credit cards you have, you may be able to get a better (or worse) price.
I suggest checking out Skyscanner and Google Flights and being flexible with your dates, if possible. You can also get cheaper flights if you don't mind having a stopover somewhere.
Most tourists fly into either Tokyo Narita Airport or Tokyo Haneda Airport. Haneda is closer to the city. Narita requires a long train ride into the city, but that would be covered by your JR Rail Pass, which is explained in the next section.
---
JR Rail Pass
At $549 (and set to increase soon), this seems like a very expensive thing to buy, but it's actually a great deal if you're planning on traveling around Japan, especially outside of Tokyo. Note that there is also a more expensive first class "Green" ticket option available on the JR Rail Pass website if you're interested.
With the JR Rail Pass, you have an "all you can ride" ticket to all the major transit systems in Japan including all Japan Rail National trains, JR buses, ferries, and airport transfers.
I think this may be changing soon because they were doing a trial run, but it used to be that YOU HAD TO BUY IT BEFORE coming to Japan or you couldn't get it. Sucks for the travelers that find out about it after they arrive!
Just to be safe, check out their website and see what the purchasing requirements are before leaving for Japan.
I would suggest buying your pass online. You then pick up the physical pass at the airport JR Exchange office when you arrive. You can use it to get from Narita or Haneda airport into the city.
The JR Rail Pass is only for foreigners, and only for foreigners who aren't staying and working in Japan. If you have questions about your eligibility or pricing, check out their website.
You can buy a 7, 14, or 21 day JR Rail Pass. They are for consecutive days only, and start working on the first day you use them. So it's worth sitting down and planning out your trip, where you want to go, and if it's worth just getting the 7 or 14 day pass, as opposed to the full 21, depending on how many cities you plan on traveling to while in Japan.
Other Transportation
The last thing I'll say is that while usually very much worth it, the JR pass can be confusing because it's not valid for many local and privately-run train and other transportation systems (only the JR system – which is a lot, but not everything).
So you may need to budget or plan some extra cash (I budgeted $100) for smaller transportation purchases in the instances where there is not a JR option (such as many of the metro lines in Tokyo, for example).
---
Accommodation
This is probably where most of the fluctuation in price will happen between different travelers' itineraries. It really depends on your travel style and what type of comfort level you're looking to pay for.
This budget is for $100 a day, which are private hotel rooms available on Booking.com and other common travel websites. OF COURSE, you can find much cheaper or much more expensive options. For cheaper ones, check out the "How to Save Money in Japan" section at the bottom of this post.
---
Food in Japan!
You may be going to Japan just because of the food, in which case you might want to increase your food budget and take a bit out of another bucket.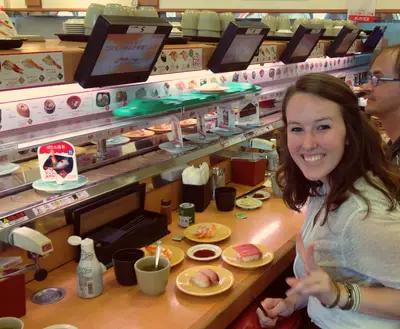 You don't have to spend a lot to get great food in Japan. All of the food is amazing, from the tiny holes in the wall to the fanciest restaurants. But there will be splurge opportunities if you so desire.
If you're on the thrifty side, plan to spend $30 a day, averaging $10 per meal. Budget for more if you plan on buying coffee and/or tea every day and other beverages that aren't water.
---
Alcohol
I budgeted for one beer a day for a total of $105, but obviously create a realistic number for your own habits.
Going out every night and getting wasted is going to be a bit more expensive, for example… but on the other hand, you'll save money by missing breakfast and early morning sightseeing the next day!
This may be an area you can negotiate with your food (or coffee) and accommodation budgets.
---
Sightseeing
This is a super general section of your budget that will depend greatly on what you want to see. Museums will usually be pricier than just checking out temples. And many attractions are free or just a few dollars.
If you're into shopping, you might want to include a budget line for that as well. There really are a lot of cute and unexpected things to buy in Japan. For me, it was the adorable stickers… I couldn't help myself.
And these things in Harajuku, in Tokyo were pretty sweet too… hahaha! Phil looks so beautiful…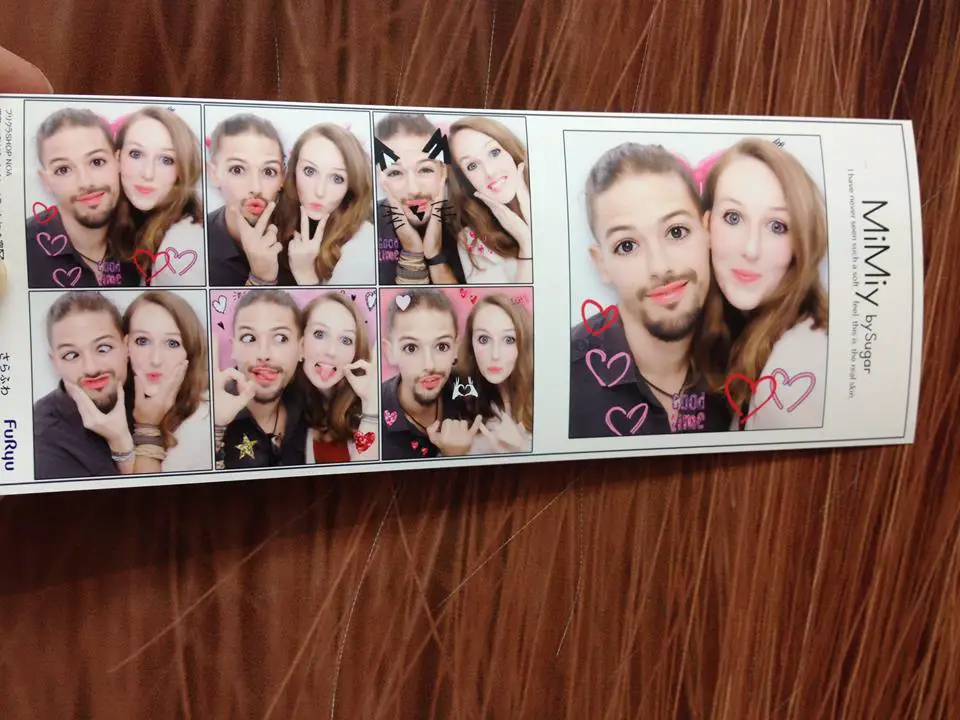 FYI: If you're interested in teaching English at a university in Japan, check out my post on Westgate, a company I taught with in Japan for 3 months 🙂
---
How to Save Money in Japan
As a budget traveler, I honestly would cut this budget down significantly for myself (and did) in a few different ways, but I know that can seem extreme to some people so I kept the budget as is in this post for all the normals out there 🙂 .
But if you do want to save money in creative ways, here's what to do:
Cheaper Accommodation
We couchsurfed in Japan on couchsurfing.com, which was a lot of fun. Not only was it free, but we got to hang out with a really nice guy and get to know a part of Japan we wouldn't have even known about. To do this, you have to be flexible and about to the experience of meeting and relying on strangers, which isn't in the comfort zone of many people.
So another budget option is of course: hostels! We stayed in a great hostel in the Fuji area right before and after climbing – we had a nice nap there AFTER climbing Fuji, as a I recall. You can save a ton of money staying in a shared hostel space as opposed to a hotel room.
We tried every sort of accommodation in Japan and each one was unique – and definitely not $100 a night every night!
We also stayed in a Ryokan which is a kind of traditional Japanese hotel where you stay on mattresses on tatami mats. The one we stayed in was hostel-style shared rooms and quite cheap but they can run expensive in some cases.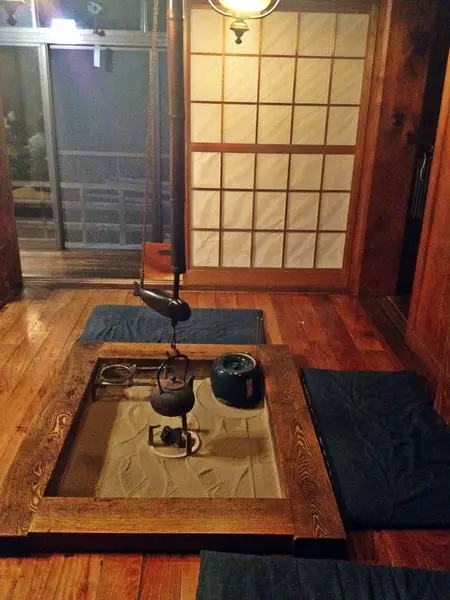 We also stayed a couple of nights in a BnB that was essentially a room in some lady's house, and she made us meals and brought us snacks… and even gave us a ride a couple of times! Do some searching on the hostel websites like hostelbookers.com and hostelworld, and couchsurfing.com, as I mentioned, and you may be surprised with the interesting and budget options that you find!
Finally, look into Airbnbs if you have a larger group, because sometimes splitting the cost of an apartment between yourselves is cheaper than separate hotel rooms or even hostels.
Cheaper Food
Cheap in Japan doesn't mean bad. There are plenty of cheap options, from ramen to conveyor belt sushi. You can check out the prices on the millions of glowing menus before ordering and you DON'T HAVE TO TIP, so prices will never surprise you at the end of a meal. Japan is wonderful.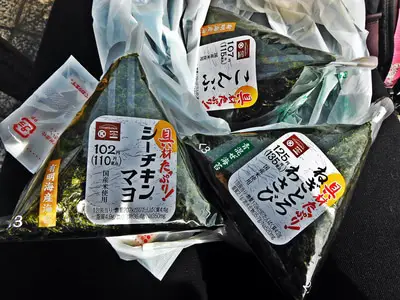 If you're not too bothered with always eating in a restaurant, check out the 7-Elevens in Japan and other similar convenience stores. THEY ARE AMAZING and nothing like the gross convenience stores we have in North America.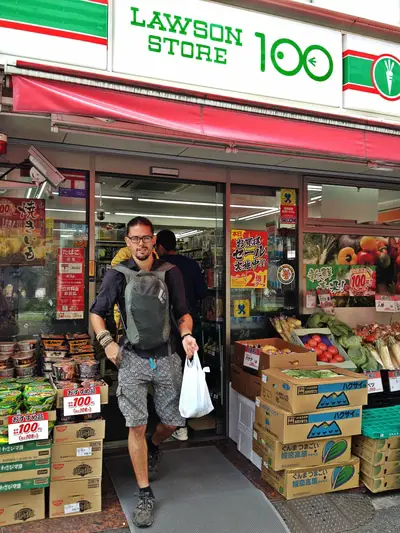 You can buy fresh, cheap ready-to-eat lunch boxes and all kinds of other delicious stuff at 7-Eleven. There are even little tables usually, and you can sit and enjoy your little meal right there! Seriously, I love Japan.
Other Money Saving Tips
Other money saving tips from me would be to walk more, hike more, go to free parks and temples more, skip organized tours, only go to museums or so-called "must-see" places if you really want to see something there and not because you feel like you have to… shop less, enjoy the journey! 🙂