My husband and I have been living in Vancouver off and on for almost ten years and we're currently experiencing the city ALL OVER AGAIN with our toddler baby son, who is soon to be 2 years old.
When we first started looking for free or affordable things to do with him, it wasn't easy. Vancouver is notoriously an expensive city to live in and to visit, but there are hidden gems — and it doesn't take much to entertain a toddler!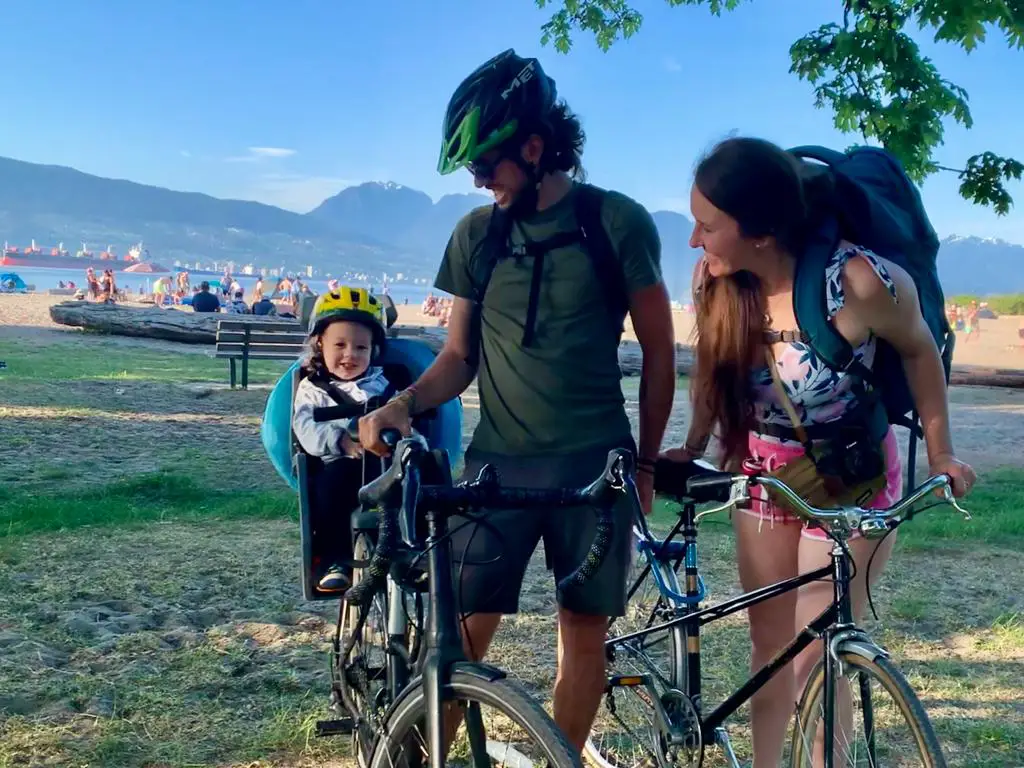 As a stay-at-home mom, I have to change it up a lot to keep MYSELF interested, so there are plenty of diverse things to do on this list. You'll find things to do in all different Vancouver neighborhoods, as well as seasonal activities.
IMPORTANT TIP re: Vancouver weather — I suggest getting both yourself and your toddler warm, quality rain gear before your trip, because it will make it so you can enjoy "Raincouver" no matter the weather. For your toddler, a muddy buddy (or something like it) + rain boots are a must.
Follow our family adventures on Instagram at @wayfaring.humans and/or on our YouTube channel!
Ok so, here are the things that we love to do with our son in or near Vancouver that are either free or cheap:
Climb on a Century-old Firetruck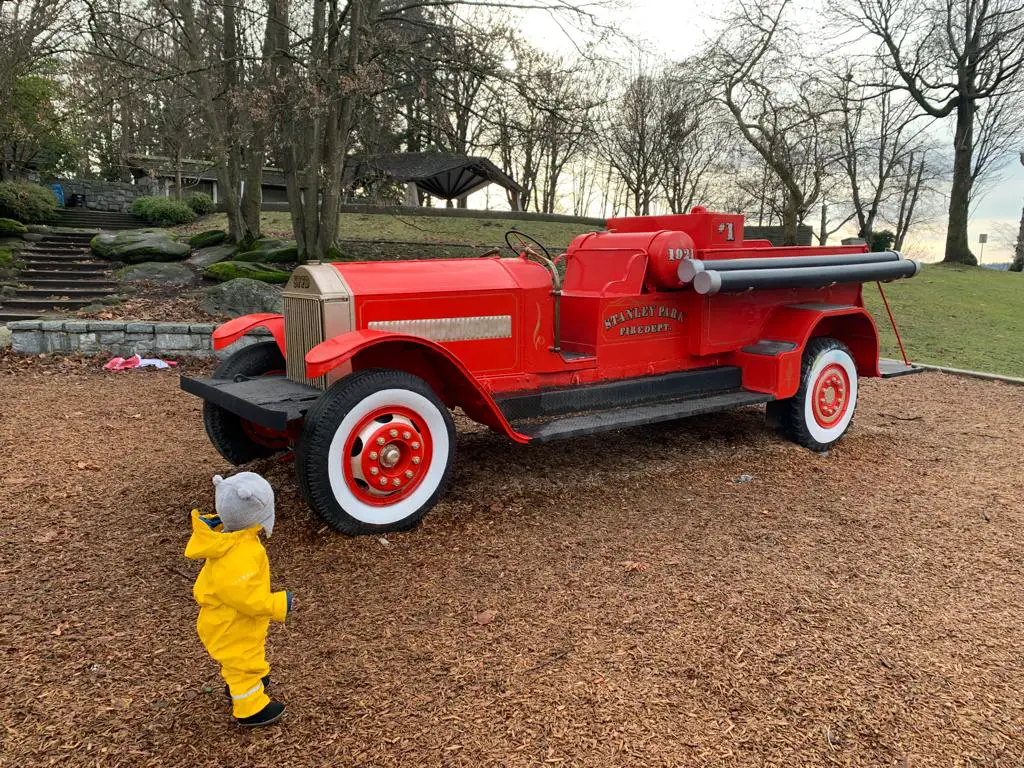 In Stanley Park, at the playground just beyond Second Beach, you'll find an amazing area to visit with your toddler in ANY season, in any weather (as long as you have the proper rain gear with you). Here you'll find a real, iconic century-old fire truck (built in 1928) that has been converted into part of the playground equipment for kids to use.
My son and his friends have an absolute blast climbing all over this piece of Vancouver history. It's also conveniently located near the beach, two playgrounds, plenty of picnic tables, and within beautiful Stanley Park itself — where you can find tons of other activities (many of which are free and included on this list).
Visit a Splash Park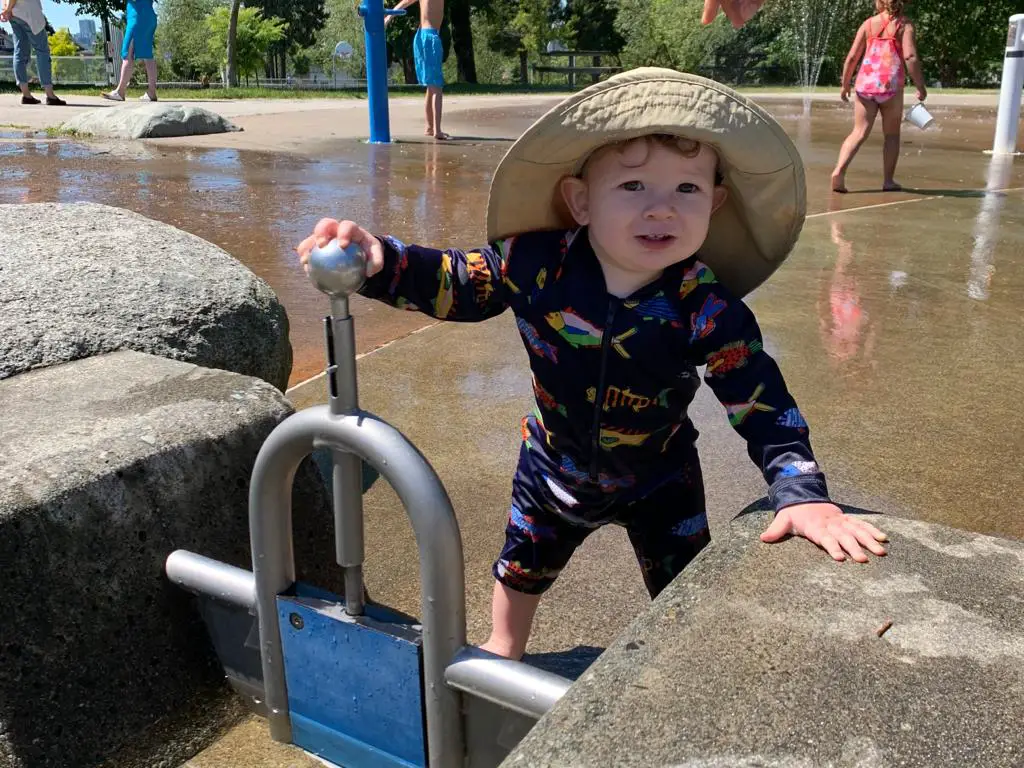 There are splash parks (also called splash pads) located all over Vancouver that are toddler GOLD. Our son could spend hours and hours playing in these areas, and they're completely free.
The ones we've visited are located in East Vancouver, Stanley Park, and Granville Island but there are many more in the various neighborhoods of the city. You can check to see where the exact locations are and when they are open here.
Kids can run around through sprinklers, water cannons, and much more in a contained area that also generally has plenty of peripheral seating for the grown ups to watch from! Splash Parks in Vancouver are typically open in the summer months, beginning in May. Check before setting off to make sure the one you want to visit is open.
Drop in at a Library Storytime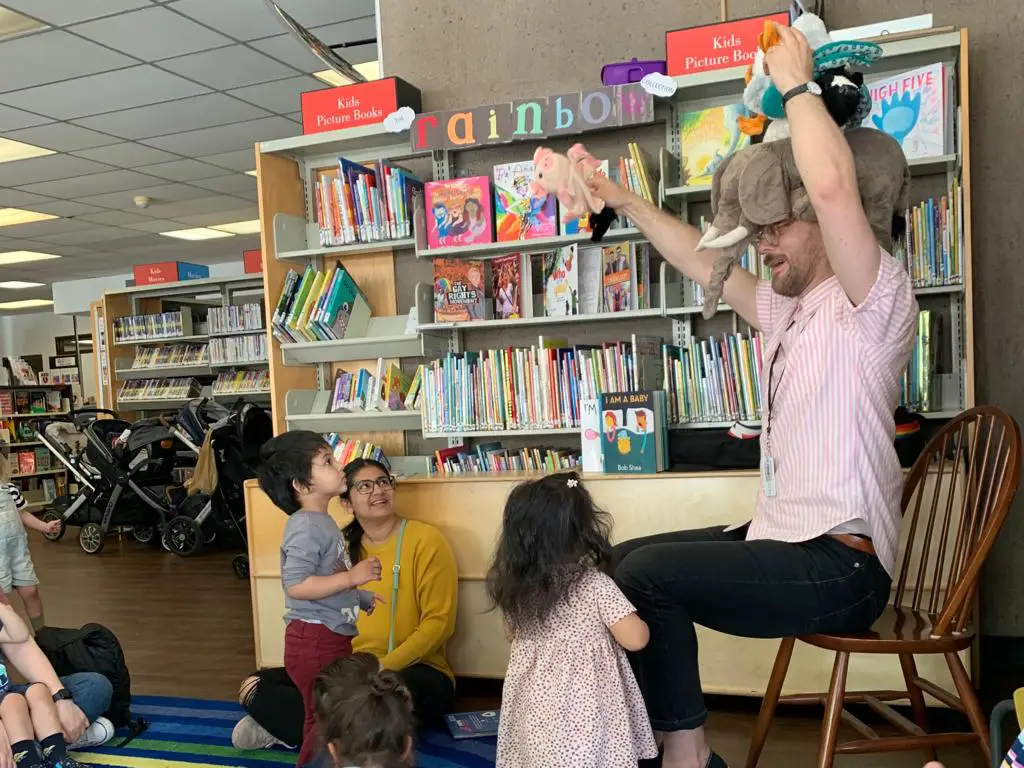 This is a really great activity for a rainy day and if you're planning on staying in Vancouver for longer than just a quick weekend trip.
You can drop in for a (free) toddler storytime at any local Vancouver library, which usually includes some singing and dancing as well. It's a great way to let your toddler meet other kids and maybe make some parent friends for yourself!
There are also some sessions available for younger babies. Check the schedule for the specific library branch you want to visit, because each neighborhood will be a bit different.
Take a Short Walk around Lost Lagoon + Visit the Nature House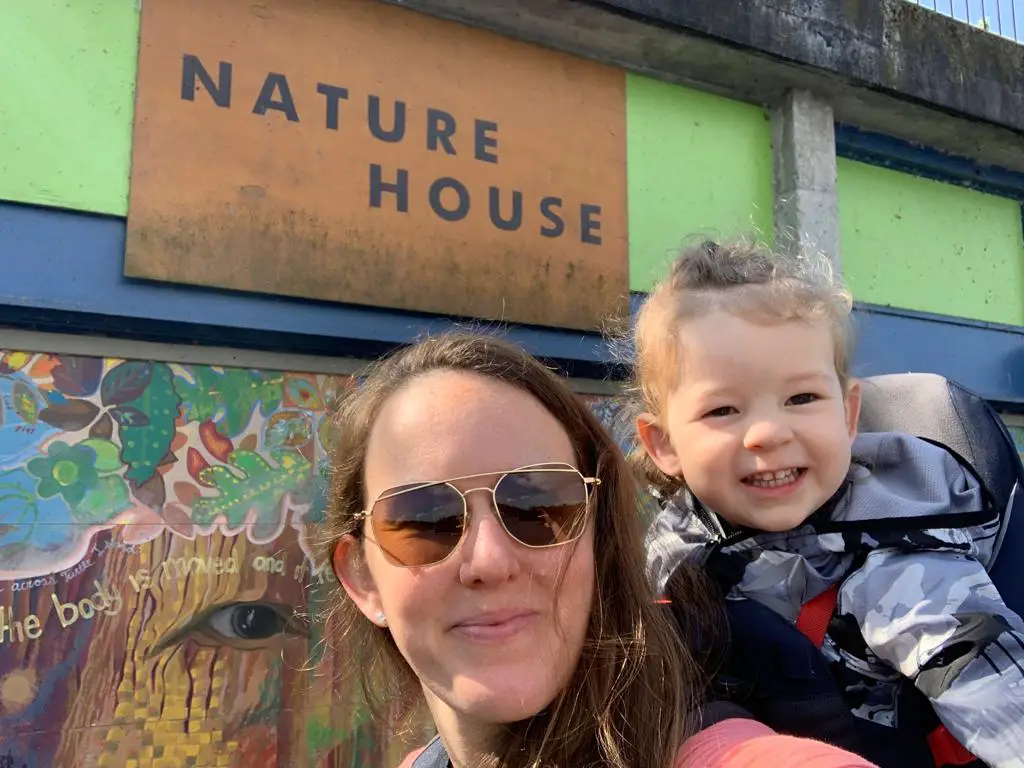 Walking around Lost Lagoon, a lagoon located within Stanley Park, is a nice loop alternative to walking the entire Stanley Park Seawall (another popular walk, but quite long for a toddler to walk!). Lost Lagoon is only about a mile long loop.
You may see ducks, geese, eagles, blue herons, raccoons, and more! And if you visit in the spring (May-ish), you're sure to see families of geese complete with the most adorable little babies in tow.
There is also the Nature House that makes a good starting or ending point — Be sure to check their hours before setting off. The last time we checked, they were only open on weekends.
Swim at one of Vancouver's Public Pools (indoor and outdoor)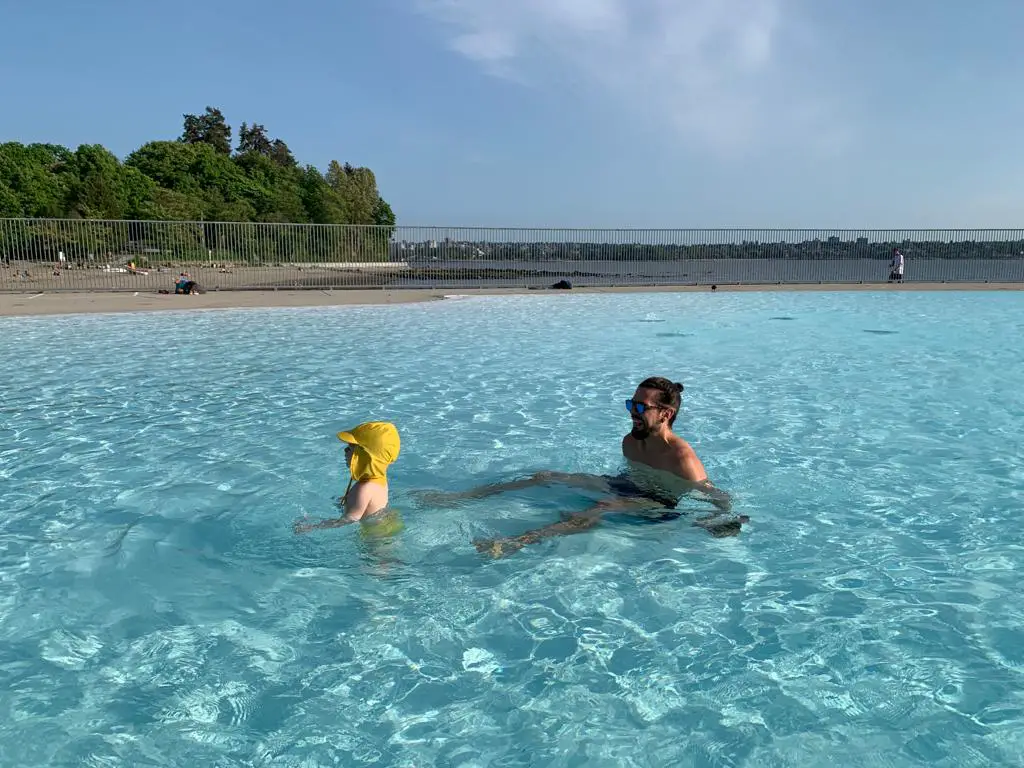 Vancouver has a whole system of public pools that you can visit throughout the year, making this a good option even on the rainiest days of Vancouver winter.
In the winter, we like to visit the public indoor pool "toddler time" at the Vancouver Aquatic Centre downtown. This isn't free but it's quite cheap, especially for families. The indoor pool at UBC, the Templeton Pool in East Vancouver, and various other Vancouver indoor centres offer something similar.
If you can't find a schedule that works for you and your family, check around the different Vancouver neighborhoods.
In the summer months, typically beginning in May, you'll be able to visit one of Vancouver's beautiful outdoor pools such as the Second Beach Pool or the Kitsilano Beach Pool. These have stunning views of the ocean and mountains, but all of the ease of swimming in a clear shallow pool with your toddler. Be aware that you may have to book a time slot ahead online during busier times.
Do an Easy Hike in Stanley Park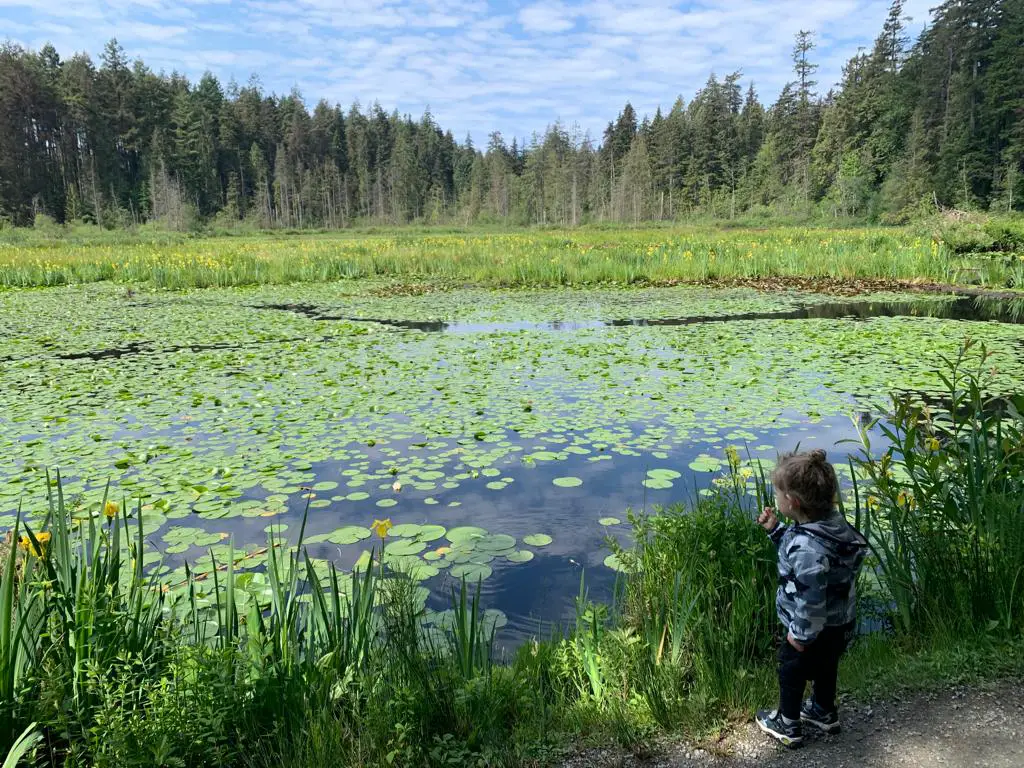 Even if you're not super keen to do a difficult Vancouver area hike (or your toddler isn't!), you can enjoy a nice leisurely hike through one of the MANY trails of Stanley Park which is a unique temperate rainforest located in a major North American city — simply unheard of, and worth seeing!
My son loves being carried in a baby hiking backpack through these trails, which are also stroller-accessible. There are plenty of rocks, sticks, streams, and bugs for your child to find while you stroll through this little oasis in the city.
You can do a Stanley Park trail at any time of the year. I would recommend mapping out where you want to walk before setting out, and planning stops of places to rest/visit/eat in the park. Winging it with a toddler MIGHT work out on a city hike, but you're more likely to have a nice time if you do a bit of planning and preparation first.
My favorite Stanley Park hike with a toddler: Beaver Lake loop! It's a stunning little oasis in the middle of Vancouver and both stroller and wheelchair accessible.
Do an Easy Hike in Pacific Spirit Park
Much like Stanley Park, the trails of the huge and beautiful Pacific Spirit Park (located near the University of British Columbia), are plentiful and easy to hike with a stroller.
Just a few meters from parking your car or stepping off the bus, you'll be surrounded by lush green temperate rainforest — something that is just UNREAL in a huge metropolitan area. Your toddler can play in the dirt, touch all kind of plants, look for bugs, and enjoy all the sights and sounds of a peaceful Pacific Northwest forest.
Look at a map of the park and choose a trail based on where you plan on parking. You can do anything from a short stroll along the wooden pathways, to a 3-hour loop through the entire park (while your toddler naps for part of it and you walk in peace?).
Rent a Bike and Ride the Seawall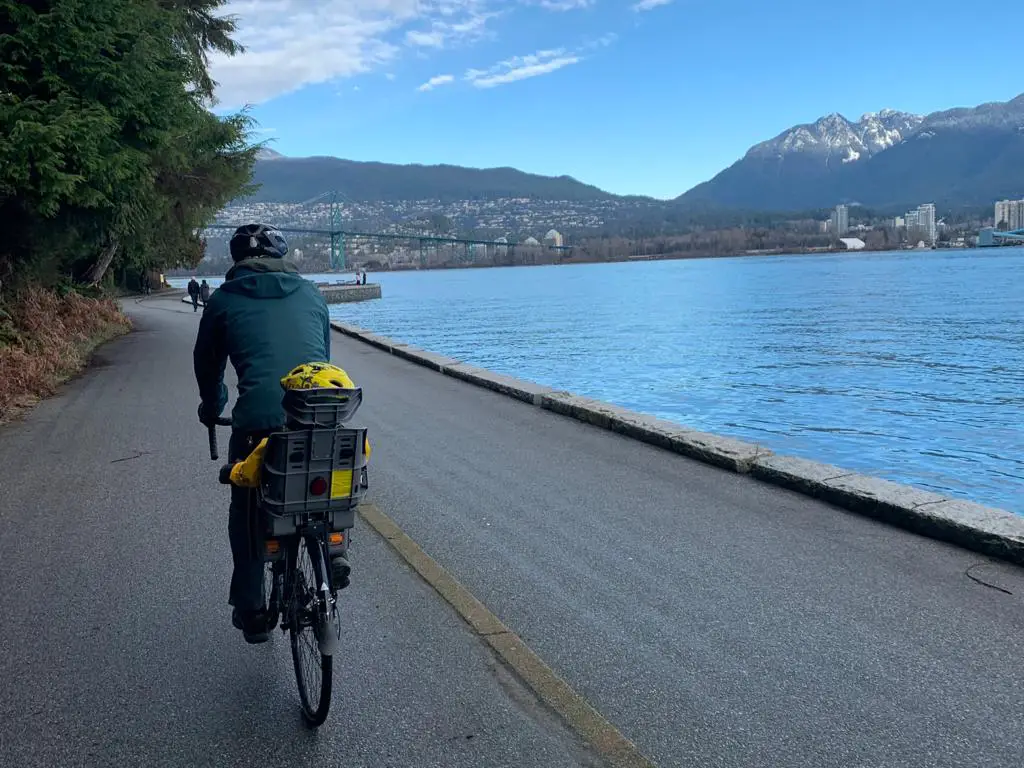 Renting a bike and biking around the Stanley Park Seawall (which is about an 11 kilometer loop) is a super popular activity to do in Vancouver for locals and tourists alike. It's full of fun stops like beaches, cafes, and tourist attractions along the way.
If you feel confident, it's also possible to bring your toddler on this amazingly beautiful ride. You can rent chariots and bikes with child seats, helmets, and anything else you may need at one of the many bike rental shops lining downtown on the Stanley Park side.
Play at One of Vancouver's Many Beaches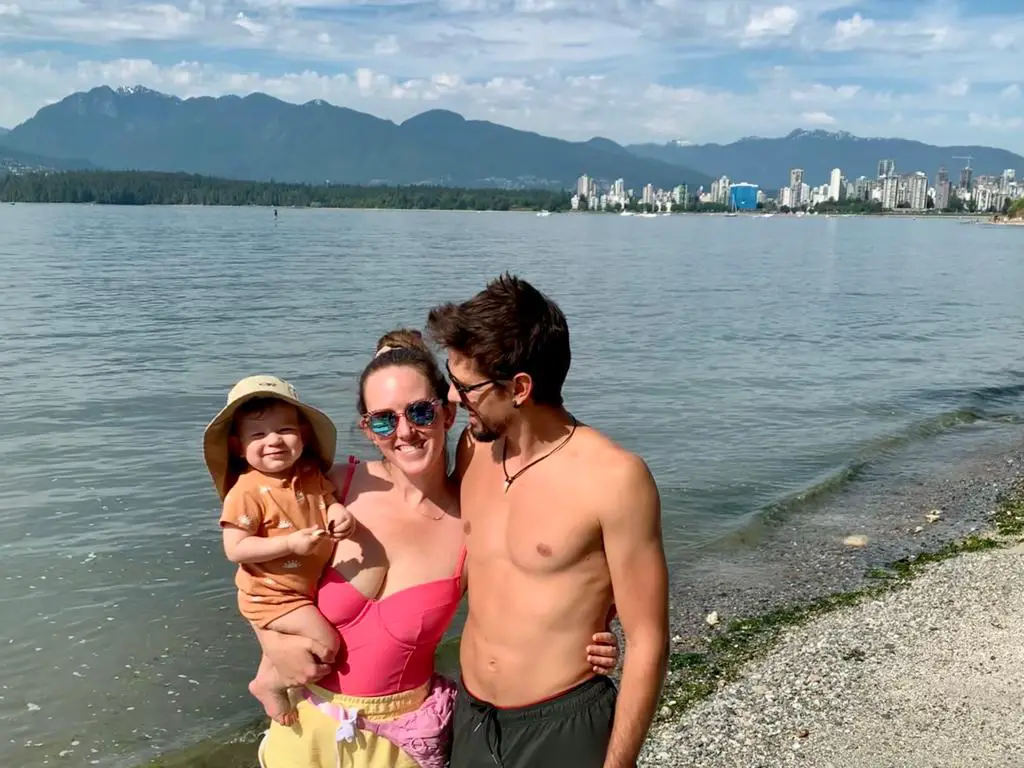 You will be spoiled for beaches in Vancouver, from the busier "party" city beaches like English Bay and Kitsilano Beaches to the generally quieter Jericho, Spanish Banks, and Third Beaches — there is something for everyone.
Year round, no matter the weather or temperature, the beaches of Vancouver are fun for toddlers. Even though your toddler won't be able to go swimming in the colder months, there's still plenty for them to discover.
I actually took my son to the beach A LOT on rainy days, in his muddy buddy and rain boots. He had a blast wading in the water up to his ankles and looking under rocks for sea creatures.
Go Snowshoeing on one of Vancouver's close peaks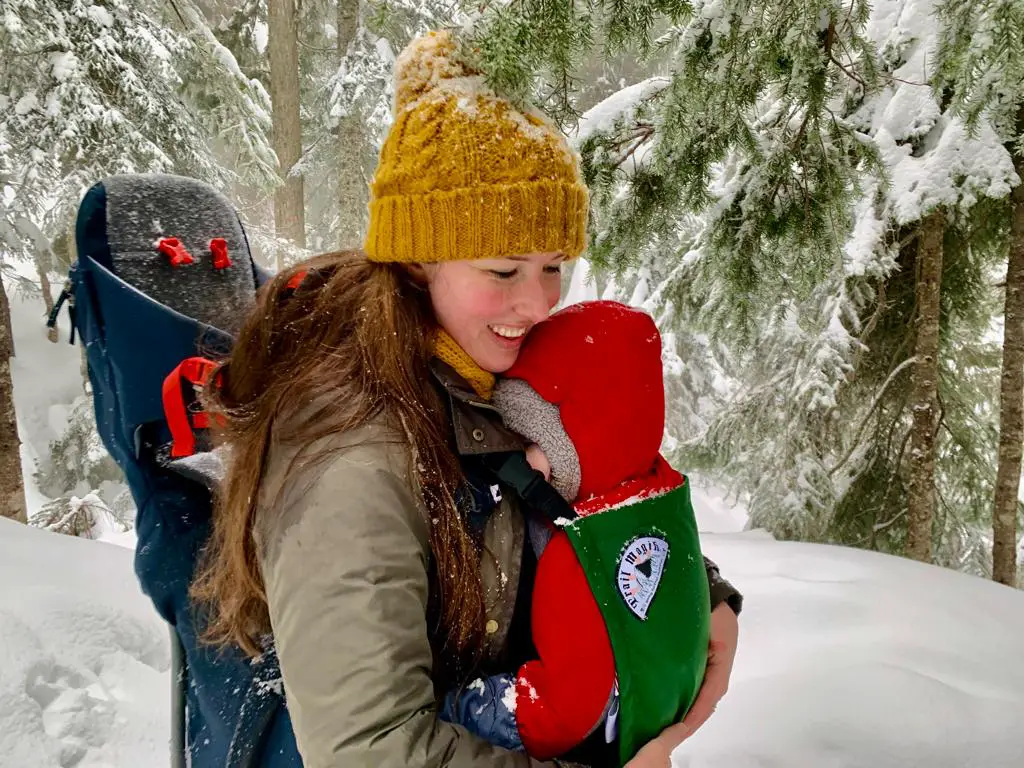 Snowshoeing has turned out to be one of our favorite winter activities to do with our toddler, because it's not too expensive (you just need to rent snowshoes, if you don't own a pair) and it's relatively leisurely compared to many of the other popular Vancouver winter sports. I wrote an entire guide on how to go snowshoeing with a toddler which you can find here.
We like to go snowshoeing with our son at Dog Mountain just north of Vancouver. We have our own snowshoes but we've also rented them in the past from outdoor shops in the city.
We put our son in the hiking backpack and set off down the trail as far as we all feel comfortable and happy, before heading back for some hot chocolate.
Walk around Queen Elizabeth Park and have a Picnic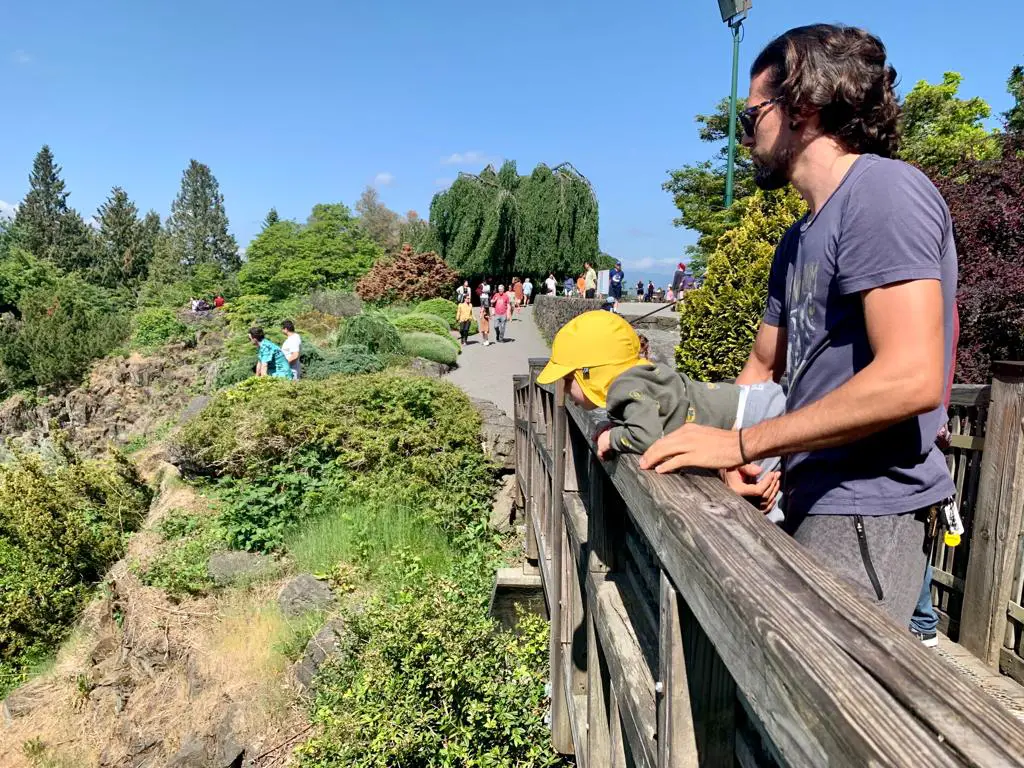 On a nice clear day, you'll get some of the best views of the city from Queen Elizabeth Park (which is free to enter). But even on a rainy day, the park is gorgeous — a perfect backdrop for photos and a playland for toddlers to run around in.
My son loves trying to "rock climb" some of the little boulders. He loves walking across the bridges and pointing out animals. It's full of flowers in the spring time, with manicured lawns and shade from trees to sit under and have a picnic.
Visit Bloedel Conservatory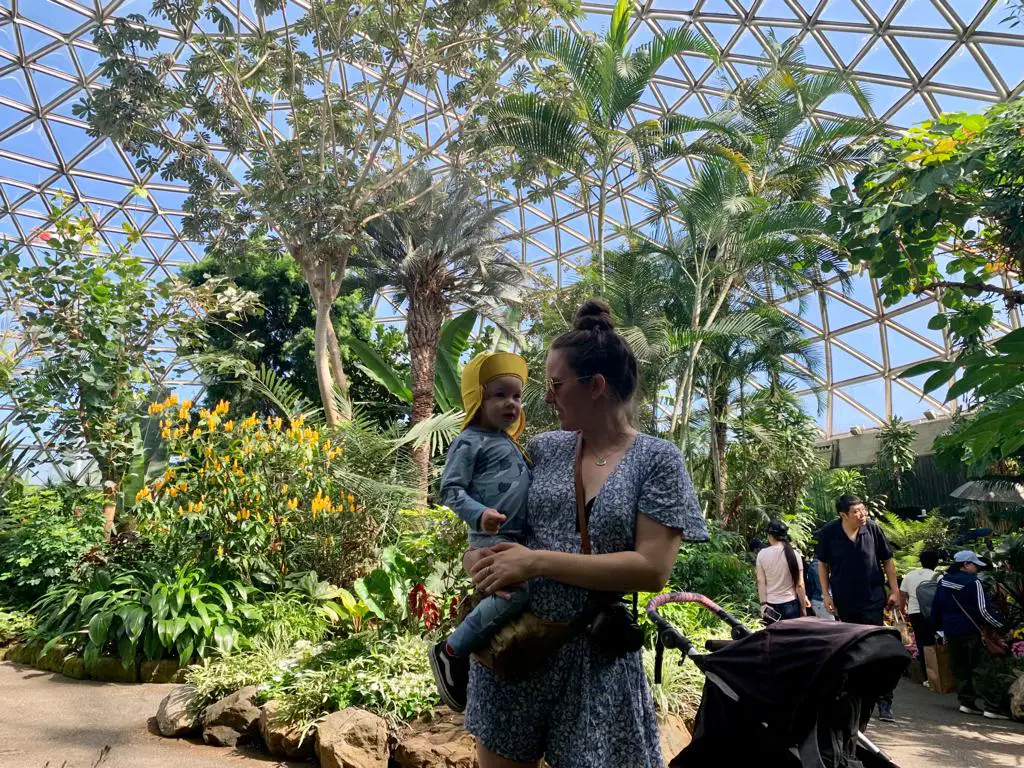 You can also visit the Bloedel Conservatory, the large dome inside of Queen Elizabeth Park, which has a fee for adults (last time we went it was around $8 CAD per person but free for kids aged 4 and under). It's not very big but I find that everything takes much longer to see — and there always seems to be much MORE to see, through the eyes of a toddler.
There are tons of tropical plants, fish, and birds to see — including giant parrots. Funny enough, my son was most interested in trying to find a mouse that scurried into one of the bird enclosures. Toddlers!
My only cautionary advice would be (1) not to bring a stroller inside if you can avoid it — we found it in a bit annoying on a crowded day, but not undoable; and (2) not to bring your toddler here if they are the type to rip out/uproot plants — it could go a little sideways with all the bright, colorful flowers at their eye level!
Look for Treasure at the Vancouver Flea Market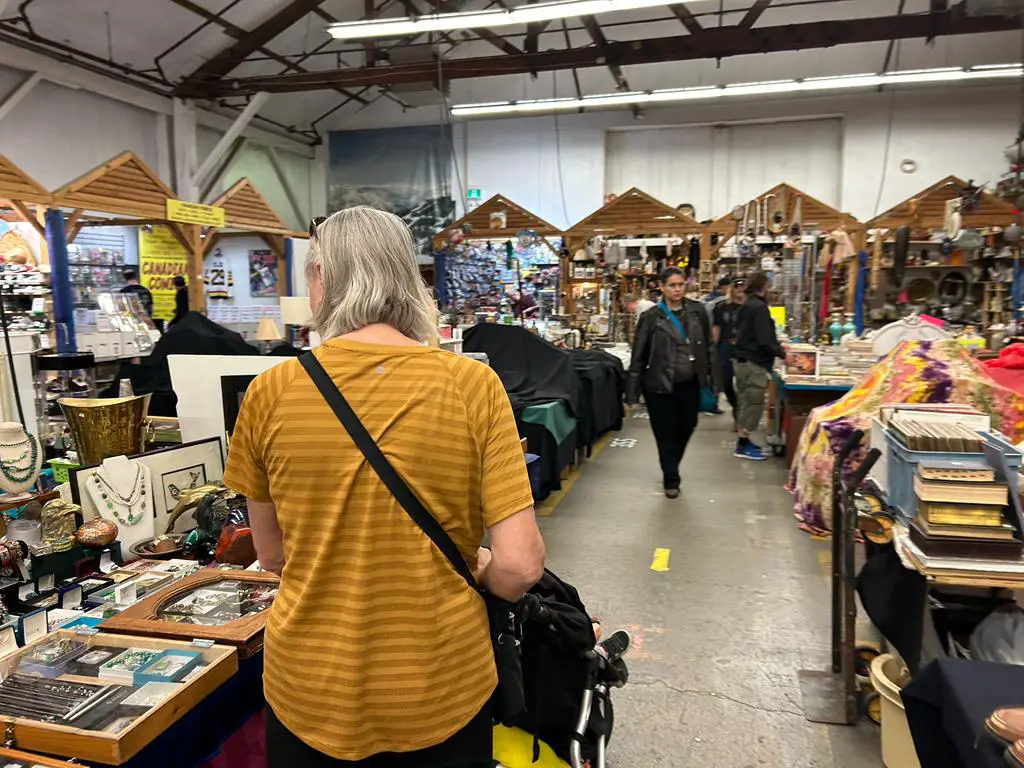 If you (or your toddler) happen to be into searching for treasure, you can check out the Vancouver Flea Market together. It's been around since 1983 and is known for its friendly, community atmosphere.
This is actually one of my husband's favorite places to visit, because he is very much a fan of looking through junk for something special. And guess what? Toddlers think it's pretty cool too. Last time they went together, my son came home with a few cheap vintage toys and was absolutely ecstatic.
Note that the flea market is only open on weekends and holidays and (last we went) costs $2/person to enter. Happy treasure hunting!
Get an Ice Cream at Prospect Point (and a coffee for the parents)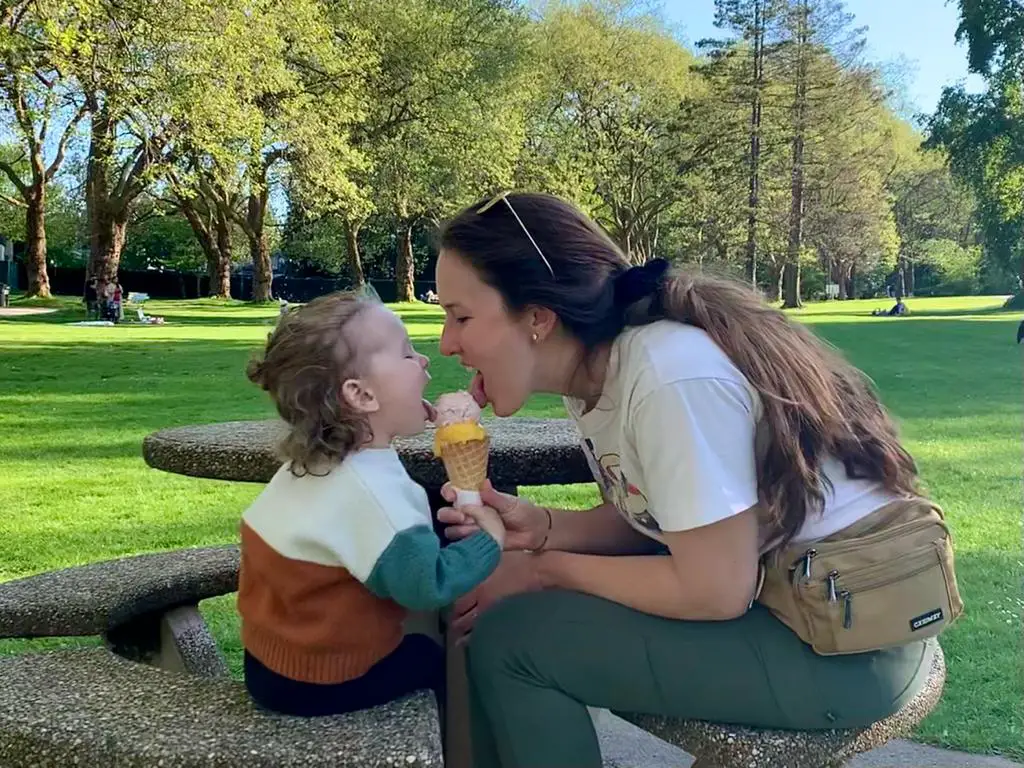 Called Vancouver's "original view" with "unrivaled view points" Prospect Point is a lovely place to visit, sit, and have an ice cream while looking at the mountains and water. Your toddler will have fun pointing out all the boats down below (and eating that ice cream).
If you're up for it, there's a nice walk from Ferguson Point to Prospect Point — both located in Stanley Park. It's an easy route but takes close to 2 hours so it may be suitable for an "on the go" stroller nap, with your toddler waking up to the beautiful view and ice cream at Prospect Point. Otherwise, it's easy just to drive and park.
Play at Deep Cove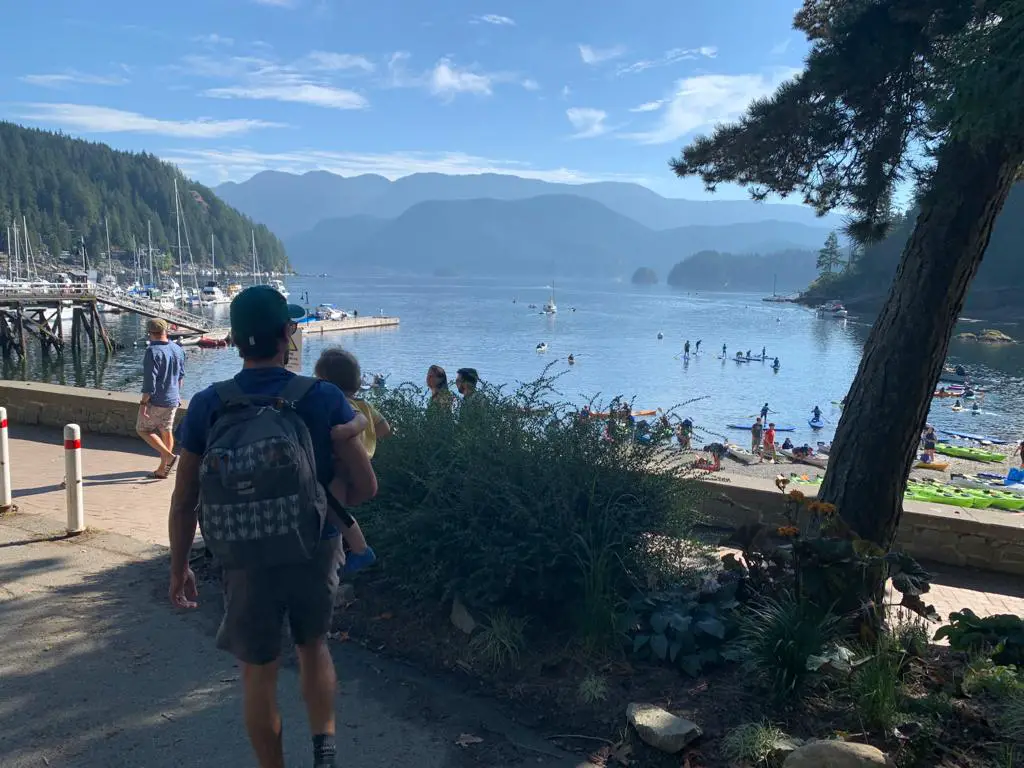 Deep Cove is a small coastal part of North Vancouver PACKED with things to do for a family with toddlers. You can going swimming at the beach, kayaking (although this one isn't free or cheap!), visit one of the playgrounds, or get a doughnut at famous Honey Doughnuts.
We've taken our son here for day trips and really enjoyed hanging out, having a picnic, and going for lunch or a snack in the quaint downtown area. There is also a relatively easy hike called Quarry Rock with beautiful views of the area.
See Koi Fish at Dr. Sun Yat-Sen Classical Chinese Garden and Park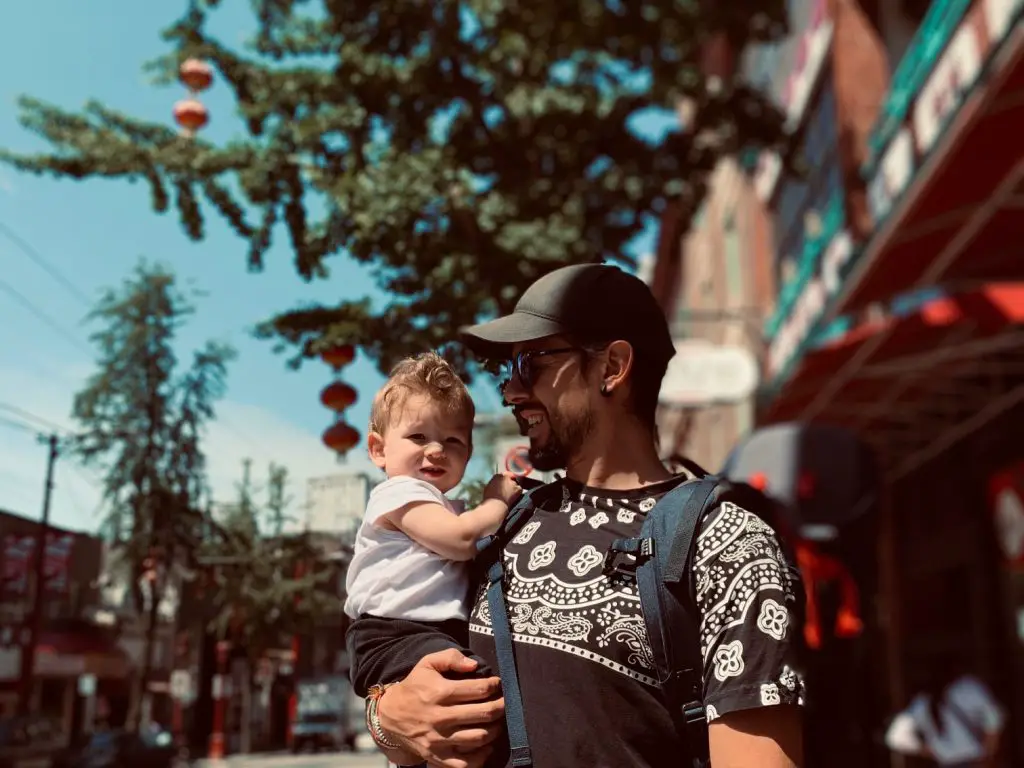 The Sun Yat-Sen Garden is located at the heart of Vancouver's historic Chinatown (which is worth visiting on its own as well). There are two parts of this tourist attraction: A FREE public park area that you can stroll around in and look at the koi pond — which is honestly plenty for a toddler; and a second paid area with beautiful traditional Chinese structures and rare trees (and guided tours).
I would recommend just taking a couple of hours to visit the free area of the garden, and then doing a small walk around Chinatown to visit the shops, take a photo with the Chinatown Millennium Gate, and get some delicious food for lunch.
Ride the Aquabus Ferry to Granville Island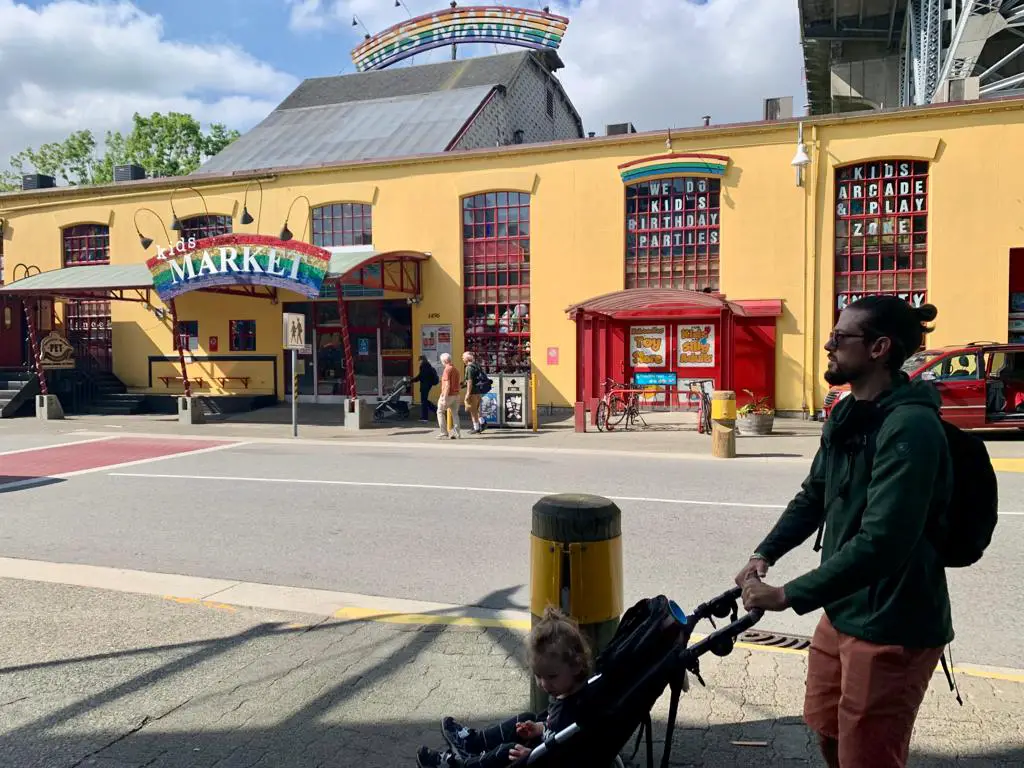 From the Aquatic Centre Ferry Dock, just off Sunset Beach in downtown Vancouver, you can take a small ferry that goes across the water to Granville Island. The ride is only a few minutes and super fun for toddlers (and adults!). You can pay on board with your credit card and last time we went, the fare was only a few dollars per person.
On Granville Island, there is tons to see — but toddlers may be most interested in the Kids Market, which has games, shops, and food for kids. There is also a little playground and a splash pad.
If you're not coming from downtown, skip the ferry and drive or take the bus to Granville Island.
Visit Lynn Canyon Suspension Bridge and Ecology Centre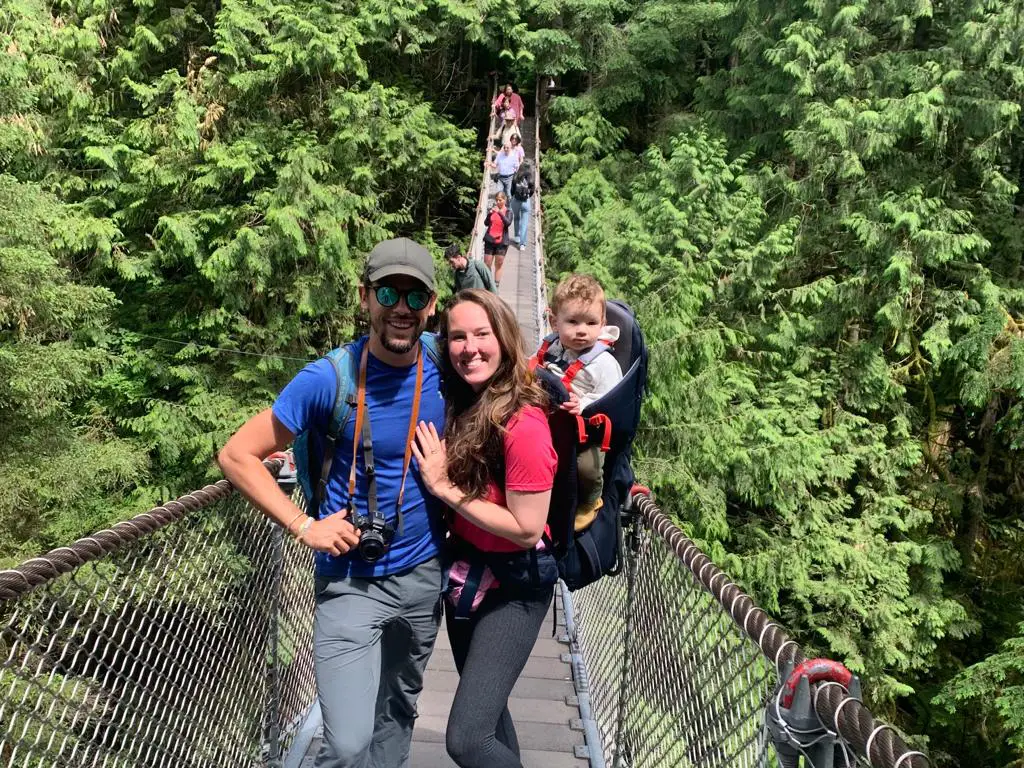 One of my favorite easy hikes to take beginning hikers has always been Lynn Canyon, because it is full of that Pacific Northwest vibrant mossy green all year long and its trees provide cooling cover in the hot summer months. It also has a beautiful suspension bridge that is FREE (unlike the other very popular and expensive tourist attraction Capilano Bridge).
Now with our toddler son, Lynn Canyon has proven to be so much fun to visit in more ways — it's an easy trail to walk for him, there are stairs to climb, water to throw rocks into, birds to search for, and even an Ecology Centre to Visit!
If you're hungry or thirsty, Lynn Canyon also has a cute little stylish café. This place is the perfect nature-y half-day trip to North Vancouver.
Look for Bunnies at the Beach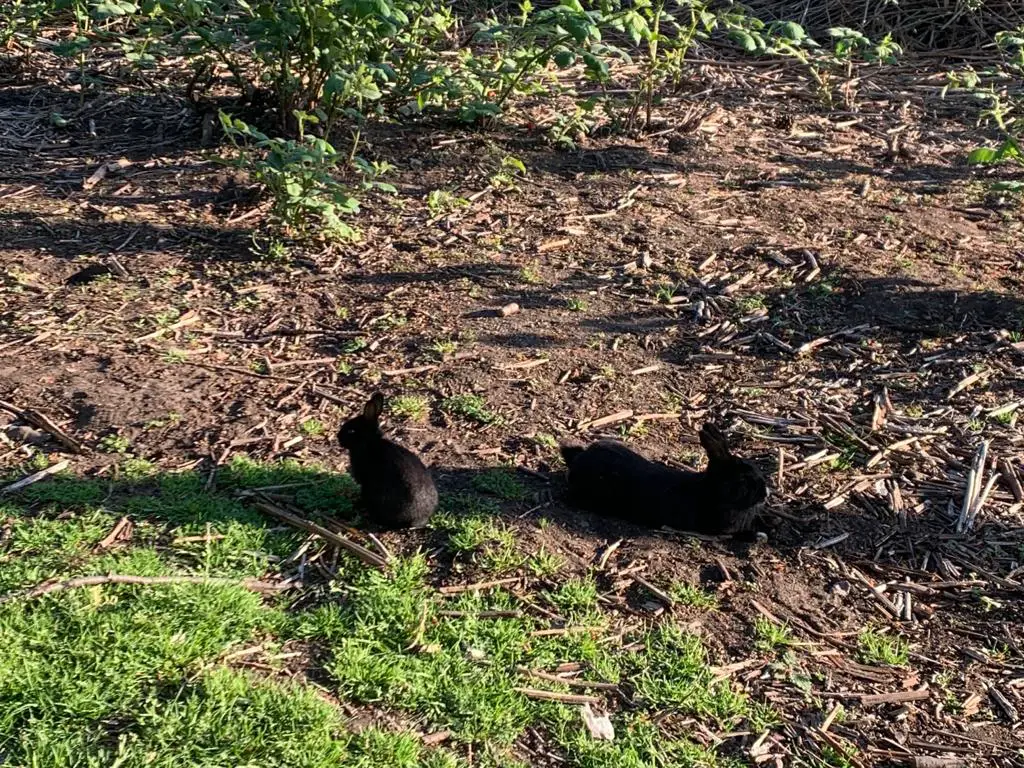 If you visit Locarno or Jericho Beach, there's a good chance you'll find bunny rabbits hopping around! There are hundreds of bunnies living in this area of Vancouver with little to no fear of humans.
Why are there so many bunnies here, you might ask? They began as unwanted pets, left behind by their owners — something that continues to be a problem (and is illegal). Be sure to just observe these sweet little bunnies with your toddler and don't try to pet them or feed them. If your child loves animals as much as ours, this little excursion will be a hit.
It's also located near UBC campus and the neighborhood of Kitsilano, so you can visit the bunnies on your way to either of these locations.
Looking for something more to do?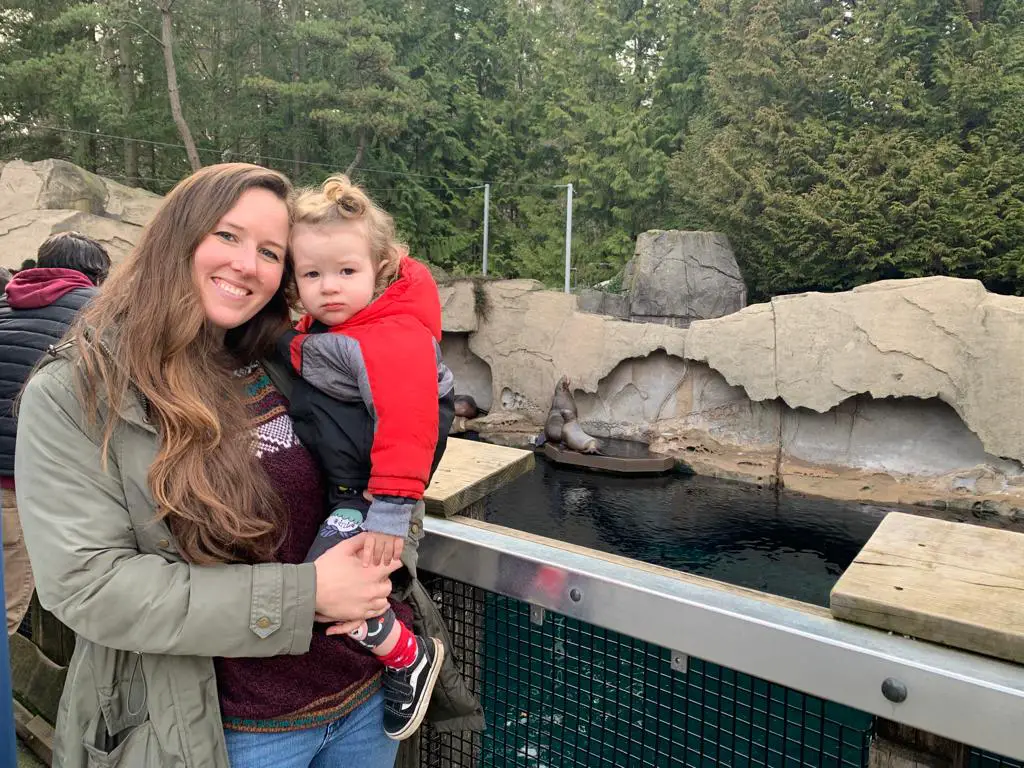 There are other, more expensive, options to do with your toddler in Vancouver that are very cool and worth it — I would suggest choosing one thing to splurge on because you probably don't need to do them all. We personally love the Vancouver Aquarium and Science World.
We bought an aquarium pass and use it several times a month because my son loves visiting the sea lions so much!
I hope this list was helpful for you — Enjoy your trip! Follow our family adventures on Instagram at @wayfaring.humans and/or on our YouTube channel 🙂