We're based in Scotland at the moment with our toddler and have been lucky enough to take some road trips through the Scottish Highlands! It's been a dream destination for us. We weren't sure how it would all go with our son but it turns out there's plenty to keep all of us very happy and entertained here.
I'm writing this article as a guide, based on our personal experiences, for any other families out there traveling to the Scottish Highlands with a toddler — it may also help you out if you have older children!
I've also written an article with tips on road tripping with a toddler in Scotland + an itinerary that worked well for our family which you can read here.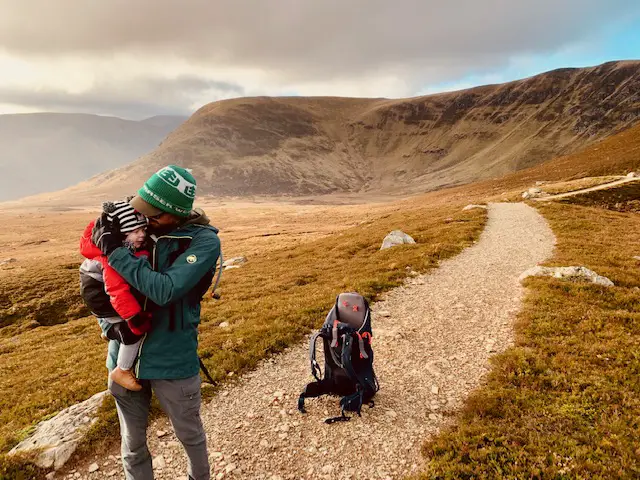 Note: Glen is the word for "valley" in Scottish and ben means "mountain." 🙂
What Can Toddlers Do in the Highlands?
There are some indoor activities that you can bring toddlers to in the highlands, such as pools and indoor playgrounds but if you're like us, you want to spend as much time outside in the Scottish Highlands as possible while you're here. And there is plenty to do outside!
So pack your warm and waterproof clothes (and a change of clothes to keep in the car just in case!) and get ready to explore. We have become big fans of Spotty Otter, a UK-based brand that I discovered since living in Scotland, for insulated and waterproof toddler gear (not sponsored — they're just great!).
Here is a list of activities that you can do with your toddler when visiting the Highlands:
1. Go Hiking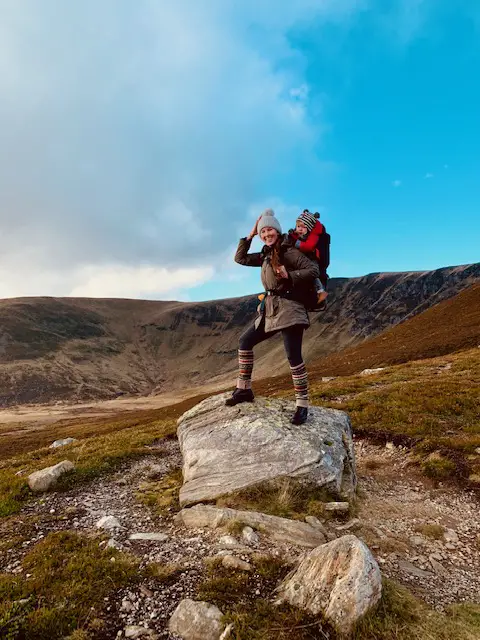 This has hands down been our favorite thing to do in the Scottish Highlands. Before having a baby, we used to go on more difficult and longer hiking day trips, but these days it's mostly smaller loops with lots of snack breaks! And that's just fine, because we're still out in nature together, with beautiful views, having a grand ole time.
If you have a hiking backpack, I would suggest bringing it with you. We actually traveled to Scotland without a stroller and brought only our soft baby carrier and our hiking backpack knowing that we'd be going on hikes.
You'll see below that there are plenty of amazing hikes (or "hill walks" as they say in Scotland!) with breathtaking views that are possible to do with a toddler in a backpack.
And we've found that a carrier or baby backpack is great for navigating the cities as well, since a stroller can be a bit annoying and limiting on cobblestone roads and areas FULL of stairs (like in Edinburgh).
I recommend doing a search on All Trails Scotland and Visit Scotland to give yourself PLENTY of hiking ideas as well as the difficulty ranking for each. It's essential to pack and prepare wisely before setting off on any hikes, just like anywhere else in the world. Don't be fooled by the low mountains — the weather can turn quickly and catch you unprepared quite easily.
Our favorite spots to hike with our toddler have been: Glencoe, Fort William, Glen Clova, and Cairngorms National Park (more details on these places below).
2. Spend time in Visitor Centers and Museums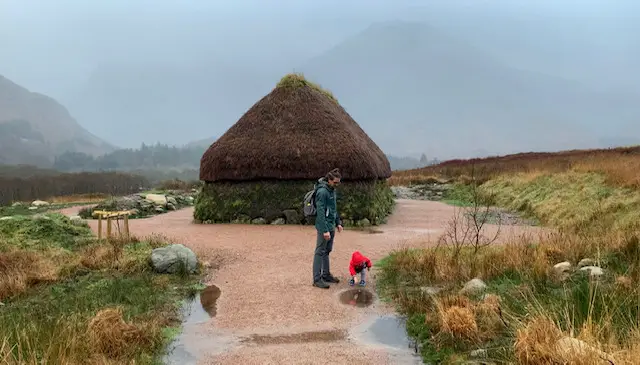 This was not something we planned to do: Hang out in a visitor center! But it turns out that they can be pretty fun for toddlers and offer lots of outdoor sightseeing and activities. Not to mention you can chat with knowledgeable locals who can help tailor your day to the needs of your toddler and your family.
At the Glencoe Visitor Centre in the beautiful area of Glencoe, there is a little museum inside dedicated to mountain climbing.
There's also a little children's coloring table, a café, and listening stations where you can hear stories about the area (for a toddler, there are fun buttons to press!). There's also tons of outdoor space for toddlers to run around, a walking trail, and a hut made out of turf for kids to play in. My son loved the puddles just outside the hut most of all.
Another exciting place to visit for the history buffs is the Glencoe Folk Museum, where you can learn more about the history of the area including the devastating story of the Glencoe Massacre.
3. Look for Animals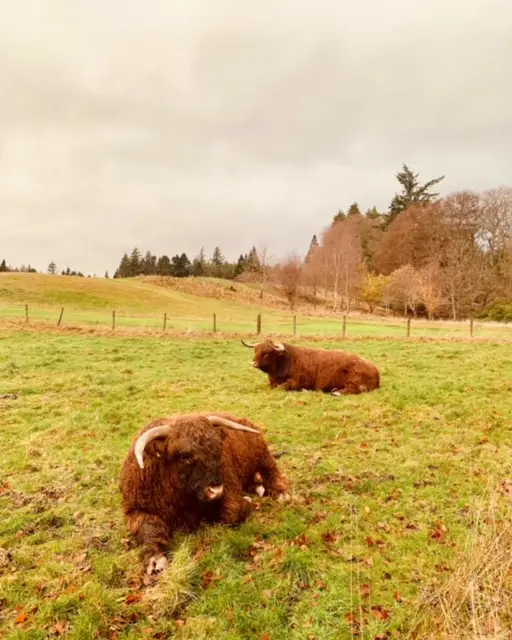 All along the roads while traveling through the highlands, you'll see sheep, horses, cows — and if you're lucky, highland cows and red deer! It was fun for my husband and I to spot them from the car, while our son is still a BIT too young. But a slightly older toddler would love this game of looking for animals.
There's also a herd of free-roaming reindeer in Cairngorms National Park. There are around 150 of them in the herd that have been roaming free since 1952. You can organize a hill walk with a guide to find and and take photos with the reindeer. As they say on their website "reindeers aren't just for Christmas."
We didn't have time to do this with our toddler but it's always good to leave something to do for the next visit! If you do this, please let us know how your experience was (connect with us on Instagram @wayfaring.humans).
4. Run around Castles and Gardens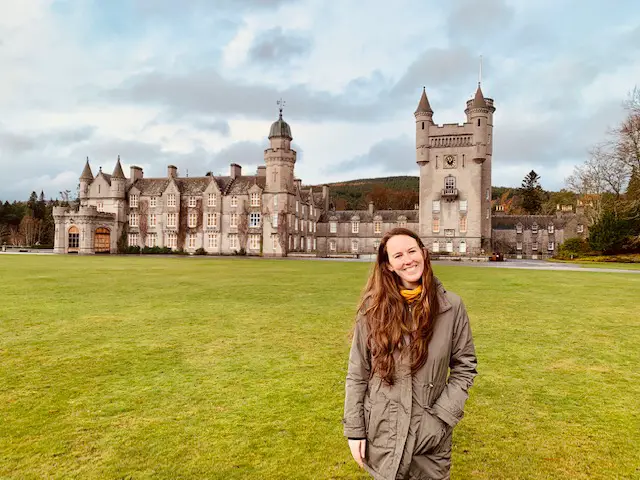 Scotland has no shortage of castles. One of the things we've enjoyed most here is visiting castles that have gardens and letting our son run around. We can enjoy the view of a beautiful medieval castle, while he enjoys finding rocks, leaves, sticks, and puddles. Everyone wins!
One of the Highlands routes that we decided to do with our son was the loop (well, half the loop) from Dundee to Balmoral Castle, Queen Elizabeth's private residence in Scotland and where she passed away. There are other castles that you can visit along this route as well, including Braemar and Knock.
The great thing about visiting castles with toddlers, in my opinion, is not necessarily the castle itself, but the gardens surrounding the castles. I've actually had to skip certain insides of castle visits (or hold my son the whole time) because he would destroy literally priceless objects if allowed to run around. But the gardens — he loves! Rocks, streams, leaves, and freedom to explore.
And if you're looking for something unique to visit with your family, there are actually "hidden" pyramids near Balmoral, erected by Queen Victoria in honor of her husband, Albert. You can take a little forest walk to find these unusual monuments — yes, pyramids in Scotland!
5. Sightsee in Small Towns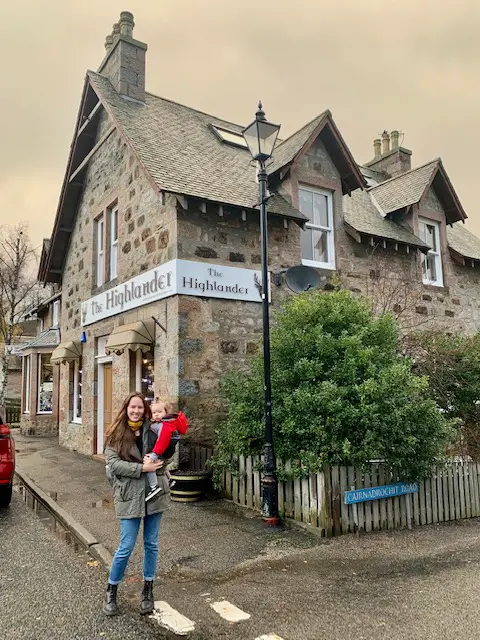 If you need a coffee or food break between visiting the rolling hills, there are plenty of cute small towns in the Highlands to see!
These stops are good for bathroom breaks, gift shopping, eating, chatting with locals, or just having a little stroll and stretching your legs. We're traveling in Scotland without a stroller, so these stops for us mean lots of running around time for our son, when he's not being carried in the baby backpack.
We're always on the lookout for something cute, cozy, and atmospheric to get a coffee with our little buddy. At many places, they serve something called a "babycchino" or a "baby foam" which is basically a mini mug of warm milk for babies. They can feel like they're having a coffee too, without bothering you to try yours (do other toddlers do this too?!).
Throughout the spring, summer, and until the end of October, you shouldn't have trouble finding cute and cozy cafes and gift shops to hang out in along your Highland journey.
But we've found in November and December, it gets a bit trickier, with many shops closing for the season. However, cozy ski lodge cafes are always an open! There are ski resorts in the Highlands where you can stop for a drink and some food all year long.
Best Places to Visit in the Highlands with a Toddler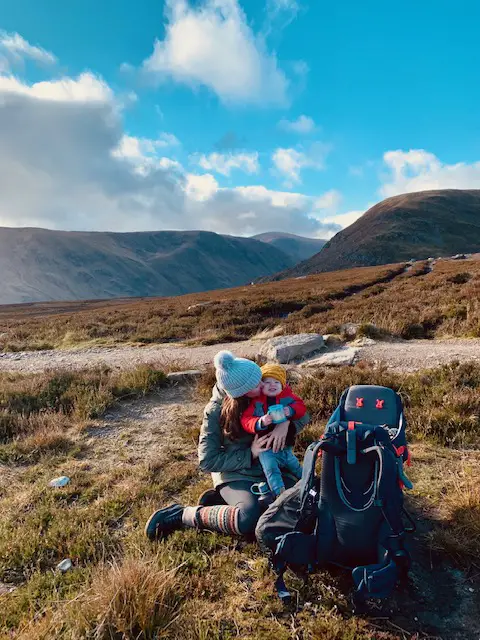 There are TONS of places you can visit with a toddler in the Highlands. We mostly traveled by car, which I would recommend for other families just because flexibility is so important with a little one.
Below are some of the places we visited that we really loved and offered plenty for our little family to do and see, rain or shine (and there is a lot of rain!). There is a brief description in the table and then a longer, more detailed description further down the page.
| Best Places to Visit in the Scottish Highlands with a Toddler | Things to Do |
| --- | --- |
| Glencoe | Hike, hang out at the Glencoe Visitor Centre (peruse the gift shop, café and museum), visit the Glencoe Folk Museum |
| Glen Clova | Hike, visit small cafes and restaurants |
| Fort William | Walk around town, visit restaurants and cafes, hike trails nearby |
| Loch Lomond and the Trossachs National Park | Walk nature trails |
Glencoe
Glencoe is one of the most famous natural places in the Scottish Highlands and is considered a "must-go." I agree completely — and we had pretty bad weather when we visited (lots of wind and rain, and even flooded roads). It was still beautiful!
"Glen" means valley and Glencoe is one of the most impressive and dramatic of the Scottish glens. You can choose from all sorts of different trails to go hill walking with your family. You don't have to choose anything strenuous to come face to face with gorgeous views here.
In fact, the Glencoe Visitor Centre which I mentioned earlier, has amazing views — from the visitor centre! You can walk a short, flat little loop around it and see rolling hills all around you. And then go for a cozy coffee right after.
Cairngorms National Park
We were lucky enough to have Cairngorms National Park somewhat "in our backyard" while we've been living in Scotland. It's the largest national park in Scotland and the UK. It's absolutely FULL of things to do with a family such as:
Visit castles (Balmoral, Braemar, Knock, Eilein, Corgarff, and more)
Walk a trail, go hiking
Visit animals (Highland Wildlife Park, Wildcat Centre)
Go skiing or snowboarding
Go to scenic spots and have a picnic
Fort William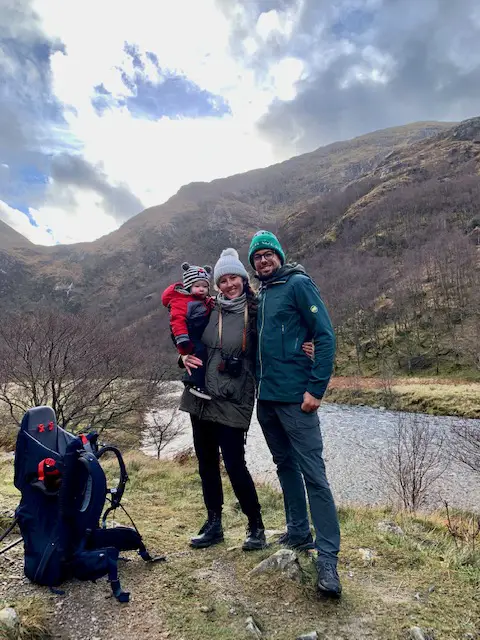 Fort William is a town that is sometimes called the "outdoor capital of the UK" and may be most famous as the base where hikers stay to summit Ben Nevis (the highest point in the UK).
We would have loved to attempt this climb, but we had some factors working against us — a baby (!), a lack of preparation, and the season (we were there in winter which isn't ideal). But there was still plenty to do and beauty to see!
[Please don't attempt to hike Ben Nevis without proper preparation and information (especially with kids). We heard that people try to do it every year, thinking it will be easy, only to find themselves seriously hurt or worse.]
I would HIGHLY recommend hiking in Glen Nevis, the beautiful valley right next to Ben Nevis. Hiking in valleys in the Highlands is sort of a best practice in the winter anyway (or if you have small children and/or don't want to attempt a very strenuous hill walk!).
Our weekend away here consisted of a fun road trip with pretty views, a nice hill walk with outstanding mountain and waterfalls, and a cozy hotel stay (which my toddler always loves because of the novelty of it!).
Glen Clova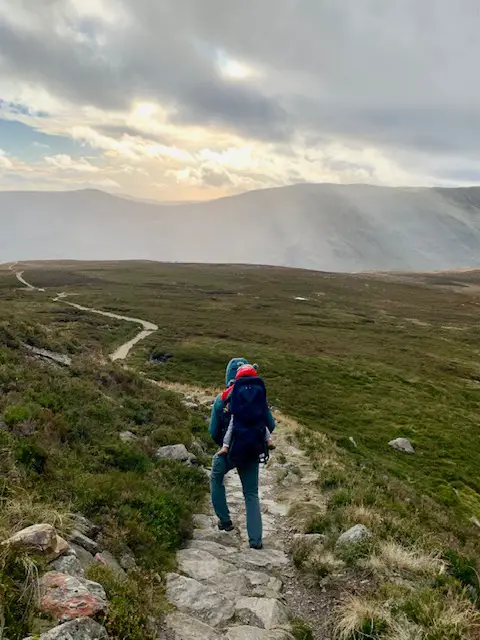 Glen Clova is at the foot of the Highlands, and is full of the quintessential bubbling streams and Highland colors that you probably imagine when you picture this part of the world.
We did a 3-ish hour hike here that starts at the Glen Clova Hotel, and it was beyond perfect. We had spectacular views, stopped several times for snacks and photos, and then finished our walk with a cup of coffee at the hotel café before heading back home.
Loch Lomond and the Trossachs National Park
Loch Lomond and the Trossachs National Park is a large area with differing landscapes — and like most places on this list, the activities that you can do will vary a bit by season.
With a toddler, one of my favorite things to do is visit a body of water (such as Loch Lomond) and have a picnic. Your toddler can wade around (if the weather is nice) and throw rocks and sticks in the water to their heart's content.
There are also boat/kayak rentals, plenty of hikes to do, and shops/cafes/pubs where you can stop and relax.
Making a Highlands Itinerary with a Toddler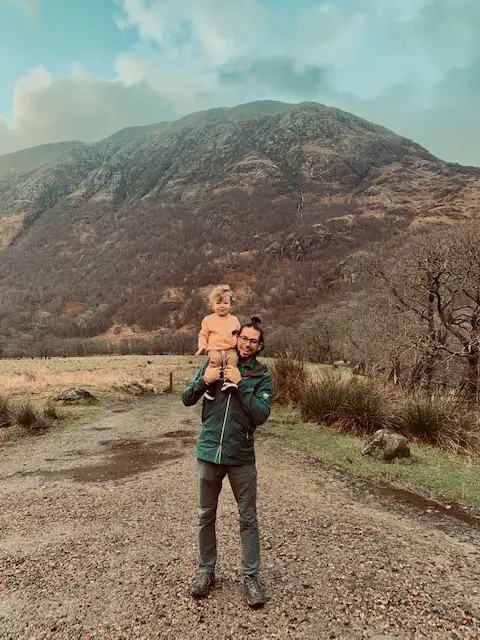 Making an itinerary is a good idea before you set off on your trip — and then being flexible about it and knowing that you might have to move some things around depending on the weather or the mood of your child!
We like to have a general idea of what we'll do before setting off into the Highlands, like what trail we'd like to do and what we need for it in terms of gear and supplies (and one or two backups trail ideas, just in case).
We plan some food and bathroom break options along the way — it's good to know what there is BEFORE someone is desperate for the loo or HANGRY, and then suddenly you don't have service on your phone to do research and all hell breaks loose.
So write down a basic plan of "want-to-dos" for the day plus some options for places to stop, and then be open to changing your plans along the way if need be. That's my advice for making an itinerary with toddlers work in the Highlands!
What Time of Year is Best to Visit the Highlands with Babies, Toddlers, and Kids?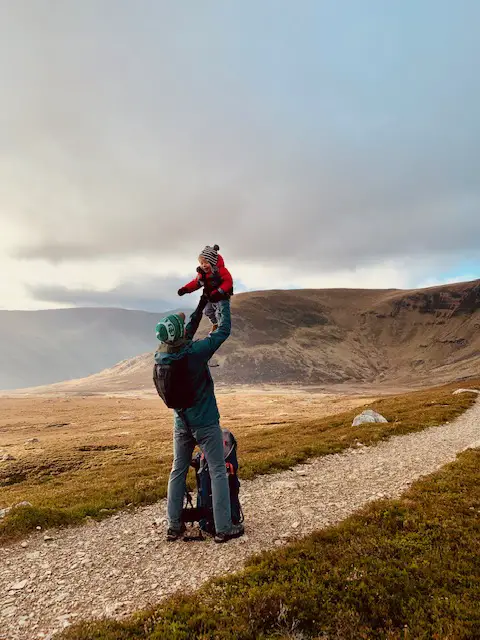 We were told that the most popular time of year to visit the Scottish Highlands (in general, not just for families with young children) is between May and September. July and August are high season and probably best to avoid.
However, we're in Scotland from September to December, and it's been a lovely time to be here.
I would say, based on our experience, that the best time to visit the Scottish Highlands with young children is September or October. The upsides are that there are NO crowds anywhere and it's still somewhat sunny.
In November, the days start to get really short (like, I'm talking the sun setting at 4 pm!). This actually isn't too bad when you're traveling with a toddler though, because their days start and end earlier than adults! We're still taking Highlands road trips with our toddler and it's nearly December.
The biggest downside to visiting after October is that many of the tourist attractions, such as the castles, begin to shut their doors for the winter. We noticed that many restaurants and cafes seemed to be closed as well. You'll be able to find some places open but you may not have as much choice during the winter months.
What to Pack for Your Scottish Highlands Road Trip with Your Toddler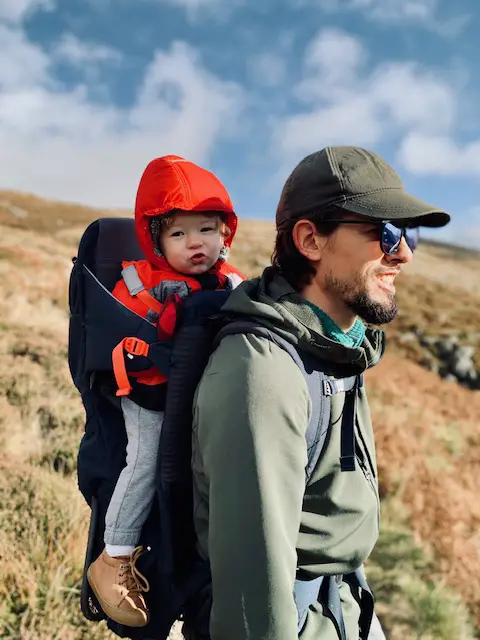 Every family has slightly different needs but the essentials to bring with you on your Highlands trip, in my experience, would be:
a hiking backpack or soft frame carrier (practice with it at home before setting off on a hike)
weather-appropriate clothes (a too-hot or too-cold baby will not be happy)
rain gear because Scotland is wet (and windy!)
plenty of water for everyone, including your child
plenty of snacks for everyone, including your child
a packed lunch for everyone, including your child
entertainment for your child in the car and restaurants (stickers, screens, etc.)
appropriate and comfortable footwear (trails can be very muddy)
a change of clothes for everyone, in case you get wet!
Do You Need to Bring Your Own Car Seat?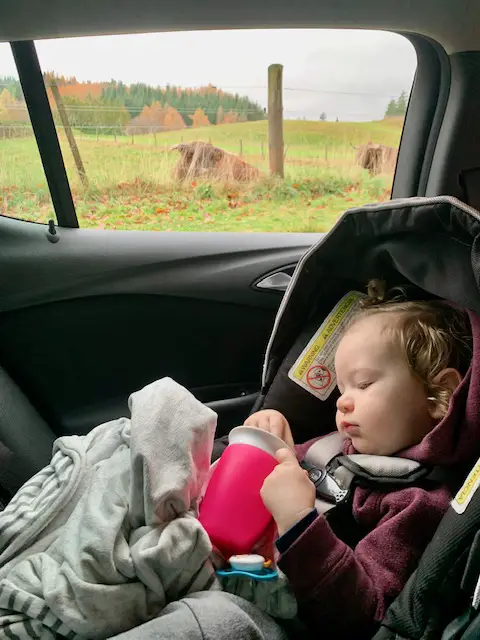 There is usually an option to rent a car seat at various rental companies, but I always recommend bringing your own if you know that you'll be using it a lot on your trip. We knew that we'd be roadtripping a lot, for example.
We've also had some trouble procuring a car seat for Ubers and things like that in the past while abroad, so now I prefer to have ours with us. The thing you need to check before leaving is whether your car seat is compatible in Scotland.
Our current car seat is a Chico brand, which is compatible in the US, Europe, and the UK. Do a bit of research to see what needs to be done in order to use and install your car seat before setting off!
I hope this information helps you and that you have a wonderful Highland trip with your family! I'm sure you'll fall in love with it just like we did 🙂