Are you planning a road trip in Scotland with your baby or toddler?
We're a Canadian-American family of three visiting Scotland for a few months and we recently did a week-long road trip with our 15-month old baby. I'm here to tell you that doing a Scotland road trip with a baby or toddler is 100 percent doable, even with a baby who's never liked the car (like ours!).
You've probably heard that Scotland is an amazing country to drive around in — highlands, incredible scenery year-round, distilleries and castles galore… But you may not have heard that it's also really, really great with a baby/toddler/child too!
There's plenty for a little one to do, as long as you know where to go, plan ahead of time, and be sure to dress everyone for the weather! I've also written an article specifically on how to travel in the Scottish Highlands with a toddler which you can read here.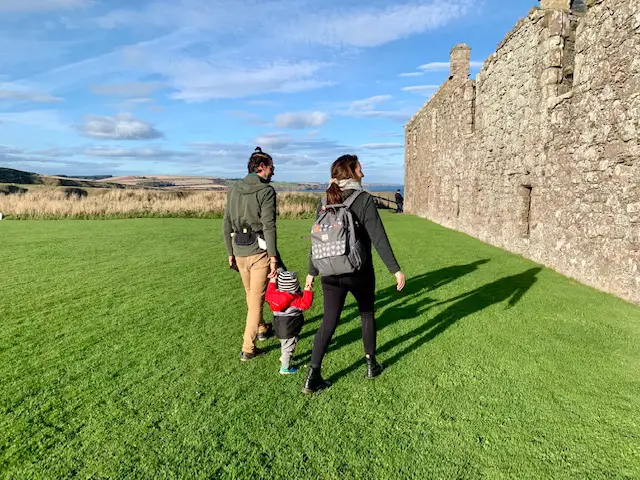 Planning Your Road Trip in Scotland with a baby or toddler
I always think it's a good idea to have an itinerary/plan for what you'd like to do each day (check ours out below!), but to also keep your plans flexible and to be able to move things around based on the weather and how you're all feeling.
In Scotland especially, the weather is very unpredictable and you'll want to brace yourselves for lots of rain and gloom (and then perhaps be pleasantly surprised!). Honestly, the rain and gloom is part of Scotland's beauty, in my opinion.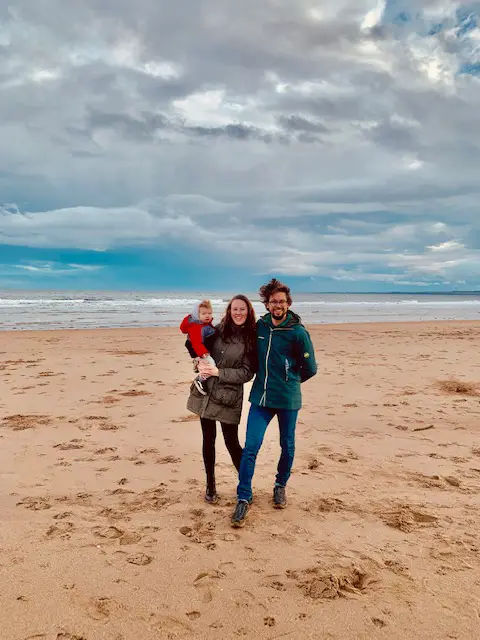 We did our road trip with the three of us (me, my husband, and our toddler son) and my parents, who were visiting from the States. We had a few things in mind that they definitely wanted to see while in the country, and then some "it would be nice" items.
My advice would be to leave your expectations at the door and leave LOTS of space for spontaneity. Choose just a few "must-dos" or "must-sees" and don't stress the rest. For us, our "must-dos" were:
Visit St Andrews
Visit Edinburgh
Go on a whisky distillery tour
See the Scottish Highlands
I did a lot of research on Visit Scotland, the Scottish government tourism organization, which has some really great information, and even itineraries that gave me ideas for our road trip week.
We never did more than 5 hours total in the car in one day. That was the MAX amount of time, and we made lots of stops every day — for toilet breaks, coffee breaks, food, sightseeing, etc. There are plenty of fun and necessary excuses to get out of the car which I recommend you build into your journey time expectations.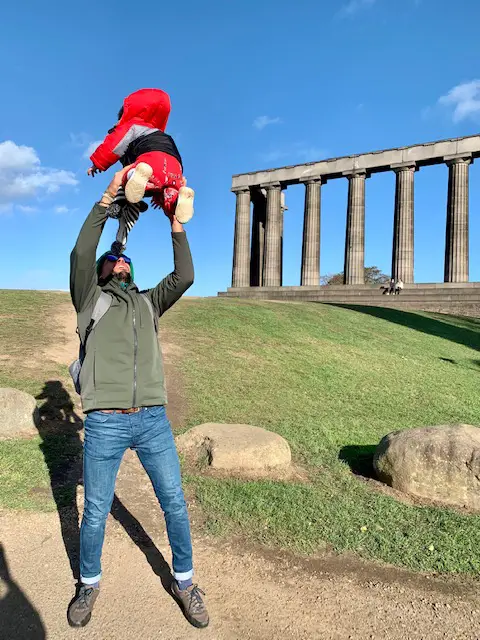 What time of year to do a Scotland road trip
It's probably best to try and go when you have a better chance of good weather (and when more things will be open — some castles and such are seasonal), so starting in April to the end of October.
We did our recent road trip in October and it was lovely — nothing was too crowded, and the changes leaves were beautiful. It wasn't too cold or rainy either. We actually got very lucky and had mostly sunny days all 6 days.
What to wear on your Scotland road trip
Scotland has the four seasons but can be more on the chilly and windy side year-round. I would recommend bringing raincoats, waterproof shoes/boots and changes of clothes on day trips. This goes for the adults and the babies/toddlers.
In October when we went, we brought a full-body rain suit for my son as well as a warm winter coat, and a winter hat to cover his ears. It was really windy on some days and we were glad to have him bundled up.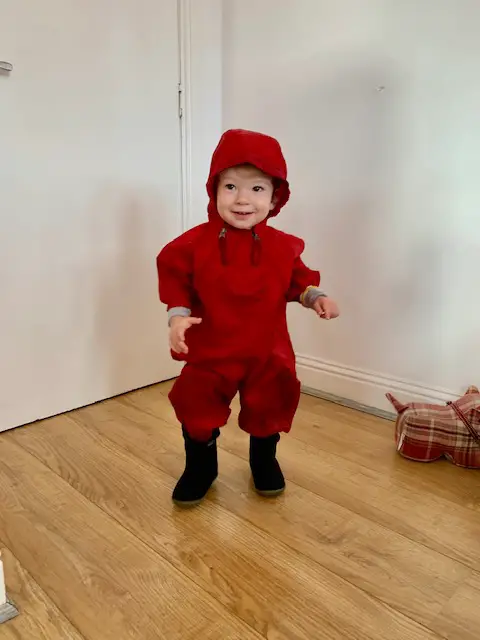 For adults, it will depend on your tolerance for cold! I can't bear wind in my ears, so I needed to bring a hat. I also wore a winter coat most days. But my parents, who are hardy Bostonians, were fine most days in just a sweater and rain jacket.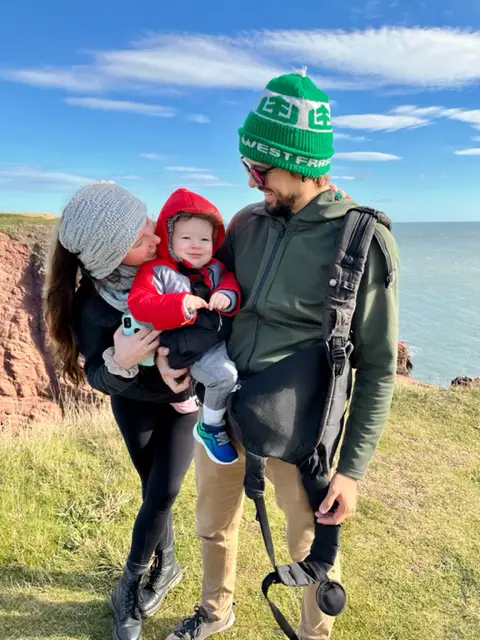 Stroller vs. Carrier/Hiking Backpack
At the moment, we are HUGE fans of leaving the stroller at home when traveling. There are just too many places, especially in Europe, where there isn't stroller access and we've had to carry our stroller up a hill WITH our son in it (such as when we walked up a miniature mountain in Barcelona to Park Güell!).
If this isn't an option for you, don't worry — but you may be a bit more limited in terms of places you can go (especially natural places that don't have ramp access).
We travel with our Lille Baby carrier everywhere (my husband is wearing it in the photo above) and we're getting more and more into our baby hiking backpack (our currently hiking backpack is a model from MEC in Canada). These are all great for navigating the airport with a toddler as well.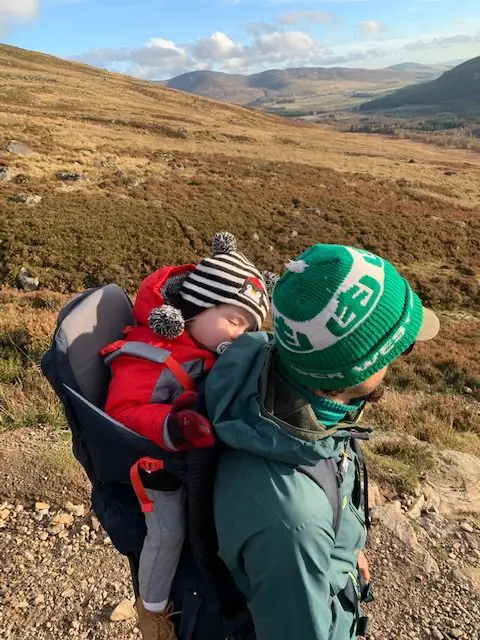 Our 6-day Scotland Road Trip Itinerary (with a baby or toddler)
We are based in Dundee, near St Andrews, but this itinerary would also be ideal for anyone staying in Edinburgh as well.
We slept in one place the whole week (in Dundee). Without a baby or toddler, it might have been nice to jump around and sleep in other towns but, with a wee one, we opted for the simplest plan! We wanted to pack a lot of sightseeing in, but still have it be enjoyable for our son and make sure he got enough sleep.
You'll see later that even though I took the time to create a "perfect" bespoke, curated itinerary — road tripping with a toddler, grandparents, and sleep-deprived parents requires giving yourselves grace and making room for last-minute changes!
Here is what we planned; our complete itinerary (the simplified version), with more of an explanation down below:
Day 1
Day 2
Day 3
Day 4
Day 5
Day 6
Edinburgh
St Andrews


Lindores Abbey Distillery

Glenturret Distillery

Stirling

The Kelpies at the Helix
Dunnottar Castle

Stonehaven

Fettercairn Distillery

Davidson Cottage

Lunan Bay 

Arbroath Cliffs
Highlands drive in Cairngorms National Park

(Stop at ruins, castles, distilleries along the way)

Glamis Castle


Potential stops:

-Forfar
-Kirriemuir
-The Gin Bothy Experience


Day 1: Edinburgh
There is a LOT to see and do in Edinburgh, so if you're able to spend more than one day here, I would! You'll be slowed down considerably by a baby or toddler so you'll want more time here if there are many things on your Edinburgh wish list. We had all been there before so we decided to just do the one day.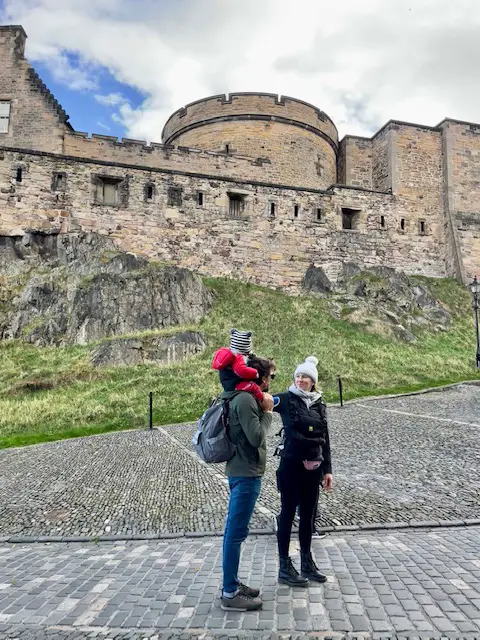 Here are some of the best things to stop and do in Edinburgh with a baby or toddler:
Calton Hill
There's a lot of open space for a toddler to run around, and great views of the city.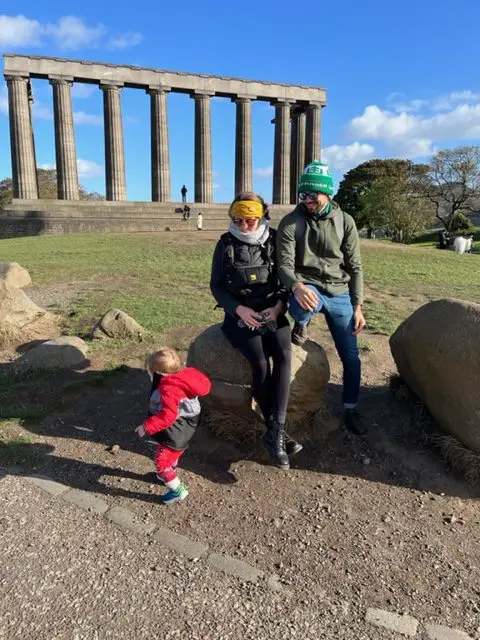 Edinburgh Castle
You may have to reserve this in advance depending on the season! If you only have time to do one or two activities in Edinburgh, this is a good one to choose because you'll get history, views, and plenty of space for your toddler to run around!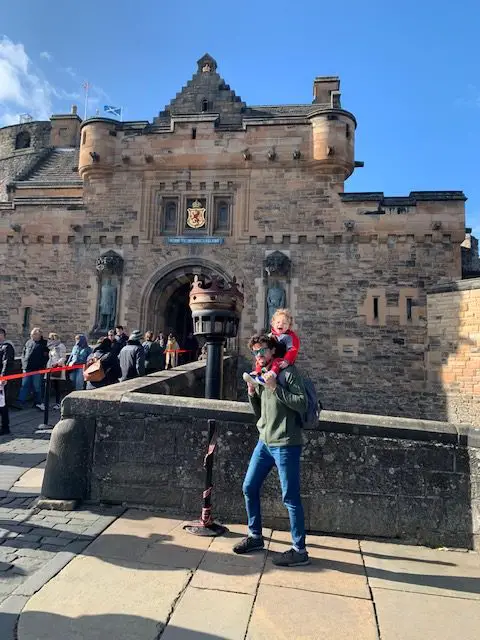 Day 2: St Andrews
My parents wanted to see the town of St Andrews because it's where my husband is working as a visiting scholar this term (and the reason we're in Scotland…) but also because St Andrews is beeeaautiful!
It's kind of a thing that Americans walk around Scotland saying, "oh my god, I feel like we're in Harry Potter!" and truly, you will feel like saying this a lot when you're in St Andrews.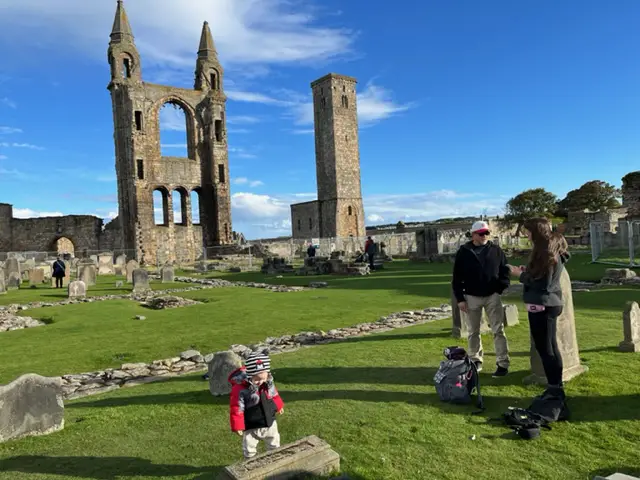 It's kind of a fairy tale university town and home to the third-oldest university in the English-speaking world. You'll visit cute little old cafes, winding cobblestone streets, a gorgeous ruined castle on the seaside… and a cathedral in ruins that was once the largest building in Europe.
Another fun fact — St Andrews is where Prince William and Kate Middleton met each other as students. And there are some cafes/restaurants around town that advertise themselves as places where the two met for a date. Some of the places to visit in St Andrews include:
St Andrews Cathedral
St Andrews Castle
The Swilcan Bridge
St Andrews Botanic Garden
St Andrews University
My son's favorite thing to do in St Andrews, now that we've been there several times to visit his dad at school, is to run around the ruins and cemetery at St Andrews Cathedral. There's also a cute canal full of ducks that he loves to chase.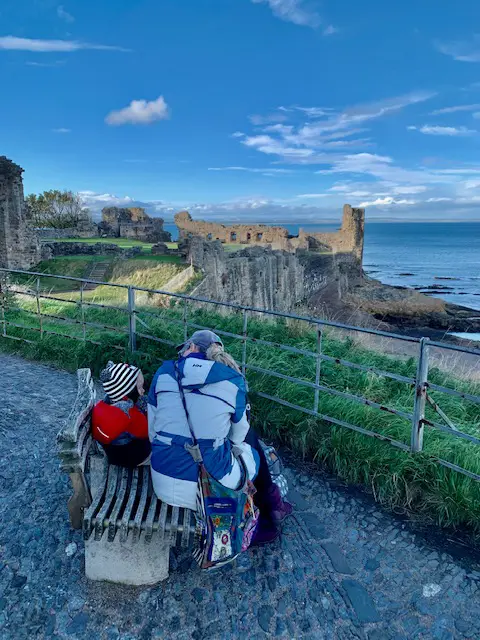 Day 3: Distillery tour, Stirling, the Kelpies
This is definitely too ambitious to try and do ALL of these in one day. I listed them together as more of a choice. You could choose to visit, for example, the city of Stirling in the morning and the Glenturret Distillery (the oldest working distillery in Scotland!) in the afternoon.
Or you could visit the Lindores Abbey Distillery in the morning and then see the Kelpies in the afternoon… Or do any other combination of these awesome sites/attractions!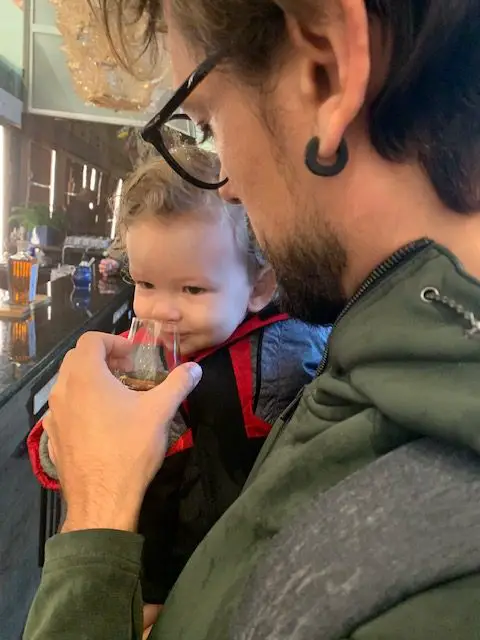 The Kelpies are a 100-foot tall double horse head statue that is really impressive in person. They're part of a larger family park, with nature trails, called the Helix.
I would definitely recommend seeing the Kelpies at the Helix with a toddler (or baby or a child!) because (1) it's FREE to just go and see them (without a tour) and (2) there are places to eat, drink, shop, and play — plenty of space and playgrounds for toddlers and kids to have a blast. There are also picnic tables if it's nice out and you wanted to bring your own meal.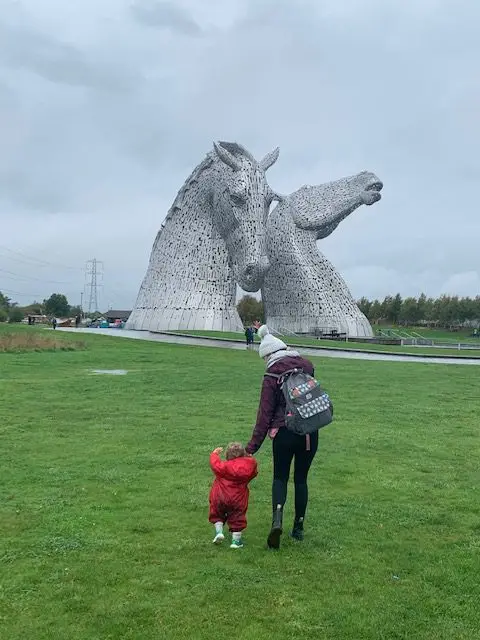 Day 4: Dunnottar Castle and Stonehaven
This day in the car was perhaps my favorite so far, if I had to choose. It's a drive up the coast (for us, from Dundee to Dunnottar Castle, near the town of Stonehaven).
Dunnottar Castle itself is stunning, a ruined castle perched on a cliff. You climb winding stairs up the entrance, so a baby carrier or hiking backpack is pretty essential. This was our final destination, the climatic finish to a day of road tripping along the Scottish coast.
We had so much fun running around the grounds of this castle. We arrived a bit later in the day, around the time of the last entrance (I want to say it was around 3 pm) and that was PERFECT because we had the place almost to ourselves — and during golden hour.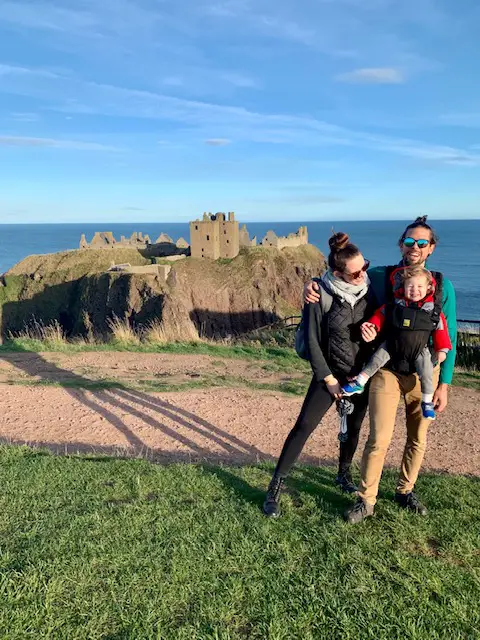 On the way to the castle, we made a couple of stops. Some of the places you can stop along the way are:
The Davidson Cottage: Where the family who created Harley Davidson lived
Fettercairn Distillery
Arbroath Cliffs
Lunan Bay
We stopped at Arbroath Cliffs and Lunan Bay on the way up to Dunnottar Castle and found that that made for the perfect day trip for us.
Arbroath is a seaside town with the most gorgeous walk along massive cliffs — with very high, steep drops! We had our son in his carrier the whole time so I wouldn't have a heart attack.
We also stopped for lunch at a cute cottage restaurant in Arbroath called the Old Brewhouse, which had great service — especially for our son. They brought him a little coloring set, juice, and had a great kid's menu.
We stopped at Lunan Bay, a beautiful beach where my dad and husband had fun skipping rocks before getting back in the car and back on our merry way!
Day 5: Highlands drive in Cairngorms National Park
This was a road trip day that we actually did on another day, a few weeks later, despite having it planned for this 6-day road trip week.
It's a good example of how we should try to be flexible and delete/move items from our itinerary that best suit our family in the moment!
I'm glad we got around to it, and if you like to hike, I suggest that you try to make this one of your priority days. If you want to see the Scottish Highlands, but you only have one day (and a baby/toddler with you), this is a good way to do it: Drive to Glen Clova, about 50 minutes north of Dundee, and do the Loch Brandy hike.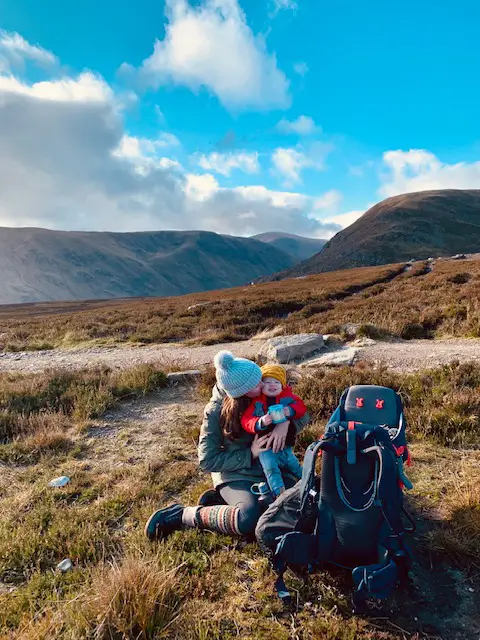 It's not too strenuous and we were able to stop comfortably many times along the way to give our toddler a break from the hiking backpack and fuel up on snacks! And the views are incredible.
There's also a hotel with a restaurant and cafe if you want to get coffee and drinks before or after your hike. I think it would also be lovely to spend a night at the hotel — it's super cute, nestled at the foothills of the highlands.
We also considered other longer routes through the highlands, such as doing a loop in the Cairngorms up to Balmoral Castle. This was Queen Elizabeth II's property in Scotland.
There are so many ruins and castles to see along this road (such as Braemar Castle and Knock Castle), but it takes about 5-6 hours (without stops) so with a baby, I thought we would probably have to stop somewhere in between to sleep for the night or it would be too long of a day trip for us. It's still on my list though!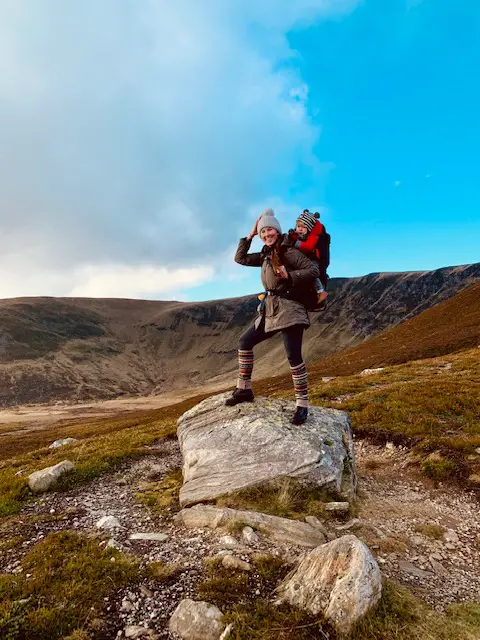 Day 6: Glamis Castle
We were SO pleasantly surprised by Glamis Castle! It's just a 25-minute drive from Dundee and the childhood home of the the Queen Mother (Queen Elizabeth II's mother) and the birthplace of Princess Margaret.
It's also supposedly the most haunted castle in Scotland and has connections to Shakespeare's Macbeth.
You can visit the castle and gardens, or just the gardens (which is cheaper). The "Alice in Wonderland"-like gardens are so beautiful. You can also take photos with carved statues of the three Macbeth witches.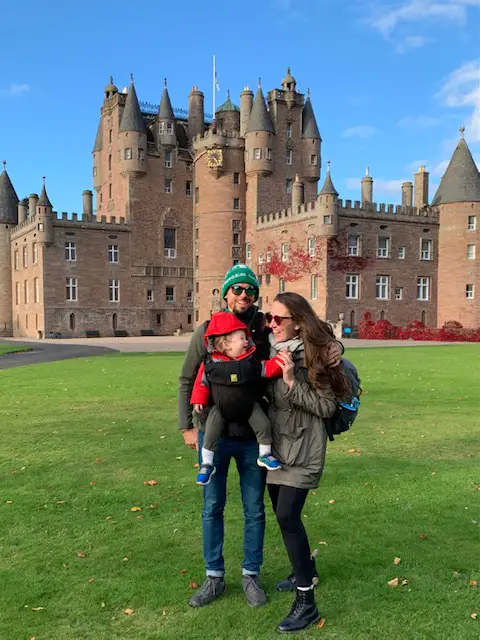 It's another place that's great for a toddler because there's so much space to run around. While my son could not be put down inside the castle itself (because he would have destroyed all of the priceless furniture), he loved throwing rocks into the fountain outside, running down the garden maze paths, and smacking the statues.
Other places near Glamis Castle that would be great to stop in, explore, and get a coffee or meal:
the town of Forfar
the town of Kirriemuir (where playwright and writer of Peter Pan, JM Barrie is from!)
the Gin Bothy Experience
Alternative Routes and Stops for Your Scotland Road Trip
If you're still looking for more activities and places to add to your Scotland road trip itinerary, I would recommend some of these ideas:
Loch Lomond
Glasgow
Broughty Ferry: A cute seaside town with good restaurants, cafes, and free castle (with a playground next to it!)
The Black Watch Castle and Museum in Perth
Lomond Hills Regional Park
Aberdeen
Of course, where you choose to road trip will depend greatly on where you're choosing to stay in Scotland. My ideas tend to be a bit more to the east because we're based in Dundee, but anywhere you go in Scotland will be magical I'm sure.
Do I Need to Reserve Tours Early for My Scotland Trip?
Depending on what time of the year you'll be visiting Scotland and what attractions you really wish to see, it may be necessary to reserve certain tours in advance.
Since we're here in the semi off season (October), we haven't had too much trouble getting tickets to things like Edinburgh Castle on the day of, but I've heard that popular attractions like this can sell out days in advance in the high season.
Whisky distillery tours require advanced booking as well — most of them take reservations on their websites. If there's a particular restaurant that you know you want to go to, make a reservation. We sometimes had trouble finding a place to eat without a reservation in cities like Edinburgh and St Andrews.
How to Rent a Car for Your Scotland Road Trip
We simply used the Enterprise car rental website, booked in advance, and picked up our rental car from the Enterprise location across from our Airbnb! It's a good idea to look up rental places near where you'll be staying if you plan to do any road tripping while in Scotland.
Also: It's a good idea to watch some YouTube videos or do some Google searches to become acquainted with the Scottish/UK road signs if you've never driven here before.
We brought our own car seat with us from the States and Canada.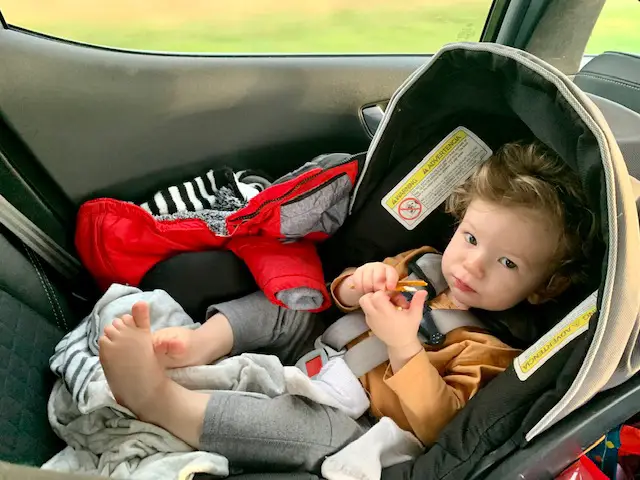 What to Pack in the Car for Your Scotland Road Trip with a Baby or Toddler
You can be tempted to bring the entire house with you when you're taking a car ride, and while it is good to be prepared, I think bringing too much stuff in the car just makes a mess and makes it harder to find things quickly when you need them.
My biggest piece of advice would be to really think about what you'll need immediate access to while your baby or toddler is in the car and put those items loosely in a reusable shopping bag at your feet (or close enough for you to be able to grab quickly).
Here's what I like to place in that "close" bag:
Food/drinks (snacks that he can eat in the car and milk/water sippy cup)
Some sticker books
A few battery-powered toys with buttons that I know he likes
His blanket and pacifier
Wipes
Snacks and a water bottle for the grown-ups
In the trunk, we put all the winter jackets and clothes, the baby carrier, and anything else.
I hope this helps you plan your own Scotland road trip with a baby/toddler comfortably! You're going to have so much fun 🙂