Is it ever possible to make a definitive list of THE MOST romantic cities in Europe—Europe, the World's Most Romantic Continent (some might say…)? No, probably not. But we're going to try anyway!
What this list won't have on it: Paris, London, Rome, Milan, Venice, Florence… sorry, everybody! These cities are incredible and incredibly romantic, but they have topped many a list and frankly, we're sick of their very romantic faces.
Also from us: Romantic Travel Quotes for Couples
So, this list has some other European cities that are equally romantic but perhaps not as well-publicized (there are some juggernauts here too though, we admit it—looking at you, Santorini).
It kills us to leave off some of our other favorites: Amsterdam, Porto, and Vienna. We love you! You're awesome! Stay romantic, guys!
If you're in a couple, tell your significant other to get in travel-mode NOW. Maybe it's time to start planning that honeymoon! If you're not in a relationship, book a solo ticket and line up some hot international dates in these very romantic European cities! 
---
25. Lagos, Portugal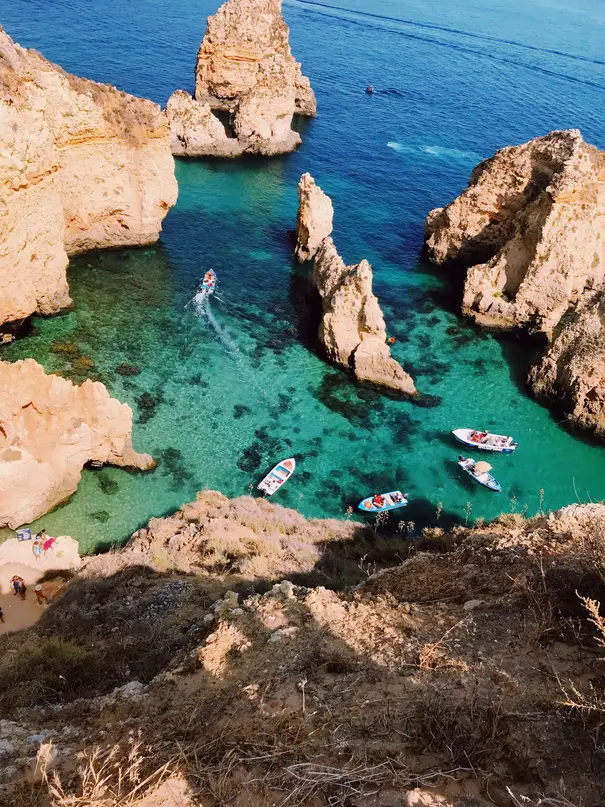 Lagos is so absolutely beautiful and I would say underrated considering the crazy amazing rock formations of Ponta da Piedade and Benagil Cave—one of the coolest caves in the entire world.
Besides all the obvious cute restaurants and cafes and gorgeous beaches that make Lagos romantic, something special is taking a kayak trip out to see some of these truly one-of-a-kind rock formations with your love.
In Lagos, there's also the possibility of a romantic road trip, hopping from one cute beach town to the next in the stunning Algarve region.
Best time to visit Lagos:
The beach days are best in late summer but that's also when there are massive crowds. To avoid crowds, it's best to visit between April and June or September-October.
24. Bled, Slovenia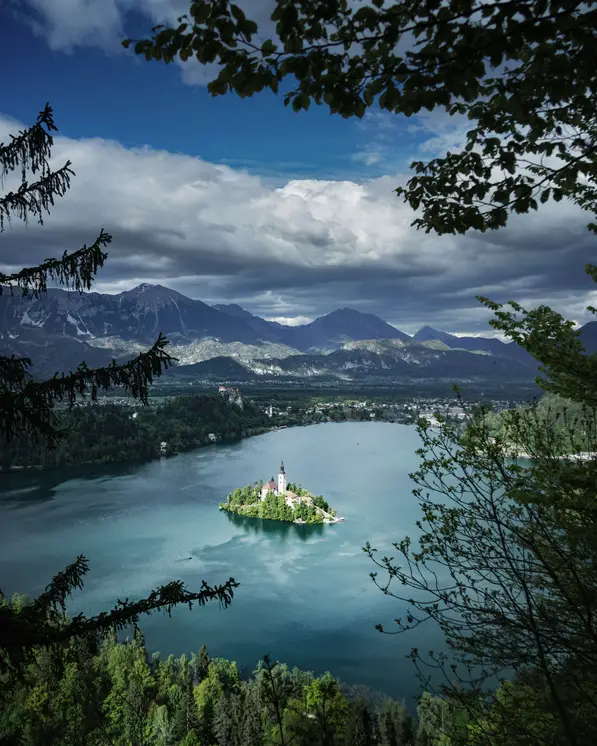 Ljubljana is also a very romantic place to visit in Slovenia, but we're going with Lake Bled here because of the unique romantic prospects it provides for couples.
First of all, if you want, you can row a boat yourself up to the island in Lake Bled! Hello, private gondola ride—who needs Venice!? (Just kidding Venice, we love you, but you're not making this list because you win too many things).
Alternatively, if you don't feel like rowing yourself, you can get a bigger boat with other people to the island or choose to take a stroll or hike surrounding the island, for some insanely breathtaking and romantic views of the castle.
Best time to visit Bled:
It's popular in the summer and at Christmas so spring and fall are the best times to visit for a more relaxed atmosphere.
23. Illas Cíes, Galicia, Spain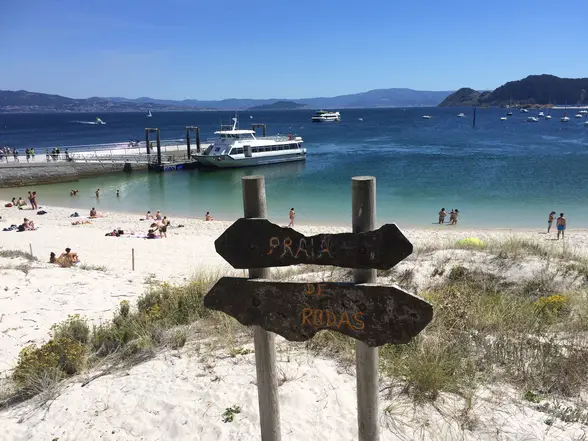 Okay, we cheated. This isn't a city but a tiny grouping of islands off the northwest coast of Spain.
The entire region of Galicia, Spain, is very special and perhaps does not encompass what you typically imagine when you think of Spain (such as flamenco dancing?). The mainland has a mild climate similar to the Pacific Northwest in North America… The Cies Islands are warm, however.
To get here, you take a 45-minute ferry ride from the town of Vigo. You will enjoy some perfect, clear, turquoise water beaches.
AND THE SEAFOOD all over Galicia is insane!!! You'll have no shortage of romantic dinners here, that's for sure!
Best time to visit Illas Cíes:
To avoid the crowds, early September would be a good time to visit but the ferries are weather dependent. Weather tends to be nicest for the beach in July-August.
22. Edinburgh, Scotland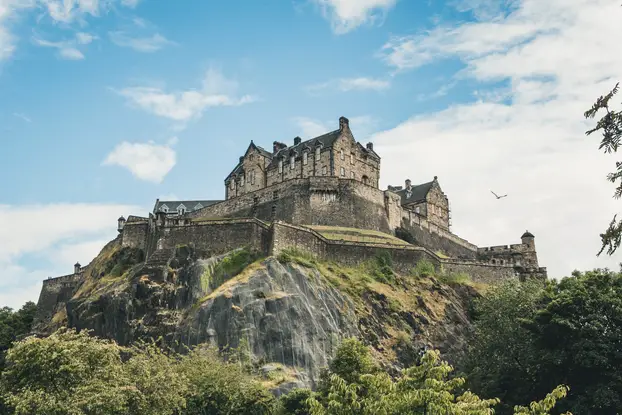 You may be familiar with Edinburgh for such claims to fame as being the place where JK Rowling wrote the first Harry Potter book.
If that isn't enough of a romantic reason for you to visit, Edinburgh also boasts the iconic Edinburgh Castle, where Scotland's Crown Jewels are kept; the Blair Street Underground Vaults, a creepy and mysterious underground world of Edinburgh to explore (perfect for romance!), Scotch Whisky tasting, and more!
You can also hike up Arthur's Seat, a group of hills that serve as the scenic backdrop to this magical fairy tale city.
The best thing about Edinburgh might be walking around and admiring all the tiny, cute alleyways and pretending you're in Harry Potter (if you're into that sort of thing, and I am). 
Best time to visit Edinburgh:
The weather is best June to August but this is also high tourist season so book accommodation early if you decide to visit during this time.
21. Heidelberg, Germany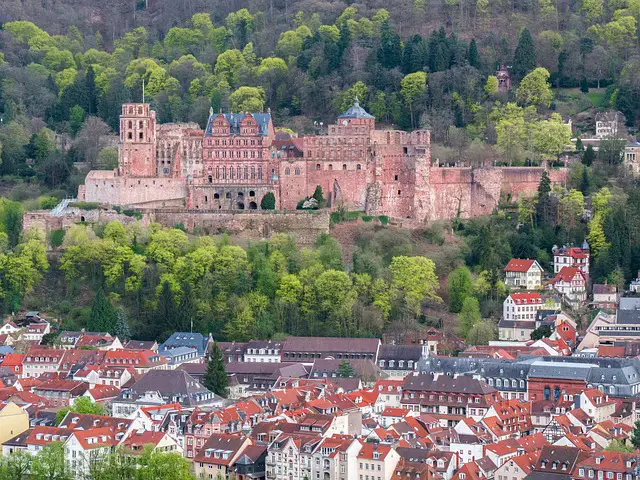 Heidelberg is on this list partially for sentimental reasons, because it's where I (Brittany) spent two years in high school—but also because it happens to be stunningly beautiful and romantic as hell.
In Heidelberg, you can visit the 13th century castle which overlooks a picturesque old town and bridge. It's full of spectacular Baroque architecture, and a youthful and lively vibe due to the fact that it's a thriving university town.
Have a beer with your love in a bar or in a nearby park and you'll soon be soaking up the joyful atmosphere that is Heidelberg.  
Best time to visit Heidelberg:
Any time of year! The weather is nice but not too hot in summer months, there are some Oktoberfest celebrations (although nowhere near like in Munich and other places) in September, and the Christmas market in December is amazing (and very romantic).
20. Palermo, Sicily, Italy
Palermo on the island of Sicily in Italy makes this list for obvious reasons. Look at anyone's travel photos from Palermo and you'll be on Google flights booking a trip in the next five minutes.
It's located between a mountain range and the Tyrrhenian Sea, which is part of the Mediterranean.
In Palermo, you can visit these Moreton Bay fig trees. Are these not the most romantic trees you have ever seen??
You can enjoy a trip filled with art, music, food, and beaches, and perhaps you'll just get married there any never leave again… It's that romantic.
Best time to visit Palermo:
To avoid the hot, hot heat of summer, May to June and September to October is when the weather is perfect for walking around and hanging out comfortably at the beach.
19. Aix-en-Provence, France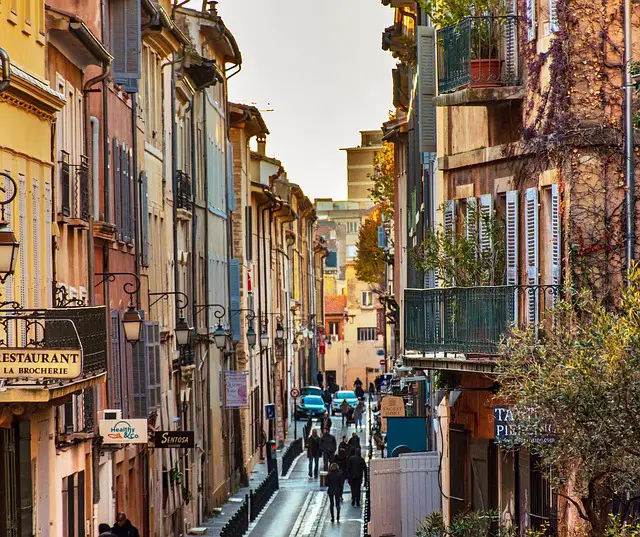 Aix-en-Provence is a city located in southern France. It's really hard to choose just one place in southern France as being the "most romantic" as really the entire region seems to have been created for romance.
But we'll go with Aix because it encapsulates the overall relaxed and chic love affair people are trying to have when they take a trip to this part of the world.
The old downtown of Aix makes you feel like you're in a French movie—surrounded by beautiful architecture, cafes, artwork, fountains. It's exquisite. And the food ain't bad either.  
Best time to visit Aix-en-Provence:
To avoid the brutal winter winds and the summer crowds from Paris, visit in spring (April-May) or fall (September-October).
18. Lapland, Finland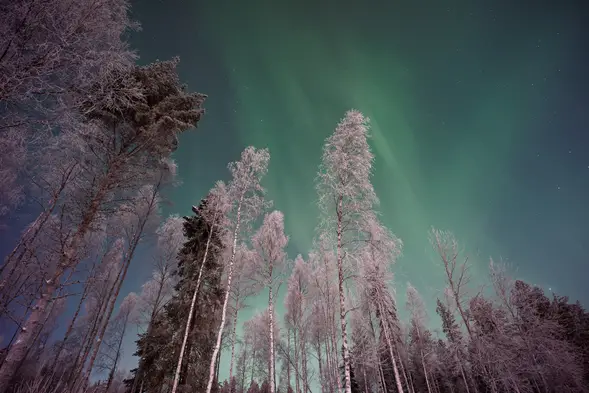 This is some Christmas-movie winter wonderland on Earth, Candyland Princess Frostine come to life, totally unreal kind of place.
Lapland, Finland is one of the best places on the planet to view the Northern Lights (Aurora Borealis), which are visible more than 200 nights out of the year here.
You can even stay at places such as the Northern Lights Village, where you can (1) meet Santa Claus, and (2) see the Northern Lights from your hotel bed because the section above your bed is glass. I cannot fathom anything more romantic. We should maybe just finish the list here.  
Best time to visit Lapland:
To see the Northern Lights, visit between mid-August and early April. Apparently, the best time to see the Northern Lights is at the beginning and at the end of every season.
17. Mostar, Bosnia and Herzegovnia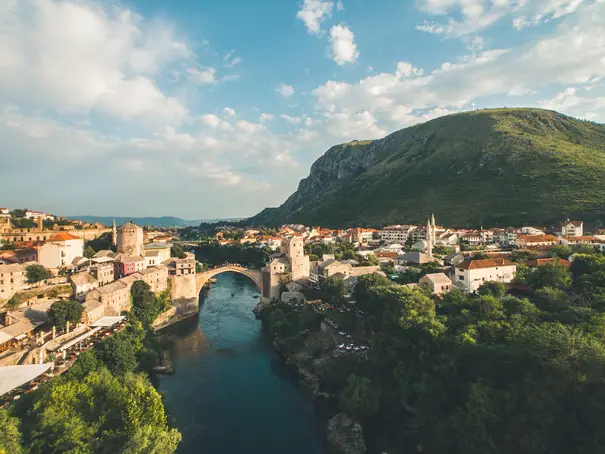 Mostar is another fairytale place, its most famous landmark being the Stari Most—a beautiful bridge that some locals traditionally jump from.
The city is full of cobblestone streets and surrounded by mountainous landscapes. There are remnants of the 1990s conflict that remain in the old part of the city, where you can find bullet holes on the wall and visit what's called the "sniper tower."
Mostar also features many romantic cozy and adorable hotels, highly rated restaurants, and hiking trails. In its strength and beauty, Mostar is a perfect addition to this list.
Best time to visit Mostar:
To avoid crowds and bad weather, go in late spring or early fall.
16. Positano, Italy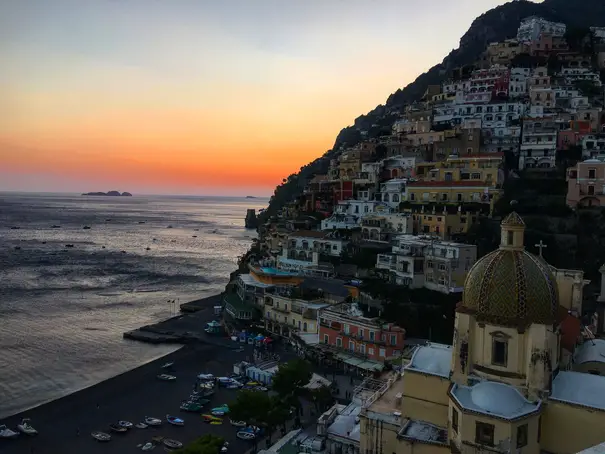 Positano, on the Amalfi Coast, has topped a lot of lists such as this as well. How could it not? A popular vacation spot of the rich and famous, Positano is Instagram come to life at every turn.
It's colorful, vibrant, and extremely walkable. You can visit art galleries, shop, hang out at the beach, EAT. Take pictures of yourself eating breakfast on a stunning balcony overlooking an adorable hillside town… All the good, romantic stuff. Time to book that trip.
Best time to visit Positano:
Positano is most visited from May to September with prices lower in the first half of summer (May-June).
15. Dingle, Ireland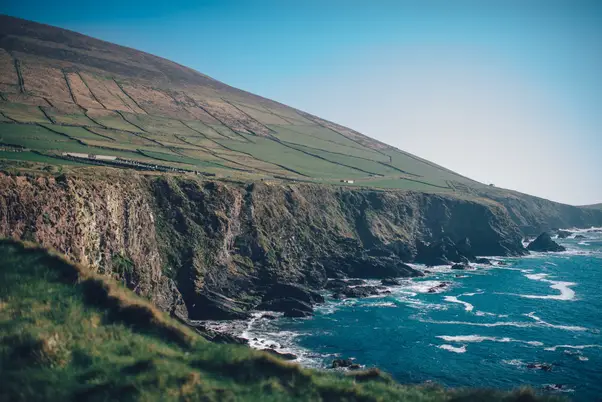 Dingle is a tiny town, perhaps the smallest on this list, of about 2,000 people on the southwestern tip of Ireland.
For romantics who want to listen to live music, experience small-town friendliness during their vacation, and enjoy some peace and quiet, this might be the place for you. 
Best time to visit Dingle:
Dingle isn't known for its spectacular weather but your best bet is to visit during summer months (June to August).
14. Prague, Czech Republic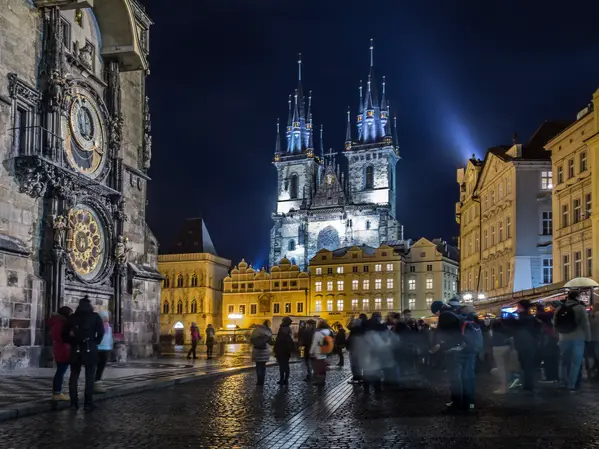 I think that Paris is romantic, but because you've heard that Paris is romantic so many times, it can sometimes disappoint you in the moments where it doesn't feel so romantic (such as riding the gross metro, for example). If that makes any sense.
On the other hand, Prague for me had no romantic aspirations, so when it hit me in the face with its super romantic vibes, I was pleasantly surprised and overwhelmed!
The architecture in Prague is so mysteriously, heartbreakingly gorgeous. A night time stroll in the old town square is everything.  
Best time to visit Prague:
Spring and fall are the best times to avoid the crowds of summer and the painful cold of the winter.
13. Nerja, Spain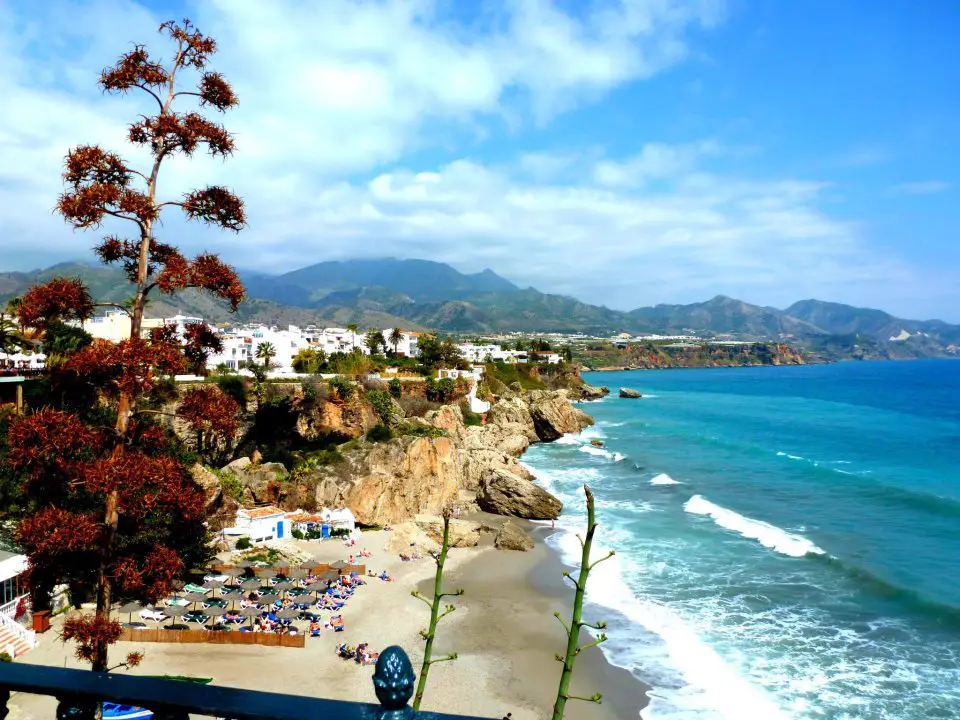 Nerja is located in Andalusia in southeastern Spain, not far from amazing Granada and Malaga. It's situated on the Mediterranean and offers incredible caves and beaches to explore, as well as delicious seafood and ambiance galore.
For couples who like nature and hiking, there is nearby El Cielo, a 1,508 meter-mountain from which you can get unobstructed views of Costa del Sol and the North African coastline.
Best time to visit Nerja:
Nerja is most popular from May to July, but the weather is also nicest during this time so it's probably worth it to try to take your trip during this period. Just try and book accommodation early, or simply take a day trip to Nerja from Granada or Malaga.
12. Bruges, Belgium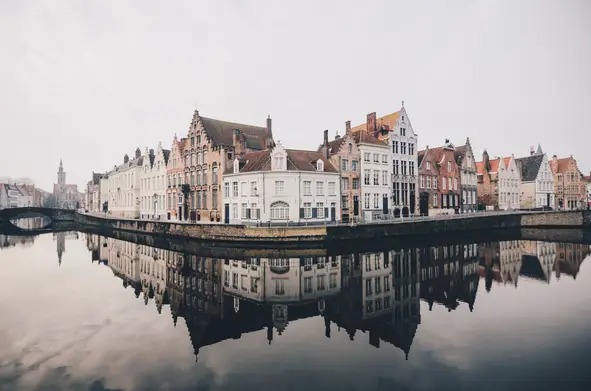 In addition to its beauty, Bruges has a tranquil area of town called Minnewater which is romance embodied.
Here you'll find a calm lake—known as "Lover's Lake"—no kidding! And a bridge that has a lovers' legend attached to it.
Long ago, a young woman named Minna fell in love with a man named Stromberg, of whom her father did not approve. Minna escaped into the forest to find Stromberg. The story goes that she died from exhaustion in his arms, finding him just too late. It's said that if you cross the bridge with your lover and then kiss, it will be love eternal. See… romance!
Best time to visit Bruges:
Bruges can be damp for most of the colder months, so the summer months are the ideal time to visit.
11. Innsbruck, Austria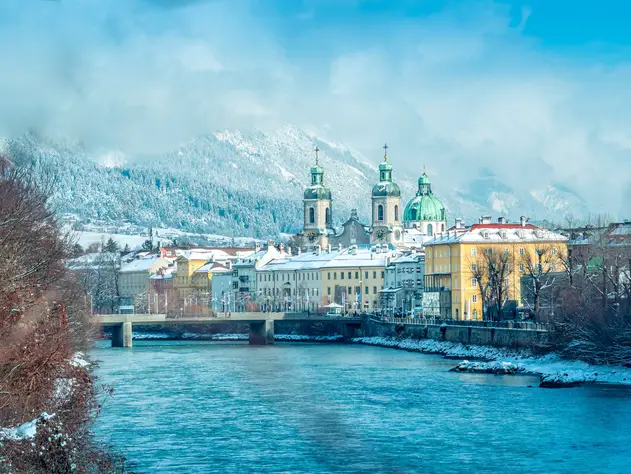 The cuteness of Innsbruck will warm your heart. Innsbruck is a small, colorful getaway town in the Austrian Alps.
You can climb a number of towers in town, or take a cable car into the mountains to enjoy incredible views.
Imagine good hearty meals, delicious beer, pastel buildings… and maybe even some yodeling. Who could ask for more?
Best time to visit Innsbruck:
High tourist season is during Christmas time (late December to early January). A good time to visit is late January to April, when there aren't as many crowds and the weather is nice and cool.
10. Dubrovnik, Croatia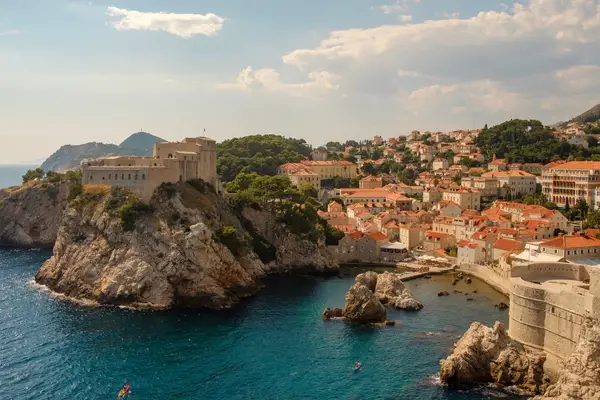 The thing to do in Dubrovnik is have a romantic stroll around the 16th century stone walls surrounding the city.
In doing this, you'll come across tiny alleys and staircases, see amazing views of the Adriatic Sea, and get lost together! Try it!
Also, it's a good idea to take the cable car and get an aerial view of the entire city!
Best time to visit Dubrovnik:
Early fall, September to October, are nice times to come and avoid the heat and crowds.
9. Valletta, Malta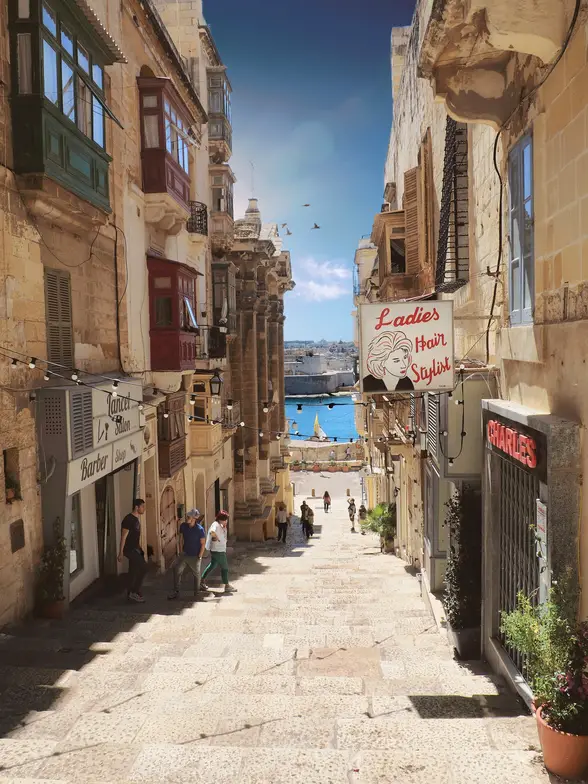 Valletta is the capital of Malta, an island country in the Mediterranean Sea.
It's so romantic that it was named the European Capital of Culture in 2018! In Valletta, you can have date night at one of the oldest theatres in Europe, the Manoel Theatre, which puts on musicals and operas.
For Game of Thrones fans, you can take a tour of places from the series that were filmed in Valletta and elsewhere in Malta! For romantic inspiration, I will leave you with a swoonworthy Khal Drogo quote:
"Maybe it is a dream. Your dream. My dream. I do not know. These are questions for wise men with skinny arms. You are the moon of my life. That is all I know and all I need to know. And if this is a dream, I will kill the man who tries to wake me." – Khal Drogo
Best time to visit Valletta:
Go in early fall to avoid the summer peak season.
8. Grenoble, France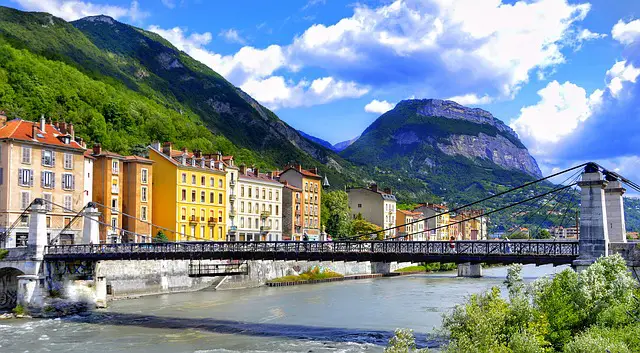 Grenoble is at the foot of the French Alps in southeastern France and calls itself "The Capital of the Alps."
In this picturesque city, you can take a fun ride together in "Les Bulles," a cable car that looks like big glass balls going up a mountain.
At the top, you can visit La Bastille, an ancient fort on the top of the hill, and see some amazing views of the town and the surrounding Alps.
It was a foggy rainy weekend when I went and I was still overwhelmed with the beauty and romance of the place.
Best time to visit Grenoble:
The early summer is when temperatures are mild, the rainy season is ending, and accommodation is less expensive. Rainy season is April to June. Peak tourist seasons are mid and late summer, and Christmas vacation at the end of December and beginning of January, which increases accommodation prices.
7. Cadaqués, Catalonia, Spain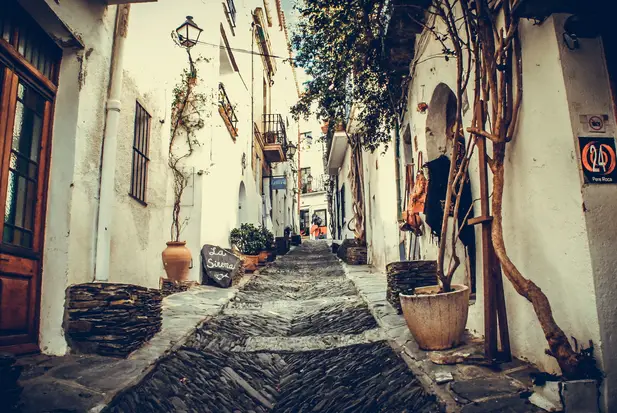 Cadaqués, Catalonia, Spain is an idyllic seaside town in northeastern Spain, made distinct by its bright white buildings with beautiful blue details.
As this peninsula is the birthplace of artist Salvador Dalí, you can visit the Casa-Museu Salvador Dalí to see mind-bending and mysterious Dalí creations.
If you're one for romantic sunrises, the rocky Cabo de Creus is the most eastern point of Spain, and therefore receives the first morning rays of sunlight on the Iberian peninsula. 
Best time to visit Cadaqués:
The early fall is when temperatures are still nice but there aren't as many other tourists. Peak times, and therefore the most expensive, are in late summer.
6. Sardinia, Italy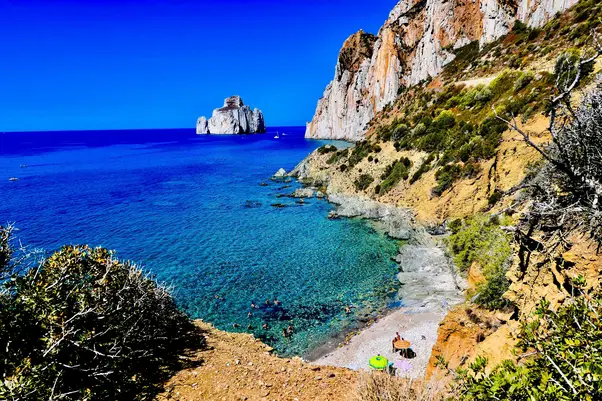 Yes, we know, this is another island and not a city. Cheating again! Not very romantic of us.
Sardinia is an island in the Mediterranean Sea that consistently seems to stun visitors with its rugged, "untouched" landscapes and beautiful beaches.
Some of the most romantic places that seem "hidden" and secluded in ancient and historic Sardinia include: the Golfo di Orosei coves, the Grotto di Nettuno—a sea cavern (!), and seaside ruins that are THOUSANDS of years old.
Best time to visit Sardinia:
The weather is best from April to June, and can get extremely hot in  later summer months.
5. Paphos, Cyprus
Cyprus is interesting place politically, divided still between Turkish rule in the north and the culturally Greek in the south.
It's a hugely popular tourist destination and its romance lies in its obvious beauty, as a beach town, but especially in its history.
Paphos is the birthplace of Aphrodite, Greek goddess of love, beauty, and passion! I take this as a sign that all lovers who visit this island will be blessed by some kind of Aphrodite love spell.
It is full of ancient ruins to see including the House of Dionysus and the House of Theseus.
Best time to visit Paphos:
For its mild spring time temperatures beginning in March, this is the best time to visit Cyprus comfortably.
4. Budapest, Hungary
Paris has popped up a few times without actually being on this list, and here it is again: Budapest is sometimes called "Paris of the East."
The capital city of Hungary, Budapest has much to offer for tourists in terms of romantic ventures, including the 200-room Buda Castle.
In addition to the self-explanatory and spectacular "Castle Hill," the city's Parliament building is also gorgeous—a beautiful Gothic-style masterpiece that houses the Hungarian Crown Jewels.
A popular thing to do is simply take a walk along the Danube promenade to take in the unique architecture.
Best time to visit Budapest:
As with many European destinations, the spring and fall are the best times to visit Budapest, as it shouldn't be too hot or cold or full of tourists during these seasons.
3. Gruyères, Switzerland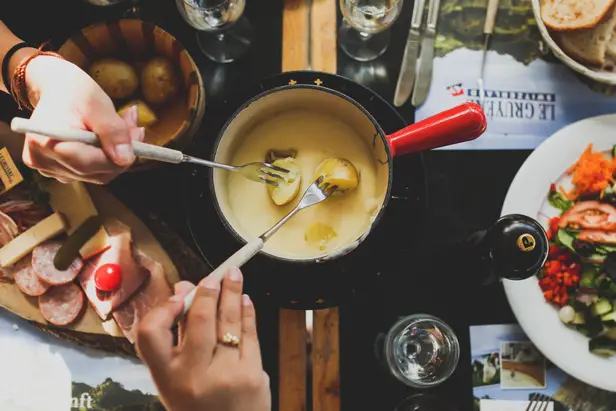 So yea, yea, yea this town is awesome and beautiful and stuff. But most importantly, it is home of La Maison du Gruyère, the most romantic place on Earth—a place where you can visit local master cheesemakers on the Swiss foothills and EAT their creations!!
Imagine you are hanging out with the love of your life AND a giant slab of perfectly crafted cheese! Honestly, the pure beauty of this thought makes me want to cry.
Best time to visit Gruyères:
Any time of year seems to be great to visit this town, but summer months will give you sunny views of the mountains.
2. Santorini, Greece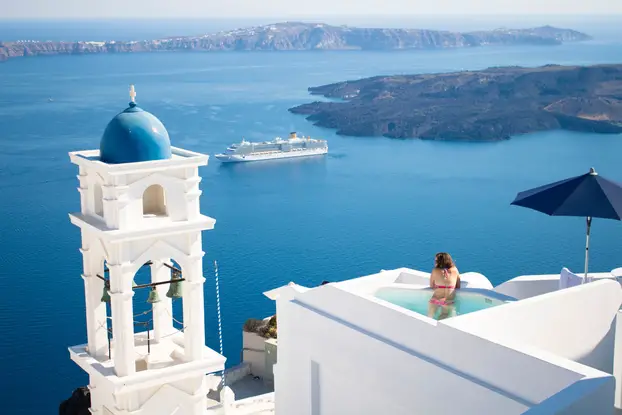 Yes, obviously we have to include Santorini or we would be big fat unromantic liars.
Imagine the most beautiful picture-perfect sunset behind a volcanic rock covered in gorgeous bright white homes.
Santorini simply oozes charm and romance and is hard to compete with.
Best time to visit Santorini:
From April to November, the weather is warmest and you have less chance of having your vacation rained on!
1. Copenhagen, Denmark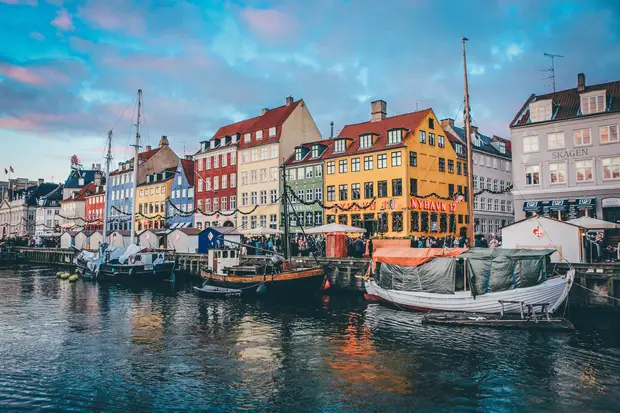 Copenhagen is the capital of Denmark, and perfect for a cozy winter getaway. You may have heard something about the Danish tradition of hygge, which translates to me as "super cozyness" and I am 100% onboard.
A great date spot is the magical amusement park Tivoli Gardens, which was frequented often by fairytale author Hans Christian Andersen and served as an inspiration to Walt Disney.
Simply walking around the colorful cobblestone streets and then seeking a cozy café or bar for shelter is reason enough to visit this romantic destination.
Best time to visit Copenhagen:
If you want the sort of winter wonderland holiday described above and visit in colder months (November to February), you shouldn't have to worry about things being too touristy. The high seasons tends to be in the summer months with mild temperatures in the spring and fall. Depends what kind of holiday you're looking for!
---
So, this could never be a complete list of the most romantic cities in Europe because that is just way too hard! But we tried. Hope Venice and Paris aren't too mad at us, and take us back someday. What other cities did we miss?! Let us know! xoxo