I have traveled a LOT with my one-year-old baby — from the time he was just a teeny little thing! It's a TON of fun but packing can be overwhelming without a starting point.
Here I want to share, as simply as possible, all I've learned a lot about what to pack for a weekend away with him, in the hopes that it might help save you some time and stress!
Below you'll find several easy-to-follow, categorized checklists, with a complete PDF printable checklist at the bottom. Happy packing and bon voyage!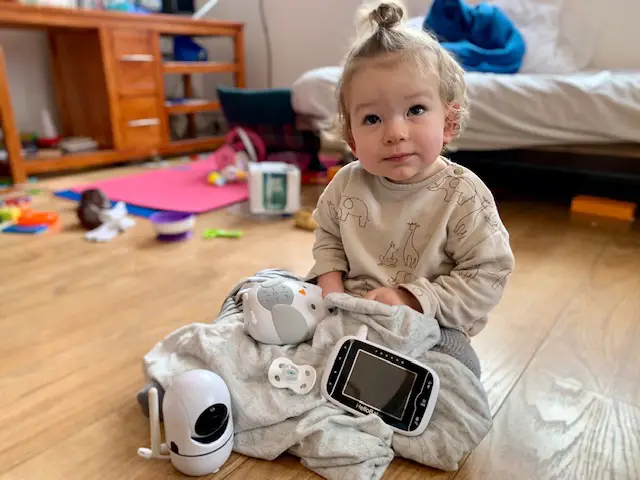 What Type of Bag to Pack?
For a weekend away, if I am flying somewhere, I would personally rather carry on my luggage than check it. A checked bag for a short trip makes me nervous that it might get lost and them I'm without my essentials for the entire time I'm away!
So that means packing light — usually a small rolling suitcase and a backpack diaper bag… and maybe one additional small bag (purse, small backpack, fanny pack, etc.).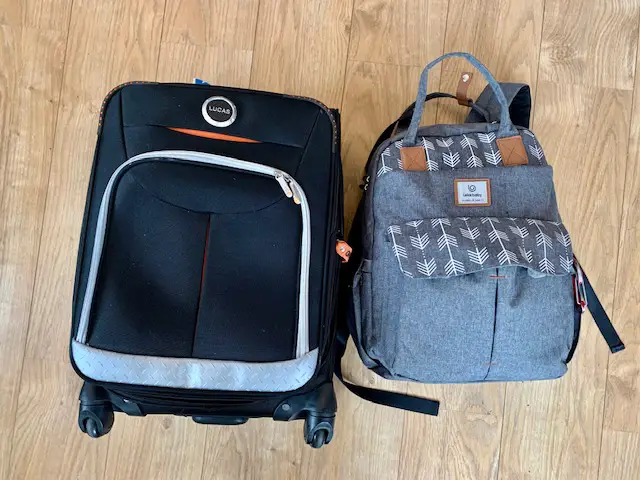 If you don't plan on traveling light or if you're driving, then just pack whatever sort of luggage you feel most comfortable using.
For road trips, keep an open bag (such as a reusable bag) on the floor of the car near your baby and within arm's reach that is filled with the essentials: diaper change items, feeding items, and activities for the car ride.
Diaper Change Items Checklist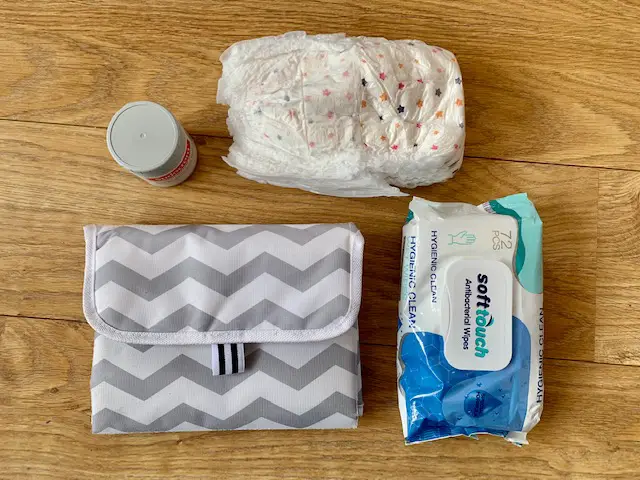 | Diaper change items | Check? Yes/No |
| --- | --- |
| 1. Diapers (5-8 per 24 hour period) | |
| 2. Wipes (1-2 packs) | |
| 3. Diaper rash cream | |
| 4. Changing mat | |
| 5. Hand sanitizer | |
I like to keep my diaper change items very accessible — in their own, easy-to-reach pocket in my diaper bag — and I keep my diaper bag at my feet on the plane. That way, I can easily grab them in an emergency!
Hand sanitizer is a good item to have, although these days it seems to be plentiful at every place you travel to!
Sleep Items Checklist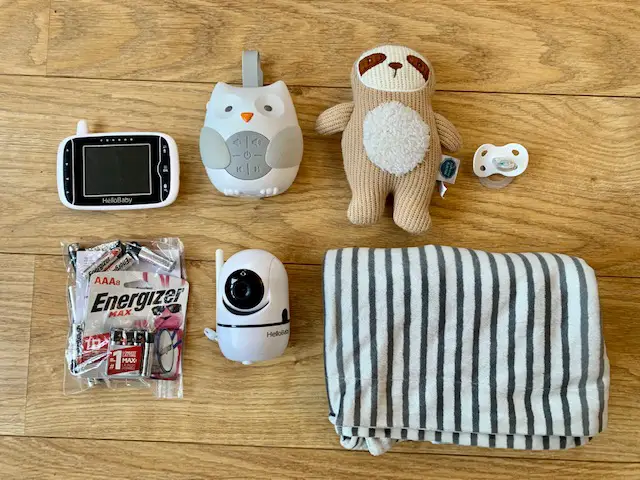 | Sleep items | Check? Yes/No |
| --- | --- |
| 1. Blanket or other comfort item | |
| 2. Another blanket to use as a cover/blackout "curtain" | |
| 3. Pacifiers | |
| 4. Pacifier leashes (to keep pacifiers from falling on airplane floor) | |
| 5. Portable sound machine + extra batteries | |
| 6. Baby monitor + charger/batteries | |
Pacifiers also double as a means of protecting your baby's ears on takeoff and landing on the plane. Sucking on a pacifier or breastfeeding can help with pressure on their little ears.
Pacifier leashes will save you from having to pick up pacifiers from all sorts of gross travel floors — I like to tie my baby's toys and other items to leashes as well when we're flying.
I like to have a second, thin blanket with me to drape over my baby's car seat in the car to block out the sun — or to drape lightly over my baby's eyes to block out the bright lights on the airplane.
Feeding Items Checklist
| Feeding items | Check? Yes/No |
| --- | --- |
| 1. Bottles/sippy cups | |
| 2. Milk/formula/water | |
| 3. Dry snacks and baby food pouches | |
| 4. Hand breast pump (a Haakka is a good option) | |
| 5. Wipes for cleaning bottles and pump parts | |
| 6. Snack catchers to put dry snacks into | |
Check the plane security rules of the country you're traveling in/to regarding HOW MUCH liquid you're allowed to bring with a baby. In over a year of traveling throughout the U.S., Canada, and Europe, I haven't had a problem bringing large bottles of water and baby food/milk with me on the plane — but this can vary from place to place.
I've had security agents test my liquids, but they've (thank goodness) never made me throw them away.
For older babies, consider bringing milk that has a shelf life and doesn't need to be refrigerated.
Breastfeeding makes things a bit more simple except for having to carry a hand pump — and I would, just in case, even if you're exclusively breastfeeding. Sometimes when traveling, your baby's feeding schedule can get a bit out of whack and it's good to have an option to pump milk if you need to.
A Haakaa is a good lightweight option that I've traveled with in the past. I usually bring my regular, heavy breast pump just because that's what I've gotten comfortable using, but I wouldn't recommend it!
How much should you bring? If you know that you'll be able to easily get more milk and snacks at your destination, then just plan to bring enough for your travel days. Otherwise, bring enough to last you the weekend.
Clothing Checklist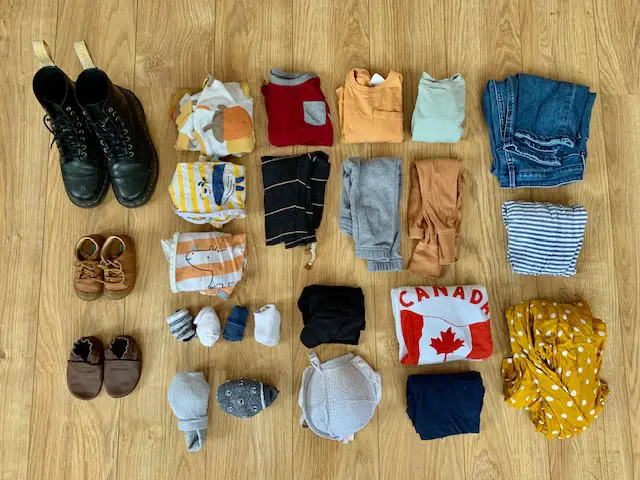 | Clothing items for baby | Check? Yes/No |
| --- | --- |
| 1. Travel day pajamas (2-3 pairs) | |
| 2. Soft slip-on baby shoes for travel day (for walking babies) | |
| 3. Regular shoes (1 pair, for walking babies) | |
| 4. Daytime outfits (2-3 per day) | |
| 5. Pajamas for each night | |
| 6. Light hoodie/sweater | |
| 7. Jacket or warm suit | |
| 8. Enough socks for the weekend (1-2 pairs per day) | |
| Clothing items for Mom | Check? Yes/No |
| --- | --- |
| 1. Comfy athleisure wear travel day outfit (plus one extra outfit just in case) | |
| 2. Fanny pack (for easy access to important items on travel days) | |
| 3. Daytime outfits for the weekend (2-3) | |
| 4. Pajamas (1-2 pairs) | |
| 5. Shoes (1 comfortable pair for walking and 1 for the pool/beach) | |
| 6. Enough underwear and bras for the weekend | |
| 7. Enough socks for the weekend | |
How much clothing you pack might depend on whether or not you can do laundry, but as MOST people probably don't want to be doing laundry on their weekend away — bring enough clothes for you and your baby to last the weekend + travel days.
I like to dress my son in pajamas on travel days because why not keep things as cozy as possible for your baby? For moms, I recommend also dressing cozy, in something that makes you feel good. I like neutrals, leggings, soft tops, etc. for travel days. And I ALWAYS have a spare outfit packed in my carry on, JUST IN CASE!
Of course, the weather will also factor into what exactly you pack for your baby (and yourself!). Check out the additional lists specifically for warm weather and cold weather weekend trips at the end of this article.
Activities/Entertainment Items Checklist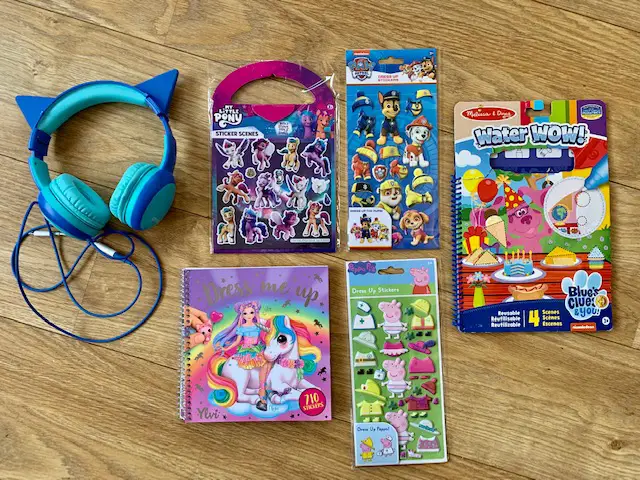 | Activities/Entertainment items | Check? Yes/No |
| --- | --- |
| 1. Stickers/sticker books | |
| 2. Water Wow books | |
| 3. Magnets | |
| 4. Cheapy dollar store items | |
| 5. Anything "new" to your baby/toddler | |
| 6. An iPad/tablet/phone loaded with kid shows and games | |
| 7. Baby/toddler headphones | |
You don't need to bring ALL of these items to entertain your baby or toddler. Choose the ones you think will be most likely to work for your family. I've made a longer list of cheap and easy airplane activities here so be sure to take a look at that too!
I would avoid bringing a ton of toys with you. Your baby or toddler will most likely be most interested in all the new stuff at your destination anyway (so many new rocks, sticks, dirt, the hotel landline… etc.!).
Health and Safety Items Checklist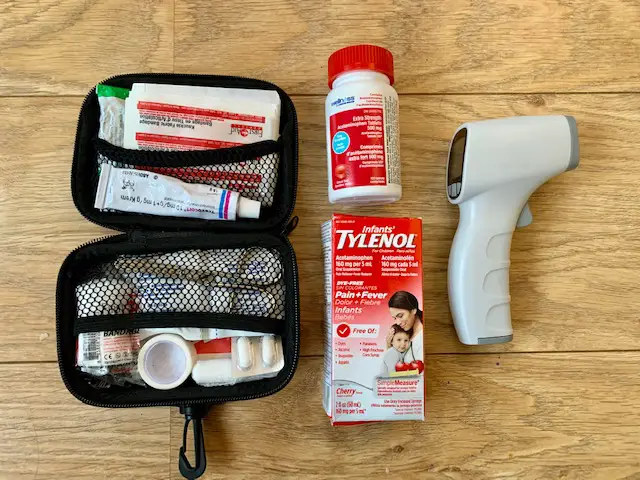 | Healthy and safety items | Check? Yes/No |
| --- | --- |
| 1. Mini first aid kit | |
| 2. Thermometer | |
| 3. Baby Tylenol | |
| 4. Adult Tylenol | |
| 5. Any medications for baby and/or Mom | |
| 6. Nose bulb (for runny noses) | |
I like to be prepared for any potential boo boos or colds caught in transit. A simple mini first aid kit, a thermometer, and some baby Tylenol is good to have. I also like to bring some grown-up Tylenol for the headaches that traveling with a baby can cause! 🙂
"Large" Baby Items Checklist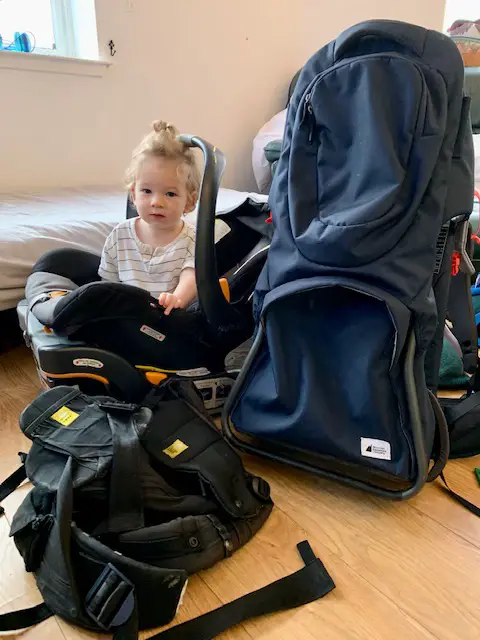 | "Large" Baby Items Checklist | Check? Yes/No |
| --- | --- |
| 1. Stroller (ideally: foldable, lightweight) | |
| 2. Baby carrier or wrap (my personal preference: Lille Baby carrier) | |
| 3. Baby hiking backpack if planning on doing any nature walks or hikes | |
| 4. Car seat | |
You don't necessarily need all of these items! What will you be doing on your weekend away? If it involves driving (or if you want it for the plane), bring your car seat.
If you'll be doing any hiking, bring your baby hiking backpack or baby carrier. Strollers are great for navigating some places but can be limiting in others (looking at you, European cobblestone streets and windy old staircases).
Think about your destination and what "baby carrying contraptions" will be most necessary. Most airlines will check these items for you for free!
Items you usually don't need to bring (request these ahead of time at your destination):
Toiletries Checklist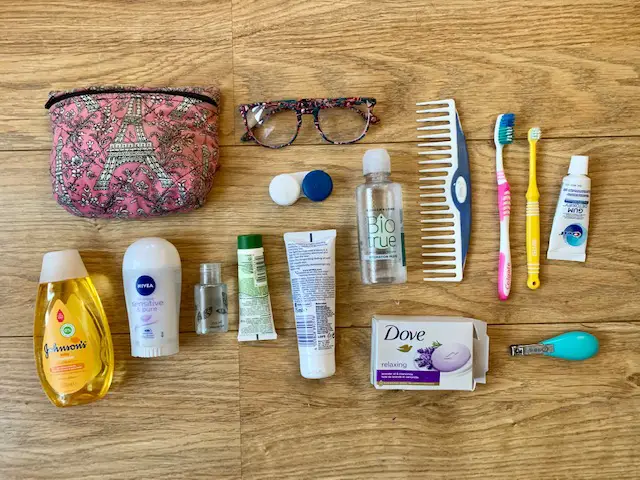 | Baby toiletry/bathroom items | Check? Yes/No |
| --- | --- |
| 1. Baby nail clippers | |
| 2. Baby bath soap | |
| 3. Baby toothbrush and toothpaste | |
| 4. Baby lotion | |
| 5. Vaseline (for wind burn, chapped runny noses, etc.) | |
| Toiletries for Mom | Check? Yes/No |
| --- | --- |
| 1. Shampoo, conditioner, soap, face wash | |
| 2. Toothbrush, toothpaste, floss | |
| 3. Glasses, contacts, contact solution (cases for glasses and contacts) | |
| 4. Lotion, moisturizer | |
| 5. Pads/tampons | |
| 6. Make-up | |
| 7. Deodorant | |
| 8. Hair products, brushes, combs, hair ties, etc. | |
| 9. Hair straighteners, curlers, blow-dryer | |
Toiletries and bathroom items will vary depending on yours and your baby's personal needs but I think these two lists give you a good base to work with! I like to bring travel sized items of toiletries to make more space in my bags.
IMPORTANT Miscellaneous Items Checklist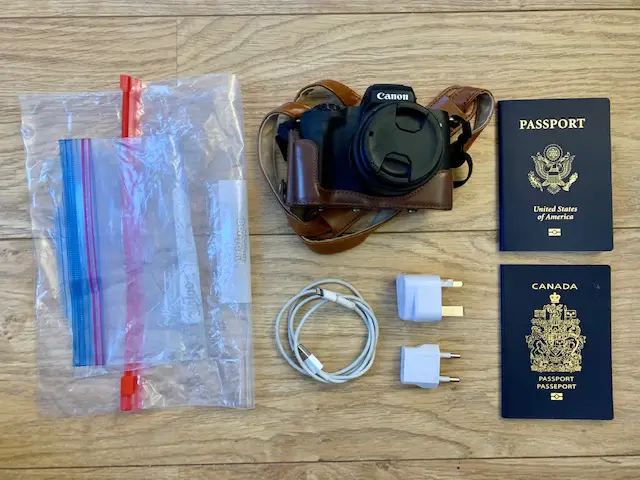 | Important miscellaneous items | Check? Yes/No |
| --- | --- |
| 1. Phone and phone charger | |
| 2. Plug converters for the country you're traveling to | |
| 3. Lap top/tablet and chargers | |
| 4. Headphones/ear pods | |
| 5. Camera + batteries/charger/tripod | |
| 6. Ziploc bags (for wet or soiled clothes — or for any number of reasons! Just good to have) | |
| 7. A folder with all of your important documents (copies of passports, travel insurance, visas, etc.) | |
| 8. Passports! | |
This is where research of the place you're traveling to comes in. Look up what kind of plugs are used in the country where you're going and order some converters to have handy in your carry-on bag right when you arrive.
Chances are you'll be extra exhausted from traveling with a baby and having all the right odds and ends to make your electronics work on arrival will be more important than ever!
Don't forget to look over the 6 important travel documents for traveling with a baby and keep them in a folder in your carry-on when traveling, or (even better) strapped to you in a travel wallet or fanny pack.
Additional Items to Bring for a beach trip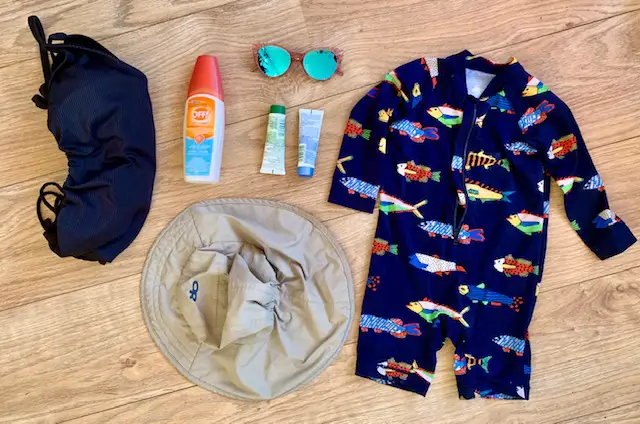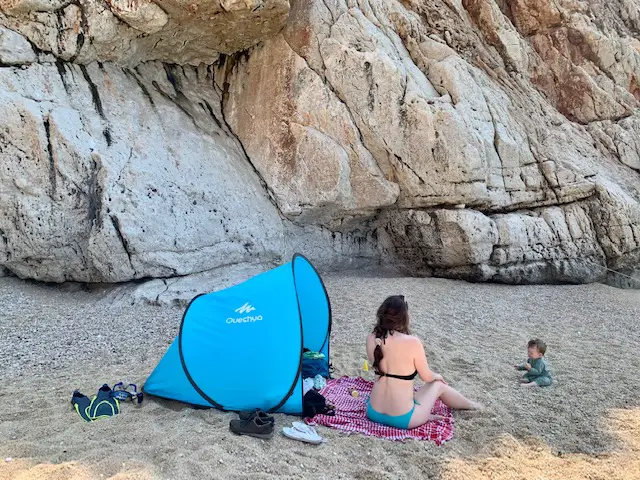 | Beach items | Check? Yes/No |
| --- | --- |
| 1. Beach towel for Mom and baby | |
| 2. Pop-up beach tent | |
| 3. Sunscreen for baby and Mom | |
| 4. Baby powder (to remove sand) | |
| 5. Sun hat for baby and Mom | |
| 6. Swimmies/flotation devices | |
| 7. Bathing suits for baby and Mom | |
| 8. Pool-side cover-up for Mom | |
| 9. Slip on water shoes for baby and flip flops for Mom | |
| 10. Sunglasses | |
| 11. Mosquito repellent | |
Additional Items to Bring for a snowy/cold trip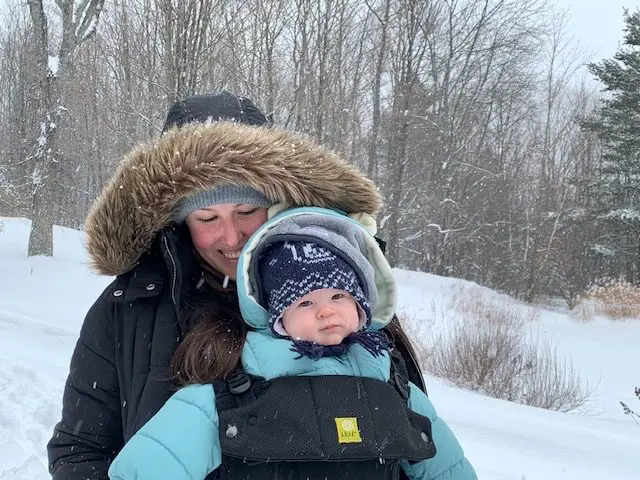 | Snowy destination items | Check? Yes/No |
| --- | --- |
| 1. Winter jackets/baby snow suit for Mom and baby | |
| 2. Snow pants for Mom and baby | |
| 3. Gloves for Mom and baby | |
| 4. Snow hat for Mom and baby | |
| 5. Scarf for Mom | |
| 6. Snow boots for Mom and Baby | |
| 7. Pairs of thermals to go under snow suits | |
| 8. Ideally: a base layer of wool, a fleece layer, and a waterproof layer for baby | |
Download the PDF Checklist for Weekend Away with Baby
Here is the "clean" version of my PDF essential checklist for what to pack for you and your baby on a weekend away: