This was the age we brought my son on his first flight: when he was just 3 months old! We flew across Canada, from Vancouver to Montreal. That was followed by an international flight to the U.S. and soon after, to Spain. So to the question about whether or not it's possible to fly with an infant this young, I say:
It is possible to travel internationally with a 3-month-old baby. There is no definitive age for when an infant can begin international travel; but most parents will wait until at least 2-3 months of age due to health recommendations and the time needed to acquire travel documentation.
In this article, I'll tell you everything you need to know to prepare yourself for traveling with your 3-month-old baby: documentation, what to pack in your carry-on to have a successful flight, how to handle feedings, and more.
Please take a deep breath and know that it's going to be fine! And perhaps even wonderful because it may open up a whole new world of family travel for you. I know that you may be nervous (I was!) but a baby this age is actually ideal for travel (speaking as a mom of a now-toddler!). You can do it! 🙂
Checklist: What to Pack for Your 3-Month-Old Baby on the Plane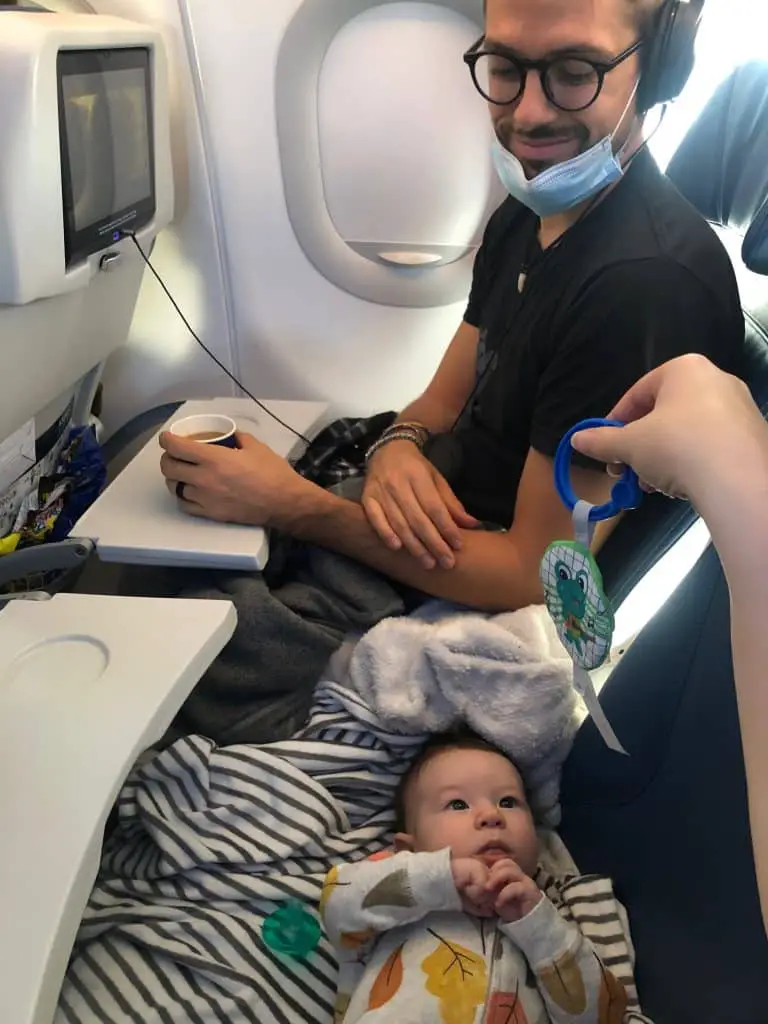 I remember that it seemed like I needed to pack SO much stuff for my baby in our diaper bag and carry-on bags when we first flew with him.
Even though I still think it's a lot of stuff to pack these days with a toddler, I'm much better at streamlining and trusting that I don't need as much stuff as it may seem.
I would encourage you to make some cuts where you can, because traveling with just the things you actually need is such a freeing feeling (or is this just me?). Remember that you can check your car seat and stroller for free on most airlines!
I'm going to give you a checklist as a foundation, but you know yourself and your baby best and will have to decide what other items are truly important for your trip. Here's a list of what to pack in your carry-on for you and your 3-month-old baby:
Diapers (1 per hour of travel)
Wipes (1-2 packs)
Changing pad
Diaper rash cream
Pajamas (x3)
Light hoodie/sweater
Baby blanket
Light, breathable muslin blanket (to cover up for breastfeeding)
Pacifier (x2)
Pacifier/toy leashes
Portable sound machine + extra batteries
Water bottle
Baby bottles
Formula/milk
Dish wipes to clean bottles and pump parts
Baby Tylenol
Hand sanitizer
Baby nail clippers
Snacks for you!
Mini first aid kit
Ziploc/wet bag for soiled or wet clothes
A few small toys (your baby's favorites)
Basic mini travel size toiletries for you (baby soap, toothpaste, toothbrush)
A change of clothes for you!
Electronics, chargers, and batteries
Plug converters for your destination
Tylenol for you!
Handheld breast pump if breastfeeding
Baby monitor (to have handy when you arrive at your destination)
Fanny pack to wear at the airport, filled with your important documents!
How to Dress Your 3-Month-Old Baby on the Plane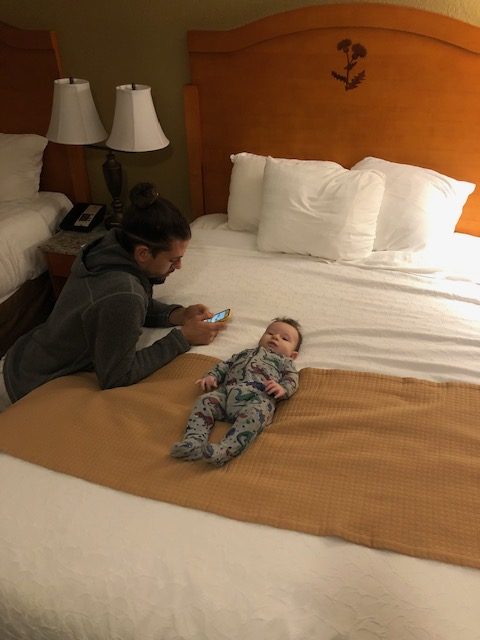 I recommend dressing your baby in what I call "the perfect airplane outfit." Put your baby in a comfy, cotton (or other breathable fabric) zip-up onesie (long sleeves and covering the legs) — that's it!
The breathable fabric will keep them comfortable on the flight. The fact that the onesie is footed will keep them warm without you having to worry about losing separates (baby socks always get lost!).
And the zipper (not some dreaded buttons or snaps) will allow you to maintain your sanity while changing your baby on the plane and in the airport and anywhere else you need to.
Then pack 2-3 more outfits just like this one in case your baby soils the first one! You do not, I repeat, you do NOT want to be caught out with no back up outfits on a travel day (that goes for the parents too!).
Tips for Navigating the Airport with Your 3-Month-Old Baby
I wasn't sure how the car, airport time, and actual time on the plane would play out with my little baby, but all went quite smoothly actually — and has (knock on wood) continued to be really smooth on all flights since that first one.
I think some of the tips we put into practice were really helpful and I hope they save you some grief as well! Here goes:
1. Change your baby right before you board the plane. Put on a fresh diaper and hope that you won't have any blow outs in the air!
2. Feed your baby at the gate before boarding. Sometimes the boarding process can be annoyingly long and you don't want a cranky, hungry baby while standing in line on the jetway with nothing you can do about it.
3. I know it's hard to time changing and feeding your baby (both!) RIGHT before boarding, but do your best.
4. Many people will advise you to feed your baby during takeoff and landing because the sucking motion can help protect your baby's ears, but this is easier said than done! In my experience, I was just lucky if the timing worked out and my baby was hungry during takeoff.
5. You can also try to offer your baby a pacifier during takeoff and landing to serve the same purpose.
6. Baby wear with a wrap or soft carrier as you're navigating the airport and boarding the plane. This is what we've always done to great success but other parents use a small, easily collapsible stroller which would also be super useful I'm sure.
7. Look up the security's rules for liquids (breastmilk and/or formula) in the country where you'll be traveling. And then screenshot the rules on your phone and show them to a supervisor if you feel that the security workers have it wrong and want to throw away your milk.
TSA in the United States allows milk, formula, water, and baby food to be brought on board in amounts greater than 100ml for people traveling with babies, but some workers are ill-informed and have been known to throw away breastmilk and formula (the absolute horror — I cannot imagine!).
How to Keep Your 3-Month-Old Baby Comfortable on the Plane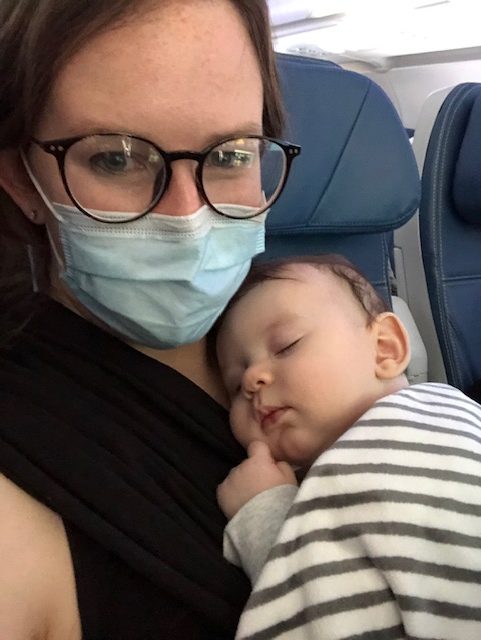 To make sure you have the best chance of keeping your baby comfy and happy on the plane, try your best to:
1. Attend to their needs first. It helps if you arrive at the airport with plenty of extra time. If you can slow down and make sure you're doing whatever it is you need to do for your baby (feeding, changing, etc.) before worrying about rushing around the airport, you're more likely to have a happier baby.
2. Dress them appropriately. A warm, but not overheated, baby is a happy baby. Bring a baby blanket in case the flight gets chilly.
3. Be prepared to care for their ears. Make an attempt to feed them or offer them a pacifier on takeoff and landing. It may not work, but you can give it a shot!
4. Don't be shy. If you need help, ask for help. If you need to breastfeed, do it. Sometimes feeling embarrassed or like we're inconveniencing others can make us delay getting the help we need for our baby and we just make things worse in the end. People are mostly kind and will be very willing to help a family with a small baby.
How to Feed Your 3 Month Old on the Plane and in the Airport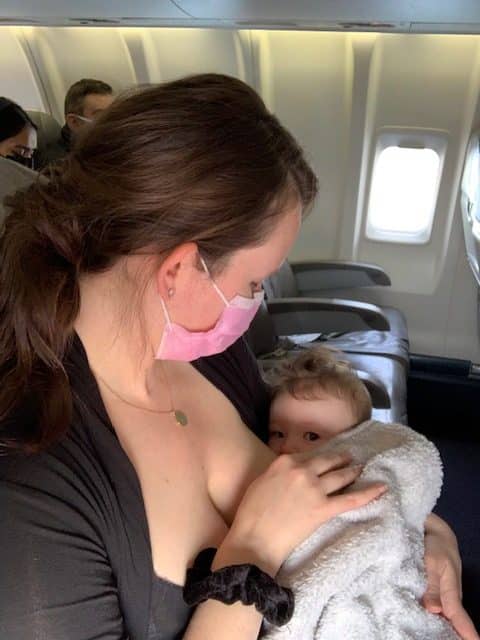 This is a question that seems straightforward enough but still we may wonder: How do we feed our babies at the airport and on the plane?
If you're breastfeeding, you really can just breastfeed wherever you are — you can sit on a bench anywhere in the airport and breastfeed.
If you want more privacy, many airports these days have nursing and baby rooms that you can seek out.
As for breastfeeding on the plane, again you just… do it. I don't want to say whip it out and go for it, but that's kind of what I have always done! You can use a cover or blanket to give yourself more privacy. If anyone at all makes you feel uncomfortable about breastfeeding, tell a flight attendant right away.
If you're using formula, I have seen a great travel hack of pre-measuring out the formula into Ziploc bags. You'll just ask the flight attendants for water when you board so you can make your bottle(s).
Documents You Will Need to Travel With Your 3 Month Old
So first of all, your baby is going to need a passport to travel internationally (unless you happen to be traveling within North America — Canada, the U.S., and Mexico — and you're driving instead of flying).
Additionally, you may need other documents for your baby, depending on your specific family and travel circumstances. You can refer to my article about the 6 documents you may need to travel with an infant internationally for more details if you're still unsure after reading the chart below:
Documentation for Baby
Travel Situation When This is Necessary
Passport
Needed for all international flights
Birth certificate
If you're driving (instead of flying) between the U.S. and Mexico or the U.S. and Canada, you can show a birth certificate for your baby instead of a passport. (Source; Source)

If your baby is flying as a lap infant, the airline may require you to show your child's birth certificate as proof of age (although in theory, just your baby's passport should do — but better to be overprepared).
Boarding pass
Your baby is going to need a boarding pass even if they are flying for free as a lap infant or at a reduced rate.

Airlines will require you to include your lap infant on your reservation and they will be issued their own boarding pass or their name will be included on your boarding pass.

Make sure to let the airline know that you're bringing a lap infant with you, even if they are flying for free or at a reduced rate. They will often try to seat you in a row more appropriate for a baby (such as a bulkhead row and not an emergency exit) and may even try to keep the seat next to you empty if possible.
Vaccination record
For most international travel destinations, infants will not need to show proof of vaccination.

However, there are exceptions depending on the country where you are traveling, so it's always best to research the specific area you're going — For example, some subtropical areas require a yellow fever vaccine.

Even if you don't need the documentation to fly, the CDC recommends that all infants and children have their routine vaccines, including their first dose of measles-mumps-rubella (MMR) before international travel. (Source)
Physician's note
If your infant is older than 7 days, you will not need a physician's note for most airlines.

Air travel is appropriate for most healthy, full-term infants but there are some issues to consider, such as maintaining good hygiene and protecting their ears. (Source)
Notarized parental consent letter/form
 If you're flying alone with your infant (without the other legal parent present), airlines or immigration may ask you to present a Minor Travel Consent Form or a notarized letter signed by the other parent stating that it is okay for you to be taking the child abroad.

This has become increasingly necessary due to the rise in instances of child abduction – particularly instances of custody cases and human trafficking. (Source)

Even though the airlines and/or immigration officer may not ask for this, it is in your best interest to bring one anyway just in case, if you are traveling alone.
How to Get a Passport for Your 3-Month-Old Baby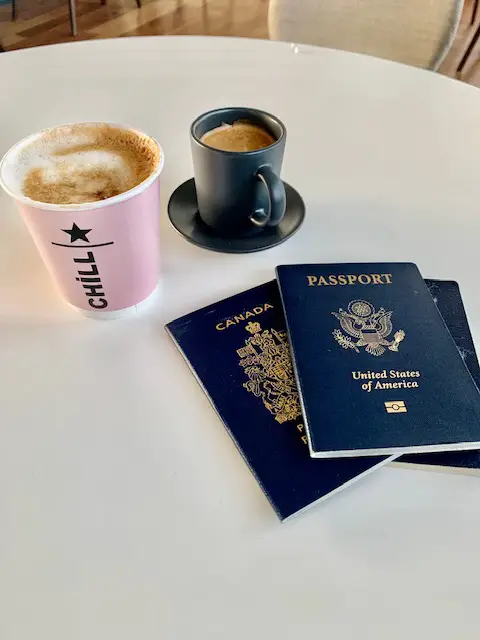 I recommend getting a passport as soon as possible for your baby if you plan on traveling together as a family. For minors (children under 16), you have to go in person with your partner to apply for your baby's passport. Their passport will be valid for 5 years.
You can find your nearest passport office here. Some require you to make an appointment, while others have walk-in availability. When you visit the passport office in person, you'll need to bring:
Form DS-11 filled out
Proof of U.S. citizenship
Photocopy of evidence of U.S. citizenship
Proof of parental relationship to your child
Identification for the parents
Photocopy of identification
Parental consent (if one parent is not present)
Photo
Payment
You can check the most recent processing times on the State Department website here to get an idea of how long it's going to take to receive your child's passport in the mail.
Review all of the important details and updates on the State Department website for applying for a passport for minors. Remember that you cannot submit a mail-in or online application for children under 16.
How to Take a Passport Photo for Your 3-Month-Old Baby
You have two choices for getting a passport photo taken for an infant: You can take them to a regular passport photo place (know that unfortunately, some places won't take infant photos); or you can take your baby's photo at home.
I've done both (one for my son's Canadian passport and one for his American passport) and I much preferred the photo that I took myself at home with my iPhone!
At the photographer's, I sat with my son in my lap and the guy slid a big white piece of paper between my baby and my chest. My baby was a little squish ball with no neck and the photo is pretty bad!
I recommend laying out a white sheet at home with your baby on it. Stand over them and take a photo with your iPhone. If you have some editing skills, it would be helpful because your photo can't have any shadows. Your baby should be facing straight ahead with their eyes open.
If it doesn't work out the first time you try, don't worry! Try again later in the day or the next day — the lighting might be better and you'll feel more relaxed after having done a "practice run."
Happy travels with your 3 month old and best of luck to you and your family for all future travels! This is only the beginning 🙂 You can follow our family travel adventures on Instagram: @wayfaring.humans