A really good way to save money in Raja Ampat is to plan and PACK properly before you go—so you don't need to run around wasting time and money trying to buy or rent things on your trip.
For budget travelers and backpackers in Raja Ampat, we have created this packing list of what to bring with you. A detailed explanation will follow the packing list below:
1. Backpack and rain cover
2. Day bag
3. Head lamp/torch and extra batteries
4. Biodegradable soap/shampoo
5. Reusable water bottle or platypus (2-liter)
6. Insect repellant
7. Sunblock
8. Travel towel/sarong
9. Small padlock
10. Plug/outlet adaptor
11. Hand sanitizer
12. Indonesian phrasebook
13. Mask, snorkel, and fins
14: First aid kit
15. Books, podcasts, music
16. Hammock
17. FOR LADIES: Bring tampons!
18. Passports
19. Printed copy of your return plane flights
20. Printed copies of your insurance information
21: Indonesian cash (Indonesian Rupiah)
22. Silica gel packets
23. Waterproof plastic/zip lock bags
24. Spare batteries
25. Protein bars/snack bars and/or vitamin/mineral supplements
26. Essential Dive equipment if you don't want to rent it!
27. Dive certification cards and log books
28. Clothing list for women:
7 days of underwear
2 Bras
Flip flops – easy, slip on, no straps required
Water shoes or Teva sandals – I actually bought amazing Indonesian "cleat"-like shoes in Sulawesi that are completely rubber, but any water shoes will do the trick. This is for walking around some of the rockier beaches or mangroves (there are all kinds of beach terrain you'll come across if you go exploring!). Bare feet or flip flops wouldn't work.
Bathing suit
3-4 flowy dresses
rash guard for long days of snorkeling to avoid the dreaded BACK and SHOULDER sunburn
Lightweight scarf – My favorite, most essential travel item of all time!! Serves so many purposes: scarf, blanket, towel, hair piece, fashion accessory, etc.
Extra hair ties (also for long-haired men like Phil!)
1 clean set of pajama/bedtime clothes – For me, a T-shirt and shorts
A fleece or light jacket to wear on the airplane
A warmer outfit for the airplane: Leggings, long-sleeved wrap shirt, socks (x2 pairs)
Sunglasses
Lip balm
29. Clothing list for men:
Underwear for 7 days
2 pairs of shorts
Bathing suit
4 T-shirts
Flip flops/sandals/crocs
Water shoes or Teva sandals
Sweater for the plane
Sunglasses
Lip balm
30. Toiletries
Razor, toothbrush, deodorant, lotion, extra contact lenses, contact lens case, and a mini bottle of contact solution if you use it.
---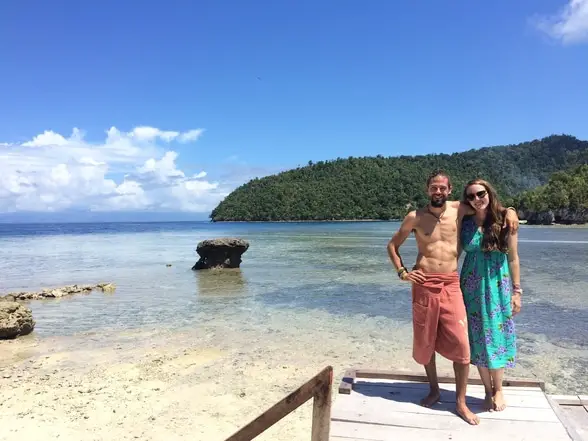 You don't need much! Just a few essentials…
If you prefer a simple PDF version of the packing list without our wordy explanations or photos (items only), please find a printable link at the bottom of this post.
You may also want to check out our post What to Wear in Raja Ampat to Avoid Offending People (remember that Indonesia is a conservative country!).
This is what we recommend for 7 days and nights in Raja Ampat. For some of these items, we just brought one item to share between the two of us (such as sunscreen and insect repellent) and saved space in our bags (another benefit of traveling as a couple!). This is what worked for us. Modify this list to best fit your own trip!
All products linked in this list can be found on Amazon. As an Amazon Associate I earn from qualifying purchases.
1. Backpack and rain cover
We only bring one bag each and carry it on the plane (no checked bags if we can help it).
Phil prefers a 35-liter bag he bought at MEC in Canada and Brittany is obsessed with her 55-liter Osprey Farpoint with a detachable day pack – You can check out the prices on Amazon, linked here. It zips all the way around making packing easier, instead of the tube-style of some backpacks where you have to shove everything in from the top.
Find the best bag for you! And don't forget to get a rain cover for it.
2. Day bag
You'll be leaving your big bag in your homestay room during the day while you go out exploring, perhaps on day trips to go snorkeling or diving from a boat. It's a good idea to have some kind of smaller day bag that you can bring with you and keep "day" items in such as your sunscreen and water.
Phil and I usually end up just sharing a day bag on these kinds of little trips, but we also each have our own just in case we decide to go on longer hikes or something that would require each of us to carry a lot of water (we did NOT go on any hikes in Raja Ampat! Haha, maybe next time!).
I've also found it useful to try and find a day bag that comes with a rain cover or buy a rain cover for your day bag, because water can splash up while you're on the boats.
It's just useful for traveling in general – I feel like a rain cover is a thief-deterrent too!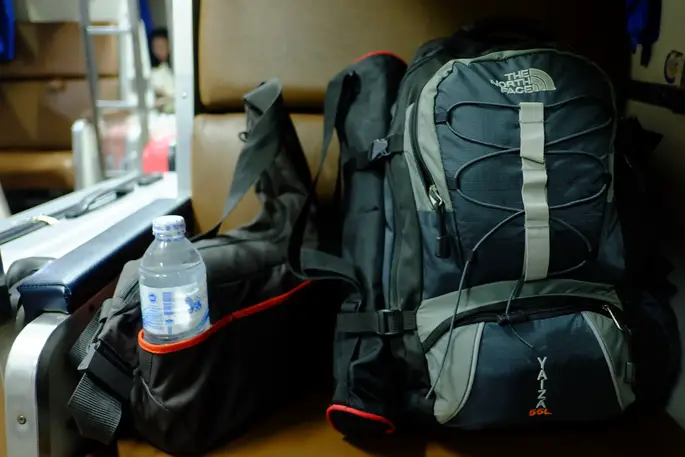 3. Head lamp/torch and extra batteries
Our homestay in Raja Ampat, called Mangkur Kodon, on Kri Island, was great but at night it could be pretty dark walking to the bathroom on the beach.
You'll need a light, and having a head lamp keeps your hands free (unlike the flashlight on your phone).  
Check out this LED and waterproof head head lamp on Amazon to get an idea of what we're talking about.
4. Biodegradable soap/shampoo
Save yourself the hassle of bringing your entire supply of bathroom items with you and just go for an all-in-one biodegradable camping soap (such as Campsuds, available on Amazon). You can bring a small bottle on the airplane in your carry-on and it replaces soap and shampoo.
You're going to be in the water every day anyway with no way to style your hair really, so you don't need anything fancy for one week.
Also, we recommend biodegradable because this is a sensitive, biodiverse area where we should be trying to make as little an impact as possible on the environment if we can help it.
5. Reusable water bottle or platypus (2-liter)
Homestays in Raja Ampat provide free drinking water. Staying hydrated when you're in the sun all day is obviously very important and you'll need to take water with you on day trips when you go snorkeling or diving.
A reusable 2-liter water bottle or platypus is a good option, and lowers the chance you'll have to buy plastic water bottles while you're there – better for your wallet and the environment.
6. Insect repellant
You're surrounded by jungle on many islands in Raja Ampat which means there can be mosquitos, especially at dusk. Malaria is not widespread in Raja Ampat but it's good to take precautions.
You'll find that the accommodations all have mosquito nets on the beds. Some travelers may decide to take antimalarial medication (we did not). Talk to a doctor or visit a travel clinic before you go.
7. Sunblock
In the United States, more people are diagnosed with skin cancer every year than all other cancers combined. That means we should probably all be a bit more mindful of the need to put on sunscreen or to cover up a bit in the sun.
Don't let days of your trip be ruined by sunburn! It's the worst. This is an item that you can just bring one of and share between the two of you.
8. Travel towel/sarong
I strongly recommend a travel towel (available on Amazon) over a big fluffy regular bathroom or beach towel that takes up a bunch of space in your bag.
Travel towels are magical. They fit into tiny spaces and they dry instantly, even in humid climates.
A lightweight sarong solves the space problem but isn't quick-dry. Just get a travel towel!
9. Small padlock
As we discussed in our 7-day Raja Ampat itinerary cost breakdown, you have to carry a lot of cash with you in Raja Ampat, unfortunately.
When we were there, we kept our valuables locked up in my big backpack with a small padlock (just a deterrent, not foolproof obviously!) and even had a bike cord lock that I used to lock our bags to our beds in our homestay.
Raja Ampat is safe and I hadn't heard of any theft before going there, but I'm just overly cautious like this due to robberies that we've endured on other travels!
I would also recommend getting a padlock with a code, not keys, so you don't have to worry about accidentally misplacing a set of keys!
10. Plug/outlet adaptor
Indonesia uses the standard European two-pronged plugs so if your electronics don't have this style plug, you'll need to bring an adaptor with you.
You can buy them in Indonesia for very cheap but that means going shopping probably before you get to Waisai and can be a hassle if you don't have much time for your trip.
You could also choose to bring a universal travel adapter with you, which you can then use in many other different countries later. Check out the prices for travel adapters on Amazon here.
11. Hand sanitizer
So simple and so useful! You will probably come across bathrooms with no handwashing station or no soap. Bring this with you and stay healthy during your trip.
12. Indonesian phrasebook
Bring a small phrasebook/dictionary or download the Indonesian dictionary from Google Translate onto your phone (so you can access it without wifi or data). This is so important!
Travel is more fun when you can communicate a bit. NOTE! that in Raja Ampat, like everywhere in Indonesia, many different local languages are spoken. The Indonesian language (or Bahasa) is not the only or the first language in Raja Ampat, but is very useful for getting around more smoothly.
13. Mask, snorkel, and fins
This is optional depending on space in your bag (especially the fins) but if you're going to be snorkeling every day, you'll save money on rentals (about $5 USD per person a day) by bringing your own.
Also, your equipment will work and fit you well. Phil had to use broken rental fins from our homestay that were too big for him.
I have a pink Cressi brand mask that I love and that I've carried with me diving and snorkeling to Indonesia and the Philippines, but choose the brand that works best for you. Remember also that you get what you pay for and junky masks will leak water and break more quickly.
You can check out Cressi masks and snorkels on Amazon if you're interested.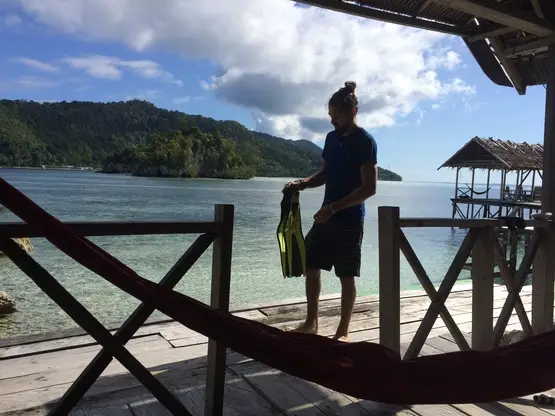 14: First aid kit
Better to be safe! You're bound to scrape your leg on a coral, feel dehydrated, or get a bit seasick at some point during your travel.
Put together a first aid kit to carry with you or buy a ready-made one.
A good first aid kit will contain:
antihistamine tablets
antihistamine/hydrocortisone cream
paracetamol
ibuprofen
rehydration salts
plasters/band aids and blister plasters
alcohol wipes
sea/travel sickness tablets
anti-diarrhea tablets
swim ear or equivalent
…and of course any prescribed medications.
15. Books, podcasts, music
We would highly recommend bringing a book or two depending on how long you're staying in Raja Ampat. Or a Kindle if you have one.
It's a very relaxed, laid back place and you'll have downtime to check out from the world and read! AMAZING.
16. Hammock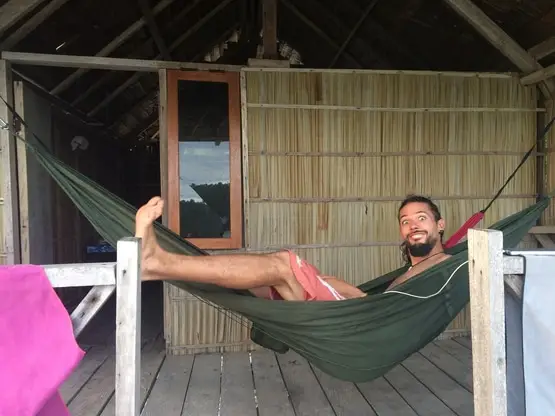 Many of the homestays have hammocks, but some (like ours) have just one per bungalow.
Bring an extra, small lightweight hammock so you can HANG out next to your partner! hehe. There are some hammocks such as this one available on Amazon that also have mosquito nets built in, which is pretty cool.
If you don't have room in your bag, you can leave this out, buuut we were thankful at the time to have it with us (see photo) 🙂 ).
17. FOR LADIES: Bring tampons.
You won't find tampons in Raja Ampat.
18. PASSPORTS
Umm… yes, you need your passports! Make sure you have AT LEAST six months left on it before it expires or you might not be allowed on the plane.
Also, make sure you have enough blank pages in it for a visa stamp. Check with your country's embassy website. Many countries are able to buy a 30-day tourist visa upon arrival at the airport in Indonesia.
19. Printed copy of your return plane flights
To enter the smaller domestic airports, such as in Sorong, you may be asked to show your return flight itinerary/confirmation email. You can also have this saved on your phone and just show it on the screen.
20. Printed copies of your insurance information
It's always advisable to get travel insurance. Carry a copy of your insurance information with you in case you need to contact them while you're traveling. Also, email a copy of the information to someone back home that you trust, just in case.
21. Indonesian cash (Indonesian Rupiah)
You might want to exchange just a small amount before you leave home so that you have some cash on you to buy snacks in the airports (or whatever). Don't bring much because you'll get a better exchange rate at the ATMs once you arrive in Indonesia.
We write a lot about money in Raja Ampat in this other article, but basically it's a good idea to take out the money you'll need for your trip in Raja Ampat while you're in Jakarta or Sorong.  
22. Silica gel packets
These can absorb moisture when kept with your electrical items, and prevent water damage from the humidity in the air.
23. Waterproof plastic/zip lock bags
You'll be on boats quite a bit and it may even rain, so these are very useful to keep the water out of your kit and clothes.
24. Spare batteries
For your head lamp, camera, etc., remember to bring spare batteries. If you are bringing an external power bank, these cannot be put in your checked luggage in the plane.
25. Protein bars/snack bars and/or vitamin/mineral supplements
The diet is very basic in Indonesia, so these can be a good idea, especially for vegetarians/vegans.
26. Essential Dive equipment if you don't want to rent it!
If you're planning on diving, you can rent equipment onsite if you don't want to bring it with you.
27. Dive certification cards and log books
If you have them and you plan on diving, it's a good idea to bring these with you.
28. Clothing list for women:

Everyone is different, but for my 7-days I (Brittany) brought:
7 days of underwear
2 Bras
Flip flops – easy, slip on, no straps required
Water shoes or Teva sandals (which can be found on Amazon). I actually bought amazing Indonesian "cleat"-like shoes in Sulawesi that are completely rubber, but any water shoes will do the trick. This is for walking around some of the rockier beaches or mangroves (there are all kinds of beach terrain you'll come across if you go exploring!). Bare feet or flip flops wouldn't work.
Bathing suit
3-4 flowy dresses
rash guard for long days of snorkeling to avoid the dreaded BACK and SHOULDER sunburn
Lightweight scarf – My favorite, most essential travel item of all time!! Serves so many purposes: scarf, blanket, towel, hair piece, fashion accessory, etc.
Extra hair ties (also for long-haired men like Phil!)
1 clean set of pajama/bedtime clothes – For me, a T-shirt and shorts
A fleece or light jacket to wear on the airplane
A warmer outfit for the airplane: Leggings, long-sleeved wrap shirt, socks (x2 pairs)
Sunglasses
Lip balm
29. Clothing list for men:
Underwear for 7 days
2 pairs of shorts
Bathing suit
4 T-shirts
Flip flops/sandals/crocs
Water shoes or Teva sandals
Sweater for the plane
Sunglasses
Lip balm
30. Toiletries
Razor, toothbrush, deodorant, lotion, extra contact lenses, contact lens case, and mini bottle of contact solution…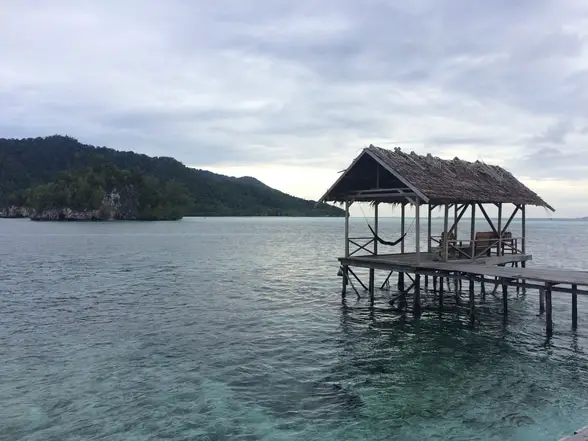 Stay light and happy adventuring! 🙂