Let's talk about travelers, clothes, and intercultural sensitivity! If you're reading this, I'm assuming you're interested in visiting Raja Ampat, Indonesia, while being respectful of the local culture. Cool! So how do you do that? And should you pack tons of outfits or leave space in your bag for clothes you want to buy there??
In order to avoid offending people in Raja Ampat and to feel comfortable and enjoy yourself during your travels, pack the following items:
Your bikini (but wear a cover-up in towns and villages)
A loose-fitting jumpsuit
Loose-fitting pants
Flowy dresses and/or long skirts
Sarongs and lightweight scarves
Other essentials mentioned at the end of this post
Items for men can be found below too!
I like the idea of showing up to a place without much in my bag and buying local, as far as clothes are concerned. However, there isn't a lot of shopping to be had in Raja Ampat, so it's best to come prepared! Especially since you'll be on quite remote islands.
We created a full-on essential (and printable) packing list for Raja Ampat here, but this particular post will only be about CLOTHES—what to wear and how not to offend people. This is mostly for women, but men—we talk about you at the end!
Many tourists are concerned before heading to Raja Ampat, because they're aware that Indonesia is a conservative country and wonder what they should then wear to this beautiful beach destination of West Papua.
It's true that dressing somewhat conservatively in the airports on your way to Raja Ampat, and perhaps during ferry transport, would be preferable but the rules for the beach are more lax (but not THAT lax – many travelers screw this up!). Here are our ideas on what to wear in Raja Ampat.
First—How to Offend People in Raja Ampat
All of the Papuan websites ask visitors to respect the unofficial "dress code" of Raja Ampat. It's a Christian region that will not be very happy if visitors decide to go skinny dipping or topless (women) at their beaches. It's just not part of the culture.
It's offensive to walk around the towns/villages in swimwear, uncovered. Papuans might not say anything, but they will be offended.
To put it simply: On the beach or at your homestay, wear a bathing suit; In villages or towns, cover your shoulders, stomach, and legs above the knee.
I would recommend packing, along with a bathing suit, cute flowy dresses, cover ups, and traveler-friendly loose-fitting pants (and jumpsuits!!) that can be thrown on easily and worn comfortably around town. Many of these items also double as airport outfits. Win-win! Read on for the details.
---
What Clothes to Pack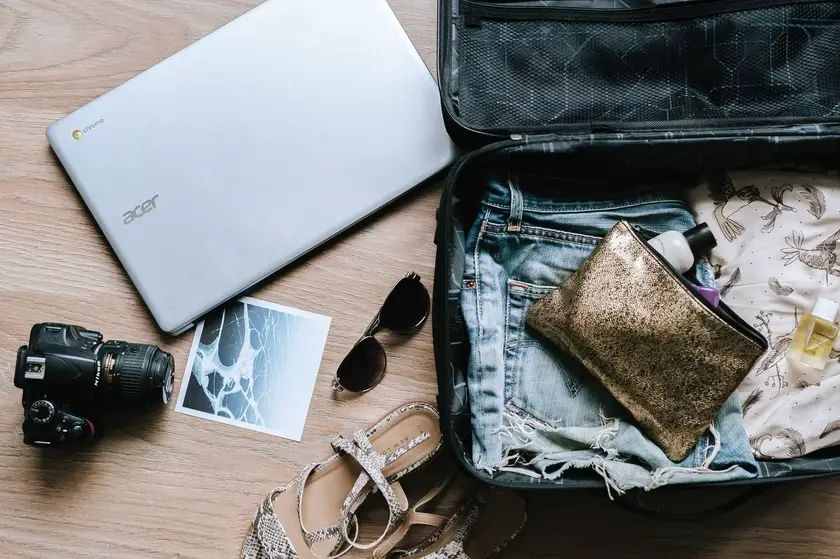 Personally, I prefer a backpack but maybe you're a rolly-bag kind of traveler!
I went to Raja Ampat for 7 days with very few items (I think I had maaaybe 5 outfits total). If you're planning on backpacking or roughing it, I recommend you do the same as it's just easier and cheaper to get around without so much STUFF.
But you also want to look cute and feel comfortable while you're there. You'll probably be taking a whole lot of photos, after all!
As I mentioned, clothing shopping isn't really an option in Raja Ampat unlike all the beautiful clothes you can buy in other parts of Indonesia or Southeast Asia, so pack wisely before you come.
In regards to clothes, I would have a list that looks something like this (depending on how much space you have in your bag!):
Bathing suit
I personally didn't bring multiple bathing suits, because I was really trying to save space in my backpack. But you can if you want to! Bikinis are fine in Raja Ampat – on the beach, in the water, at your homestay, on the speed boats to snorkeling destinations… but not when walking around the villages. Cover up when exploring the villages if you want to avoid offending people.
I would also recommend bringing a rash guard (this one on Amazon is cute) if you're planning on swimming and snorkeling. The sun is INTENSE and you don't want to burn the crap out of your back and shoulders.
After several days of snorkeling in the sun, I was also wearing leggings while snorkeling because my butt was getting burned through my sunscreen and I had no other way to cover it up in the water! HA!
So come more prepared than I did with cute swimming shorts or workout shorts if you have a pale bum like me. I think even bringing a light jammers or scuba skins (like a shorts jumpsuit to snorkel in) is a good idea.
A trusty, loose-fitting JUMPSUIT
Like many women and travelers, I am obsessed with jumpsuits/rompers and can never have enough.
The possibilities for dressing them up or down and for accessorizing are endless. They make the perfect airport and airplane outfits, the perfect classy beach night out outfits, and are both comfortable and conservative.
This harem-pant jumpsuit on Amazon is especially awesome, in my opinion. I recommend something like this, especially for those long travel days.  
Flowy, Loose Pants
How many times can I use the word flowy in this post?
I wouldn't recommend wearing shorts above the knee off the beach (such as when you're walking around in villages). An alternative to short shorts could be FLOWY pants that you can wear in hot weather with a cute top.
Like many travelers, especially after visiting India, I am a fan of the harem pant! Affectionately (or scornfully) referred to as "shit-catchers" by some, you cannot find more comfortable and unique pants for travel adventures. I like black but there are many other colors available on Amazon if you're interested.
Any loose pants, such as these elephant pants on Amazon, or that you've bought in other places in Southeast Asia would be perfect for your trip to Raja Ampat.
Dresses and Long Skirts
Maxi dresses, maxi dresses, maxi dresses. The best way to feel pretty and feminine, while also respecting local dress customs.
If you have dresses like these ones on Amazon in your wardrobe, I would bring them (I brought 4 or 5 with me). I would aim for pretty, COTTON, BREATHABLE, and conservative-ish in choosing dresses for Raja Ampat.
I don't have many long skirts because I prefer the simplicity of one piece of fabric (such as a dress or a jumpsuit) but there are many, many cute long skirts out there that would be perfect to wear in Raja Ampat.
Sarongs and Scarves
ABTWS: Always Be Traveling With a Scarf. ALWAYS! But seriously. Scarves are everything. A scarf and a jumpsuit, that's all you need for traveling.
I would bring a lightweight scarf or sarong that you can use as a scarf in the airport, a blanket, head piece, towel, beach blanket, whatever you need!
FYI: You don't have to wear a headscarf or hijab in Raja Ampat (or in the rest of Indonesia).
Other essentials:
Enough underwear for every day of your travels
2 Bras (I usually go for a black one and a white or nude one)
Flip flops – easy, slip on, no straps required
Water shoes or Teva sandals – These are for walking around some of the rockier beaches or mangroves (there are all kinds of beach terrain you'll come across if you go exploring!). Bare feet or flip flops wouldn't work.
Extra hair ties (also for long-haired men like Phil!)
1 clean set of pajama/bedtime clothes – For me, a T-shirt and shorts (or just sleep naked!)
A fleece or light jacket to wear on the airplane
If you don't have a jumpsuit, bring a warmer outfit for the airplane: Leggings, long-sleeved wrap shirt
Socks (x2 pairs)
Sunglasses
Toiletries
FOR MEN!
Men don't have as much to worry about (AS USUAL) as far as clothes 🙂
Observe what Papuan men are doing and follow their lead. Generally, you can wear what you would back home. Don't go shirtless in town to avoid offending people, and don't go skinny dipping. Other than that, you shouldn't have too much to worry about. Check out our essential packing list for specific items to bring.
We hope these tips are useful for you and that you have a very fashionable and fun time in Raja Ampat!